What do you Keep in your Violin Case?
November 30, 2010 at 09:26 PM ·
 So I decided to create this thread so people can keep on topic on this thread. 
The title says everything doesn't it! It is always interesting to see what people keep in their cases and to hear why they do. Our cases would be plain and boring otherwise, wouldn't they? I think it would be really fun to share what you keep in your case.
Here is mine:
That is spare strings, 2 rosins, a membership card and a pencil. I have 2 pens also - the pink one is my 'musical pen' and the other little one is a cancer support pen (special to me for many reasons). I keep an 'I love Canada' keyring in there that my best friend gave me when she came back from holiday and because the keyring says on the other side 'lucky penny', it is my little lucky charm for when I'm doing concerts etc. I also have a strawberry scented mirror because I just simply like it :) And finally, a little violin brooch. I have one from the same place of a treble cleff on my jacket too. This one is my little mini violin though and I love it :) 
Most of the time I keep sweets or little chocolates in there too so when I get a bit peckish during practices, I just nibble on one of those! 
So that's mine - what's yours?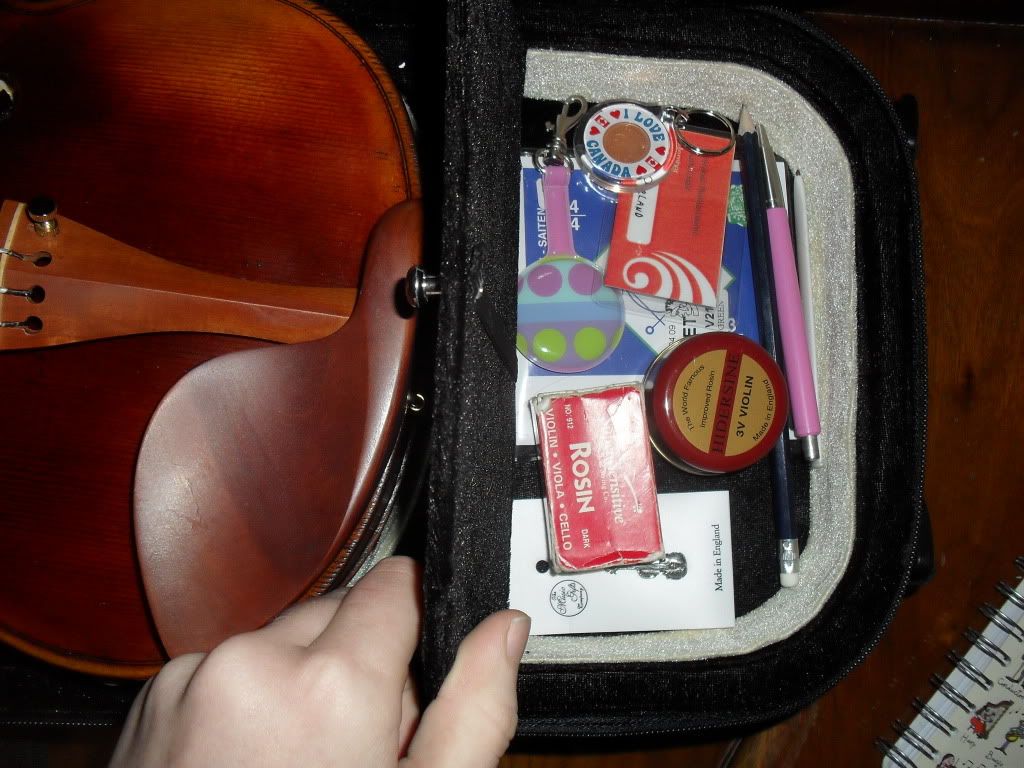 Replies (45)
This discussion has been archived and is no longer accepting responses.