V.com weekend vote: How often do you rehair your bow?
January 16, 2010 at 5:52 AM
Every six months for me.

As a teacher of young students, I always have to educate them on this point; yes, you do need to get your bow rehaired with some frequency and no, once every few years is not so great!

Why does one have to get the bow rehaired? It works something like this: As we know, our bows are strung with horse hair. If you were to put one of those hair follicles under a microscope, it would look fuzzy, like it had a lot of tiny fingers sticking out of it, all pointing in the same direction, like on a pine tree. Those little fingers are what tickles the string like a zillion microscopic pizzicatos, making it resonate and come to life. A proper bow rehair would put half the follicles one way and half the other way, so we have the "fingers" pointing in both directions.

After much playing, these tiny "fingers" get worn down and lose their grab, like a car with bald tires. The more you play, the faster the hair gets worn. When that happens, you need new hair on the bow.

So how often do you rehair your main bow?

really? but rehairing is really expensive... (like getting a new bow is cheaper) haha. (:
Ha, Rizky sounds like Fritz Kreisler....He would walk into Hill & Sons in London drop off an armful of bows and leave with an armful of new bows
I think this might as well depend on the quality of the bow and the amount of time for practice per day.
I threw down my vote for "less than 3 months" because when I'm on the road with Barrage, I go through a bow every 3-5 weeks ... it's ridiculous! Luckily, we are sponsored by Southwest Strings, so the rehairs are covered, but still ...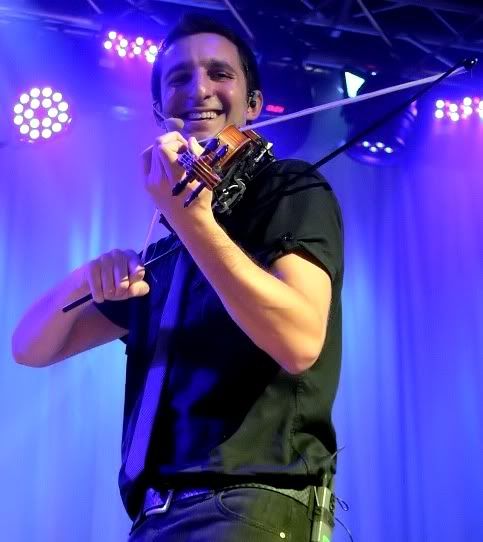 When I worked at HersheyPark as a bluegrass fiddler, I went through a bow per week, literally. My 2nd summer there, I ended up going online and buying a stack of about 20 of the cheapest bows I could find -- at $35/bow and a one-time shipping charge, it was far cheaper than ruining, and rehairing, a good bow.
However, when I play classical music, my bow hair usually lasts about 6 or 7 months.
I have the teaching bow re-haired twice a year, and my primary bow about 3 times a year.
Oops, so I got my bow rehaired about a year and a half ago. I guess it's overdue to do it again!
And what about synthetic hair? Does it need to be changed as often as a natural one?
From a source I do not remember, but one I trusted at the time, I learned the following:
the microscopic scale thing does not influence tone production
what does influence tone production is the rosin on the hair
if the hair becomes too saturated with rosin it has to be replaced, or thoroughly cleaned
loss of hair due to breakage or hair mites is another reason for rehair.
I recently had my bow rehaired after some ten years of use, and it did not even make much of a difference.
Please corroborate -- or debunk -- this! I'll try to find the source.
Bart
Bart, I heard something like that too a long time ago, from a source I trusted at the time. I got my bow rehaired about a year and a half ago because it was when I started playing the violin more seriously again. Prior to that, I hadn't played (or rehaired) for at least 8 years. I don't remember it making much of a difference either. I have noticed amount of rosin making a difference though, and have been using less rosin in recent years.
@ Jason Hurwitz- When I was playing with "The Fretless Side Show" I used a German bow with synthetic hair because I could not afford having my Bausch (my orchestra bow) rehaired as often as you have mentioned!
I'll be sending my Ludwig Bausch to Josh Henry soon for rehair. It's long overdue! which means I need to get another bow to use for classes in the mean time!
I know one is SUPPOSED to have a rehair every 6 months or so, but how does that translate into hours? I am an adult advanced beginner, I play about an hour every day. I do notice when i have not rosined for a while (a week or so) my sound gets thin, but a couple of swipes of rosin takes care of that.
Based on my customers, I'd have to say that the respondents to this poll are lying! In the same way that people will lie (even without knowing it) if you ask them how often they go to the dentist. We all know we should go, but that doesn't mean we do go...
Like most shops I know, I will often write the date of a rehair on the ebony backing of the pearl slide, so that I know exactly when it was done. I'll also ask my clients how long its been before I start the rehair. Inevitably, the actual date is much farther back than the customer thinks it is, and I know it's my rehair because I can recognize my knots and wedges in the bow.
From my own experience, most professional players I do rehairs for will get it done about every 8-12 months, mainly because they forget or think they don't have time (even though I'll do next-day or same-day rehairs with an appointment). Most amateur players and students get rehairs once every year and a half to two years, and that's being generous. Now maybe my customers are just the most forgetful ones around... :-)
A good rehair will make you sound better and give your bow a quicker and easier response. Support your local violin shop, and get your bow rehaired!
with natural hair, the rosin opens up the microscopic barbs on the hair...there are no barbs on synthetic hair.
"the microscopic scale thing certainly does influence tone production"
I am a contrarian on this. When I was taught the correct way to make a tone and play triple and quadruple stops I quit breaking bow hair. I also learned that I didn't need to get a rehair so often.
I was embarassed to say this, but in complete shock, i found a bow that I haven't used completely eaten by bow bugs!! What should I do?
I always keep a couple moth balls wrapped in cloth in my bow cases
http://www.wikihow.com/Get-Rid-of-Bow-Bugs
Geez, it's been almost 2 years since my Bausch was rehaired!
I can tell when my bow needs to be rehaired. It develops slick spots where the bow doesn't grab the string.
Would someone tell me about synthetic replacements for bow hair?
@ Ritzky: you could fedex your bow to a bowmaker to get new hair.
I bring my daughter's bows ca every 6 weeks to rehair. Depends really on how much she plays. It also depends on the quality of the hair. And the bow maker recently suggested to use colored hair. He said it lasts a little longer. He has all kinds of colors there - optically I am not so sure about rainbow colored bow hair, but does it work? Anyone has experience with it?
Also, I saw in the string magazine an add for bow tonic (???!!). Anybody has experience with that?
Happy fiddling!
Nobody has mentioned yet the possibility of cleaning the hair (for example, with alcohol ?) to "rejuvenate " it or just to remove excessive rosin instead of rehairing. There are different substances that are available for this purpose. Any thoughts on this ?
I read a pretty convincing article linked from vcom a long time ago, that included some photomicrographic evidence suggesting that the scale/barb thing has little to do with why you need a rehair. The conclusion was that it was due to loss of elasticity in the hair after playing for a certain period of time. This elasticity theoretically allows the bow to grip the string and track well. Sounded good to me at the time but I can't find the source. Anyway, whatever the reason, my bow does feel like it tracks and plays better after a rehair, and this feeling gradually goes bye-bye as the months tick by.
ab
My luthier cleans my bow hair whenever I go and he feels it is needed, wthout charge too. He doesn't use alcohol as Juan had mentioned, but rather he scrapes off the rosin with a knife and combs through the hair. This makes a big difference, but I still rehair my bow annualy; there is only so much cleaning you can do. I do believe it prolongs the life, though.
Anthony, that must be the source I was referring to in my earlier post.