A Raging Fire Within
November 25, 2010 at 10:24 PM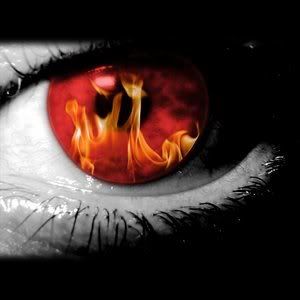 A fire rages within me. That fire is my love, passion, hatred, tears, laughter, pain, joy and happiness for music. Over the years this fire has grown bigger and bigger inside me and right at this moment, it feels as though it is at the point where it will consume me and take over my life. It is daunting, yet I am looking forward to the exciting journey into the musical world!

It is strange how much music can 'mess with your head'. It can switch on almost any emotion in a matter of moments - even those you think you've made practically impossible to un-dig. It can cause rage and anger, or joy and happiness. It can boast pride or it can show bitterness. It can ooze with triumph or it can dwindle away weakly. Music has endless possibilities and it is something that people will never stop learning about. Music is something that can be manipulated into any situation too. A piece of music will always go with a particular scene in a film, or even a chapter in our hectic lives. Even silence is music. We must not forget the silence.

I can't wait to explore more about this strange wilderness. And for the 8 years I have been, I have learnt so much, but when I look at it, I'm only at the edge of the forest. I will never ever stop learning about it. And the stuff I do learn, I will share and pass on to everyone around me. They will learn more and together we will weave our way in and out of the musical world. And I think that is wonderful!
You are so right about that fire and this is absoluntly necessary in every person who truely wants to do its best weither their actual level of playing. It's the fuel for everything. It can also be heard, I beleive... And it can change very fast in one's life... How many artists have taken the very commercial path after a while in the business??? (nothing against this but our world tends to focus on more superficial things than the musical and musical "fire" itself)
It doesn't always go with talent either. Where I practice, I arrive at the building's opening early in the morning and take the 6:00 am bus to get there and I'm always alone practicing for a while. But hello? I am just an amateur and it's a music faculty! People there try to become professionnal musicians in this highly competitive world. I still think that the building opens quite late at 7:00 am. I bet that in Europe in highly competitive schools, doors open way earlier than this and that there is many people already practicing at these early hours. It's the same thing in evenings. After 9 pm, the hall or practice rooms empties itself very quickly... I was astonished when I first went there! I though I would see futur Repins and Vengerovs at 6 am practicing (lol!) Of course, some are very talented but they don't show up at these hours... (maybe they know they don't "need" to... as often first chairs in orchestras are said to be the last ones arriving when everybody is already there practicing... That's life I guess!)
I also often do night practices and have wierd looks when I tell this to people. I also have wird looks when I tell I can't go somewhere because I want to practice before my lesson. I then get told that I take this too seriously for what I should... (maybe, iy's not even my job lol)
Am I any better because of this? No, I don't think... (well if I am, I don't notice it) But that's not the point. That fire can burn in anyone!
And it's all kind of little things like this that makes or express the "fire" in my opinion. It's just how much you care about it really. It's practicing on Christmas day when you don't have to and have this annoying fever/cold walking down the snowy landscape with your violin on your shoulder...
Thanks for your blog!
Anne-Marie
From Tom Holzman
Posted on November 26, 2010 at 2:39 AM
How wonderful that the music evokes such strong feelings for you. In some ways, it is only when we feel that way that we are really alive. I hope it will always be so for you.
Eloise - that's profound. You obviously have writing skills to go along with your musical ones.
From Susan Young
Posted on November 26, 2010 at 8:15 PM
Julian, I was thinking the same thing. When you go to college Eloise, if you major in music make sure you minor in writing in some form. You have talent for expressing yourself
Thank you for your compliments! I've always loved writing. I'm glad to know that people like to read my blogs!
My fire within hasn't been dampened by the snow today at least! In fact, it's growing at an astonishing rate! Lots of music is fun!
From Anna Meyer
Posted on November 27, 2010 at 12:32 PM
First of all I love the photo :)
I understand this "fire" you speak of. Now my fire doesn´t break out in explosive raging outbursts of intense passion, it´s rather a small but consistent fire that´s always burning. This fire is what drives me to practise just before midnight, taking my violin everywhere (including to the cinema, my university, shopping and other places), reading endlessly about music, listening to music, loving my conservatory and everything else I do in regards to music.
This fire will definitely get you far in your violin life but make sure it doesn´t burn you completely (i.e. play so much that you have to stop playing)
This entry has been archived and is no longer accepting comments.