Printer-friendly version
A Violinist's Dream
February 21, 2012 at 3:29 PM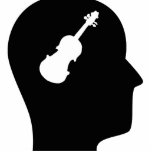 As a violinist and composer my biggest dream was to perform my own concerto with a professional orchestra. I studied all the major violin concertos with score in hand and worked really hard to get my teacher's permission to start writing a violin and orchestra piece.
At the time, I was in love with the Red Violin soundtrack and Joshua Bell and when the composer decided to make a concerto out of it I went crazy. I bought the score and studied it for hours. I loved the language and how Corigliano treated the orchestration. In every composition lesson, I would discuss this piece with my teacher while working on my own concerto. I wanted a piece that resembles contemporary, romantic and in general cool ways to treat the violin as communicator without boring an audience.
My idea was to make it short in order to gain experience and provide with an easier way to touch people.
I finished the pieced and performed it myself with the conservatory orchestra in an open rehearsal. I taught that was the best moment of my life, seriously, I felt like the king of the world. That year I won the school concerto competition and that lead to a performance with the national symphony. The conductor then asked me if I would like to perform my own violin concerto instead of the Lark Ascending and I said YESSSSSSS. Then, that was the best moment of my life- I was really in heaven.
I've accomplished my dream. After that, I title the concerto A Violinist's Dream, no wonder why!
My advice, if you want something really bad you will earn it eventually, just keep working hard!
That's the secret!
Happy Practicing!
Cesar Aviles
www.tipsforclassicalmusicians.com
This entry has been archived and is no longer accepting comments.