Violin Making 3
February 18, 2011 at 9:25 PM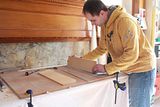 (My first 5 posts I did on Facebook before deciding this was a better medium for this so don't mind the time delay). I have not posted in a few days because I have been working in short spurts, plus the weekends are usually spent completing customer repairs and such. Recently I prepared the two halves of the top for gluing. The top wood comes from the supplier as a quarter-sawn piece that has been partially sawn through to half it. This way it can be book matched (meaning the 2 halves of the same piece can be opened and put together like opening a book). The edges that will be glued together must be perfectly straight and square so that the edges meet precisely and there are no gaps in the joint. Once this is accomplished the halves can be glued.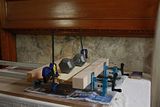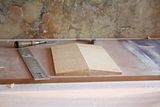 This entry has been archived and is no longer accepting comments.
Violinist.com is made possible by...
Shar Music

Pirastro Strings

JR Judd Violins

Los Angeles Philharmonic

Dimitri Musafia, Master Maker of Violin and Viola Cases

Thomastik-Infeld's Dynamo Strings

National Symphony Orchestra

Violins of Hope

Violinist.com Summer Music Programs Directory

Violinist.com Shopping Guide

ARIA International Summer Academy
Johnson String Instrument/Carriage House Violins
Discover the best of Violinist.com in these collections of editor Laurie Niles' exclusive interviews.

Violinist.com Interviews Volume 1, with introduction by Hilary Hahn

Violinist.com Interviews Volume 2, with introduction by Rachel Barton Pine