Violin Making 2
February 18, 2011 at 9:16 PM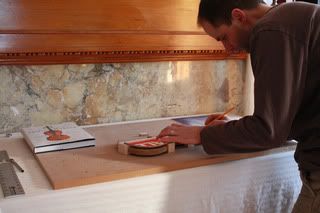 This morning I leveled the blocks on some sandpaper I glued to a piece of MDF. As a Strad copy the violin will have a slight taper from the end block to the neck block which is why the blocks need to be leveled. I then traced the points on the corners and the curve of the end and neck blocks. The book says to carve the blocks bit by bit with a gouge, but I did a rough cut with the scroll saw and I will clean it up with the gouge, knife, and round sanding sticks. Using the sanding blocks, provided they are perfectly square, I can perfect the curves by sliding the squared edge along the flat work surface. I am feeling very good about the pace I'm setting. I am taking it slow and carefully thinking through each step before I proceed and everything has worked out really well so far. When the ribs come tomorrow afternoon I can begin planing them. I can also prepare the top and back while I'm waiting and cut out my lining strips. The rib bending iron should arrive toward the end of next week. My gouge is scheduled to come Wednesday. Thanks for reading!
This entry has been archived and is no longer accepting comments.
Violinist.com is made possible by...
Shar Music

Violinist.com Shopping Guide

Los Angeles Chamber Orchestra

Dimitri Musafia, Master Maker of Violin and Viola Cases

Anne Cole Violin Maker

Miroirs CA Classical Music Journal

Pirastro Strings

JR Judd Violins

Los Angeles Philharmonic

Corilon Violins

Coltman Chamber Music Competition
Johnson String Instrument/Carriage House Violins
Discover the best of Violinist.com in these collections of editor Laurie Niles' exclusive interviews.

Violinist.com Interviews Volume 1, with introduction by Hilary Hahn

Violinist.com Interviews Volume 2, with introduction by Rachel Barton Pine