Printer-friendly version
The Center of the Universe
July 8, 2009 at 9:13 PM
Every year since 2004, I have eagerly awaited ten days. Those ten days comprise of an intensive music camp in Ottawa, KS called Sound Encounters. This year accomplished the seemingly impossible by exceeding my expectations.

This year was my second year of being a collegiate student at SE instead of an undergraduate. The only difference between the two is housing – collegiates live in the nicer dorm with the faculty. The housing situation also results in fewer rules for collegiate students. Almost every night, we were up past midnight, which may not have been conducive for 8 AM orchestra, but it certainly was fun!

In orchestra this year, we prepared and performed Shostakovich's Two Pieces for String Octet. The director of Sound Encounters orchestras, David Barg, is full of insights. Sometimes he shows us a score from Leonard Bernstein, sometimes he drops a quote from Pablo Casals. I was greatly looking forward to playing Shostakovich this year because this work really exemplifies what I love about Shostakovich: the laborious tragedy in the first movement and the fiery wrath of the second movement. In the first few rehearsals, we were playing it way under tempo and I was unsure what the result would be. Mr. Barg kept reminding us that, "Slow is just fast slower" and he was right! Think about it…. The final performance of it was most excellent and we owed it all to slow, thoughtful rehearsal.

For my private lesson, I brought something I had been working on for a little more than a week: the first movement of Lalo's Symphonie Espagnole (originally suggested here). My teacher, Scott Conklin, helped me out tremendously in discovering the sound I wanted out of the music. As I soon learned, Lalo needs to be played with one's heart on one's sleeve, which was difficult for me at first. Through different techniques, Dr. Conklin taught me what was necessary in order to achieve my desired sound, from simple observation of dynamics to mastering high Ging pyrotechnics. He also pointed out to me that I was having a little trouble keeping my pinky on my bow….

Repertoire class with Brian Lewis this year was formidable, but fun. Our pieces were the Mendelssohn Concerto, third movement and the Goldmark Concerto, second movement. I looked at the Goldmark before SE and saw that it wasn't technically hard, but I knew that we would be doing a lot of work to develop the character. I was correct. We spent a great deal of time on the first few notes of the movement, Brian urging us to cultivate a specific color from the massive stained glass windows in the chapel where we rehearsed. Even though we were performing these two movements as a group, it was a very introspective experience. I had learned the Mendelssohn previously, so the most challenging aspect was modifying my bowings, however, the first day of rehearsal on it scared me. We played it at breakneck speed and afterwards Brian assured us, "Don't worry, we'll take it faster for the concert." After 10 days, we did, and it sounded great.

I was a member of Chamber Ensemble No. 1 this year. We played Dvorak's String Quintet, Op. 77, first movement and we named ourselves The Quintessentials at the suggestion of our wonderful coach, David Garrett. Mr. Garrett is a cellist in the LA Philharmonic and he was the cellist in our quintet. He taught us the art of listening to each other and really helped us bring out the spirit that I think Dvorak intended for the movement.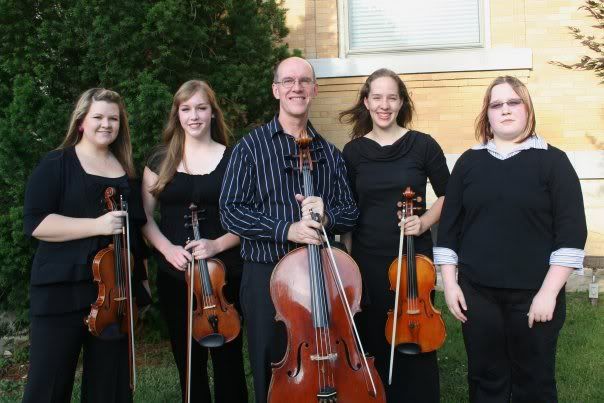 The Quintessentials
At SE, we had a special guest this year: Mark O'Connor! This was in celebration of Ottawa's summer music activities' 35th Anniversary. While Mark O'Connor was at SE, he taught a class that we all got to attend. He provided us with etudes and excerpts from his caprices and we went to work. The most surprising thing I learned was how much the rhythm seems to change when placing emphasis on different beats. We had sets of sixteenth notes and placed an accent on the first in a set of four, then we tried it on the second in a set of four, etc. and it made such a difference to the sound. He then proceeded to wow us as we tried to play excerpts from his caprices and failed while he whisked them off flawlessly. This only whetted our appetite for his concert. His final night at SE was his concert – the first half was just him and the second half was a performance of his String Quartet No. 3. There was no program, so as my memory serves, everything that he performed was written by him. In the first half, everyone was in awe of his prodigious skill. It was incredible – I am still reeling. The music he wrote acted as a perfect showcase for his technique and put what we learned in class into context. The second half – his String Quartet No. 3 – was performed by Brian Lewis on first violin, Mark O'Connor on second violin, Roger Myers on viola, and Amy Barston on cello. This quartet was innovative in many ways: there were many different rhythms going on at the same time, but they didn't sound out of place in the slightest. The overall sound was very… American. I'm sorry I can't describe it better, but it was very fresh and invigorating. The slow movement was beautiful – we got to hear it twice because they played it as an encore.
Mark O'Connor, me, and friends
In closing, I need to make clear that this blog does not do Sound Encounters justice. In fact, my peers and I have come to the conclusion that the English language does not have the capacity to describe SE. It is an occasion you need to feel, to breathe, to simply be in to understand how much I love and owe to Sound Encounters. Thank you.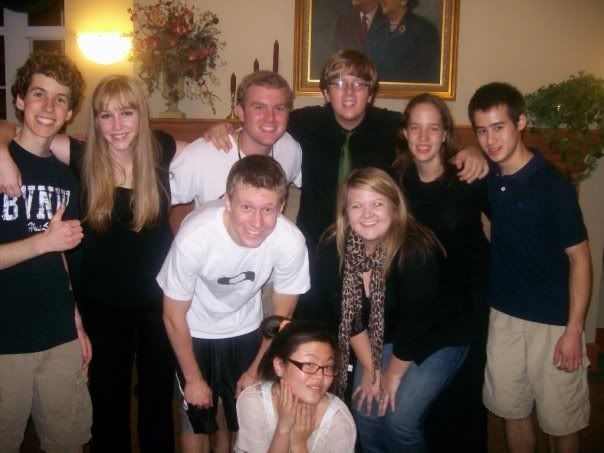 Sound Encounters = Happy Students!
It's good to hear from you again, Sydney. Your experience at Sound Encounters sounds great.
Aww, great blog Sydney. :) Oh, how I miss Ottawa. And you're right, its really impossible to describe just how special it is. You have to experience the magic. :)
This sounds like so much fun! Thank you for sharing your experience with us Sydney! "Slow is just fast slower" -- I love it!
From E. Smith
Posted on July 9, 2009 at 1:59 PM
The camp sounds fantastic. And your new profile picture is gorgeous!
It was a pleasure to read your blog!
For the next four years, I will have the privilege of studying with Scott Conklin at Iowa and I'm thrilled. To read you comments about working with him, not only intrigues me, but it also causes me to nod along with them because I recognize the same feelings.
-Catie
P.S. You know Will Bender! AHHHHHH!!! He was my violist at Credo last summer. I love that kid!
Yeah, I have noticed in the last few years that there is a pretty big Ottawa/Credo connection. Good luck with your studies! You can't go wrong with Scott.
Sounds like an awesome life experience and ditto on the new profile picture. Beautiful!
This entry has been archived and is no longer accepting comments.