Printer-friendly version
Summer Camp Nostalgia
June 26, 2007 at 3:24 AM
I've just returned from another wonderful ten days at
Sound Encounters
. This year, my schedule read:
8:00 - 9:30 Orchestra Barg
9:30 - 10:30 Chamber Coaching Dubois
10:30 -11:30 Composing McLean
11:30 - 12:30 Rep I Lewis
1:30 - 2:30 Chamber Rehearsal -
3:30 - 4:30 Masterclass Lewis
It was strenuous, but so enjoyable! Let me just say, beginning orchestra every day with Mr. Barg really wakes you up. It's challenging and you get "Bargisms" (which can pertain not only to music) such as: "Don't attack the note; attack the phrase." or "Everything happens before it happens." This year, we played Osvaldo Golijov's "Last Round". It's such a spooky piece; if you haven't heard it, listen!
Chamber was awesome this year. We played Schumann's Quartet No. 1 mvt. 2 Scherzo-Intermezzo. Our coach, the amazing, Juilliard-trained Susan Dubois, was also the violist in our quartet. On the night of our performance, it also happened to be Dr. Dubois' birthday, so instead of starting the piece as planned, Deborah, Matt, (my fellow quartet members) and I played happy birthday! She was really surprised.
Composing with Michael McLean could not have been more insightful. We spent a lot of time dissecting piano parts and turning them into string orchestra arrangements, which was beneficial for me because I never wrote for alto or bass clef before. I really understand how all the parts in a string orchestra fit together.
Rep. with Brian Lewis was one of the best groups of violinists I've ever worked with. We played the first movement of the Barber Violin Concerto and a new piece by Michael McLean for four violins called "Preludio". I had my doubts about how the Barber would work out because much of it is "ad lib", but it actually came together wonderfully under Brian's direction. Here's the video:
Preludio was one of the coolest violin ensemble pieces I've ever played. It's difficult to describe because I can't think of anything much like it. There's a video of it on my biography page and I suggest you check it out because it's so neat!
I had four masterclasses with Brian Lewis, playing the first movement of the Bruch for three and the first movement of the Mendelssohn for one. One of the most helpful things I learned was to create characters for everything that you're playing. The opening cadenza in the Bruch was an old man walking around; the first marcato section was the Vikings pillaging a village, etc. These characters helped me portray my ideas about the concerto more clearly.
Almost every night, there were awe-inspiring concerts. The bass concert was the most surprising in terms of how extrordinary it was. Harold Robinson and Dennis Whittaker played both solo and duo bass pieces and WOW. I had no idea the bass was so cool. Go to a bass concert and you'll see exactly what I mean!
Right now, I miss all my friends from camp terribly. Luckily, facebook keeps us in touch. Here's a picture of me and some of my friends from camp showing our true colors: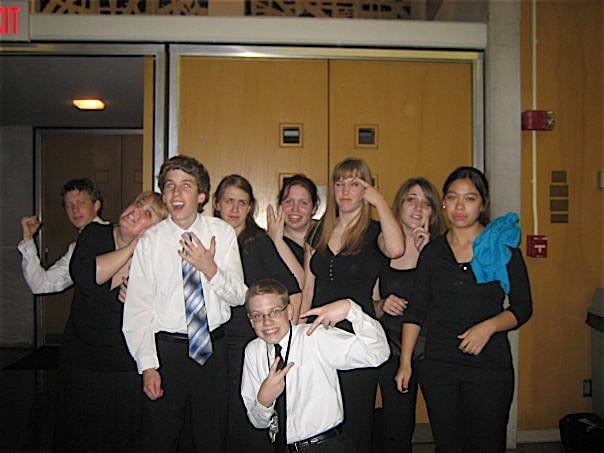 Atticus, Treesa, Nathan, Phoebe, Philip, Haley, me, Victoria, Sophie
We had so many great times together, like when...
Philip and I were running to the concerts to get good seats. We also decided to run back to the dorms and we were telling everyone, "We have to run... literally." Then, as we were making our smooth exit, Philip tried to go through the door that is permanently locked and crashed into it!
Karl asked us to save his place and the lunch table and put pepper where he was sitting to secure it. From then on we referred to pepper as Karl. "Please pass the Karl."
I miss Sound Encounters terribly and I can't wait until next year!
From Karin Lin
Posted on June 26, 2007 at 5:10 AM
Awww, what a lovely post! I'm glad you had such a good time. I only had the chance to go to music camp once in my life but it was an awesome experience. I'm with you...I didn't think the Barber would work in a group setting like that, but it actually sounds quite nice. A testament to your teacher's skills, I guess. :)
Thank you for posting all this, Sydney!
From E. Smith
Posted on June 26, 2007 at 1:24 PM
Great blog. Sophie (on the right, in the last photo) was recently featured on the From The Top show in Cincinnati.
You played Barber in unison-- how odd, but it sounds beautiful.

Hey,
Great post! That really is a fun place.
-Atticus

Thanks for sharing your experience - fun to read. Isn't coming down from a great trip/experience the worst feeling, though? : (
That's exactly right, Terez. I want to go back so badly right now!
Atticus - I miss you! Thanks for fixing the picture :-)
"E." ;-) - Yeah, I was looking at pictures in Sophie's case one day and I saw the picture with Christopher O'Reilly and she told me about her From the Top experience. There was also a picture of her having a masterclass with Maxim Vengerov in her case!!!
Karin - You should bring Kiera and/or Kyla to the Institute when they get older. It's like this camp except shorter and for little kids.

:) Vikings pillaging a village... I like that!
What was the Mvt I of the Mendelssohn?

The first movement of Mendelssohn's Violin Concerto in E minor. Does that explanation suffice?
Oh! An abandoned child.
Awww, thanks so much for posting all this, Sydney. Especially the Barber video! I was curious how it would turn out - you're right though, it really came together. I miss Sound Encounters so much! I may just have to start blogging myself. =)
This entry has been archived and is no longer accepting comments.