The Making of A Violin: The Making of A Luthier: Back Centre Joint
Written by Ray Nichol
Published: December 13, 2014 at 12:17 PM [UTC]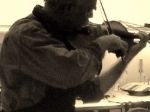 Hi Everyone, when I started the blog, I made a bargain with myself and you, that no matter how the work went during the making of the violin that was what I would be writing about.
Two weeks (or 8 days of school) ago I had great plans to have finished the two centre joints and then begin the boosting (or removing the waste wood) from the top plate. THAT was what I was expecting to be writing about this week.
It didn't happen.

Top Centre Joint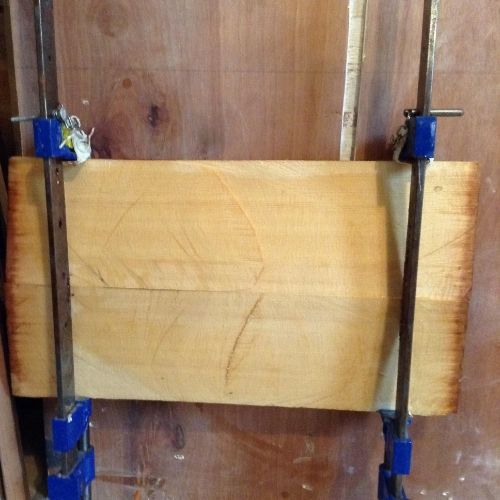 The above picture represents 7 of the 8 days of school. Yes, 7. This was a centre joint that no matter what I tried it refused to come together until the very last day. Seven days to flatten one very wicked (and I think mockingly) twist I have ever seen in a piece of wood as you can see in the next picture. Especially if you want those two pieces of wood to be jointed together to make a violin top.
What I needed to do was first flatten the side facing the table, then square the smaller sides to that side, and lastly square the two pieces of wood to each other. When the joint is good there is not even room (anywhere) for even the space for a hair. Anything less will mean you will have a joint failure when the violin is under the pressure of being played. Not a good time for the top or the back to be flying apart.
To make such a joint, you will be planing the wood one or two shavings at a time- 0.03 mm thick (yes I measured) and then checking for square. An open door to the outside or it seems if you look at it side ways is enough to throw off a days work.
After 7 days of patiently-and after the fifth day not so patiently- I had a top centre joint whose joint is not too bad.
This spruce is made from wood that was cut about 120-140 years ago. And something that I've never seen before is what I can only call flamed spruce. Here is a picture of the finished top centre joint and a very remarkable piece of wood.
Back Centre Joint
Where the top centre joint took 7 days to complete the back joint took less than one day.
The only hiccup was the glueing of all things. John, who has many years of working with violins said that he had never seen anything like it. Either because of the age or because of the amount of natural oil in the wood or both it took coating the joint 4 times (normally it takes only 2). The wood just seemed to be drinking in the extra glue before allowing us to clamp the joint together. To test to be sure we had a good joint we gouged a piece out and the wood broke before the joint so all was well.
In the end, I have a good joint and a flamed back of the kind you rarely see. I am very pleased with the two joints and now able to move onto the next step!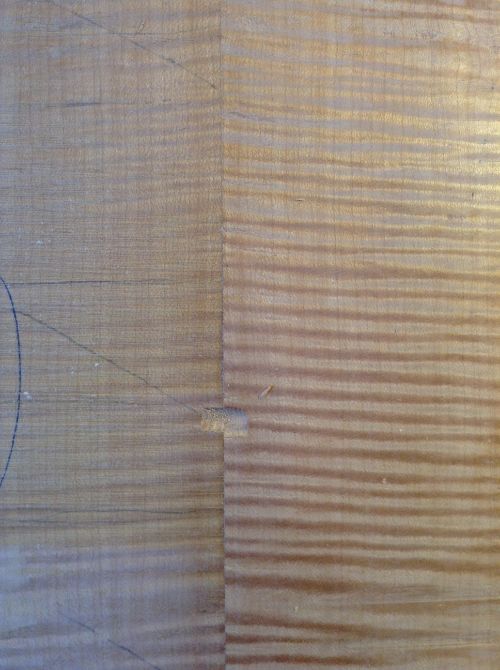 Next Post
John closes the shop in 4 days and reopens in the New Year. I plan on taking a couple of days off but will also be bringing work back to my flat, to work on during the break. So likely I will not be posting a blog until after the break.
Thanks for following my journey, so far, the great questions and comments, and those double tweets! Hope everyone is warmed beside your fireplaces with a warm drink in hand, good music being played, too much food to eat, and friends and family close by.
What?? I thought violin-making was supposed to be a breeze...
Thanks for the comment. I don't know of any endeavour that will be 'a breeze' all the time. The main point, I think, is when something happens that is out of the ordinary is what you do about it. With a great instructor, like John in my corner, the final product will meet or exceed expectations. In making this violin, and many more after this one, I'm shouting for the stars not the top of the trees. Excuss the obvious pun. :)
Looking forward to seeing it evolve, by the way no warm cosy fires here it's 44 cel opus today and rising, Central Australia lol