Carving a scroll - step by step - part XVIII
August 6, 2009 at 8:12 PM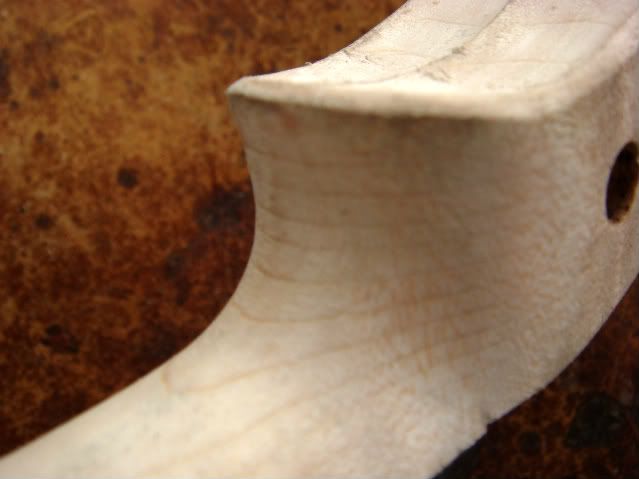 This is the front view of the pegbox near the nut. Notice that just the outer side of the pegbox walls are chamfered, the inner parts remain not chamfered. The "floor" of the pegbox is finished with a chisel used as a scraper.

While working in the the neck, take care to avoid ebony dust reaching the maple because it will stain the maple, mainly if you are using sandpaper.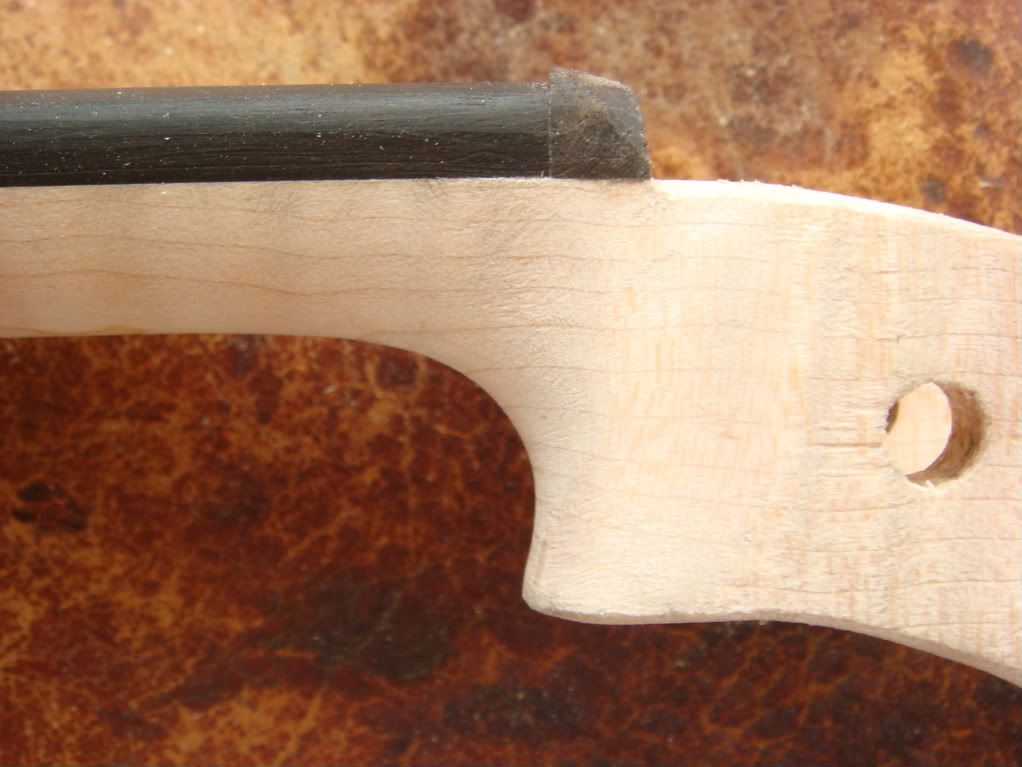 And finally, here the photo of the real McCoy and my new scroll:
My daughter Dora painting the inside of the pegbox with spirit varnish and Terra di Siena Brucciata:
And now the finished scroll, covered with my oil varnish:
Bravo Luis! Magnificent - a true work of art!!
Thanks so much for taking the time to photograph and post every step of the process.
ab
It's beautiful! I'm never going to look at a scroll the same way again.
I know you said it takes a lot of time to document all this, but you could definitely put a book together, especially with all the great pictures you've taken. Just a thought!
Hi! Thanks! There are already some good books about violin making, the one by Courtnall and Johnson "The Art of Violin Making" is quite good, althought it does not cover the scroll carving process as deeply as I did.
I closed the soundbox of my newest 16 inches viola that I'm going to take to NYC in September, I'll post some pictures of it here soon.
Ciao!
And now the rest of the viola. I carve my scroll rather deeply, to make them lighter for the confort of the player. So, for stylistic resons, if I carve my scroll deeply I have to make the scooping aroung the edges (sguciatura, in Italian) aldo rather deep, the same for the scooping on the lower wing of the f holes. Here the rest of the instrument. The photos, as usual, are by my friend viola player and photographer Andrès Lepage:
That is realy nice! Nothing like the feelings of pride and satisfaction at a job well done.
BRAVO! Gorgeous work... Super look and I am sure playability. What a well made and shaped scrool!
Anne-Marie
Thanks for your kind words!!!
This entry has been archived and is no longer accepting comments.