Carving a scroll - step by step - part XVI
July 30, 2009 at 9:50 PM
Hi! We are back again with our tutoria.
Here I'm using a knife for cutting till the centerline:
When cutting the fluthing near the throat, the gouge may scape and hurt the front part of the pegbox's walls, so I protect them with a small piece of thick leather: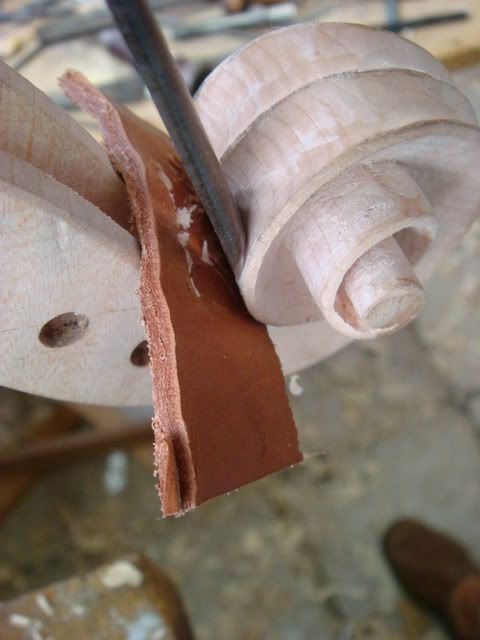 Again cutting the throat region with a knife:
Here using a knife to cut till the chamfer. The channell was made with the gouge, the knife will just cut the small remaining part till the line of the chamfer, I find it gives more precision than the gouge, the gouge can "invade" the chamfer, but many makers will use just the gouge:
Here I'm using a round file to take off some marks left by the gouge:
Again, Bravo!
Anne-Marie
Grazie!!!
Gorgeous work!
ab
Your photography as well is excellent, really showing off the quality of the work. With fine, sharp close ups like those, one can almost imagine how the surface feels. Thanks again for these installments.
I love how the edges of the scroll are so uniform and sharp. The same with the center line. Is the maple that you use for the scroll a hard wood or soft wood?
it looks like you're done. Are you done? What would be left to do?
Thanks!
The photos try to emulate what the maker see when he is carving the scroll, it's the maker point of view.
This wood is red maple, it's just a litle softer than european maple.
Yes, I'm almost finishing!
Ciao!
What gorgeous photos. Really, just sumptuous to look at. But so's your work!
Enjoyed seeing/reading this, as always!
I pray that I do not ask too Many Questions, but... about how old is the mapel / how long aged?
Thanks!
Royce, feel free to ask. I've got most of my wood in Italy, most of them in 1994, so now it's 15 years old. This maple is about 10 years old, but five years would be ok too.
But I have older maple (more than 40 years old) for special comissions. I've been using also spruce from trees that died in a plague and remained there till they were cut by Simeon Chambers, this spruce is about 50 or 60 years old and very very dry.
This entry has been archived and is no longer accepting comments.