Carving a Scroll - step by step - part XV
July 20, 2009 at 10:36 PM
Notice again the position of my hands hands. The scroll is a bit fragile in this point so you have to support it with your other hand while cutting the channel: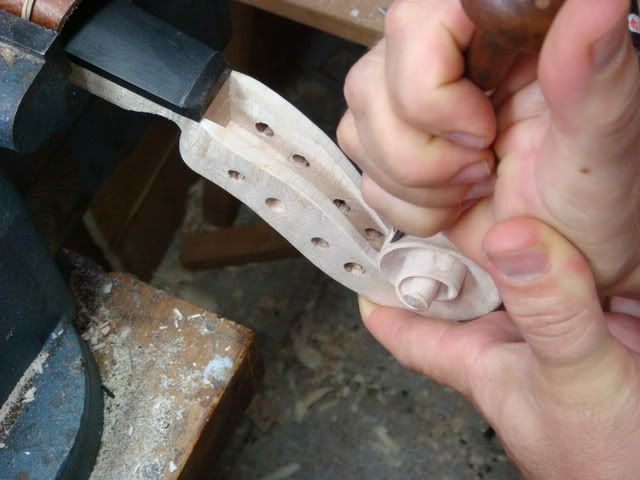 Here a view of the fluting of the front part of the scroll. I put a piece of sandpaper on the back to give contrast:
Here Im  working in the fluting in the throat region with a knife: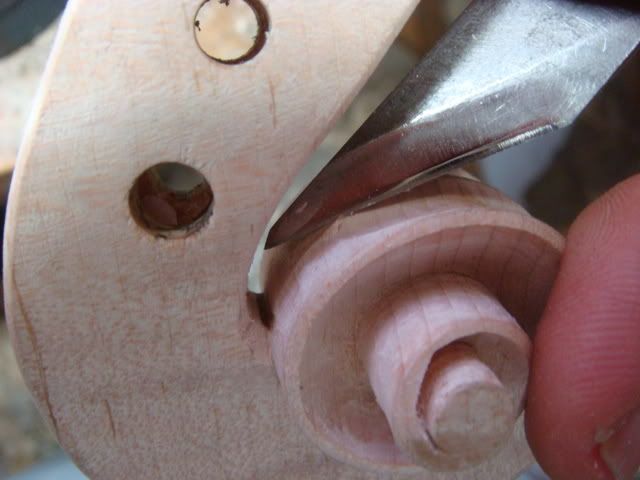 Once again, impressing! How much work! It isn't a surprise that the good makers can't do more than about 7 or less violins a year + they often do violas and/or cellos etc...
It is a very beautiful scrool!
Anne-Marie
I envy your artistry and craftsmanship. Wonderful to follow the step-by-step process - thanks for posting!
Roughly, "How many tools do you have to make for your making of string instruments?" Did you make the knife that you have a picture of here?
Double post, sorry ;)
Nice work, I think what is so great about traditional lutherie is how much is done "by eye", so much more interesting than the 100% precision of our modern totally mechanised world.
Now, I just know that if I was even skilled enough to be able to make a scroll and get to this stage, it is right at this point that my chisel would slip and decapitate the scroll... always was clumsy like that... :-(
Thanks!
Royce, roughly I use:
about 4 japanese chisels (nomi);
about 6 gouges (Wolf (European) and Japanese (ori nomi);
about 4 knives (all Japanese, laminated);
2 Japanese saws
a small Japanese saw
many files, about 12
about 6 rasps
4 finger planes
one plane I've made myself
a Record no. 7 plane
a Stanley no. 5 plane
a 6 1/2 low angle Stanley plane
a low angle Lie Nielsen plane (rarely used)
clamps for glueing the soundbox (made myself)
10 hatanage - japanese clamps for center joints
peg reamer for violin/viola, another one for cello, the same for the peg shaver
reamer for cello endpin
about 10 Japanese sharpening stones of different grades
many scrapers, many of them I shaped
a "yarri kana", a Japanese tool
a bandsaw
a driller
a glue pot
about 3 brushes for varnishing
chemistry hardware for making oil varnish
and perhaps some more tools...
Quite a few are Japanese tools! My grandfather was an aircraft mechanic. Began just before WWII and into the Jet Age. Most of his tools he made or modified. He was cheif mechanic for the XB-70 project. Was hired to work for the space program for NASA just by word of mouth from his superiors, but he was color blind and failed the eye test. He spent 8 years in the third grade and was a self taught avionics mechanic genius! His name was Tony Jenkins.
Yes, the Japanese tools are fantastic! They hold quite a good edge. They are being made by generations of family smiths, many of which were - or still are - sword makers. They are quite expensive, but they worth the money.
Your grandfather was quite a gifted man!
I agree with you when it comes to tools, lots of things. Don't settle for second best. Quality wins out all the time!
Yes, my grandfather was. He loved his grand children dearly!
I'm really enjoying your series of blogs on this topic. Only photographs could tell this story so well, and your photos are very good. I'm especially impressed with this entry, because you show that such delicate but precise control is needed for carving the thin part of the scroll. Strong, steady, well trained hands are essential, too. This series of blogs has been very impressive. Thank you.
Thanks for your kind words Pauline!
I've just posted some photos of my newest 16 inches viola on my blog.
This entry has been archived and is no longer accepting comments.