Carving a scroll - step by step - part X
June 28, 2009 at 9:14 PM
Now I drill holes to carve the pegbox, take care with the depth of the hole: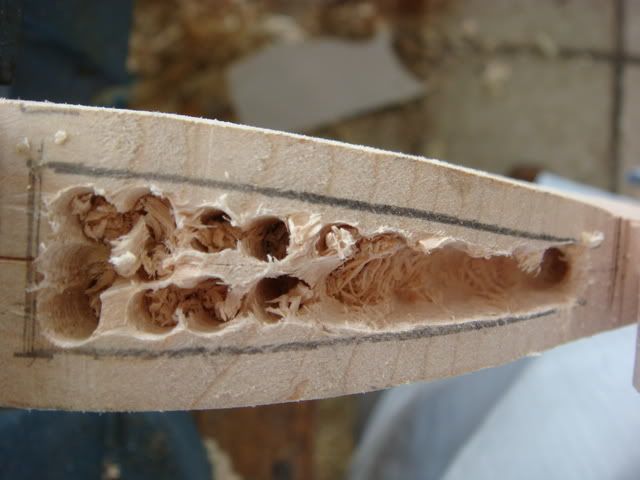 Now the pegbox is excavated, This is a work for my "garzoni di bottega" (shop assistants), it's the normal way to get them involved in our craft, my father did the same with me, of course they are all the time under my supervision: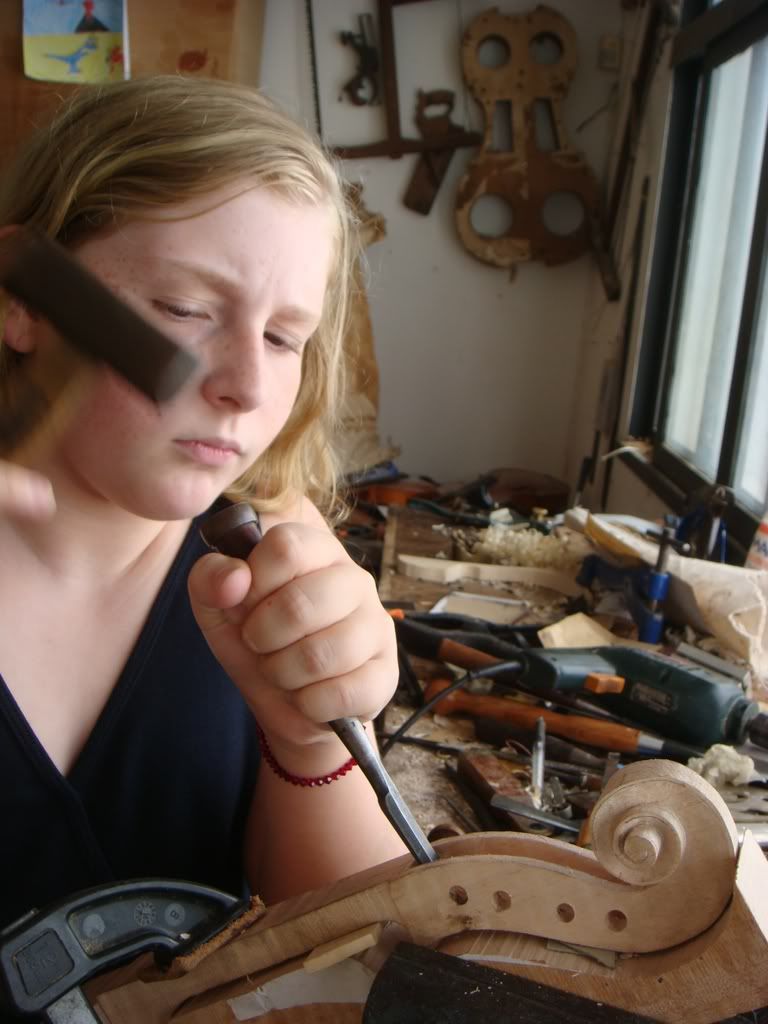 Notice the position of the chisel in this area, as well as the sawn neck block backing the scroll to suport it:

Here the upper nut is already glued:
Shaping the pegs:
Oooops!!! I've forgotten to take some pics!!! I draw some circles to locate the peg holes, drill them and use a reamer to shape the peg hole. And now the pegs are already in their place...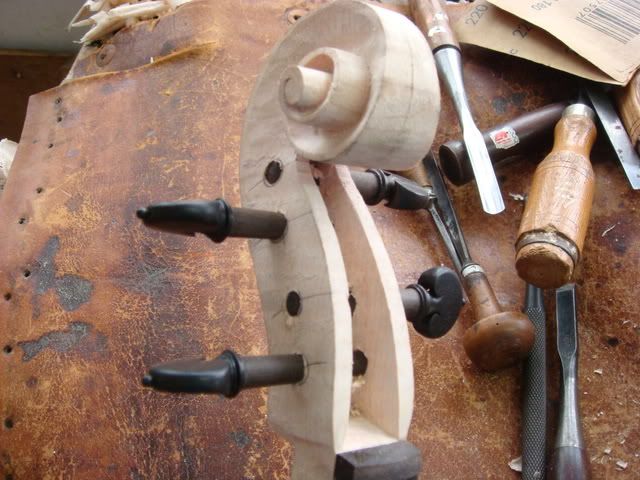 Cleaning a bit more the surfaces with a shaped scraper. The use of the scraper is essential to create crisp lines, as seen in old instruments, the excessive use of the sandpaper can round all the edges creating an uninteresting look that we see in many scrolls, so the best thing is allways working with scrapers, that is true to the rest of the instrument too:
Once again I would like to Thank You for your postings , I am enjoying watching your work it is always a treat to be able to watch a craftsman create...
Bill G.
I love the picture of the children helping out, just great!!!
Is the nut's elevation, it's height, adjusted at this point... after it's glued in or later?
Are the children yours? They're so cute!
How far back does your family go in the making of string instruments?
Thanks!
Yes, they are my children, Dora and Pedro.
The upper nut is too high now and will be shaped and adjusted later.
Royce, my father, grandfather and uncles worked with wood, but not making musical instruments. But they introduced me to woodworking in a very early age and, eventually, that helped me a lot in my making. My father helped me with some instruments but unfortunatly he died too young when he was just 60 years old. I'm a self taught in violin making.
Hi, gorgeous scrool...
Are these lovely assistants your children? (don't say it if you do not want to) It is quite unfrequent to see such young makers assistants but they are between good hands : )
Beautiful resault!
Anne-Marie
Yes, they are my children, Dora is studying the violin and Pedro the cello. I give some small tasks to them so that they can be exposed to the "violin making virus".
Cute!
Anne-Marie
Thanks! Their next participation will be on varnishing process.
That's really cool to see your young apprentices learning the tradition! I have to say that it is the pegbox carving which really intrigues me. Do you work from a plan so you know how deep the pegbox has to be, or is this something that you do completely by eye and experience? To an untrained person, it simply seems that it would be so easy to make the back of the pegbox too thin.
Interesting to learn about the use of a scraper against sandpaper, I guess luthiers didn't have sandpaper back in the 17th and 18th century anyway?
Thanks!
Yes, the depth of the pegbox is measured mainly by eye.
Some say that old masters had no sandpaper, but they could use an abrasive powder such as pumice with a rag that would act as a kind of sandpaper. But anyway, the idea was to preserve the crisp edge of the cutting tools, and not making everything round with the sandpaper.
This is a fascinating series of blogs. The photos tell a lot. It's great to see your children beginning to learn the craft at a young age. I'm looking forward to your blog on varnish, since this a somewhat contentious issue.
mysite.verizon.net/paulinefiddle/home.html
This entry has been archived and is no longer accepting comments.