Carving a scroll - step by step - part IV
June 16, 2009 at 7:29 PM
Now, with the fingerboard faced down (and protected by a piece of leather) and with the top of the scroll facing down the table of my bandsaw, I make two cuts following the pegbox lines, take care to don't touch the part of the scroll you are not seeing and is facing the table of the bandsaw. When the cuts are done I have this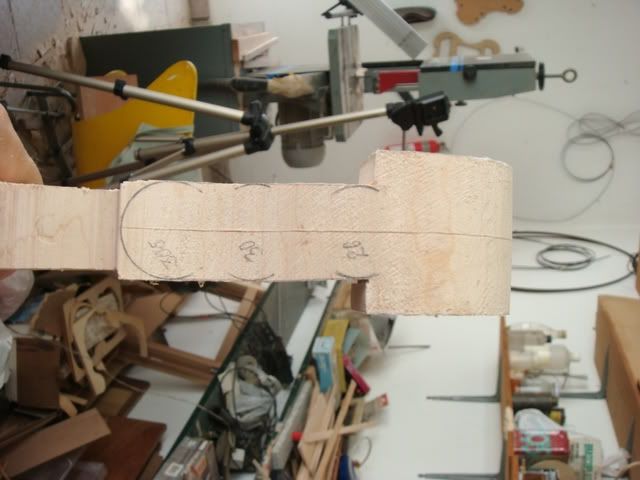 Royce, maestro Carlo Vettori wrote a book called "Linee Classiche Della Liuteria Italiana", an interesting book in which he describes some stylistic aspects of violins. On page 72 he describes the two types of back pegboxes:
I'll quote Maestro Vettori: "In fig. 35 we have a predominance of two parallel lines in the design of the channeling. This, again, is the design used by Stradivarius and by other classic Italian makers such as the Gragnani family of Leghorn. The pyramidal design for the Channeling shown in fig. 36 was used by several other very important Italians including the Amati family" (book mentioned, page 67). If you happen to visit the gorgeous city of Florence go to visit maestro Vettori in his lovely shop on Via Guelfa.
Now I continue tracing circles with my dividers. This technique of drawing directly to the wood, without pre made templates was used in many old crafts: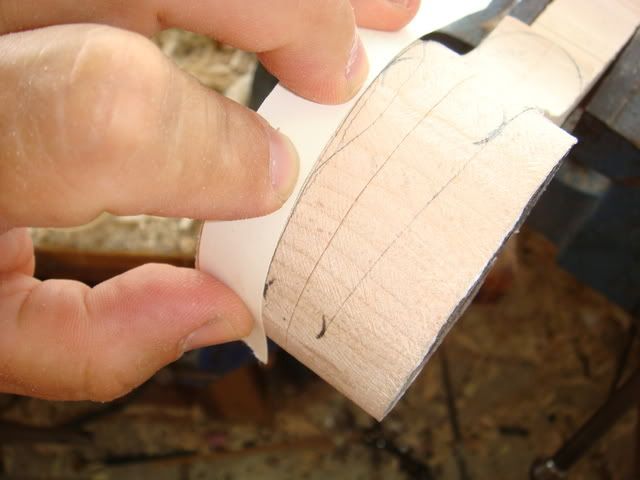 Here the front view. Notice that I left the front side of the pegbox wider than the part in the end of the fingerboard, in order to make it with "cheeks". These "cheecks" are seen in some old instruments, they had wider fingerboard and when new narroner necks were grafted to these old scrolls the "cheecks" were created: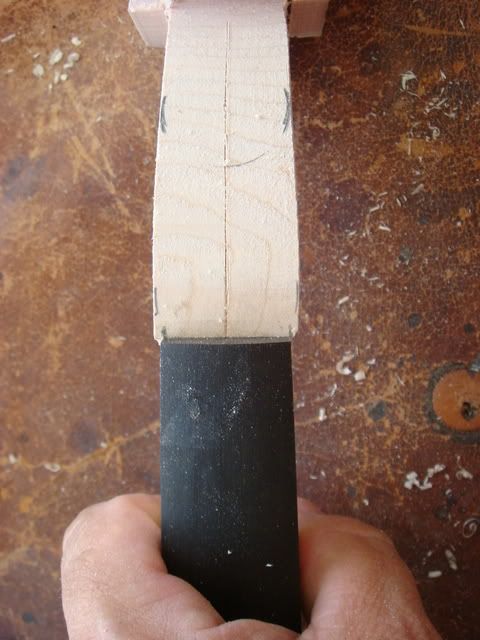 Now with a Japanese saw (I think it's a Dozuki (or Kabata) rip saw) I make the following cuts. Take care again with the scroll beneath. This Japanese saw makes a fine cut, less than one milimeter, much less I think. Notice also how the piece is hold in the vise: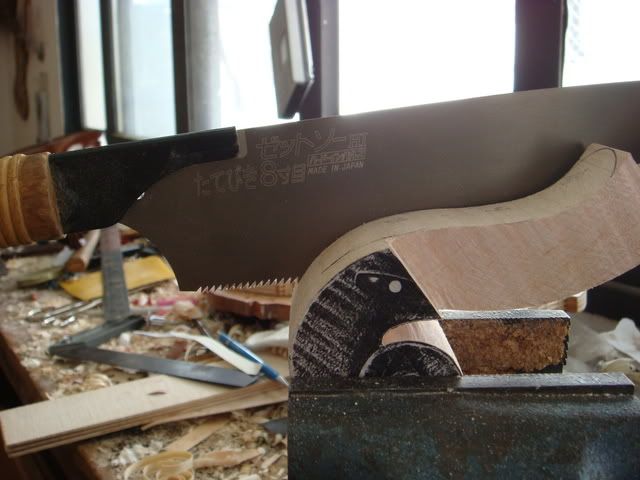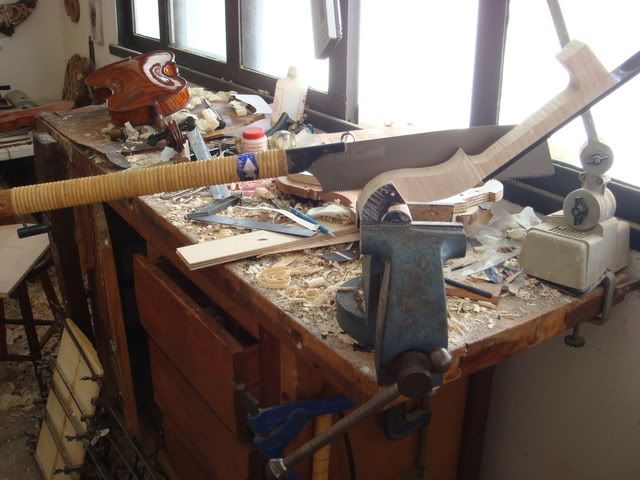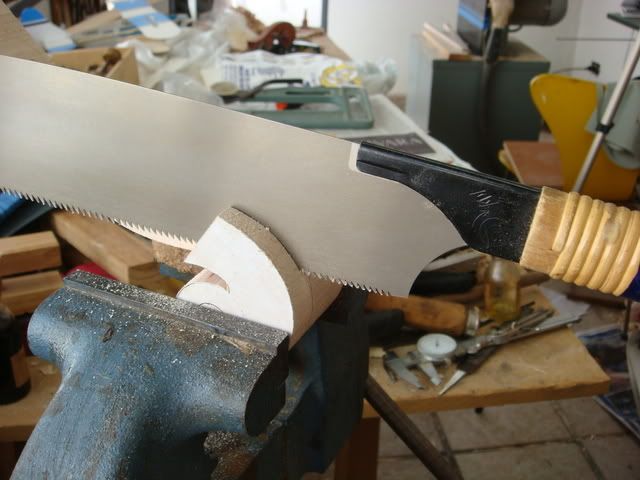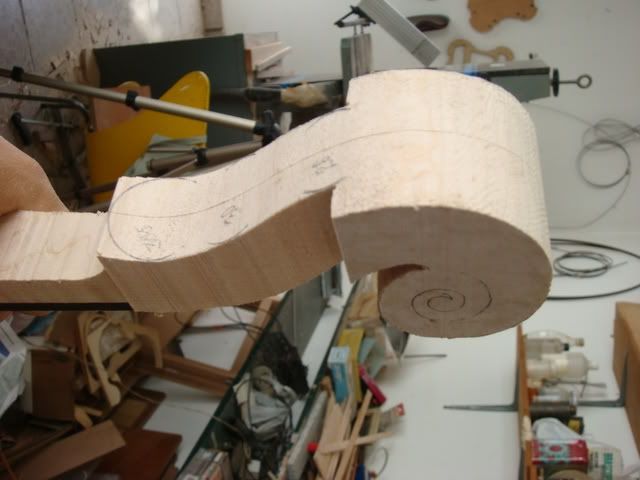 Well, this last photo should be above, but I'm a computer nerd and I don't know how to edit it to post it in the proper place...
Thank You Kindly for the book referal!
You are wellcome Royce. I'll mention this book again later.
Thanks again! I'm a fan of these instructive and interesting making process blogs!
Anne-Marie
Thank you very much for this very interesting series of blogs. Before long we'll know how a violin is made.
I had a student violin that was made in Germany with a tulip carved in the back of the scroll. Ever since then I always admired the Viola-de-Gambas with busts for the scroll. If someone carved a scroll that looked like a Whale's tail.... wouldn't that be pretty?
Thanks!
Royce, the violin was created as a "clean looking" object. Just compare it with the highly ornamented Gambas (viols), lutes and other instruments that were made in the same period.
Stradivari and del Gesù made some heads in the form of a shield for their "Pochettes" (dancing master violins).
Makers and musicians are very conservative, a luthier will make a head in the form of a whale tail just by comission, I think.
Wow! I have nothing against violins looking as they have always been made.... but the thought has come across my mind 'why' seldom are seen a break from the traditional scroll! Simply goes to show that one can find elegance in modesty!
There is a decorated violin that belonged to Ole Bull, atributed to Gasparo da Salò (?), the decoration atributed to Benvenuto Cellini (?):
http://www.cozio.com/Instrument.aspx?id=243
It seems that many non scroll heads were carved by professional carvers, and not by violin makers. I remember Roger Hargrave mentioning that in a German city the woodcarvers who carved heads for luthiers got angry with a luthier who started carving his own heads, but it's difficult to know if these heads where scrolls or the heads of Lions, young ladies or old men we find in some Viols (Gambas).
That is some fancy scroll work!
I remember reading that some art movements developed as a reaction to the contemporary movement of the time. Was that the case in some instances where violins/violas/cellos/basses were made less ornamented? Or that the makers such as Amatti, Stradavarii, Del Gesu were just 'modest' conservative poeple and felt that makers were getting too vain, to austintatious?
This is just so fascinating. I have one question - and that is you mention that your Japanese saw is really accurate - less than 1mm? - this sounds like a very specialist modern, hi-tech model. Do we know if the great makers 200/300 years ago had saws this accurate, or would they have to make do with something less precise and use other ways to get their top quality result?
Royce, I imagine that the person who created the violin had more the sound than the appearance in mind.... perhaps the convex and concave lines of the violin made it less prone to insert inlays and decoration.
Rosalind, the Japanese saws works with a pull stroke. Our saws works with a push stroke, so that the blade must be thick otherwise it would bend. With the pull stroke japanese saws the saw can be made thin, old Japanese saws were made this way too. I think Antonio Stradivari would love these saws! Strad's tools are in the Museo Stradivariano in Cremona, they are simple, but highly effective.
www.manfio.com
This entry has been archived and is no longer accepting comments.