57th Bavarian Festival / 30th Anniversary Bamberg Cornhusker SDC
Written by Juergen L. Hemm
Published: October 6, 2008 at 8:09 AM [UTC]
My fellow caller
Thomas S.
and I had been kicking around the idea of providing live music for square dancing for some years already. On Saturday, 2008-10-04 we finally made it happen. The Bavarian Festival Square Dance Band consisted of two dancers and two callers.
Accordion: Sabine Z.
Bass accordion: Reinhard G.
Rhythm guitar & PA: Thomas E.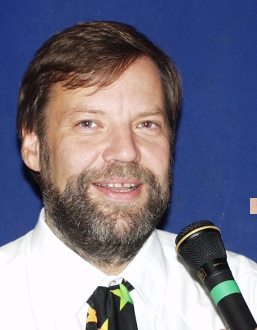 Fiddle: Yours truly
Calling/prompting: Thomas S.
One and a half hours before the registration, we set up the PA, the mic and music stands and did the sound check. The hall was still quite cool and my cold not-yet-very-alive fingers had serious trouble in following the fast parts of "Irish Washer Woman" and "Soldier's Joy". Mounting stage fright - after all, while I've been calling for 19 years now, this was to be my first appearance as a square dance fiddler (playing afterparties does not count!).
Soon, the reliable and energetic rhythm section gave me confidence that this might be a success. We had only practiced together once - last week for two short hours.
The dancers loved the novelty of live music - usually square dancers dance to records (yes, the big old black vinyl singles of yesteryear; some time ago, a friend of mine got a remark by a big-eyed pre-teen bystander: "My, you've got some big CDs!") or, nowadays, mp3 files.
As usual, an exhilarated audience creates a surge of good vibrations that are sent back to the stage and further energize the performers. While hoping that my left hand wouldn't knot up in endlessly repeating the deceptively simple melodies of "Lord of the Dance", "Irish Washer Woman" and "Turkey in the Straw", I realized why many fiddlers do not use the classical bow grip but put their thumb below the frog or even take the lower end of the bow into their fist.
Playing dances is high-energy musicianship and great fun. We got so much positive feedback from the dancers that we decided to put in a spontaneous apperance for the grand march and the grand march tip. "Oh Susanna" was a great sing-along for the occasion and again generated a surge of positive energy in the dance hall.
Calling was even more fun than usual (and downright relaxing after this new experience). Dancers, callers, the band and onlookers all enjoyed themselves very much and I sure hope this hasn't been the last time I did this. Thanks to the Bamberg Cornhusker SDC and all my bandmates for making this dream come true.