The movie 'Janine', her new cd, 200 concerts/year -> burn out
October 20, 2010 at 10:13 AM
Last friday I saw with a violinfriend the movie "Janine" at 11.30 in the morning. Still 10 persons of the 84 places at that strange time not in the evening. Here a trailer:
It was an interesting documentairy for violinists. James Bond Roger Moore is costarring in this movie (not in the trailer). Earlier they were both on Dutch tv:
But as you could see in the movie she does too much with 200 concerts in 1 year. From Soest where she live in the Netherlands to Australia and than to Boston and turning the clock back 18 hours. Jetlags. As she wrote on her website she was advised to take complete rest. http://www.janinejansen.com/newspress.php
27th August 2010
Message from Janine

Dear all,

I unfortunately have had to cancel my concert engagements for the time being after my doctors advised me to take a complete rest, in order to fully recuperate from exhaustion caused by over-work. I really look forward to resuming my performances as soon as I have 'recharged my batteries'!

Warm regards, Janine
In the movie (and trailer) Paul Popma, the marketing manager of Universal Music told he made a deal with an important newspaper for an interview with Janine from 2 pages and asked : "Janine, don't you think we are too exploitative. Sometimes I wonder."
The same man had admitted that daring foto's of Janine for her 4seasons Vivaldi are good marketing, because ""sex sells". http://www.opusklassiek.nl/actueel-archief/hoezenpoezen.htm

After that film I and that violinfriend bought tickets for 5 november, but perhaps she is still too fanatic and wants to come back too early. Just like Vengerov she plays too much with the risk of injury's fysical or mental. Also Andre Rieu cancelled a lot of concerts, because he is also is doing too much and could also not say no like Janine. He had an illness in his stability organs in his ears. I bought tickets for a concert in the soccerstation Arena in Amsterdam, because I want to see his big castle from Vienna and his big show, which has been postponed to next year. http://www.andrerieu.com/site/index.php?id=29&L=0
Here in Holland you can see the movie "Janine" : http://www.filmladder.nl/hello.php?show=movie&list=city&movie=3215
Amsterdam
    Filmtheater "De Uitkijk"  
dag beh zo: 19.00; do vr za: 21.00; zo: 13.00 19.30 
 Het Ketelhuis  
dag beh vr: 19.45; zo: 15.15 
 Ede     CineMec   dag: 20.30 
 Rotterdam     Filmtheater Lantaren/Venster   ma di wo: 19.00 
 Tilburg     FilmFoyer Tilburg   wo: 20.00 
 Utrecht     Louis Hartlooper Complex   dag beh za: 16.45; dag beh zo: 19.00; vr za zo: 11.30; zo: 21.00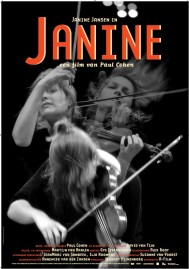 It is a good pr action after the glossy "Janine" and the poster of the Tourist information in a busstop.
Before her burn out Janine made a cd. It is in the top-100 of the Dutchchart-list on 13 (last week on 6) between all pop-cd's.  http://www.dutchcharts.nl/weekchart.asp?cat=a
Next to an evergreen Claire de lune, also 3 unknown pieces of the composer Dubugnon (1968).
Here you can hear her cd complete and for free:
http://viertakt.radio4.nl/plaatpaal-player/17/beau-soir-janine-jansen-itamar-golan.html Plaatpaal'Beau Soir' - Janine Jansen - Itamar Golan
o.a. Claude Debussy - Vioolsonate Maurice Ravel - Vioolsonate in G Janine Jansen [viool] Itamar Golan [piano] Decca 478 2590
1. I. Allegro vivo, uit Vioolsonate, van Claude Debussy2. II. Intermède. Fantastique et leger, uit Vioolsonate, van Claude Debussy3. III. Finale. Très animé, uit Vioolsonate, van Claude Debussy4. Beau soir, van Claude Debussy (arr. Jascha Heifetz)5. Clair de lune, van Claude Debussy (transcr. Roelons)6. La Minute exquise, van Richard Dubugnon7. Nocturne, van Lili Boulanger8. Hypnos (à Miss Jan), van Richard Dubugnon9. Thème et Variations, van Olivier Messiaen10. Après un rêve, van Gabriel Fauré11. I. Allegretto, uit Vioolsonate in G, van Maurice Ravel12. II. Blues, uit Vioolsonate in G, van Maurice Ravel13. III. Perpetuum mobile (Allegro), uit Vioolsonate in G, van Maurice Ravel14. Retour à Montfort-l'Amaury, van Richard Dubugnon15. Pièce en forme de habanera, van Maurice Ravel

I had wondered about this. I wish her a very restful break, and then a reasonable schedule thereafter -- perhaps a plan with both give and take.
This entry has been archived and is no longer accepting comments.