Tatsuki Narita: The truth of music is found beyond virtuosity
Written by Jacqueline Vanasse
Published: July 14, 2014 at 4:23 PM [UTC]
Whether he plays in a gym for children or in the finals at the Queen Elizabeth Competition, Tatsuki Narita says he doesn't change the way he plays: for him it's the contact with the audience that is different. The Japanese violinist won second place at the Concours Musical Long-Thibault, the Queen Elisabeth Competition and the International Competition of Sendai. Communication and human contact are very important to him. My interview with him was one of the most charming I have ever had. The endearing violinist doesn't hesitate to sing and show me some music sheets or to mimic his discovery of the Paganini Caprices or the effect of a baroque bow in the hand. He talks in terms of lines, curves, and phrases: of life, of thought, of music. In addition, the young man, who has lived in Paris for several years, speaks a beautiful expressive French. Thus we alternated between French and English, choosing the language that best illustrated our idea of the moment.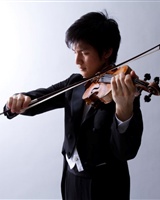 When he was young, a violin teacher lived in Tatsuki's street and his mother, who is a schoolmistress, suggested that he take lessons for purely educational purposes. Nobody is a musician in his family and no one expected him to become a professional musician. "I've never been forced to play the violin. Besides, if I had been forced I would probably not have wanted to play," he said.
For his 15th birthday, Tatsuki's parents gave him the score of Paganini's Caprices. It was love at first sight. "I was so curious to discover them that I played all the Caprices that night. I turned the pages one after another and just like that I went through the book. But then by the next day I couldn't play anything," says the young man laughing. Since that day his curiosity and love for Paganini hasn't faltered. He says he has so far played almost all the works of the Italian virtuoso.
I was in the concert hall of the Palais des Beaux-Arts in Brussels for the final of the Queen Elisabeth Competition in 2012. I was in the concert hall when Tatsuki played his phenomenal Sauret Cadenza of Paganini's First Concerto. The technical level of his playing was amazing. I had difficulty in measuring the full extent of what I was listening to. I found myself giggling while having tears in my eyes. I was hot and I wanted to applaud. I wasn't the only one. An enormous tension reigned in the hall; everyone was sitting on the edges of their seats.
In front of my admiration for the virtuosity of his performance, the young man keeps a cool head: according to him if a work was written, then it can be played. Virtuosity is not music. "I can't stay in the virtuosity, I need to look above. The truth of music is found beyond virtuosity." The result of a competition or a performance is the result of a moment. For Tatsuki, a competition shows him where he is, shows him his level of play. Whatever the result, he is never fully satisfied and always has something to learn or to improve.
Moreover, Tatsuki's great concern of the moment is to let life influence him, to live music with the feelings and emotions that it brings him. For him, we must keep a melodic line in synchronism with life. Our music must evolve with life. Many people would like to change and grow, but are afraid and stay stuck in their small practice room. It takes courage to be swayed and accept life's experiences – happy or sad – to accept change. "All life experiences are useful to me in seeking and finding the truth of music," said Tatsuki. "For example, if I want to go to Spain, I am preparing. I decide if I walk there or take the train. The preparation to obtain a very beautiful travel line can influence a very beautiful melodic line."
Recently he read somewhere that to live in this world one must learn love without laws. According to him it means one must stop seeking perfection. We must broaden our horizons, let ourselves be carried away and influenced by the experiences that keep coming. The experiences of life, what we read, what we see and hear are all part of us. We can't necessarily put them into words, nor quantify them, but our music always results from our experiences. Something necessarily changes when we're in contact with other people, in contact with ideas and life.
For other articles please visit my blog at: www.jacquelinevanasse.com