Taylor Swift, Technology, and Tracking Your 10,000 Hours
Written by Graham Emberton
Published: March 24, 2015 at 7:37 AM [UTC]
Like much of the world, I've been hearing Taylor Swift's music a lot over the last few months. In the past I've been inclined to shake off her songs as country tween material, but I actually find the "1989" singles fresh and totally earwormy. Combine this with the knowledge that Taylor is a
classical music patron
, and you might call me a Swiftie. Maybe. Intrigued by her career arc, I was reading one of those in-depth articles that show up on a Google search, and was interested to learn that much of her work begins simply, with a recording sketch on the "Voice Memos" app on the iPhone. This was coincidental for me because I've recently been using that app a lot in my own practice and finding it very helpful for self-recording.
Amy Beth Horman recently wrote a great blog about implementing technology in her studio. Some of that information was revelatory for me (that Livescribe pen is crazy!), and some more familiar. I also use a Zoom recorder and it's been great, helping me produce good quality recordings that got me into summer music festivals and through grad school pre-screenings. However, I find it's just enough extra work to bring the Zoom with me into a practice room that I don't use it too terribly often for day-to-day practice. For basic recording needs I've been using Voice Memos, a default app on my iPhone. The audio quality is adequate, not superb, but I find this shortcoming is something of a blessing in disguise. Because nuances in dynamic and tonal quality don't always get picked up by the phone, I have to make sure my musical intentions are absolutely clear and executed with commitment. If I can produce the sounds envisioned in my mind on a Voice Memo, I know I'm headed in the right direction. There are tons of other ways to self-record of course, and I'd love readers' suggestions on other apps to use. Voice Memos is just a good way to get started.
I've not always been diligent about self-recording. At first I didn't have a very good way to make a recording, but even after I obtained a device, the ego-deflating nature of a recording was unpleasant and I often procrastinated. If you also suffer from microphone shyness, I have to just suggest you buck up and face the music as soon as possible. Once I got over myself and started recording more regularly, progress really started to pick up. While this is a controversial opinion, I think the act of listening is more efficient when it's done to a recording rather than as one is playing (not to say that we shouldn't be listening as we play, of course).The cognitive and physical efforts required to play an instrument diminish our listening abilities, and details will inevitably escape our ears. The ephemeral nature of sound is also a problem. While listening to a recording is a different, perhaps somewhat sterilized experience, it allows for more focused, objective listening. Once you've listened to your recording (perhaps a few times in a row), you can pick out an aspect of your performance you'd like to improve, and apply problem-solving strategies. Wash, rinse, repeat. When you add this feedback to your practice sessions, the potential for productivity blossoms. If we're spending hours a day in a practice room, it's best to optimize that time investment with some self-recording. In her own way, Taylor Swift does it too!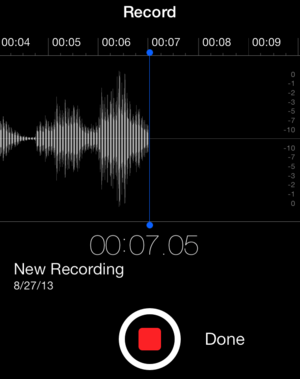 You might also like:
I guess it's pretty unlikely that someone can go through life these days without hearing Taylor Swift, but I have not ever heard her music intentionally and I'm not sure whether I would recognize it if I had. She seems to exemplify the ideal of a fine and genuine young person who has applied her talents to their fullest, rising to the top of a very difficult business, and who even seems a little puzzled by her own success. I'm grateful that she supported the Nashville Symphony, although her $100,000 gift translates to around $250 for someone at my income level.
I use "Voice memos" all the time too (on my iPod touch)! I find it's good for recording musical ideas (sketches of melodies), recording my own playing as you describe, and recording intervals, short melodies, etc. to use for ear training and interval recognition. I agree, the great thing about this recording method is convenience and ease of use, and the sound quality seems fine for these purposes.
As well as having a recording feature, the same hand-held device can have a metronome app, recordings of favourite artists playing pieces one is currently studying, and apps for slowing down music to analyze how trills are executed, for instance - in fact the possibilities are endless!