Remembering Stephen Clapp
Written by Caeli Smith
Published: May 22, 2014 at 8:28 PM [UTC]
Yesterday afternoon, friends, family, and students of Stephen Clapp gathered in Paul Hall at The Juilliard School to celebrate the violinist and pedagogue's life and musical legacy. The hall was packed, and it was abundantly clear how much of an impact the beloved professor made on the lives of so many in the community.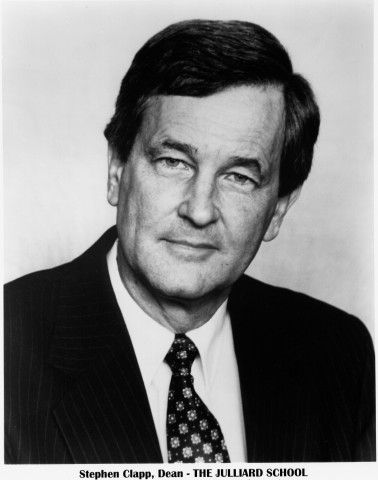 Stephen Clapp was the Dean Emeritus of The Juilliard School from 1994 – 2007, and a member of the violin faculty from 1987 until his passing in January. Though he suffered a lengthy illness, his dedication and passion for teaching endured until the very end.
President Polisi spoke of Mr. Clapp's patient, nurturing character. He said that Mr. Clapp was was an extremely "disciplined and determined" violinist, but his "spirituality and optimism" were what made him a great mentor and a great person. As for how Mr. Clapp juggled his administrative duties along with his violin studio, Mr. Clapp once told an interviewer that he was "exhausted at the end of six hours of meetings. But after two hours of lessons, I felt refreshed."
In early January, Clapp's health was quickly declining. But, despite his grave illness, he made the trip from his home in Connecticut to Juilliard to see each of his students for one last lesson, demonstrating his immense dedication.
Juilliard's current Dean, Ara Guzelimian, spoke of how Mr. Clapp quietly but firmly counseled students in academic trouble. Dean Guzelimian spoke of his "unfailing moral compass" and "great faith."
Amy Clapp Dye, Mr. Clapp's daughter, recounted her father's passion for teaching in an anecdote from a church service. "The pastor asked, 'Who here likes to get up and go to work every day?' My father's hand shot up. He was that excited about his job." When he was sick, he never let on to his suffering. "When someone asked, 'How are you?', he would answer, 'I am celebrating life!'"
The memorial ended with a performance of Telemann's Concerto for Four Violins by eighteen of Mr. Clapp's former and current violin students (four to five players on each part). The students, at all different ages and stages in their Juilliard careers, represented the perpetuation of Mr. Clapp's artistic and humanistic philosophy. As the last notes rang through the hall, one last picture of Mr. Clapp appeared on a screen above the stage, with the quote: "It is better to be loving than to be right."




Students of Mr. Clapp
Photo credit: Nan Melville
I spoke with some of Mr. Clapp's violin students after the performance. Yurie Mitsuhashi, a violinist in her fourth year, said that Mr. Clapp was "like a doctor. He prescribed technique!" Yurie said lessons with Mr. Clapp were "like therapy". "Once during a lesson. I was having a tough time, and needed to talk. Before I left, Mr. Clapp said a prayer for me."
Sirena Huang, a second year violinist and a student of Clapp's for nine years, said that not only did Mr. Clapp make her a better musician, he made her a better person. "Mr. Clapp was like a second father to me. He didn't just teach violin playing, he inspired me to do good in the world."
"Mr. Clapp was the most organized person I've ever met," said Mariam Machaidze, a fourth year violinist. "He had a folder with lists of all the repertoire every student had played over their four years at Juilliard, and how many times they had performed it." We speculated that this methodology might have been inspired by Mr. Clapp's own mentor, Dorothy Delay.
Mariam, who is from Tbilisi, Georgia, in the former Soviet Republic, said that Mr. Clapp cared about all aspects of his student's lives. "He knew that I was struggling with English when I first came to Juilliard. He offered to proofread my essays!"
Diomedes Saraza, a first year Master of Music student, said that under Clapp's mentorship, everything about his life improved, even his academics. "I wish he could see my grades now!" Dio said that Mr. Clapp never pushed a student, but that improvement would "just happen".
Joo Eun Lee, a fourth year violinist, told me about the studio's twice annual gatherings in Connecticut at Mr. Clapp's house, where they would play Frisbee and go canoeing. Xi Liao, who graduated in 2013, said Mr. Clapp taught the students to canoe by comparing the stroke to using your bow arm.
Mr. Clapp led a weekly Bible Study session at Juilliard, at 8:30 am on Wednesdays. This offered a chance for non-violinists at Juilliard to get to know him on a personal level. "The bible study was very reflective, with lots of silence and contemplation," said fourth-year singer Robert May. "Mr. Clapp always seemed quiet and content. He had an air of respect about him."
All of his students adored him, and many of them said that he helped them discover potential they didn't realize they had. All of them told me, in different ways, that he cared deeply about his students from a holistic standpoint. Mr. Clapp nurtured the artistic growth as well as the total health of decades of young violinists, and is greatly missed by Juilliard and the musical community at large.
* * *
You might also like these stories:
Juilliard Dean Emeritus Stephen Clapp (1939-2014)
Starling-DeLay: Master Class with Stephen Clapp