'From The Top' to Fischoff!
May 15, 2007 at 5:02 PM
When you last heard from me, I was feeling inspired to practice because of my new, fancy gown (see previous blog). I first wore the gown last month at a benefit concert my quartet, Seraphina, organized to raise funds for our travels. And late Sunday night (actually, early Monday morning) we returned from our journey to what is perhaps American's most well-known national chamber music competition – the
Fischoff
! (It took some time to explain to my dad that this was the Fischoff – not a "Fish Off". He was afraid we had all taken up fly-fishing. I guess the name sounds a little confusing.)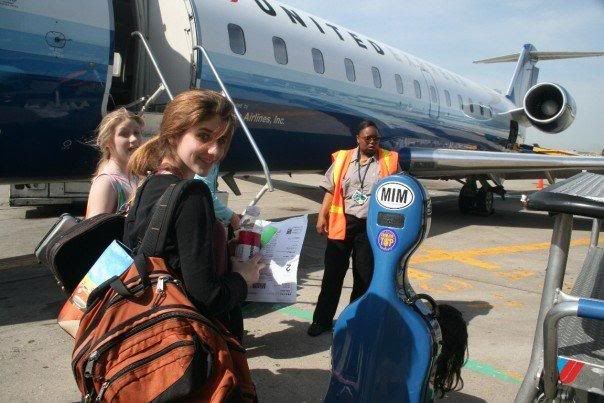 We flew on some very small airplanes.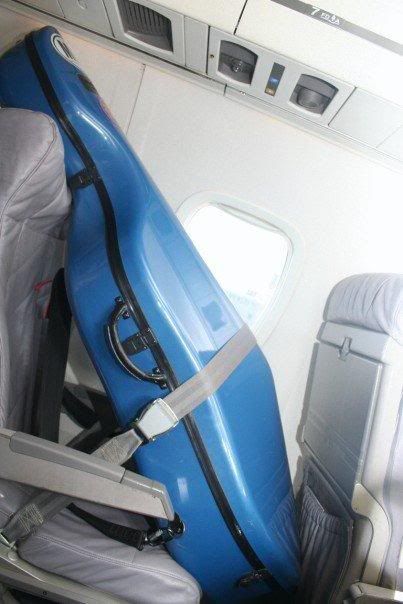 And we were always concerned about the cello!

For the last week, we've been out of town – missing plenty of school, meaning tons of make-up work. But, it was totally worth it. It started very early Tuesday morning, when my quartet, our coach, Jean Louise Shook, and our moms, met at the airport. The first stop on our journey was Columbus, Ohio, for a From The Top show taping. This was the first time on the radio show for the quartet. We had done a mini-show in Washington, D.C. for the NPR Board of Directors, and a From The Top gig in Philadelphia for the NPR program directors' conference, and were on the TV series in October of this year, but being on the radio show is a completely different experience.
On the show with us was an amazing violin soloist, Siwoo David Kim, who lives in Columbus but studies in Chicago with Almita Vamos. Wearing my Roving Reporter hat, I interviewed Mrs. Vamos in a pre-produced piece which we played on the show. Also on the show was the all-boy quartet opus., who are local heroes in their city. With the opportunity to feature two teenage quartets, one all boy and one all girl, of course From The Top came through with its wacky humor and had us do a gender "Battle of the Bands" on the show Wednesday night. Seraphina played the second movement of Shostakovich's 8th quartet, and opus. (yes, that is the way they spell their name – pretty original!) played the 5th movement from Beethoven's Rasumovsky Quartet No.3. They were amazing! I won't reveal who won the "Quartet Feud"—you'll have to listen to the show to find out. But you could also read the Columbus Dispatch review.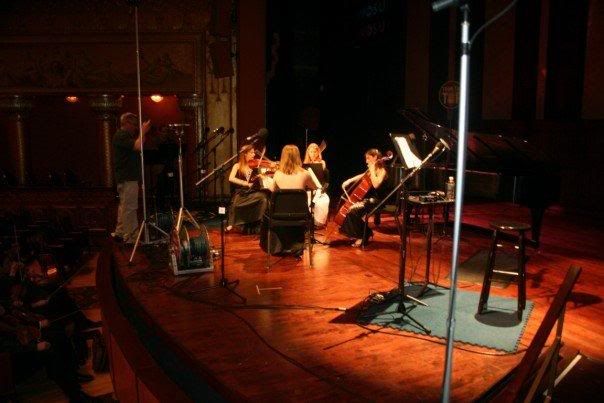 Sound check for the From The Top show at Southern Theater in Columbus.
We left early the next morning to catch our next flight to Indiana. The competition is held in South Bend, on the campus of Notre Dame University. We had fantastic, clear, sunny weather the whole time and the campus was green and beautiful with excellent music facilities.

This year, 75 groups applied for the Junior division of the Fischoff. Seraphina, opus., and the Newman Quartet, another group from Settlement Music School in Philadelphia (who will appear on a FTT radio show next month) were among the 24 that made it into the quarter-finals, which meant traveling to Indiana to play in front of the judges live. We got settled in the hotel, and had plenty of practice time that night.
The next day, Friday, we played our audition at 12:10. The auditions are like concerts, so anybody can watch. Our repertoire was the Shosti we played at FTT, plus its first movement; the first movement of the Haydn "Quinten" quartet (probably my favorite Haydn); the first movement of the Mendelssohn no. 13 in A minor; a Tango by Michael McLean, and the jazzy movement, "Don't Step on My Toes!" by Gwyneth Walker.
We played well for that audition. We were extremely nervous though! More nervous I think, than for any concert we've ever played. We wore our black and white dresses, and got photographed afterwards.
After our audition, we had the rest of the day to relax and practice. And that night, we got to know some of the other contestants in the hotel pool!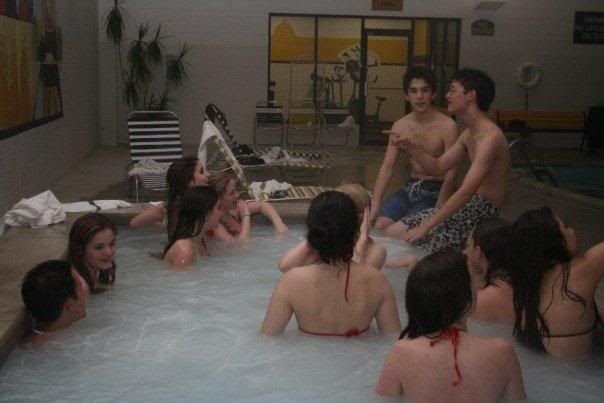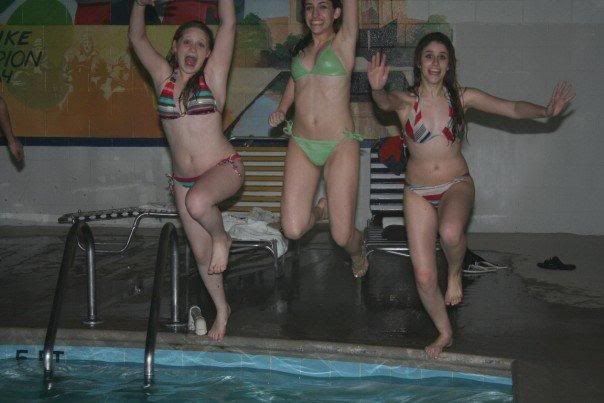 The next morning, all of the groups were called to a meeting in the audition where we had had our auditions the day before. The artistic director made a couple of announcements, and then, the moment we were all waiting for. He announced the groups who were progressing onto the next round. Seraphina's number for the competition was J9 (J standing for Junior), but it was not a terrible disappointment when he jumped from J8 to J11. We knew that we had played well at our audition, but it was also our first year, and we were looking more to benefit and learn as much as we could from the experience than try to go very far towards winning. We're young enough to return twice more (assuming we make it into the quarter-finals again!)
Out of the 24 groups, 12 made it onto the next round. Those who didn't advance got to play in master classes for some really spectacular people. We had ours with Eva Gruesser, and got a lot out of it. Satisfied, we got to relax and hang around with the other groups that didn't advance. Later that day were the semi-finals, where the twelve groups got to play for the second time. The Tabby twins and I went to watch (unfortunately my sister Madeline felt a little sick, so she stayed at the hotel.) The groups that performed in the semi-finals were great, and we got to see what other people our age are doing, and what the kind of work we need to do before next year is.
That night, there was a dressy dinner held by Fischoff on the campus of Notre Dame, and our entire entourage went. After eating, the artistic director announced the three groups from each category (Juniors, Senior Strings, and Senior Winds) that progressed onto the finals. The three from the Juniors were: the Vesta Trio (including a pianist who just got into Curtis along with her twin sister, and the concertmistress of the Aspen Orchestra), the Attacca Quartet (a group formed at NEC prep this year) and the Newman Quartet (the other group from Settlement. Philly represent!)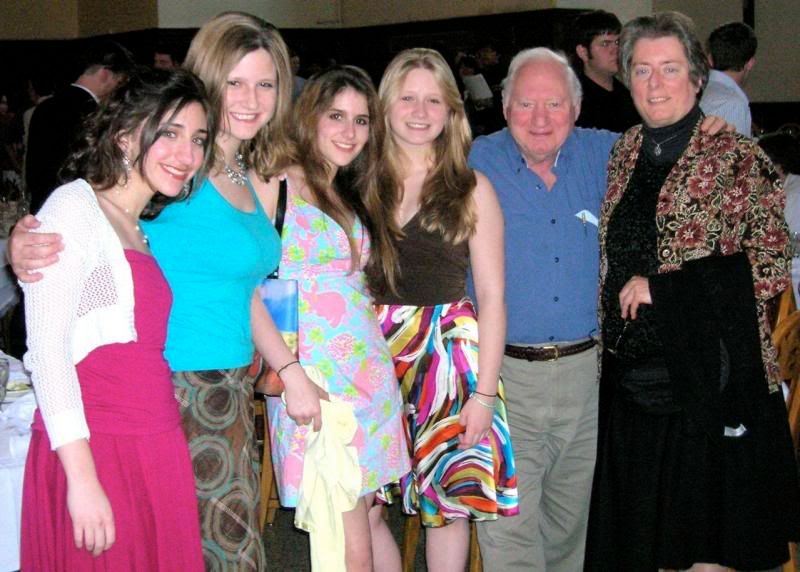 Here we are with Mr. Sidney Curtiss, the coach of Philly's Newman Quartet and our own coach, Jean Louise Shook.

There were a bunch of unhappy people in that room after those announcements, but there was a really great opportunity for the groups that didn't make it to talk to the judges personally about their performances. Seraphina got a chance to talk with David Ying, who spent a lot of time with us giving us a lot of constructive feedback. We were really glad to get to speak to him, because (like us) he plays in a quartet with siblings. Boy, did we have a lot to talk about.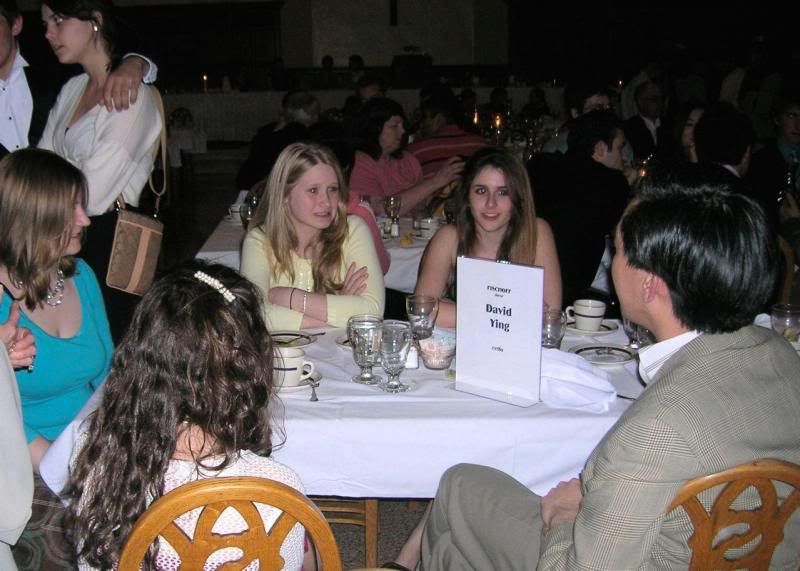 That night we spent a little more time in the pool, and the next morning we packed up and were out of the room by 12. We went to watch the finals, in which all groups again, played spectacularly. I would really hate to be a judge in that competition. How on earth can they ever decide!
We had to leave to catch our plane by a certain time, so we didn't get to stay for the awards ceremony. But, what do you know, our master class teacher Eva Gruesser was in the same terminal as us for the airport!

She gave us the scoop on the winners: for the Junior division, the Vesta Trio won first, the Newman Quartet won second, and the Attacca Quartet placed third. The gold winners for the Senior Strings was a clarinet called the Prima Trio from Oberlin, whose amazing performance we'd caught that morning, and whom we'd met the night before in the pool.
We arrived in Chicago for our connecting flight to Philly, which was delayed. So the Tabbys, Madeline and I spent some time walking around the airport, getting food (Cinnabon – mmmm…..) and, look who we happened to bump into walking around!
Two thirds of Time For Three! (Ranaan, the bassist, was stuck watching their luggage at the gate.) They were also going home to Philly, on a different airline. Hopefully, Seraphina will get some coaching time this summer with Ranaan, who offered after hearing us open them for a concert earlier this year.
So, all in all we had a blast this week. Yes, it would have been nice to make it a little further, but ultimately we feel we got more out of it this way – a master class with Eva Gruesser, another mini-master class with David Ying, and a chance to hear all these amazing young ensembles. We just can't wait for next year!

P.S. Thanks to my sister, Madeline Smith, for taking all the photos (that she doesn't appear in.) The rest were taken by our mom.


Arrrrrgh, you made me massively nostalgic for the Fischoff. My quartet went last year and had a blast, even though we didn't make the semifinals (our first violinist had hurt her hand and it threw us all off...)
The Prima Trio from Oberlin won the senior division? Awesome! I'm an Oberliner as of this upcoming fall semester! :) Also, I think I know the violinist in that trio (indirectly--if he is who I think he is, he's my friend's brother). Was he skinny, dark-complexioned, with curly black hair and a Russian accent?

Oh, and I remember opus. from last year--I just adore the heck out of them. :)
From Karin Lin
Posted on May 15, 2007 at 6:56 PM
Wow, you've been busy! Love all the pics, especially the one with the three of you jumping into the pool.
Caeli,
It looks like you guys had the time of your life! And how cool to run into Time For Three in the Airport!haha
Great guys.
Congrats on your wonderful trip!

I heard opus. last month at the Saint Paul String Quartet Competition (for high-school age quartets); they were indeed impressive (played standing, the cellist on a platform), with precise, beautifully prepared, and passionate playing. But they actually came in third behind two Chicago-area quartets, the Ridere (1st) and Zeloso. Ridere (whom I thought were just terrific) blew everyone away with a stunning performance of a dynamite piece - Piazzolla's "Four for Tango."
Caeli, you should see if Seraphina can make next year's competition! Details and photos of this year's are here.

I'm jealous! I wish I had three friends that were serious enough about music to form a good quartet! :) You're an inspiration, thanks for the blog!
hahahhah CINNABUN!! oh wow, i was actually just thinking about our cinnabun plot the other day, which caused me to randomly burst out laughing, which then led to everyone looking at me really strangely!!! hahaha
oh and you know what else i was thinking? when you're like, "and THEN we just so happened to bump into time for three" hahha it TOTALLY sounds just like my blogs i wrote about meeting up with you and syd!! except for you actually DID bump into them randomly! wow...
This entry has been archived and is no longer accepting comments.