Time For Three!
January 10, 2007 at 3:18 AM
On Sunday, my quartet Seraphina opened a concert performed by
Time for Three
, which was a fundraiser for
Musicopia
to raise money for their programs in the schools.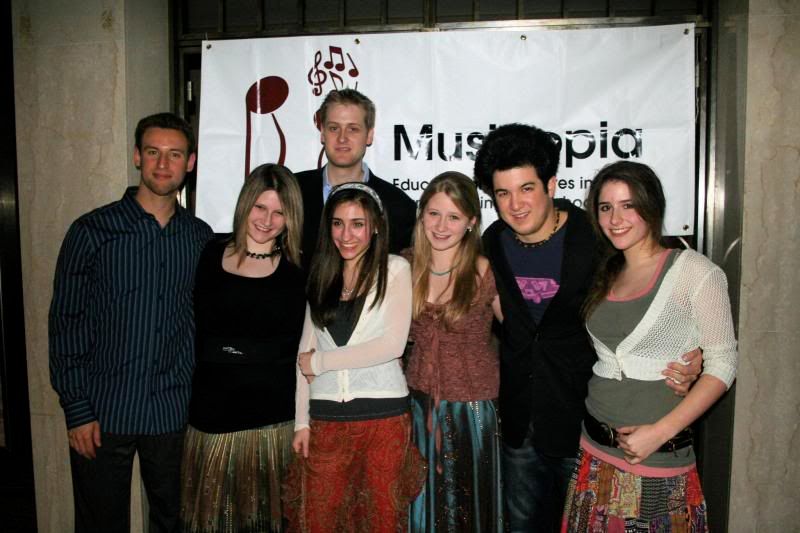 L-R: Ranaan Meyer, bass; Madeline Smith, viola; Zach De Pue, violin; Genevieve Tabby, cello; Caeli Smith, violin; Nick Kendall, violin; Sabrina Tabby, violin

I've known the T43 guys for a few years, because they were in the Rittenhouse Square documentary with me, so that's how I first met them. The Tabby twins were meeting them for the first time, but they love them as much as I do!
These guys are really amazing, not only as players and a group (we were blown over listening. It was really inspirational to us as a quartet) but just as people too. They're so friendly, and sweet. Ranaan, the bass player, offered to coach us sometime, which would be wonderful! I just hope that between our busy schedules we can fit something in.
Here's a video of the tangos by Michael McLean we played to open the concert.

Also, this weekend I'm going to Malibu for a From the Top taping. I cannot wait! I've never been to Southern California, let alone to what sounds like such a glamorous place.
--alice

From Sydney M.
Posted on January 10, 2007 at 5:00 AM
Woah! Cool! Michael has composed stuff for our violin program in Ottawa and comes to the camp there every summer. Great job!
Indeed, it's incredibly glamorous here....;)
You will love Malibu!

From Karin Lin
Posted on January 10, 2007 at 7:09 PM
Time for Three is just great. I first heard them play last summer and they completely blew me away. They're SUCH nice guys too...they were such sweethearts when I introduced my little 3-year-old violinist to them.
While you are in Malibu, SoCal this week, you can stop by to see Michael Mclean in person. He teaches at the Colburn School in downtown Los Angeles. He is a wonderful & talented teacher/musician/composer with a lot of enthusiasim & energy. My son is in his group class now & has played some of his works which has great rhythmn & melody. He can be quite intense but also a fun guy to work with.
This entry has been archived and is no longer accepting comments.