New World Symphony theme - Largo - Dvorak - Violin duo - FREE Sheet music
Written by Zlata Brouwer
Published: October 9, 2014 at 8:23 AM [UTC]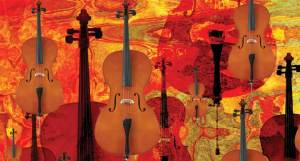 With a friend I had a gig to play Czech music by two violins. I couldn't find a violin duo version of the New World Symphony Largo theme, so I arranged it myself. I hope I can please you with the sheet music. Download it for free here: 
New World Symphony theme - Largo - Dvorak - Violin duo
PS: I have no idea to make the proper punctuation mark for Dvorak on my Mac... if you know how to do this, please share it in the comments below and I am very thankful to you.