For your students and adult learners: A Visual Approach to Learning Violin Scales and Arpeggios
February 1, 2011 at 10:03 PM

Think, if you will, of Beethoven.

Do you hear G - G - G- Eb----------?
Or do you see that face: eyes piercing, hair tousled, mouth scowling?
Either way, you activate your 'right brain.'
It's this side of your brain that had historically been overlooked in the traditional academic presentation of lectures and reading, employing left brain and linear thinking, but today many modern educators realize just how productive right-brain, visual, holistic learning can be. They take steps to incorporate it into the learning experience.
As Linda Verlee Williams notes in her book Williams Teaching for the Two-Sided Mind (Touchstone Book: "Visual thinking [should not be only] associated with the visual arts and relegated to a single area in the curriculum; it [should be considered] a part of every subject because it is a basic way of obtaining, processing, and representing information. To ignore its role in any subject is to fail to train students in its use and to deny to those who are primarily visual processors the opportunity to learn in the mode which comes most easily for them."

"Any subject" can even include the 'sound' and serial note world of music, I learned as a Suzuki parent.
Supplementary scales
Expanding on our regular Suzuki regimen, our teacher, Susan Rozendaal, assigned scales to my daughter, Sharika, then 9. To aid her learning, I devised a simple, visual chart of the notes, much like a chord chart common in the guitar world. I used the Hypercard program for the Macintosh -- a graphics and text processing program. Each week she would be assigned a new scale, and each week I would draw up one new chart. I titled these, simply enough, 'Violin Scale Charts.'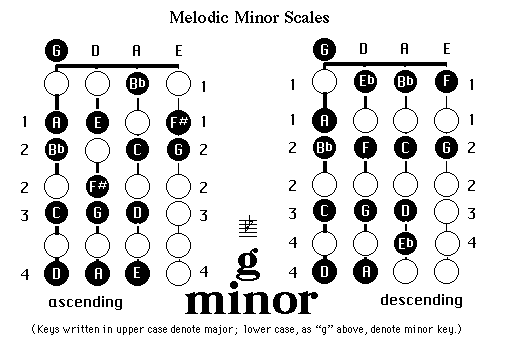 So, instead of presenting the information serially, (left brain), as traditional notes on a scale, or aurally, on tape, as pure sound to imitate, Violin Scale Charts™ presents the scale and arpeggio information as a simple (right brain) picture, a map of where to put your fingers.

Sharika used these charts regularly. Her tone, confidence and specifically, `4' finger were noticeably enhanced.
When our Suzuki teacher happened upon my charts in the pile of Suzuki volumes, Applebaum, Auer, Dofflein, Schradieck, Trott, and Wohlfahrt, at our weekly lesson, she said `What a great idea! You must publish these!' Flattered, and thinking that the worst case scenario would be that my daughter would have a full, finished set, I set about to develop a complete set of scales and arpeggios, two octaves, major and minor keys.

Preparing the charts was a formidable task. Just as there is no one way to process information, I learned there was no one way to present scale and arpeggio information. Therefore, I began the Violin Scale Charts™ with the following preface:
While every effort has been made to make this graphic reference work authoritative, it must be noted that there is no single, one and only, and exclusively "correct" way to finger a scale. Different scale passages in different repertory may call for different approaches. Different scales may be, and in fact, must be, played in different positions, different finger patterns from time to time. On an even more individual level, one player's high "3" may be another player's low "4." G major is a good example. Some violinists ascend on open strings D, A and E, and descend using "4" for those notes. This is the most common teaching. Nevertheless, other players go up and down with "4." Still others go up and down with open strings. You see what we mean, of course . . .

These elementary level Violin Scale Charts™ open the door to various positions and finger patterns. By all means, experiment. Should your teacher differ with anything presented here, please follow his/her approach. What's the position of your editors, you say? As you play through the book, you'll notice your editor has stressed the use of "4" versus open strings in order to develop your facility and confidence in this often called for, and sometimes insecure finger. Indeed, one of the greatest benefits of using Violin Scale Charts™, especially at the elementary level, will be to build a strong and secure "4" finger, a more beautiful tone, and stronger and more confident expression.

After all, as a musician who happens to play the violin, expression is what you are all about anyway, isn't it? Have fun with these charts. They will make you a more expressive, more confident musician.

My initial effort was edited by teachers at the Music Center of the North Shore (Chicago), and Washburne Middle School, both of Winnetka, Illinois, including Enid Cleary, Milton Goldberg and Kathleen Paramore.
Hands across the water
Subsequently, two fellow denizens of the Internet global village also made significant and creative suggestions of their own: Klaus Pfefferkorn, Conductor, Bludenz Youth Orchestra, Bludenz, Austria and Christopher Hoff, Violinist and Attorney-at-Law, Germantown, Maryland.

Next step was to make the Charts available to the larger violin world. A mailing to Suzuki trainers and teachers yielded positive results. The large catalog company, Shar Products, expressed interest in carrying the project if I would develop mailers, which I did. Finally, reaching out to string players around the globe, the Violin Scale Charts™ worldwide web site debuted in 1995.

The Violin Scale Charts™ are now used by players across Europe, North and South America, remote islands of Hawaii!, Australia, the Far East. It is offered by distributors such as Shar Music.
What is it about this presentation of scales and arpeggios that makes it effective and helpful? Actually, there is a good bit of educational psychology behind it, the power of right brain learning, though I didn't realize it per se when I was drawing up these charts.
Developing the inner eye
It was in 1865 that Paul Broca reported that injuries to the left side of the brain almost invariably produced speech disorders while injuries to the same area of the right hemisphere did not. His report was confirmed, in 1874, by German researcher Carl Wernicke. A number of researchers followed in their footsteps, but the next major ground-breaking study came in the early 1960s when Cal Tech's Roger Sperry performed a series of operations which made it possible to study the two brain hemispheres in isolation from each other. His work received the Nobel Prize in 1981.
Sperry was working with patients affected by severe epileptic seizures. Sperry believed that by cutting the thick bundle of nerve fibers (200 million !) connecting the two brain hemispheres he could prevent the seizure from spreading from one hemisphere to the other. Subsequently, he and his team conducted a series of subtle experiments to identify characteristics of the right and left brain hemispheres. Briefly summarizing this complex work, he identified the sides of the brain with the following functions:
Left
Hemisphere

Right Hemisphere

Verbal

Spatial

Parts

Patterns

Language

Musical - Visual

Serial processing

Holistic processing

Analytical

Relational, constructional

While subsequent research indicates a much greater complexity within the hemispheric model, (e.g. ability of the right hemisphere to process words, individual variations, variations for left-handed individuals, male-female variation), nevertheless, a path was cut through the mysterious forest of brain function. The importance of the right hemisphere, i.e. musical, visual, spatial mental processing was laid down.
The implications for education cannot be overstated, and in the last 30 years or so, extensive changes have been made to incorporate visual learning into our school systems. Students today, as a matter of course, supplement book-lecture learning with the production of charts, graphs, artwork, and demonstrations. Film and video are considered teaching tools no less than books and monographs, and in some case, possibly superior in their ability to make a lasting impact on the mind's eye.
As author Williams Teaching for the Two-Sided Mind (Touchstone Book) notes, it all begins with seeing. Students must learn to see, they need to know what to look for, and how to interpret what they see. Next, they need to learn to represent information graphically. Some information, such as the spatial relationships between notes in a scale or arpeggio, can be better represented in a picture than via a verbal description. Finally, students must develop their inner eye. Visualizing helps with a wide variety of tasks that go beyond scales and arpeggios, and include remembering information, spelling, math, and solving problems with spatial relations.

From this base, they may gain facility with fantasy, metaphor and self-expression in any mode, including old-fashioned, left-brain, verbal. They may integrate and maximize the dual functions of the brain for maximum creativity and productivity.
Not just for kids
Interestingly, though Violin Scale Charts™ was developed for a young Suzuki student, many of the users are adults.
While Suzuki has traditionally been a children's program, I believe it holds potential as an adult enrichment educational experience as well. From my experience in corresponding with and talking with adult string players around the globe, mature learners -- adult beginners -- are some of the most interested, motivated and passionate musicians around. They are hungry for tools to realize the sounds that are bursting forth in their inner ears.
The other beneficiaries are traditional Suzuki parents. Some parents may lack music and music theory training, but pictures -- well, anyone can understand a picture, it seems. Anyone can read a map. They can see what is to be played, and they can easily enough repeat it on the violin themselves, or check to see if it is being played correctly by their young Suzuki musician. For many parents, the material is less forbidding, less technical if it is presented in a picture.
Summarizing, visual thinking is so basic a part of our daily lives that we use it all the time, whether we are aware of it or not. Violin Scale Charts™ presents another way to literally look at musical information. It takes advantage of everyone's ability to learn through seeing pictures. It is especially helpful for the predominately visual learner, the adult beginner and the Suzuki parent. Finally, it stimulates whole brain productivity, and opens the door to the larger world of fantasy, metaphor and self-expression.
As Lao-Tzu advised so long ago in the Tao Te Ching:

Give them Simplicity to look at, the Uncarved Block to hold,
Give them selflessness and fewness of desires.
---
Technical research for this feature was provided by educational psychologist Karen Kurtzon, M.S., Evanston, Illinois; reach the author via jsarkett at comcast .
---
LEARNING STYLES

VISUAL Clues
VISUAL Learning tips
NEEDS TO SEE IT TO KNOW IT
USE OF GRAPHICS TO REINFORCE LEARNING: FILMS, SLIDES, ILLUSTRATIONS, DIAGRAMS
STRONG SENSE OF COLOR
COLOR CODING TO ORGANIZE NOTES AND POSSESSIONS
WRITTEN DIRECTIONS
LIKELY ARTISTIC ABILITY
USE OF FLOW CHARTS AND DIAGRAMS FOR NOTE-TAKING
DIFFICULTY WITH SPOKEN DIRECTIONS
VISUAL SPELLING OF WORDS OR FACTS TO BE MEMORIZED
TROUBLE FOLLOWING LECTURES
USE OF FLOW CHARTS AND DIAGRAMS FOR NOTE-TAKING
AUDITORY Clues
AUDITORY Learning Tips
PREFERS TO GET INFORMATION BY LISTENING - NEEDS TO HEAR IT TO KNOW IT
USE OF TAPES FOR READING AND FOR CLASS AND LECTURE NOTES

DIFFICULTY FOLLOWING WRITTEN DIRECTIONS
LEARNING BY INTERVIEWING OR BY PARTICIPATING IN DISCUSSIONS
DIFFICULTY WITH READING
HAVING TEST QUESTIONS OR DIRECTIONS READ ALOUD OR PUT ON TAPE
KINESTHETIC OR HAPTIC Clues
KINESTHETIC OR HAPTIC Learning Tips
PREFERS HANDS-ON LEARNING
EXPERIENTIAL LEARNING (MAKING MODELS, DOING LAB WORK, ROLE PLAYING)
DIFFICULTY SITTING STILL
FREQUENT BREAKS IN STUDY PERIODS
MAY BE VERY WELL-COORDINATED AND HAVE EXCELLENT ATHLETIC ABILITY
TRACING LETTERS AND WORDS TO LEARN SPELLING AND REMEMBER FACTS
CAN ASSEMBLE PARTS WITHOUT READING DIRECTIONS
EXPRESSING ABILITIES THROUGH DANCE, DRAMA, GYMNASTICS, ETC.
LEARNS BETTER WHEN PHYSICAL ACTIVITY IS INVOLVED
USE OF COMPUTER TO REINFORCE LEARNING THROUGH SENSE OF TOUCH, MEMORIZING OR DRILLING WHILE WALKING OR EXERCISING
---
From Tom Bop
Posted on February 2, 2011 at 12:02 AM
Wow! pretty unbelievable effort... I can't keep left brain vs. right brain in either part of my brain long enough to remember what each one does, so I really admire people who can keep that straight and actually write about it. My teachers have always stressed associating the notes with the proper sounds, and they discouraged trying to visualize the finger placements as slowing one down with an extra step that could be off pitch. I guess they relied on a more of an aural approach rather than visual.
This entry has been archived and is no longer accepting comments.