Printer-friendly version
The Rhythm of Life
September 16, 2013 at 5:06 PM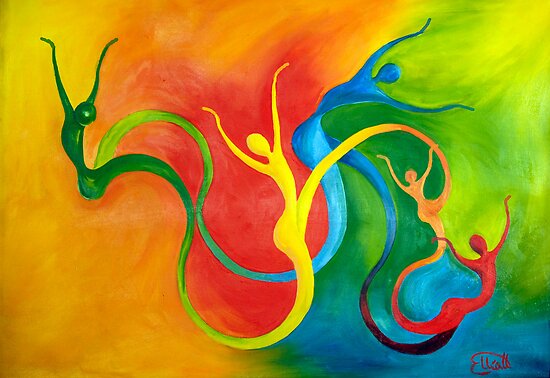 It was 8 o'clock in the morning at the First Christian Church and I was excited and anxious all at the same time. I had been commissioned to compose new music every week for the church services, to be played by violin, cello and piano. The instrumentation was perfect to set the mood required for a worship service. The music was light, filled with bright colors and textures that seemed to echo the esoteric sentiments of the stained-class filled windows.
As the first note rang out, I felt my heartbeat speed up in excitement. I was beginning to hear with my ears what I had been hearing in my head all week. Then, something very interesting happened; I noticed that my heartbeat began to match the tempo of the minuet that I had composed. This marvelous event has only happened to me a few times previously. I remember when I had been playing a hoedown and my heartbeat had matched beat two and four. Just as the astonishment came over me, began to leave and I started to focus on the performance of the music.
After the musically filled church service had concluded, I thought of this heartbeat event on my walk home. The fall colors of dim yellow, deep maroon and earthy brown peppered the ground caught my attention. Often, we find the most simplest of life nuances the colors the pepper the ground we walk. As I walked on I thought that just as we sometimes forget to notice the colors of fall, we fail to pay attention to the natural response of our heartbeat in music education.
"There should be an entire class on bringing attention to our heartbeats!", I thought to myself as the birds whistled to my footsteps. This aspect of our human existence is so fundamental to being human - to being alive. Even as I reminisced of that morning's events I felt as though the music gained a fresh fragrance that lifted the music, making it more personal. "This personal connection should be experienced by everyone, and what a better way than to point young students in that direction?"
There is a definite link to better thinking, experiencing and creativity when connecting to our innate heartbeat. A study of 120 infants between 5 months and 2 years old, suggest that humans may be born with a predisposition to move rhythmically in response to music. "Our research suggests that it is the beat rather than other features of the music, such as the melody, that produces the response in infants," said researcher Marcel Zentner, a psychologist at the University of York in England. "We also found that the better the children were able to synchronize their movements with the music, the more they smiled." In another study continued this line of research with staggering results, stating, "Recent music neuroscience research indicates that steady beat does affect attention behaviors in humans. We typically process steady beat in the premotor cortex of the brain, an area also related to attention (Bengtsson et al. 2008). Zentner and Eerola (2010) found that 120 infants, ages 5–24 months, were more engaged with rhythm-only stimuli (for example, a steady drum beat) than with speech-only stimuli. The results of this study indicate that children have the potential to be more engaged when listening to steady beats than when listening to verbal-only instructions. Therefore, it is conceivable that listening to a steady beat pattern during mathematics teaching activities in the early childhood classroom could promote better attention and increased engagement in young children." Continuing, "Steady beats and rhythms that parents use to soothe their infants or rock them to sleep and the songs they sing to their children contain many complex patterns."
Since our heartbeat is our most natural rhythm, we should therefore implement it into our teaching more often. Furthermore, we should not contain this line of teaching simply to children. It is important to note that every musician can benefit from becoming more connected with our own personal internal rhythm. In fact, it might be suitable to spend part of your practice time in a quiet space, listening to your heartbeat. As an experiment, sit with your heartbeat before a practice session, asking yourself the following questions:
How does it change?
What does it mean when it changes?
Is it strong?
What is the time signature?
Can I play a song to it?
These questions and many others can give us great insight to how our personal natural rhythm works, sounds and feels. This enlightens us to something that is overpassed for it's simplicity. Our heartbeat is a part of us, just like music is a part of us. Let's join the two together to gain the simple nuance that lifts the music into joining our life essence and resounding beyond what our mind can do alone.
Nice thoughs :)
I'm now studying in Electrophysiology and the heart is sure one of the major organs that we study. It is actually set to beat at 100 beats per minute on itself but the brain is always sending nervous messages to make it slow down... unless one is exercising or very stressed out of course! A student asked the teacher "why is this, it's not kind of weird?" Teacher answered laughing "I don't know. My advice was not asked when god made us."
I know that we adjust our heatbeat to the activity needs and context, one's heart might be beating much faster in Tchaikovsky 3rd mvt than in a slow peice. Thus what you say must be logical and surely too often overpassed for its simplicity.
Well, for musicians, athletes or any performer, adjusting the breathing rythm and heartbeat (I assume that stage fright isn't interfering too much in the process here...) is an important part of the success just as setting one's head to an appropriate psychological state onstage.
From swimming to bow and arrow shooting, horse back riding and music (all these precision/piloting type activities that I experienced at some level)and I'm sure many more all need this pacing oneself aspect to be performed well... It's not always easy but the nice thing is that, unless one really has no talent at all, we usually know it when we're not! And the better we become, the better we become able to get in back to it if something happens.
On a more poetic level, I once heard a marvelous reply in a movie from a character to another. She was playing a great concert pianist and told that to conservatory students as part of a motivational speach: when the beating of your heart match that of the music, you can't help but follow what's in tune with your heart!
That should be a goal of every music student...
And to go outdoors and look at nature's beauties? Sure, we all need it. After exam sessions, the feeling in the legs of not moving for so long is memorable and I'm sure that's what happens to the poor old folks who enter confined rooms and weaken over weeks! In another life I studied that process at school too. One does not want to go there... I'm better get off my computer and go take a walk now :)
Have a nice day,
Anne-Marie


This is why, I believe, it is important for musicians to visit "Old Folks" homes and hospitals. I have seen so much light return to eyes, and smiles and that "dreamy" look to those faces before me as I play. These folks become physical with every beat of a tune as it plays out giving them that much needed heart rhythm.
I become very agitated when I hear booming bass such as from a passing car. My heartbeat becomes erratic. I carry earplugs and my ipod at all times. Comes in handy at most retail stores, where the worst "music" I've ever heard is often being loudly piped in. I can't tune it out, though it doesn't seem to be bothering anyone else.
This entry has been archived and is no longer accepting comments.