How to Make Friends at Your Gig
May 27, 2016, 9:29 AM · "Oh, you're from Michigan- do you know Jimmy-What's-His-Name?" my standpartner asked me, as we were finding our stand on stage. Unfortunately, I felt my chance of hitting it off with my standpartner slipping away, because no, I didn't know Jimmy-What's-his-Name, in fact I didn't have any friends in that orchestra we were talking about.
We've all been there: when meeting someone new, we dig into each other's resume of schooling, festivals and youth orchestras, looking for a mutual friend that will give us something to talk about. Because relationships connect us all-they are the fabric of our memorable experiences. And finding a mutual friend usually reminds us happy times, funny stories, and infamous quotes we can share with our new acquaintance. It's a launching pad for hopefully another friendship.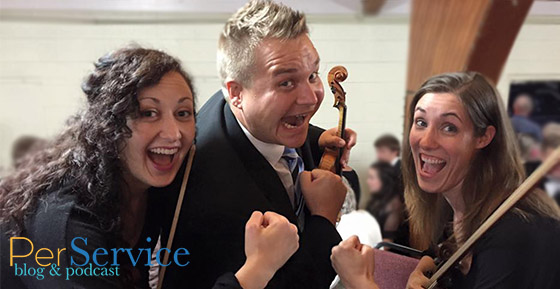 But after graduating from school, making friendships with colleagues is a whole new challenge. There are a lot of potentially awkward dynamics to navigate, and managing your social avatars has only made things more difficult. But despite the challenges, having friendships at your gigs makes "going to work" a much more enjoyable, inspiring, and pleasant place to be.
In addition to the personal reasons, friendships are essential for getting more work. Musicians are more likely to send a gig to, or recommend someone they like and trust, rather than to somebody who may be an awesome player, but a jerk.
The problem is: Musicians are not that good at making friends. Let's be real here. We're good at spending prolonged periods of time in very small rooms, often looking into a mirror and listening to recordings of ourselves. On top of that, most gigs are not good social gathering places. You only have a few minutes beforehand to warm up, 15 minutes at the break to go to the restroom, get some water, turn in some paperwork, and as soon as it's over, everybody races to their car. So how do we do it?
Well, that's what we discuss in our 10th episode of the podcast.
LISTEN TO THE PODCAST BELOW:
Per Service Podcast Episode 10
Here are some the main points from our discussion:
Some Good Advice:
Greet your standpartner as soon as you sit down together.
When timing permits, greet others in your surrounding area (the stand in front of you, or behind you)
Introduce yourself to others as you run into them (Especially if it's your first time at a gig). This only gets harder and more awkward the longer you put off saying "hi."
Be pleasant and polite. Don't force yourself upon others, or be overbearing when you first meet someone. If the conversation isn't going anywhere, move on.
Have some conversation starters if you're stuck: "Have you played this before?" "Have you played other works by this composer? (assuming it's an unfamiliar composer). The question: "Where did you go to school?" is a little loaded (especially the longer you've been out of schoool). Try to avoid questions that seem like you're trying to size somebody up.
Stay off your phone. Meeting people and staring at your phone do not go together.
Don't convince yourself that you're socially awkward. We're all weird in some way. Don't let your weird hold you back.
If there is an after-party, reception, or others invite you to join them for lunch. Go! Networking is part of your job. And if you're a full-time freelancer: Networking is your job.
Camaraderie with your colleagues is apparent to the audience and is the inspiration for collaboration and creation. It's good for you, the art, and for business.
Some Considerations:
There are some extra precautions women should be aware of when attempting to make friends. Over doing it can easily be confused with being flirtatious. Men might not have a problem with that, but the other women in the ensemble might have issues with that.
To avoid mixed messages or uncomfortable situations, hanging out with colleagues in between services or after a gig is probably better in a group setting, rather than one-on-one. Although sometimes this is unavoidable.
There might be people at your gig that are weirder than you. So you might have to accommodate their personalities (a.k.a put up with weirdness).
Be careful of being "guilty by association." If you start hanging out with a group that has a reputation for being loud, annoying, disrespectful, drunk, judgemental, etc. people may think you are that way too.
Be sensitive about what you talk about. Bad-mouthing someone else in the orchestra or the conductor is not a good idea. Also be careful about inflammatory jokes about religion, sex, people with disabilities, politics unless you really know your audience. You never know who might overhear the wrong thing at the wrong time.
Quick Tips:
Having some exotic snacks (i.e. chocolate) that you can share is a great conversation helper.
Be genuine, and listen.
Sometimes you might have to offer some more information to keep the conversation going, or "turn up the act" a little bit.
Don't force a conversation if it's not there. Just move on.
Be prepared to cut people some slack. They might just be having a bad day.
Don't push your agenda. (Getting work from a friend is great when/if it happens, but don't expect to get gigs from someone just because you're being "friendly")
Basically: Be a nice and positive person.
You can learn more about our podcast at http://www.perservice.co
Be Well and Practice Well,
-Michael O'Gieblyn
Replies
This article has been archived and is no longer accepting comments.