Using Garageband to make a practice room sound like a concert hall
Written by Michael O'Gieblyn
Published: February 12, 2014 at 6:32 PM [UTC]
In 2011, I took an audition for a local orchestra. This audition was being held at a church that I had never played in, and I couldn't test it out before the audition either. When it was my turn to play, I walked into the small chapel and tuned quietly after the proctor announced my number. I looked around and noticed the walls were made of stone, the floor was cement, and had all hardwood pews. I thought, "hmm, this room probably has a good bit of reverb." And then launched into my concerto.
A "good bit of reverb" was the understatement of the year! This place slapped my first note back at me from three different walls and then made chromatic soup for the next 3.5 sec. I was so surprised by the sound that was coming back at me, that I almost didn't make it through the first line of my concerto.
I was immediately flooded with all kinds of thoughts trying to cope with the situation:
"Should I play shorter?" I can't play shorter-it's all legato..
"Should I play softer?" No, it's suppose to be forte..
"Why would they hold an audition in this medieval dungeon?!?!" stop thinking about that, focus on Tchaikovsky...
"What have you been playing for the last 10sec?!?!" Pull yourself together man!
"I'm for sure getting a beer after this mess"
As you can see, it clearly sparked some serious and unproductive "self-1 and self-2" inner dialogue (a concept from The Inner Game of Tennis). Strangely enough, despite all that I still advanced to the next round, but ultimately I didn't win a contract.
How to prepare for strange acoustics:
Since then, I've been trying to find a way to prepare for all the strange things that happen at auditions, so that nothing will be a surprise. Which is mainly why I created Violinexcerpts.com
However, practicing in different concert halls is not always permissible, practical, or even possible. Those fancy practice room pods that can change acoustics are like $10,000. I can't afford that, I can barely afford the dollar menu at taco bell (don't judge me or my taco bell problem). And then I found it..hiding in plain sight on my Macbook. The solution: Garageband!
Here's what you need:
1) Your Mac with Garageband and a built-in mic, or an external mic (like a USB mic)
2) Headphones. Your earbuds will work, but a longer cord is better.
Here's what you Do:
1) Click on Garageband to open it. (obviously you must own a mac for this part to be successful. Sorry to all you PC owners out there, but the concept will still work if you know how to use another digital audio workspace program)
2) Select, "Create a New Project" choose "Acoustic Instrument" and then pick a filename for the project. Just name your file whatever.
3) Make sure you headphones are plugged in, otherwise you will get some nasty feedback at the next step.
4) In the menu bar, go to: Track->"Show monitoring for Real Instrument Tracks"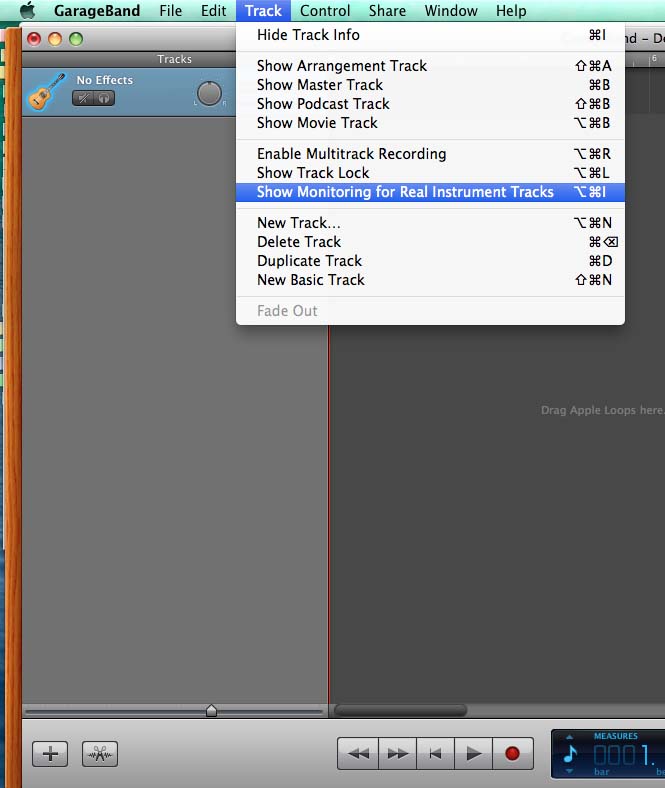 5) Select that third icon that just appeared so that it turns yellow.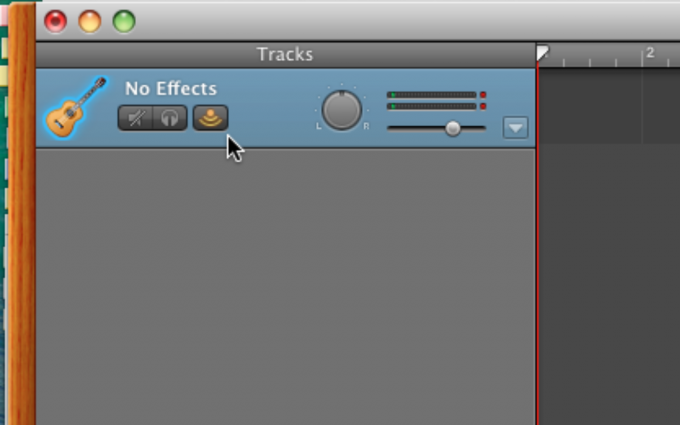 6) Design your concert hall of choice by adding reverb.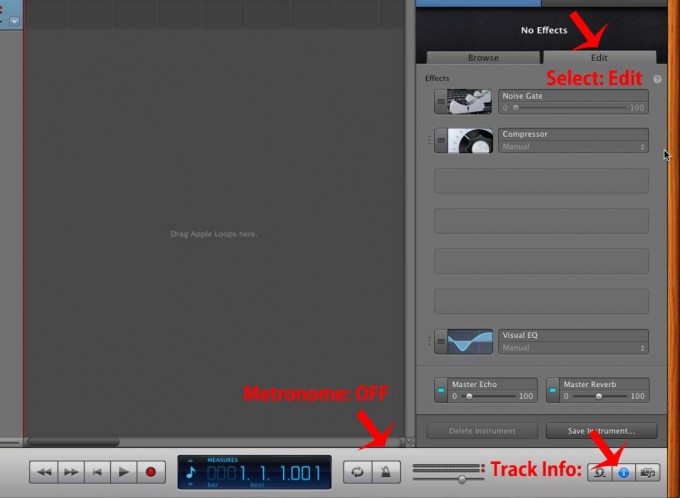 -Open the "Track info panel" by clicking on the "i" in the bottom right corner, if it's not already open.
-Select the "Edit" pane (instead of "Browse")
-Slide on some Reverb and Echo to your liking. (I like Echo at 10%, Reverb between 40-50%)
-Make sure the metronome is off (unless you want it on)
7) Put your headphones on, and practice!
Try changing up the settings to be prepared for any situation.
-Reduce the track volume if you are hitting the red, (or try stepping farther away from the mic if you can)
-If you are using earbuds, I've found that using just the right side also works nicely and the cord stays out of the way of your bow.
Why I like this:
When I'm practicing or playing my instrument, I'm used to hearing everything from directly above the instrument. When I record myself and listen back, I'm usually a little surprised that I don't sound like what I thought I did, whether it's out in the hall, from the other side of the room, or even a few feet away.
If you can get a long headphone cord, you can essentially hear yourself from the perspective of your teacher, a panel member, or the audience.
Of course I don't recommend practicing like this all the time. But it will definitely change things up for you if you are stuck in a practice rut, and I actually think it's pretty fun too.
As always,
Be well and Practice Well
-Michael O'Gieblyn
Also, I use the Blue: Yeti USB Microphone
for a little better audio quality, and highly recommend it. You can certainly just use your built-in mic on your Macbook, but if you ever need to make a recording, this is a great and relatively inexpensive mic to get. And you don't need any other equipment like interfaces or preamps etc-it's ready to go.
Doing this without headphones:
After I wrote this, I tried taking it a step further, and figured out how to get the same effect without wearing headphones. What I did was connect my external USB microphone to an external speaker. Positioning the microphone and speaker was a little tricky to avoid getting feedback. Once I figured it out, it was like being on stage in any concert hall I could design.
You could probably do this without a USB mic, just using your laptop mic. But you then need to use some sort of external speaker (connecting a cable out of the computer headphone jack to the speaker's input). Using a bluetooth speaker might work, but it might have too much delay.
Explore different setups, and try to make sure the speaker isn't aiming directly at the mic to avoid feedback.
For more audition preparation resources like this, visit:
Violinexcerpts.com

Thanks for this useful advice! I've been meaning to explore Garageband, it can do so much!
Oh it's great! And if you are practicing like this, you basically have no excuse to not record yourself too (something at least I always struggle with). It's an amazing, free program on Macs that would have cost thousands of dollars probably 10 years ago.
If you don't have a Mac (which is not all that common in the UK) but have an iPhone or iPad it's worth noting that GarageBand is a free app download from the iTunes store for both those hand-helds. I'm an iPad user so it looks a useful option for me.