The One Thing that is Missing From Your Audition Preparation
Written by Michael O'Gieblyn
Published: December 18, 2014 at 4:40 PM [UTC]
It's getting to be that time of year now that juries are over, perhaps we're traveling home for the holidays, and we should start thinking about summer festivals. But getting into those involves a lot of planning and work, and of course.....an audition!!
It's tough to prepare for an audition, especially if you're away from your teacher for a few weeks, and you're supposed to be learning a new concerto or a recital program. It's also tough if you're preparing for a professional orchestra audition and aren't surrounded by fellow classmates and a supportive environment.
I've been in all of these situations, which is why I started ViolinExcerpts.com
I'm starting a new monthly feature, specifically to address the last part of audition preparation: playing while being nervous.
The way I see it, there are three parts to playing a successful audition:
1) Practicing at home
2) Improving with lessons from a teacher
3) Performing well while being nervous
The majority of my life, I focused heavily on # 1 and #2, and I bet you are in a similar situation. I would do my best to learn the excerpts, get some input from a teacher, maybe play them for a friend once, and then see what happened.
Over the years, I've learned that #3 is really the only part the panel hears and considers to make their decision.
All the countless hours I spent were gone in a moment because I couldn't get my heart to stop racing, my bow to stop shaking, and my mind to stop telling me I was a failure and should just resort to teaching snotty kids in some backwards remote country, who wouldn't appreciate my talent or my efforts!
So, today I'm starting a new project, I hope you'll join me for: On January 12th, 2pm CT I'm holding a live webinar audition.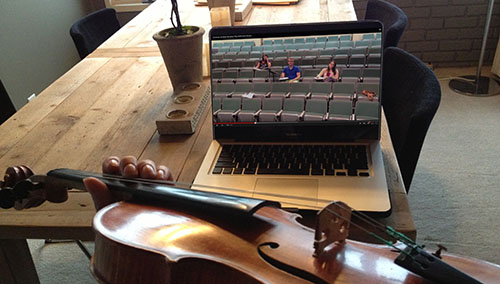 Click here for more information and to sign up
Wherever you are in the world, you can join an intimate community that wants to help you succeed at your next audition.
You can choose to perform or just to listen and offer constructive feedback.
If you want to perform, you can also choose to make it a "blind audition" and only use your audio.
This webinar is currently free, and space is limited to the first 25 participants who sign up at
Violinexcerpts.com.auditions So sign up today!
I hope to see you there,
Be well and practice well,
-Michael O'Gieblyn
I have a very good friend who can perform at the very highest levels: think Paganini, Ernst etc. He loves giving prep concert in homes to get him ready for bigger audiences.