Talking to Jennifer Burns About Focal Dystonia
April 22, 2015, 7:12 PM · Jennifer Burns is a violist, educator, and performer with the Toledo Symphony. She completed her studies at the Cleveland Institute of Music and the University of Illinois: Champaign-Urbana. She began to have unusual symptoms in her left hand around 2011, and went through a lengthy process of evaluation and testing to eventually conclude years later that she was developing focal dystonia. She recently worked with Dr. Joaquin Farias in Toronto, ON, to rehabilitate and is also working towards Montessori educator certification.
Kayleigh: When you initially had unusual symptoms in your left hand, you initially suspected focal dystonia, yet no one seemed to give you credence. How was your initial diagnosis process, and what is focal dystonia?
Jennifer: Focal dystonia is a neurological movement disorder, that for me, affects my left ring finger. When trying to play viola, the ring finger (along with the pinky) will pull in towards my palm involuntarily and/or refuse to lift off the string when I'm trying to use it to play a note.
After googling my symptoms, I was aware that my issues were similar to focal dystonia, but my physical therapist at the time quickly dismissed the idea. While I still suspected FD, I so badly wanted it to be something else that I was happy to believe her. I sought out many different treatments, but nothing seemed to help. Finally, I was being treated by two awesome physical therapists who said I should be showing more improvement with their treatments, and they suggested I see a neurologist. I knew then it was focal dystonia.

I ended up seeing 3 different neurologists with the hope of finding a suitable treatment. They all had a similar evaluation process. They checked for nerve and muscle issues, watched me walk, had me write/draw, and included other tests which ruled out other neurological disorders. We also discussed my symptoms, and then they watched me play my viola. They all concluded that it was focal dystonia.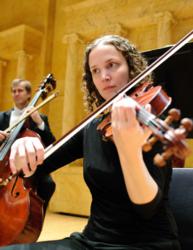 Kayleigh:How many different medical professionals did you see in that initial diagnosis period, and did any of them diagnose FD?
Jennifer: Before I was diagnosed with FD, I saw 3 different orthopedic surgeons, 3 physical therapists, 2 massage therapists and a chiropractor. I was told by one doctor that I had the endings of trigger finger, and then 6 weeks later, that I had the start of trigger finger. (You read that right... ) Another doctor thought I had cubital tunnel syndrome and gave me a splint to use. The last doctor I saw said it was just tendonitis and that I should take 6 weeks off from playing... I also was given another splint to add to my collection. No one mentioned focal dystonia.
Kayleigh: What are the current treatment options for focal dystonia?
Jennifer: I know that some people have tried using medications that are used for Parkinson's disease because dystonia and Parkinson's are very closely linked. To my knowledge, they may help a little, but they don't cure dystonia or make a huge difference. They can also have some horrible side effects that, as much as I want to make this better, wouldn't be worth it. Some people have had success with Botox injections, which deaden the muscle that is causing trouble, allowing the correct muscles to start working again. These last about 3 months, and then another shot is needed. My concern with this is that I've heard from a chiropractor and massage therapist that they have treated people who have had muscle atrophy due to Botox treatments. I'm still hopeful for retraining my muscles and/or a cure someday, so I don't want to risk it with the Botox. Some people use it and have no problems, though.
Kayleigh: As a performer and educator, how has your relationship with music changed in the last few years? Have you shifted your professional goals?
Jennifer: Despite the grim prognoses with focal dystonia, I still feel like I will be able to play in orchestra again some day. I hear of people who come back from dystonia more relaxed, with better technique, and feeling more confident. I know that I have to keep working towards that, no matter what else I'm doing career-wise. I can't give up on my dream.
Before I was diagnosed, it was getting harder to enjoy music because of my struggles with my finger. I also blamed myself a lot and felt like I should be practicing Every. Single. Second. It was exhausting, with disappointing results. In a weird way, I was a little bit relieved when I was diagnosed because I realized that I wasn't crazy(well...for this anyway! :) ), it wasn't totally my fault, and I could start working on how to treat it.
Now that I am making steps forward, I am enjoying practicing and working on the interesting puzzles my fingers present. It is still frustrating at times, but I am headed in the right direction and have hope.

I am grateful to still be teaching private lessons, and I am enjoying being in the music scene even while not performing. I have also started teaching in a 3-6 year old classroom at a Montessori school, while doing training to be a certified teacher. I really appreciate what I am learning about teaching and how to work with kids, but I am also enjoying the different teaching setting. It's nice to have the whole morning to work with different kids on language, math, and other work that helps them develop and grow. I can also better relate to them in violin and viola lessons.
Kayleigh: How has your teaching changed in the last few years, especially when you can't always demonstrate?
Jennifer: I have had to get creative in lessons, and I've been singing way more than anyone should have to hear! A lot of my students are through the Suzuki method, so they are used to listening to their pieces so that they can learn them by ear. We do sing together, and I can play piano with my right hand when needed. I think they have also had to become more patient and listen to me describe things instead of always demonstrating. I have also been helping them more with "hands on" teaching by moving their bow with them or for them to help them with a particular bowing issue, or I help manipulate their left hand for tricky things. I did this before, but now it's an even more helpful tool for me. YouTube has also become my best friend. It's great for a quick demo when needed.
Kayleigh: How has your relationship with your body and diagnosis evolved in the last few years?
Jennifer: When I was first diagnosed, of course I was devastated. However, the more I work on figuring out how to recover, the more I learn that I am being forced to become healthier and happier. It's hard to cure a neurological issue if the brain is sleep deprived, high on caffeine, and stressed out. I tend to fall into the guilt pattern of thinking I need to work more, despite getting less sleep, but then I get less done and deprive my brain of rest. It's started sinking in that if I take care of my health first and foremost, everything else is manageable. It's still not easy to balance, especially when my favorite yoga classes are at 5:30 am and I sometimes don't finish teaching lessons until 8pm... I just do what I can and try to listen to my body.
Kayleigh: I know you're also pursuing Montessori certification- when did you begin that process? How has that affected your teaching?
Jennifer: I started taking classes on the weekends last August to become certified. For my practicum, I started in a Montessori classroom as an assistant, as well. It helps me to know what the kids that age are learning as far as math, language, fine motor and gross motor skills and think of how I can relate that to music. It is also really helpful for me to see what they do in a day, so I can understand why they come into their lessons tired or excited over something special at school. It's another window into their lives that I love seeing. In the lessons, I feel like I have more patience (sometimes), and I have new tools for how to deal with different issues that come up a little better.
Kayleigh: Aside from music, how else does FD affected your daily life?
Jennifer: I haven't been typing on a computer for over a year because it causes my symptoms to kick in. Recently, I tried again, and things were improving! I don't want to tempt fate, and I want to save my fingers for viola, so I still mostly type everything, including papers for class, with my thumbs on my phone. I'm pretty sure I could out-text even a teenage girl with my mad skills!

I have also cut out gluten, dairy and coffee. I had an acupuncturist and chiropractor who separately mentioned to try eliminating these foods. Apparently gluten is processed in the same part of the brain as dystonia. I have felt better on this diet, maybe because I'm eating a lot more natural foods. It's really hard to tell if it's helping my dystonia, but it's worth a shot! (I do tell myself that chocolate has no dairy, so feel free to keep enabling this).
Kayleigh: Thanks so much for sharing your story with us! Jenn is currently running a half-marathon to benefit dystonia research, which you can donate to here.
You can also read more about Jenn's experience here.

You might also like:
Replies
This entry has been archived and is no longer accepting comments.