Printer-friendly version
The Devourer and the Devoured: The Intertwined Lives of Poet Annie Vivanti and Prodigy Vivien Chartres, Part 4/4
May 29, 2012 at 2:11 AM
This is the final part of a four-part essay on turn-of-the-century prodigy Vivien Chartres and her author mother Annie Vivanti. Part one
here,
part two
here,
and part three
here.
***
After taking London by storm, Vivien returned to the Continent for yet another tour. A psychologist based in Vienna named Dr. Herman Swoboda (a pioneer in the field of biorhythms) asked to study Vivien; after meeting her, he declared that "The musical wonder-child is a revelation of the divine. She is the nearest approach to those ideal beings that men call Angels… She is a living messenger from Beyond, waking our souls with her god-given music to believe in what is above all human understanding." In late 1906 Vivien gave eight concerts in Turin, Italy, the city of her birth. She had a blazing success there; one reporter claimed that "there has been no such triumph since Paganini." She also visited and charmed Queen Margherita, who she adored (in fact, she cried every time her face was washed, because she did not want the queen's kiss to be wiped off her cheek). In a touching gesture, after performing a Paganini concerto, she trimmed some lilacs and laid them on the composer's grave with the simple note, "To Paganini, humbly, Vivien."
In 1907 the two Chartres women sailed back to Britain. In September of that year Pall Mall Magazine ran a feature on Vivien. Vivanti claimed that it was Vivien's diary, but anyone familiar with Vivanti and her love of mixing fact and fiction certainly wouldn't put it past her to tweak her daughter's words…if not make them up outright.

I am giving an "at home" with music this afternoon. Nobody invited but animals. I am going to play the "Chaconne" to them, and they are not allowed to go to sleep or to walk away. It is to be quite like a real "at home."
The cow hates music…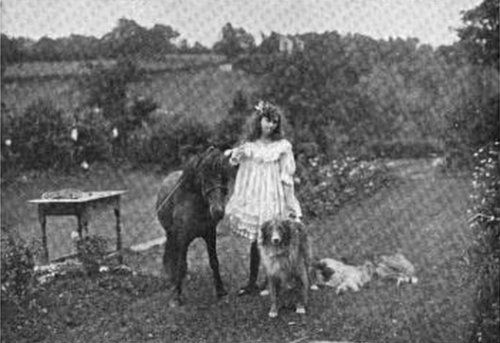 One year ago to-day the King kissed me…
We have been to a party. The E string broke while I was playing the "Hungarian Dance," but I went on with only three strings quite well. My fingers went where I did not know they had to go…
I have been in the field and played my violin to the pony and the dogs. The dogs listen and then they go to sleep. But the pony keeps on listening, especially when I tie him to a little piece of wood. I have played things that I like and that I hate to play to other people. I played great slow things by Beethoven; and I played Bach. And Schumann. And then long compositions by me…
I have received a letter from a gentleman in a workhouse. He has no money to buy violin strings with. The workhouse is in Hackney. He would like my old strings when I have finished with them, to play to some other old gentlemen who are living there.
Papa says I may bring the strings myself, and play to them. I am going to-day. And Mamma says I am to dress like when I played to the King, because they are very poor and will like it…
We have been to Hackney. I played in all the wards where the sick people are. Many of them cried.
I did not know there were so many people ill in the world. I am sad for the sorriness of all these things.
My mamma held my hand tight, tight, all the way home…
The Chaplain asked us to come into the little church after everybody had gone, and I and mamma went and knelt down like for Communion.
And the Chaplain said to God: "I want to dedicate this little girl's gift of music to You. Please take care of her." He said many other things differently and better than I write them, and mamma cried, and I did too.
Then we all three said our prayers, not loud. I said: "Our Father," and I also said: "Now I lay me down to sleep," which I should not have done.
But mamma says it does not matter. She kissed me very much…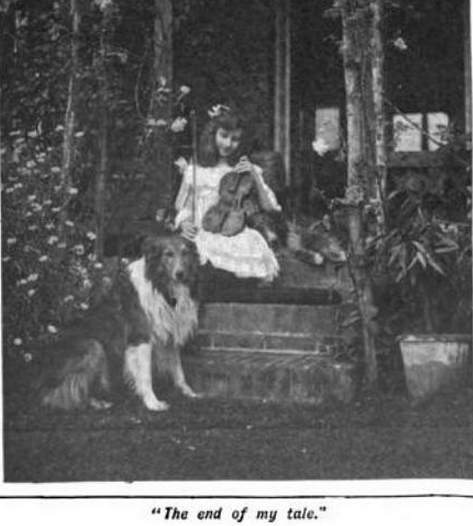 ***
As Vivien grew older, she played the violin in public less and less. Whether her interest in music had waned, whether she was asserting her independence, or whether she was applying her considerable intellect to other hobbies, is unknown. She lived with her mother, who in turn lived separately from her father.
In the early days of World War I, Vivien met a man named Arthur Lindsey Burns. According to a letter written by an acquaintance named Amelia Nyasa Laws, Vivien fell very deeply in love and wanted to marry as quickly as possible. Laws described Vivanti as "sensible, if a little business-like," and, true to that reputation, she soon began busying herself inquiring after character references for her prospective son-in-law. Presumably Burns passed her inspection; he was the General Manager for the Singer Sewing Machine Company in Italy and was, like his future wife and mother-in-law, a polyglot. The two were married 19 July 1915 in Milan. Vivien was twenty-two, Burns ten years her senior.
Annie Vivanti had anticipated her daughter's marriage five years earlier in the second-to-last chapter of The Devourers.
The carriage that was to take the bride and bridegroom to the station was waiting in the Tuscan sunlight, surrounded by the laughing, impatient crowd. As Anne-Marie appeared – her rose-lit face half hidden in her furs, her travelling-hat poised lightly at the back of her shining head – the crowd shouted and cheered, just as it had always done after her concerts. And she smiled and nodded, and said, "Good-bye! Good-bye! Thank you, and good-bye!" just as she always did at the close of her concerts. The bridegroom, tall and serious beside her, would have liked to hurry her into the carriage, but she took her hand from his arm and stopped, turning and smiling to the right and to the left, shaking hands with a hundred people who knew her and loved and blessed her. With one foot on the carriage-step, she still nodded and smiled and waved her hand. Then the young husband lifted her in, jumped in beside her, and shut the carriage-door. Cheers and shouts and waving hats followed them as the horses, striking fire from their hoofs, broke into a gallop, and carried them down the street and out of sight.
…Nancy had not left the house. She had not gone to the window. She could hear the cheers and the laughter, and for a moment she pictured herself with Anne-Marie in the carriage, driving home after the concerts – Anne-Marie still nodding, first out of one window, then out of the other, laughing, waving her hand; then falling into her mother's arms with a little sigh of delight. At last they were alone – alone after all the crowd – in the darkness and the silence, after all the noise and light. And Anne-Marie's hand was in hers; Anne-Marie's soft hair was on her breast. Again the well-known dulcet tones: "Did you like my concert, Liebstes? Are you happy, mother dear?" Then silence all the way home – home to strange hotels, no matter in what town or in what land. It was always home, for they were together.
Nancy stepped to the window, both hands held tightly to her heart. The road was empty. The house was empty. The world was empty. Then she cried, loud and long – cried, stretching her arms out before her, kneeling by the window: "Oh, my little girl! My own child! What shall I do? What shall I do?"
But there was nothing left for Nancy to do.
No doubt Vivanti felt many of the same emotions that her fictional counterpart did.
Vivien Chartres Burns, the former wonder-child, had children of her own in August 1916 and September 1917: a girl and a boy. The girl was named Vivien Ann-Marie, presumably a tribute to Vivien's fictional alter-ego.
Mr. and Mrs. Burns and their children lived happily together until 1925, when Arthur Burns died of pneumonia, leaving Vivien a young widow with two young children to raise. Before his death, Burns had suggested that Vivien marry a dear friend of his named Sir Richard C.R. Young, who was three decades Vivien's senior. Vivien was apparently hesitant to follow her late husband's advice: two weddings were planned and then canceled. But happily the third time was the charm, and Vivien and Young were married in August 1927.
A few months later John Chartres died. Vivanti had not lived with him for many years. It is unclear how much contact they had leading up to his death, or even if much affection lay between them after Vivien was grown.
***
Vivien Young committed suicide in 1941 in her home in Hove in the south of England. It was not as a protest against her lost youth, or because of a failed career, as some might expect. Rather, she had grown profoundly depressed after her husband grew ill with paralysis. She refused to watch him suffer or to contemplate a life without him. So she sealed her husband's bedroom, lit the gas fire, and attached a rubber tube from the gas to a gas mask.
"Forgive me," she wrote in a suicide note. "I cannot go on. I cannot watch my dear husband becoming more paralyzed and his pain becoming worse and worse… We shall go together, quietly and peacefully." Just like when she was a little girl, Vivien was determined to have things her own way.
For her first violin teacher, she left a hundred pounds; for her daughter, trinkets from Queen Margherita and the family of Prince Bismarck; for her son, a bronze and portrait of her, as well as a brooch that had been presented to her by King Edward VII; and to the Church, a piece of jewelry for the Altar of the Sacred Heart in Brompton Oratory in London, "in gratitude for blessings received." Her Gagliano was bequeathed to the Musician's Benevolent Fund in London and sold for the benefit of the Fund.
Annie Vivanti was living in Italy when she received word of Vivien's sudden death. She was devastated. Although many years had passed since mother and daughter had toured so triumphantly together, Vivanti's rooms were still filled with mementos of their work and travels. She converted to Catholicism a few days before her death – which occurred a mere six months after Vivien's.
Certain people share strangely intense bonds with one another. It often seems as if they've known each other before, as if they've merely picked up where they once left off. Maybe Ševcík was right; maybe Vivien had indeed played the violin in another time, and was not actually learning, but rather remembering. If so, then surely Annie Vivanti had been at her daughter's side in that earlier incarnation. There would have been no Vivien Chartres without Annie Vivanti, and Annie Vivanti would have lost out arguably on the most momentous experience of her life if she had not had Vivien Chartres. Together they brought an unearthly joy and beauty into the lives of music lovers across the world. Maybe a day is coming when their remarkable relationship can be remembered as it deserves to be.
Anne-Marie holds my heart… I am one of the Devoured. Little Anne-Marie has devoured me, and it is right that it should be so; she has absorbed me, and I am glad; she has consumed me, and I am grateful. For it is in the nature of things that to these lives given to us, our lives should be given.
***
A PDF bibliography will be available soon at my website.
This entry has been archived and is no longer accepting comments.