A chat with Lady Halle, Part 2
February 16, 2011 at 5:24 PM
In my last blog entry, I transcribed an 1894 interview with Lady Wilhelmina Hallé, one of the greatest violinists, male or female, from the late nineteenth century. Here is the second half of the interview.
A Chat With Lady Hallé
By the Baroness von Zedlitz
[Part 2/2]
After the Jansa concert Lady Hallé's (then Wilhelmine Neruda) career formed itself, and the little artist threw her heart and soul into her studies. We hear that in 1849 the gifted child made her first appearance in London on the 11th of June at the Philharmonic Concert, where she made her debut before our warm-hearted English public, which has never forgotten her effective rendering of one of De Beriot's concertos, and ever since has recognized in her one of the most accomplished musicians of the century.
"By this time," continued Lady Hallé, while alluding to her subsequent studies, "I had traveled a great deal, having visited Leipzig, Berlin, Berslau, Hamburg, and other German cities, where I am bound to say I met with friends who have remained so all my life, and advisers and just critics at whose hearts lay the interest of my future, and who counseled me for the best in all my undertakings."
"In what year did you first visit Paris?" I asked then.
"In 1864," was Lady Hallé's answer, "where I played at the Pasdeloup concerts, at the Conservatoire, and elsewhere. Here, too, I met with remarkable ovations and enthusiasm from the music-loving French, who have ever since accorded me a welcome which could hardly fail to surpass the expectations of even the most fastidious of artists."
"Did you ever compose any music for the violin, Lady Hallé?"
"No, at least nothing worth speaking of. As a girl I may have indulged in one or two musical fancies, but as a rule I preferred other compositions to my own."
"And who are your favorite composers?"
"What a question to ask!" exclaimed Lady Hallé with warmth. "For an empire I could not specify any special favourites. I love all music. From Bach and Mozart to Chaminade [interestingly, Lady Hallé is referring to Cécile Chaminade, arguably the most famous and highly regarded female composer around the turn of the century] there is such a wealth of great and noble works, each is so beautiful of its kind, that is would be difficult to specify anything individually.
"When I play Brahms I am enraptured; then comes the passion and grandeur of Wagner; after that, I am bewitched by the beautiful simplicity of Bach or the wild impetuosity of Chopin; and thus each in his turn makes of me a most devoted slave."
"Will you show me your violin?" I begged, ere I took my leave, and Lady Hallé then proceeded to display a very costly Stradivarius which, she informed me, was the joint gift of the Lord Dudley and the Duke of Edinburgh.
"How curious it is," I remarked, while examining the deft mechanism, "that such a simple-looking instrument should possess such a wealth of melody and charm!"
"Yes, indeed," was Lady Hallé's reply; "but, as I said before, it is not so easy to make it sing. That which is worth speaking is worth repeating; but it is hard to give the violin sympathetic speech unless the words you wish it to utter are the echo of your heart's own sentiments.
"How earnestly I would wish to impress upon all young girls that violin-playing is not an accomplishment quickly acquired; it demands a life of earnest study and undivided attention. I think I may say that, beautiful as this particular branch of music is, I would rather hear one who plays really well then ten who interpret indifferently."
To revert to the continuance of her career Mademoiselle Neruda entered into matrimony with a Swedish musician, Ludwig Norman, while she was in Paris. Her husband, however, died shortly after their marriage, and the distinguished violinist has since then been known in musical circles under the name of Norman Neruda. [Actually, Ludwig Norman did not die; the two separated, and possibly even divorced. Whether the reporter heard faulty information or Wilma flat-out lied to her, we don't know!]
In 1869 Madame Neruda visited England again and played at the Philharmonic Society on the 17th of May. At this stage of her career she was no longer the infant prodigy who had promised to become "somebody"; she had outstripped the years of infantine celebrity, and appeared before a critical audience in the zenith of her musical powers.
The fragile-looking child-artist had developed into a handsome, well-built woman whose brilliancy of talent and charm of execution electrified all those who heard her.
Joachim's opinion, expressed about her to Sir Charles Hallé, many years ago, was a very correct one, although (with his usual grace) he could not help praising a fellow artist without undervaluing his own unimpeachable talent.
This is what he said of her:-
"I recommend to your attention this young lady. Mark my word, when people shall have heard her play, they will not think so much of me."
And the public did, and does think very much of her, although they do not think any the less of Joachim on that account; his name is encircled by an aureole of fame which no lapse of time can dim.
At the Philharmonic Society M. Vieuxtemps had occasion to hear Madame Neruda, and was so deeply interested by the perfection of maturity into which the promise of childhood's genius had ripened that he endeavoured to persuade her to remain in London until the winter, and, in the end, she was induced to take the lead of the string quartet in the Monday Popular Concerts before Christmas, and at once assumed her proper place in the front rank of first-class violinists.
Here it is appropriate to mention that Sir C. Hallé obtained her services for his recitals in London and Manchester, and that she appeared in many provincial towns, where she met with equal and undaunted success, and that Sir Charles Hallé, having lost his first wife in the early days of wedlock, married Madame Neruda in 1888.
Lady Hallé has given concerts in Russia, Prussia, Denmark, Great Britain, etc., not forgetting Australia, and has received many testimonials and orders of distinction from crowned heads.
In her reception rooms I espied innumerable gifts and souvenirs, some photographic, others autographic, testifying to the esteem with which she is regarded by the Royal family, and especially by Her Royal Highness the Princess of Wales, of whom she possesses many portraits, all of which are signed. One photograph struck me particularly as being an excellent likeness of His Royal Highness the late Duke of Clarence and Avondale, taken with his mother, under which are inscribed the simple but touching words, "Alexandra, and my first-born," which seem to point to the burden of a distressing memory. Yet another interesting portrait is that of Her Royal Highness in her robes of Mus.Doc., also signed "Alexandra." [Alexandra received a doctorate of music from Trinity College in Dublin in 1885.]
And now I would venture to speak of the personality of this brilliant artist, and to add a few words in humble criticism of her executive talent. Lady Hallé possesses an unerring sense of artistic propriety and technical perfection, therefore the strongest feelings of form and sound are displayed in her fine renderings of no matter what composer. Pathos, dignity, and gracefulness are her chief means of expressing herself, while often she displays a fire of passionate emotion which tells us that the artist's heart and soul are devoted to her art. The left-hand technique shows how capable she is of executing all difficulties without displaying any symptom of labour, and that the systematic perseverance with which she has applied herself to her studies has borne good fruits, of which the universal public is the happy recipient.
Her manner, which is gentle and courteous, has much refinement about it, and when roused to speak upon matters that interest her she becomes eloquent, while her looks imply that she seriously means what she says.
Her house and surroundings show her artistic fondness for rich warm colours and harmonious decorations, and her desire to have around her the counterfeit presentments of all her confreres in the musical world.
In Australia, when Lady Hallé, accompanied by her husband, Sir C. Hallé, gave a brilliant series of concerts, she was received with much favour, and at the conclusion of their visit to Melbourne, which lasted six weeks, a huge floral lyre was presented to her by the members of the Victorian orchestra as a token of their esteem and admiration.
That Lady Hallé has studied hard and has won her laurels through legitimate diligence is a fact of world-wide renown, and that this constant mental application has not spoilt her youthful enjoyment both of life and natural beauty may be gathered by the extraordinary charm of her artistic capabilities, as well as her amiability and cordiality as a hostess and friend.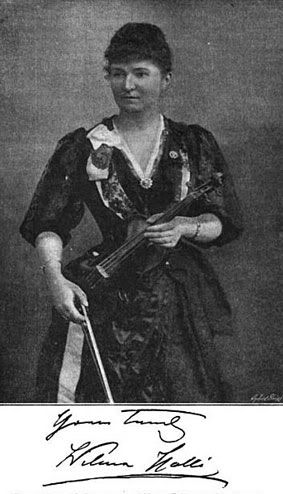 ***
For anyone that wants to see how this article was originally laid out, here is the link to the scan.
Hi, thanks! Your findings are always very interesting!
Anne-Marie
This entry has been archived and is no longer accepting comments.