Printer-friendly version
Meeting Edith Lynwood Winn (And Her Opinions)
November 2, 2011 at 6:35 PM
Meet Edith Lynwood Winn.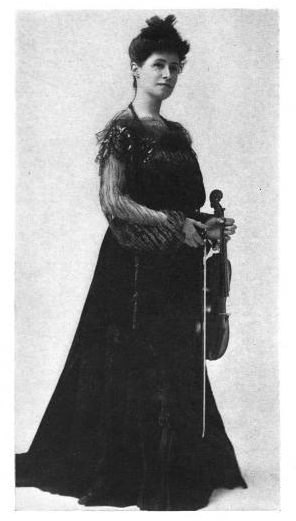 Winn (1868-1933) was a turn-of-the-century writer, journalist, violinist, and pedagogue. She had a lot of opinions, and she took great joy in sharing them. Her books include Violin Talks (1905), How To Prepare For Kreutzer (1910), How To Study Fiorillo (1910), and The Etudes of Life (1908). (Most, if not all, are available on Google Books. Just look up her name.) I just stumbled upon them yesterday by accident. Winn sidetracked me with her authoritative voice, and ever since I've been reading her highly entertaining work in my spare time. I know relatively little about her besides what she reveals in the books.
She apparently studied in Europe (as almost all serious musicians did in those days) - once had a nervous breakdown after practicing too hard for too long - taught in public schools and colleges - lived in Boston - studied with Julius Eichberg, a Boston-based teacher who taught many great female violinists - edited music - and had "unfortunate fingers", in particular an obnoxiously short fourth finger (just like me!). She sounds like a very interesting, strong-willed lady, and even when I oh-my-gosh totally absolutely 100% disagree with her, I still find I Can't Stop Reading Her.
Here are some excerpts from Violin Talks.
***
Children's work in America has been as yet an experiment and is not based on psychological and pedagogical training such as teachers in the public schools are obliged to receive before they are entrusted with the education of the young. The theory that "any teacher is good enough for a beginner" is fast becoming null and void. There must be teachers trained for children's work. They most love this preparatory work. They must be willing to serve art from the beginning of child training. Such teachers are born and not made, and yet their preparation for teaching must be broad. They must know violin literature; they must love children and be able to meet the child on his own plane; they must be unselfish, consecrated, thorough. Above all, they must be able to produce a beautiful tone, - the first model which a child hears.
The teacher should possess a winning personality. The child should be obedient, respectful, prompt, and willing. The German child always comes to his teacher with a "good morning" and a hand-shake, but he stands somewhat in awe of his master. Teacher and pupil can be sympathetic without seriously interfering with the dignity of their relation. The nervous and highung child suffers under severe teaching.
In general, if a pupil has worked hard for eight or nine months without interruption, he should have a vacation during the summer, and he will begin with more freshness and vigor in the fall.
I believe that ear-training should go hand in hand with violin study. It is unfortunate, indeed, that the public schools of every town do not afford some musical training for children, but it is only in the average large town and city that there are trained teachers of music who direct and supervise the study of music through the various school grades. The consequence is that music teachers have to do more real drudgery than they should, and they are also compelled to teach ear-training, time values, and many other things which students ought to have learned long before.
Many people ask at what age a child should begin violin study. This depends upon the constitution and taste of the child, and upon his musical environment. It is better to begin at fifteen years of age with a competent teacher than to begin at seven with an inferior teacher. If there is no fine violinist in the town, let the child begin piano study with some good teacher, for piano teachers are more easily found. At the proper age let the child go to the city for violin lessons. Country and city standards differ. Country teachers, because of little competition, are prone to advance pupils too rapidly. The thoroughness with which the best city teachers work is an evidence of high standards. A faithful study of the first position requires two or three years for the average child.
Every violinist should play the viola to some extent. This aids one to produce a robust tone, and a knowledge of it is very helpful to the ensemble class.
It pays to be broadly educated. It makes us richer. It makes the world richer. It helps us to be happier. The man and woman who intend to devote life to the profession of violin teaching, or concertizing, cannot be too well educated.
Few pupils know how to practice, hence the prevailing fault of neglected rhythm. Said a well-known teacher: "Never let anything pass which is not up to the standard of true musicianship. It is better to play twelve Etudes in one year, and play them well, than to go over the whole range of Kreutzer and Fiorillo. You will have it all to do over again some day, and it will be hard indeed to undo what you have done unwisely or carelessly."
Many piano pupils use a metronome for daily practice. Let the violinist use his brains.
"Rag-time" music is the very enemy of careful reading, attention to rhythm, and the cultivation of the highest in music. It develops inexcusable laziness in pupils, and the teacher has to undo a host of faults which could be avoided if parents only knew them to be positively the result of the "rag-time craze," and would forbid it. This would save hard work on the teacher's part, and much sorrow on the part of the pupil.
A certain pupil has an over-emotional temperament. She even plays unrhythmically. A year or two of ensemble work will aid her greatly. Another pupil suffers from the effects of overpractice. She also plays unrhythmically. Rest is her only cure.
If I were the mistress of a home I should teach every child to recite poetry. The child who cannot feel the rhythm of poetry will not feel it in music, but he can cultivate both. I should allow him to dance. From his earliest years he should sing child-songs. When he is older let him study the languages and learn to scan Latin. Our greatest musicians are fine linguists.
Few girls can practice over four hours daily. Common sense and physique forbid.
Naturally a girl has more supple fingers than a boy. She also has a fine command of her upper notes on the E string, for her fingers are small, delicate and agile, but she has no the endurance of boys. She can play, and play well, but she must keep her health and practice only as much as she can endure.
The effects of overwork are spasmodic movements of the body and face, nervous bowing, and unsteady tone, affectation, and absence of rhythm. This, added to a poor sense of pitch, which often accompanies nervous troubles, is a serious detriment to success. Life is too short and too full of meaning for us to cripple our energies by overwork. The violinist should keep his energies normal.
From the first the violin should be a good one. There is no inspiration in a bad violin. Not everyone can have a good, or, rather, a valuable violin. Everyone can have a violin correctly made.
The violin should go to the repairer at least once a year. The bow should be rehaired as often as necessary. Mine goes to the shop three times a year. Both violin and bow should be kept very clean and free from excess of rosin. Many students permit rosin to accumulate under the bridge. That is dangerous. Rosin injures the varnish, and dust-particles spoil the resonance of the violin. One can wash the bow with good soap and water and a little ammonia.
Two or three half-hour lessons a week are sufficient for the average intelligent boy or girl. It is well to have someone at home supervise the daily work of the child, but that person shuld attend the lessons with the child.
I don't know why it is, but violinists are very often quite sensitively organized and delicate. One or two hours of daily practice is the most the beginner should undertake. I regret a year of hard work at six hours a day of practice. I paid for it by a nervous collapse.
I have often said that pupils should devote from fifteen to thirty minutes daily to scale practice; then they are not hampered by technic, as in Etude work, and, because the mind is concentrated one one thing, there is no excuse for faulty position. The prevailing "bad point" of new pupils is that the left elbow is not well under the right side of the violin, thus compelling the hand to tilt to the left, the thumb to cling too closely to the neck of the violin, and the whole arm to be changing its position constantly. There can be no progress with such a position, for intonation will never be correct, and technic, as well as a command of positions, is out of the question. Teachers who neglect these points do so at the risk of their own musical reputation.
Speaking of fingers, many violinists have most unfortunate fingers. I am one; my fourth finger does not reach to the last joint of my third finger, and in the higher positions, my thumb sometimes clings to the body of the violin, instead of to the neck. I have found, however, that persistent practice in the positions, with my fingers (on the E string) a little inclined toward the left, aids my thumb, while raising the hand and running the elbow very far under the violin permits the thumb to regain its proper position.
And now we must labor to obtain a normal position and as little extra movement with arm and hand, for all unnecessary movements cause great uncertainty and loss of security and time.
A prevailing fault is that of grasping the violin too tightly with the chin. The violin should be held by the left side of the jaw and not by the chin, which should rest upon the instrument at the left of the tail-piece.
There are many methods of holding the bow, but there is only one way of holding the violin - and that is the right way, - free and beautiful.
Now that I have spoken of the position of the body, it may be well to remark that young students should try not to move about much while playing. Paganini indulged in many contortions of features and of body, but his day is past. Many violinists sway the body to the rhythm of the music. It is, indeed, very hard to stand perfectly erect and motionless. The great artist is very full of moods, and he responds to the spirit of his music to such an extent that he is prone to move his body as he plays.
The violin is a difficult instrument indeed, but the drudgery of teaching lies in certain almost necessary repetitions. I find myself saying certain things daily. One is, "Do not allow the left elbow to remain far to the left of the violin." Another is, "Keep the fingers down as long as possible." Still another is, "Do not cling to the violin with the thumb."
***
And these excerpts are only the first thirty-odd pages! She has much more to say throughout the rest of the book.
So what do you think? Anything in there that leaps out at you as being incredibly relevant? Incredibly irrelevant? Good advice, bad advice, advice you can't make heads or tails of?
Winn's books have made me wonder, what will teaching be like a hundred years from now? What conventions of today that we take for granted will tomorrow's students laugh at? Which of Winn's ideas are due for a come-back (personally, I love the ideas of mandatory ear-training and viola-playing)?
Isn't it wonderful to read the work of a woman from a hundred years ago who is just as opinionated about the violin as we are today? What an honor to be part of this long continuum of passionate intelligent music-lovers...
Mandatory viola playing... love it!
From Tess Z
Posted on November 3, 2011 at 3:07 AM
The viola recommendation does make sense. I think most of her advice is relevant to today. Thanks for sharing your discovery of this violinist.
This is great. I am going to read it again in the morning with my violin and see how I'm doing.
Julie
I absolutely love how sure she is of her own opinions! What fun to read, and how do you come across this stuff? You always come up with the most interesting topics, Emily.
From Emily Liz
Posted on November 3, 2011 at 9:11 AM
Thanks, all. Emily, I have a list of the names of 250+ professional female violinists born before 1920. For every name I Google, I invariably come across ten more. It all snowballs from there. I actually came across Winn while looking up Leonora Jackson; she's mentioned briefly at the end of Violin Talks in the essay on the Sevcik and Joachim schools. It's always rewarding as an historian to let yourself be sidetracked...
Fascinating blog! Maybe I WILL take up the viola one day. One of my teachers was a professional violist, so I feel I'm halfway there...
Does your list include a Jenny Claus? She appears to have been the first female professional violinist to have toured Japan - as early as 1875 (see my latest blog). A Google search produced a couple of reviews in Australian newspapers, rather condescending they were, I thought. But that's about all I dug up. I suspect quite a few women disappeared from the stage once they married, when they would also have changed their names. Of course, if the women were writers as well as violinists, that helps!
Best wishes and keep up the good work!
Margaret
Although some of the material looks dated, that's mostly a reflection of the time in which it was written. (That admonition against rag-time music is particularly amusing.) But there are a lot of good points; my teacher is echoing the words about the left elbow, for instance. And if the advice about violas was taken today, it would be easier to get a string quartet together.
From Emily Liz
Posted on November 4, 2011 at 2:03 AM
Margaret, I haven't heard of her, thanks for the tip. And yes, lots of women disappeared. Which is unfortunate, but... It was a different era, and much more difficult to choose between having a family and having a career.
This entry has been archived and is no longer accepting comments.