Madame Norman-Neruda and a short history of women violinists, Part II
June 4, 2010, 7:32 PM ·
This is the second installment of a three-part essay.
In 1859, at the age of twenty, Wilma became the first violinist in a group known as the Neruda Quartet, comprised of various Neruda children. While touring together, Wilma and her sister Maria met a wide variety of famous Europeans, including Hans Christian Andersen in Denmark in 1862. Sometime during her travels, Wilma met a Swede named Frederick Wilhlem Ludwig Norman. He was a conductor and composer, remembered today as one of the great Swedish symphonists of the late nineteenth century. He had known Robert Schumann during his student days in Leipzig and was now a teacher at the Royal Music Academy in Stockholm. Wilma and Ludwig fell in love and married in 1864. Their first child, Ludwig, was born in November 1864, and their second, Felix, was born in May of 1866.
Marriage and pregnancy almost always spelled an end to female musicians' careers in the Victorian era. Wilma's contemporary, the violinist Camilla Urso, counseled all serious female musicians to never get married because she felt they wouldn't be able to balance their personal and professional lives. In an age before birth control, when it was common for women to bear over ten children, this was a legitimate concern. However, Clara Schumann, the remarkable concert pianist who had raised eight children while successfully concertizing throughout Europe, had proved to the world that marriage and a career were not necessarily incompatible. Wilma was intimately familiar with her example, as her pianist sister had studied with Clara. Not many women were willing to follow Clara's lead, but Wilma was one of the few who did. Even after she had her two boys, she kept on playing and touring. The only difference was that now, instead of appearing as the diminutive "Wilma Neruda" she was the commanding "Madame Norman-Neruda." Interestingly her sons also took her hyphenated name, so that they were known as Felix and Ludwig Norman-Neruda. Whether that was because of a quarrel with their father, to bask in their mother's professional success, or for another reason altogether, is unknown.
Unfortunately Ludwig and Wilma's marriage was not a happy one. Although they never divorced (Wilma was Catholic), they did eventually part ways. Wilma did not hide the fact that she was separated from her husband from the press; the fact was often mentioned in contemporary music biographies of her.
Wilma kept up her extraordinary work throughout the 1870s, playing concerti by Mendelssohn, Spohr, Wieniawski, Beethoven, and others, as well as various demanding sonatas and showpieces. She continued to gain the respect of her male colleagues; in the late 1870s, the great Spanish virtuoso Pablo de Sarasate dedicated his Romanza Andaluza and Jota Navarra to Wilma.
Playing the violin, however, was only a small part of her overall workload. It has to be remembered that in those days, there were no travel agents making arrangements for musicians. Virtuosos themselves often communicated directly with orchestras to arrange their programs. And not only did they have to determine their own programs, they also had to know who was playing what concerto in various cities across Europe, so that they would not play a piece that had just been performed. There is a fascinating letter in the UK National Archives written to a concert manager in Holland in which Wilma suggests a program for her upcoming tour there. She gave the manager two programs to choose from: first, the twenty-second concerto of Viotti or the eighth concerto of Spohr, paired with the second two movements of the first Vieuxtemps concerto; or second, the slow movement from Spohr's ninth concerto or Beethoven's Romance in F, paired with the Mendelssohn concerto - that is, unless Joachim has recently played the Mendelssohn in Amsterdam, as she knew he had recently visited there. It must have taken extraordinary energy to keep up that kind of correspondence with the concert managers of Europe, as well as keep in shape technically, all while raising her children.
During this busy time she often collaborated with her multiple musical siblings. In one concert program in London in 1875 she played first violin in a trio by Bargiel; two pieces by Schumann rearranged for two violins and cello (with Wilma and her sister Maria, now married and known as "Madame Arlberg-Neruda" on violin, and her brother Franz on cello); and finally, to wrap things up, the Schumann E-flat quintet, with Charles Halle on the piano and Franz on cello.
Wilma Norman-Neruda with her male colleagues, leading the Monday Popular Concerts string quartet
Wilma was the first woman violinist to play chamber music professionally with men.
Vieuxtemps
- the same violinist who had given her the bouquet of flowers in Moscow, much to Wieniawski's dismay - suggested in the early 1870s that she lead the fashionable Monday Popular Concerts quartet in London. She was hesitant to accept the offer, but, encouraged by Vieuxtemps, she finally consented. Her concerts there were great triumphs, at which she played everything from Beethoven to Mozart to Cherubini to the Dvorak Quintet. Elsewhere in London she performed Grieg's violin sonatas with the composer himself at the piano, and in the 1890s she played the Bach double violin concerto with no less a partner than
Joseph Joachim
, possibly the greatest violinist of the era. It must have been a thrill for their listeners to see the two on the same stage, as Wilma was often compared to him in the press. He once said, "Mark this, when people have given her a fair hearing, they will think more of her and less of me."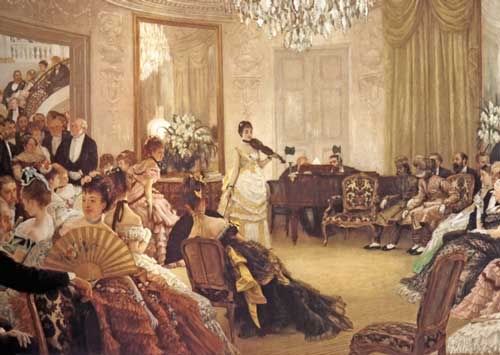 Hush! The Concert, by James Tissot, 1875. The woman in the picture is widely accepted to be Wilma Norman-Neruda.
Throughout the 1870s and 1880s, the stigma attached to female violinists gradually began to fade. In fact, Wilma and Camilla Urso both inspired thousands of young girls to take up the instrument, to the point where it became downright fashionable for a girl to play the violin. The press likened her to a female St. George, slaying the dragon of prejudice. By 1890 she was able to reminisce to Oscar Wilde's magazine The Woman's World, "When I first came to London [in 1869], I was surprised to find that it was thought almost improper, certainly unladylike, for a woman to play on the violin. In Germany the thing was quite common and excited no comment. I could not understand - it seemed so absurd - why people thought so differently here. Whenever in society I hear a young lady tuning a violin I think of…the reproachful curiosity with which the people at first regarded my playing." Male reporters at magazines and newspapers recorded their astonishment at just how many young girls were taking up stringed instruments. In the Contemporary Review, one writer named H.R. Hawes went so far as to say, "A beautiful girl playing on a beautiful violin is the most beautiful thing in the world" and "Surely the violin is made for woman, and woman is made for the violin." He went on to say:
The barrier which for long, in spite of St. Cecilia and the angels, warned off women from violins, in the name of all that was feminine, no longer exists. Indeed, within the last twenty-five years, we have been afflicted with a girl-violin mania. School misses before they are in their teens clamour to learn the violin. It is a common sight in London to see maidens of all ages laden with fiddles of all sizes, their music rolls strapped tightly to the cases, hurrying to the underground railway, or hailing the omnibus or cab in Oxford Street, Regent Street, and Bond Street. Then the Royal Academy, Royal College, Guildhall class-rooms are choked with violin-girls, and no ladies' seminary is now complete without the violin tutor. Women have already invaded orchestras, and at least one celebrated amateur society can boast of nothing but lady players, whilst the profession as regards soloists divides its honours pretty equally between male and female virtuosi.
Wilma grew so beloved in Britain that, in 1887, when Arthur Conan Doyle was writing his first Sherlock Holmes story, A Study in Scarlet, Wilma's name was the first violinist's name to come to mind when he wanted to send Holmes to a violin recital during his investigation. Holmes - a talented violinist himself - came back from the concert and raved over her bow arm. Today, despite all of her other achievements, she is probably most famous for that singular fictional appearance!
Watch out for part three of three, which discusses Wilma's later life and her influence on the next generation of women players.
You might also like:
Replies
This article has been archived and is no longer accepting comments.