Printer-friendly version
Visual Arts by Youth in Juticalpa
January 28, 2012 at 5:01 PM
Not only do I teach music in Juticalpa, but I am lucky enough to teach art, too. Teaching art is out of my comfort zone because I've done art in the past and have always been surrounded by beautiful art, but never have taken a class outside of the required Art History courses for my degree.
There are more resources available for art, and I've found that most students are incredibly talented. I watch the students create art and work with them. Of course, I learn from them and it's another one of those things that keeps me on my toes (love teaching!). Here is some of their art.

One of my seventh graders used oil pastels to create this amazing sunset with shadows. We were on the topic of landscapes, and the students were working in partners during class. But this student got inspired by the landscapes and made this sunset for me at her home. She's one of my most creative, innovative, seventh graders.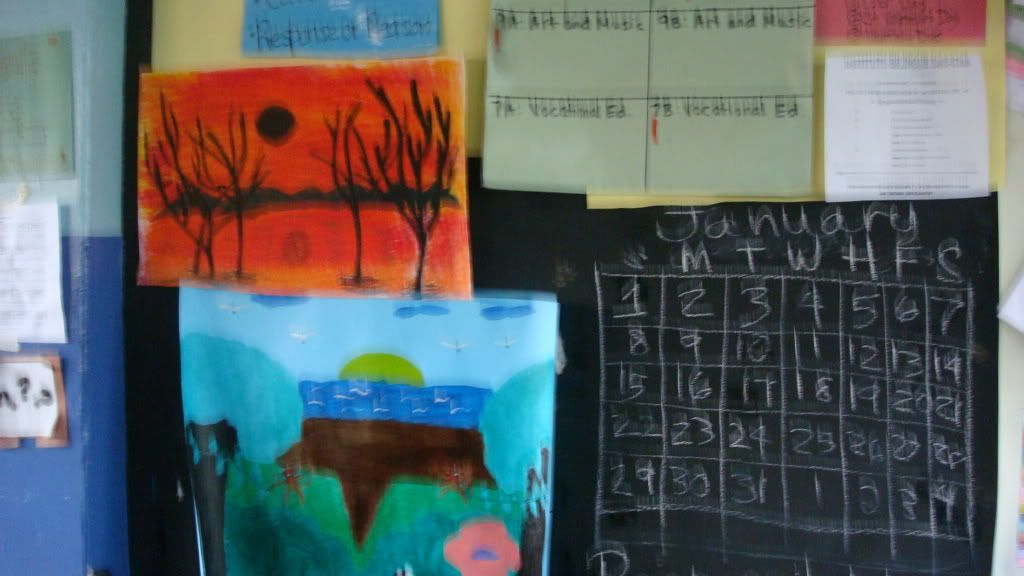 The painting on the bottom of the image with was painted by a pair of (very responsible) ninth graders. It was painted by a girl and a boy. The girl is very shy and quiet in class, I noticed her creativity the day that she actually brought a musical instrument to class. It was a pretty little drum made out of a can, and she added lovely ribbon. I can tell that she is very careful with any of the work that she does.
Finally, another ninth grader always impresses me anytime he draws something. Though not in this drawing, he always uses a ton of color. I love paintings with color! He almost reminds me of the Fauve artists Marc Chagall or Henri Matisse, but of course with his own distinctive style. He gets very detailed and involved with his work. The assignment for this class period was to make a work of art that involves the elements of music. He's actually an expert at this. Previously he and his friend who plays a bit of piano created a landscape. This was amazing (unfortunately he took it home before I could get a picture!). The landscape included a lighthouse, sunset, and sea. All in vibrant, ardent colors like reds and oranges. But, at the bottom, they included a staff of music with notes as if it was the signature to complete the work. I could tell how proud the students were of their work. Everyday the main artist would come and look at his work of art with care and love.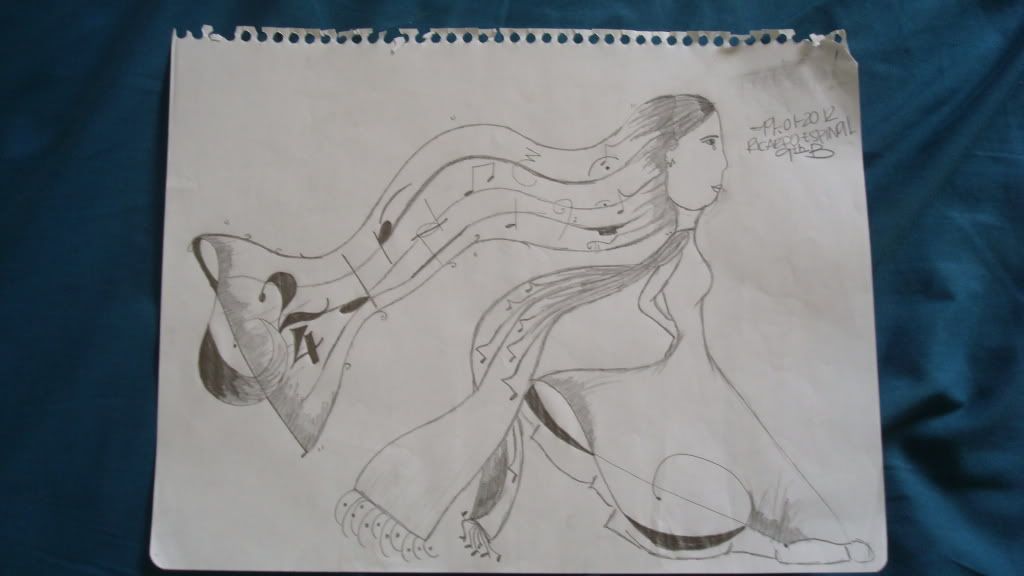 My students are so talented! I got excited during the first few weeks, and decided that I would pull together a few art shows for them. One of the shows is going to be on March 23. The students are excited, and at a later date we will show the art work in the cultural center. Juticalpa desperately needs more art, and I'm working very hard to get the students' art work out there.
This entry has been archived and is no longer accepting comments.