Starting with Flamenco
Written by Jesús Fernández
Published: January 30, 2014 at 12:14 PM [UTC]
It has often struck me what little presence the violin usually has in traditional flamenco. Although, in my opinion (and that of Ara Malikian for example), as appropriate instrument for both the "lament", and the brilliant joy, for emotional expressiveness it should find a protagonist place in a kind of music that uses so much the sense of sadness, the groan, but also the party.
It´s just that the violin settled quickly and easily in countless musical traditions from American folk, blues (so related, as an expression of a people, to flamenco), Celtic music, traditional Indian music, Arabic, Jewish, even the Nordic countries with their beautiful violin variants, and of course, the splendid gypsy influences of Eastern Europe, Russia, etc.. In all of them the violin has become outstanding piece, becoming in many cases the soloist instrument displacing singers.
And yet, in our country, flamenco and violin have traditionally remained in their separate worlds: the first one in the street, in the village, in the oral wisdom, in the party or rin the religious events; the second one remained in the Academy, the classical music, in the elite and rigorous study. And although sometimes the Spanish classical music took flamenco forms and ways to provide "local color" to the music of classical composers, rarely the connection was in the opposite direction. Although slowly strings being incorporated to Flamenco troups, I wondered: "do anyone dare "cante jondo" for violin or cello?.
I have many violin music sheet books and exercises of different styles, blues, folk, Celtic, gypsy, etc.., But I've never managed to find one focused on Flamenco.
Until now.
I remember that my first approach to this music was not very happy. When I was younger, to me Flamenco was associated with concepts of the past that I disdained. The past was Franco, rural life, little villages, black and white, what old people listened. So different to the bright English-speaking urban styles (rock, punk, soul, new age, techno ...) that, as everybody from my generation, I followed almost only and exclusively. So, barring the inevitable exceptions Paco de Lucía, Camarón, or the unclassifiable Pata Negra, I always turned my back to Flamenco, with that peculiar to us habit to admire the alien and disregard our own (and also to value the new and ignore the old stuff), and until I was adult enough I didn´t begin to appreciate it.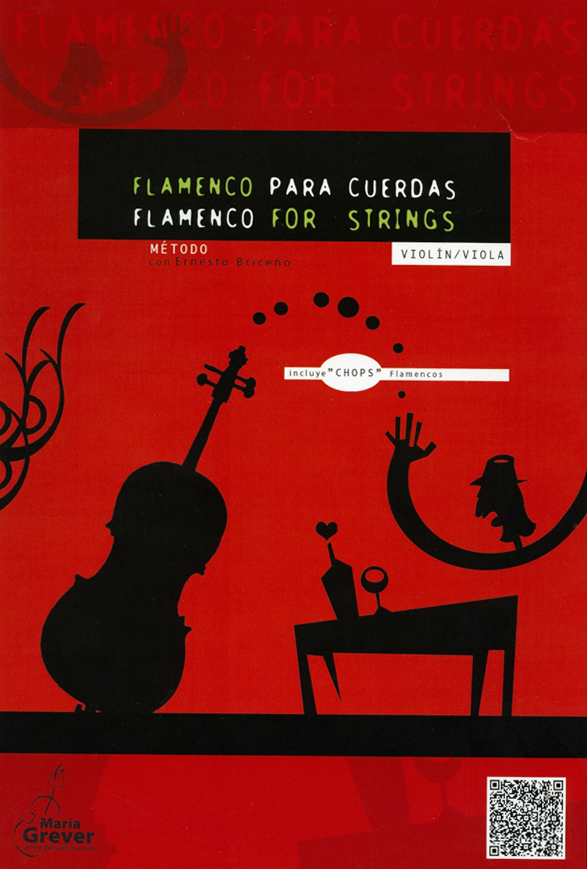 But I was already resigned to never try these "tastes" with my violin when I came across the announcement of the publication of the book "Flamenco for Strings" by Ernesto Briceño, which I did not hesitate a moment to buy, to take a look and try, even just to take away the thorn in the side of "flamenquear" a little bit.
Ernesto Briceño is a violinist, educator at several schools, conductor, world music researcher and currently head of the Centro de Estudios Musicales María Grever.
Briceño, as he says in the preface, did not want to write a book about theory of "Flamenco". It is a series of rhythmic and melodic exercises, which allow us to "feel" the funamentals about rhythm and melody of the main musical forms in order to be able to participate in "Flamenco" projects with our violin without feeling out of place.
Keep in mind that flamenco can´t be learned by studying theory. If you have not been lucky enough to internalize its rhythms and peculiarities since being a kid, if you have not gotten used to accompain hand-clapping, cheer on, and participate in "Flamenco", it will be very difficult for you to participate consistently only studying a book. As Pavarotti said "learning music by reading music theory is like making love by mail." And this is even truer with the rebellious and visceral "Flamenco". But if you're lucky enough to meet people to play with who master the art of playing it, who let you play litle parts and direct you, surely you can have fun playing. Of course, a real flamenco would laugh themselves to death if you say you're going to learn to play bulerías reading scores, but well, there's no choice to us, and if we can´t do it our own, at least we can understand it a little.
Flamenco for Strings emphasizes rhythms, because there is nothing worse than not going to beat, so first the fundamental skill of hand-clapping is practiced. Hand-clapping is the backbone of every different flamenco style, and mastering the art of hand-clapping means you will not lose the beat when playing the instrument.
In his experience with musics from the world, Ernesto Briceño also uses the vocal percussion technique of South India, "Konnakol," used brilliantly here to internalize the different rhythmic variations. Words 2, 3, 4 and 5 syllables help us to learn the rhythm.
The book has numerous audio accompaniments that can be easely located by printed QR codes, or with a computer, connecting to the SoundCloud page of Mary Greve School.
Subsequently rhythmic and melodic exercises of tangos, bulería, alegrías, fandangoss, rumba, siguiriyas, solea por bulerías, tanguillos, and tientos will be practiced. At first it may seem like a very light book, only 30 pages, but I can assure you that there is enough work there, and plenty to it. And I must admit that it took me a little while some to catch some musical phrases at their beats, in short, as I said, I did not listen it until I became an adult and now I find it refractory.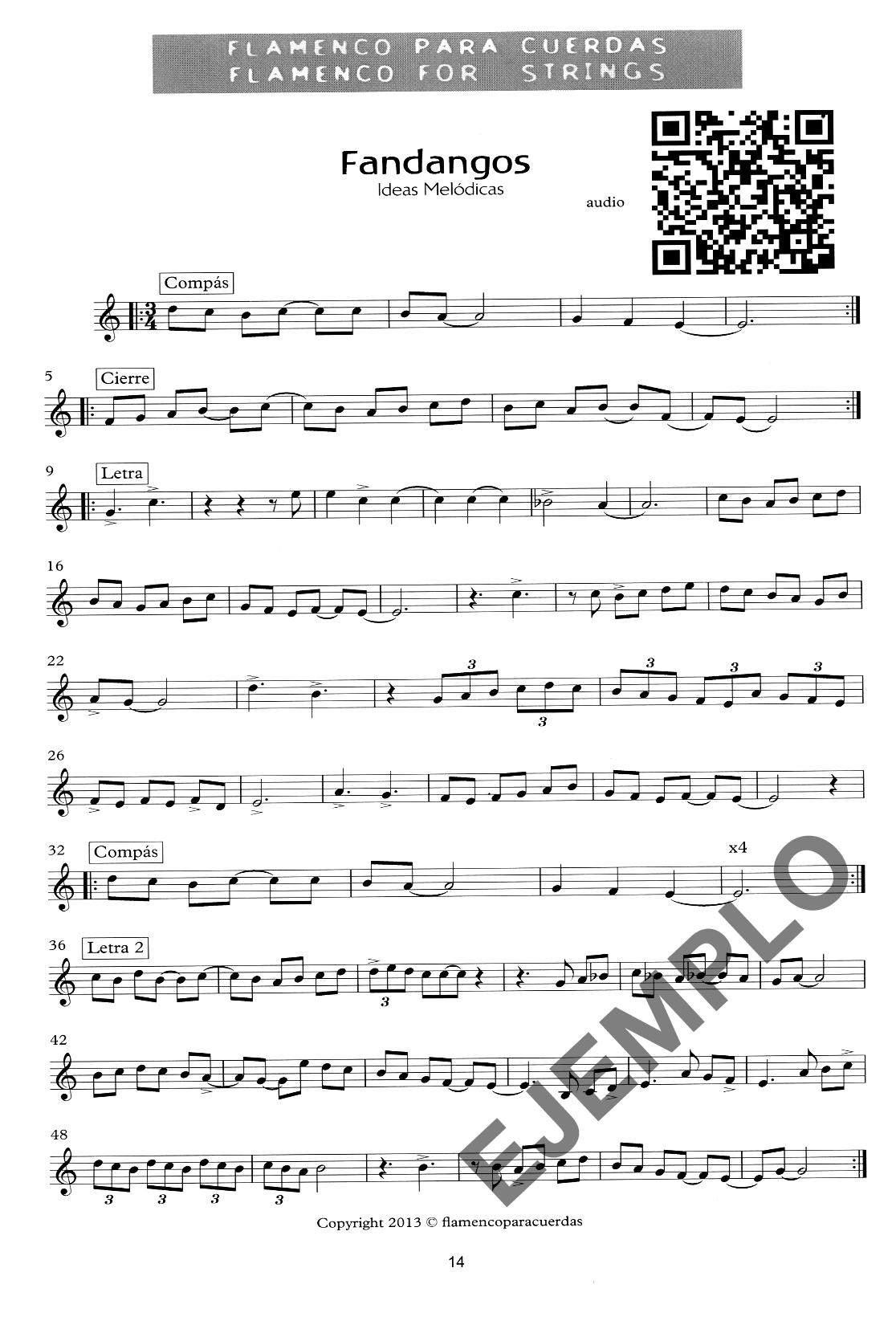 Soundcloud audio>
I must confess that in my environment, the prospect of playing Flamenco with someonefor is non-existent. So my internship with this book surely will prove fruitless on a practical level, which does not mean them to have helped me to glimpse a fascinating universe and that I become familiar, even slightly, with the mysteries of this music.
And is that a musician is somehow like a chef: the more smells, tastes and textures of the world he tries, the more chances he finds open when creating his work. Often I have caught myself getting a "blue note", a little glissando, a little swing, in musics that should not normally take, nuances that are perhaps profanity or aberrations, but I think that's what makes every musician to be different and show what is inside him. Formerly violinists following the "Russian School" could almost be distinguished from the ones of the "French school"; today pedagogy is standardized and there are lots of great performers with portentous but similar technique, and these are the kind of things, our grounds of tradition, our unique and personal experience, which may give some flavor to interpretation.
So no, restless of new sounds, violinists bored of his repertoire, you can start testing this world guided by " Flamenco for Strings ".
Links:
Soundcloud audios "Flamenco for stringss"
And below: Alexis Lefevre, one of the few flamenco violinists:

Thank you for bringing this to us, Jesús! I'm always amazed at how much MORE there is to try on the violin!
I see Alexis has wonderful right hand finger technique, I think he would sound great playing the guitarre. The Flamenco Guitar, brilliant. Maybe a reason there is not much Flamenco violin playing? Very interesting, thanks for sharing.
For seven decades, two of my passions have been the violin and flamenco, parallel endeavors that never meet.
The essence of flamenco is «el cante», the singing. Flamenco began as a purely vocal art form, unaccompanied singing, which eventually dictated the development of the hand-clapping and the guitar accompaniment that followed. Purely vocal flamenco without accompaniment of any kind, sung a capella, is commonplace even today; flamenco without singing is simply inconceivable.
Taking this into consideration, it is not surprising that the various efforts by flamenco musicians throughout history have not been very fruitful.
Thank you for treating flamenco in this article with the respect the art form deserves. Nicely done!
I play both the violin and flamenco guitar so have given this one some thought, never really got anywhere, the thing that appeals to me is how to put the microtones sung by singers on the violin, I once put a thread about this on linkedin flamenco group about the only response that I got is someone telling me that whatever I did I would have to call it "fusion" I replied that I was not thinking of calling it anything at all.