12 ideas to avoid being a violinist clone .
September 11, 2013 at 8:17 AM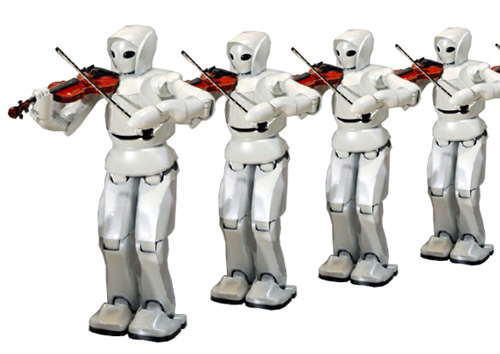 1. Imitate sounds:
animals, voices, city sounds… squeaking doors.
Minute 4:20, Vengerov brute force wreaking more radical spirit "hardcore ", imitating a Harley Davidson .
2. Explore other genres:
Carnatic music, flamenco, jazz manouche ...
Carnatic music, native to southern India is one of the oldest cultures , complex and refined. His own system of scales (ragas ), of microtones, their symbolism…. You don't need to travel to India, but try to interpret his music will make you feel otherwise.

And Flamenco: Although it's an immense source of inspiration, it seems that the violin has never finished to belong entirely to this world, even though flamenco is a music of mourning and weeping violin instrument as any.

3. Don't (always) respect classics.
Django Reinhardt, the great and forgotten Eddie South and the legendary Stephane Grappelli enjoying Bach double concerto in key swing. Today is a classic jazz manouche, but it began as an irreverent, almost blasphemous joke.

4. Take some time to play, no score, facing inward.
Express yourself without the help the of another author.
5. Play for dance
In History, before we became snobs violinists, our work was secondary: playing in events, parties, in which the main objective was to dance. Actually the function of music was mostly that, and playing for others dance requires several things: absolutely perfect rhythm, convey the joy of dance and capture the character of the dance form in question.

6. Meet the music of your own country.
When so many people learn the same methods (Suzuki , Sevcik , or whatever ) and listen to the same international successful songs, it is easy to lose the character of the place you live.
7. Buy a Ehru and learn to play it
The experience taught me the fascinating sound of this ancient Chinese instrument that requires touching delicacy .

9. Hold the violin in other ways.
Use it like a guitar, a cello, a percussion instrument ...
Go to the 5 minute of this Paul Giger video:

10 . Learn to play chops (an others not classical techniques)
You still haven't learned this technique rhythmic? .
11. Make hip hop or heavy metal or another strange music for you

12. Play the electric violin
Don't reject technology:

Great post - far too many Classical musicians are narrow in their outlook...
Thanks Geoff, there was a mistake in 3th. video, now it's OK.
That was so cool and inspiring - thanks :) Let me know when you have chapter II ready :)