Printer-friendly version
Another week another bender.
Written by Stephen Brivati
Published: December 8, 2013 at 11:50 PM [UTC]
Greetings,
not sure if the expression 'going on a bender,' is still in fashion or not, but right now I am on sabbatical from my Kavakos bender and on one focused on Hilary Hahn.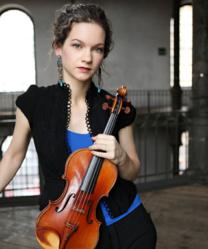 This is a player I find myself more and more addicted to in spite of her appalling taste in burgers. Listening to her Chacconne this morning I was actually finding new sounds I had previously been unaware of. For example at one point the spaced out accompanying quavers actually sounded like pizzicato. It was a color I have never heard before in this piece. But I think it's truly outstanding quality is the way the melodic line(s) are given exactly the right weight or prominence that they are supposed to have at any given moment, as far as that can ever be true. In this respect she may be one of the most gifted performers of this work ever. The Sarabande from this partita is every bit as good. Listening to her D major Prokofiev last night one I felt this was one of the most carefully integrated versions around. clearly she knows the score backwards and aside from the absolute brilliance of the solo moments it was more like great chamber music playing which provided a lot of insight into the nature of the work. My only regret is a slight absence of ascerbic nastiness in her playing but I just don't think it is in her nature. Milstein used to say 'we have to play ugly in orders to highlight the beautiful,' and I kind of hope she doesn't lose sight of this further down the road.
The Mendelssohn concerto is perhaps with the Bruch the most juvenile tortured work in the repertoire. Your average talented teenager's granny weeps over her little Johhny Rotten playing it more or less in tune and throwing off the last movement just that bit faster than Jane Rotten from the same studio. But it was interesting to see Zukerman in his "Way They Play" interview saying it was a concerto that seemed to become more and more difficult the older one gets. Or Arnold Steinhardt citing less than satisfying performances of that work in particular at the beginning of his thankfully aborted solo career. or indeed Milstein (again) putting his finger on it by noting that the work has one foot in a more classical world and one in the romantics. The ability to fluctuate between and unify these ideas may be at the core of the problem.
Watching a slightly earlier version of Hahn playing this is what triggered this line of thought. Of everything of hers I have listened to so far it is the least satisfying to my ears. Of course she plays it beautifully and technically better than a select few, but to my mind she was still looking for deeper artistic solutions to passages that most of us are just happy to play in time and tune. At times these came across as clothes that didn't quite suit the wearer as though she had not yet found her mendelssohnian fashion sense. indeed, I felt a kind of dissatisfaction in what she was doing expressed on her face at times although it's possible that a) I'm imagining it or b) she was really pissed off with the guy waving his arms around in such a vague way on her left.
It's got an kind of integrity to it though, an artist continuously striving to find better ways of doing things both in the practice room and on the stage.
Quite a relief in this day and age.
Cheers,
Buri
Beautiful written, as always. Just remember not to fall in love again. The last time you fell in love with a girl way to young for you she was scared out of her senses.
I wonder if Ms Haendel ever will be her self again...

Greetings o guru of the Swedish fruitcakes,
if she changed her name to Hinako Hanako I might succumb I suppose.
Are you suggesting Ms Haendel was upset when I ran over her in my wheelchair?
Cheers,
Buri
Thank you! I will go listen to her Bach right now. One thing I'd like to add - I've been having my students listen a lot to her vibrato. On her new Encores album, there are several slow pieces where you can really hear her changes in vibrato - slow, fast, wide, narrow, etc. Yay!
I ran into a performance of the Sibelius on the radio that I had to stay in my car to finish listening to. I like the concerto very much, but I was amazed how carefully placed all the big runs in the third movement were (Certain ones made sense in ways that they never had with other recordings). I never expected them to name Hilary Hahn when the performance ended.
The careful rhythmic attention made for a performance of great excitement and clarity. She never gets caught off guard like in other performances I have heard. This blog reminded me to pick that up. The people on Amazon seem to have wanted different things from the Sibelius, which seems to be paired with the Schoenberg (Hopefully it's the same as I heard, or at least similar in spirit), but I still have Mutter's recording as my favorite, and as an alternate reading.
This entry has been archived and is no longer accepting comments.