Buri goes high tech
April 30, 2009 at 11:52 AM
Greetings,
I now have e-mail and it has a spell checker But I still cannot get the pigeon`s beak out of that USB thingy. maybe it has avian flu.
Cheers,
Buri
aint it wunnerful???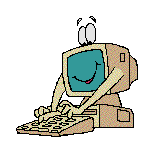 You gonna be the king or good spelling ain't you dude? My computer says no errors in my last sentence. Do these things really work?
Hvae a ncie day!
Anne-Mriae
From Bill Busen
Posted on April 30, 2009 at 5:04 PM
The canonical spelling checker joke:
Eye halve a spelling chequer
It came with my pea sea
It plainly marques four my revue
Miss steaks eye kin knot sea.

Eye strike a key and type a word
And weight four it two say
Weather eye am wrong oar write
It shows me strait a weigh.

As soon as a mist ache is maid
It nose bee fore two long
And eye can put the error rite
Its rare lea ever wrong.

Eye have run this poem threw it
I am shore your pleased two no
Its letter perfect awl the weigh
My chequer tolled me sew.
Jeez, Buri, we're going to miss the fun of trying to decipher your posts. Good luck with the technology.
Bill Wow!!!!!!!!!!!!!!!!!!!!!!!!!!!!!!!!!!!!!!!!!!!!!!!!!!!!!!!!!!!!!!!!!!!!!!!!!!!!!
Anne-Marie
And I had finally gotten my decoder ring. Drat!
Gretings,
don`t worry. I didn`t say I knew how to use it.
Bill-fantastic poem. All too true.
Cheers,
buri
heck,
I thought people were going to write to me....
Bill, I was starry-eyed with admiration for your poetry until I found the longer version online... www.ahajokes.com/com095.html
From Tess Z
Posted on May 4, 2009 at 2:22 AM
Turn it off Buri. Your posts are a mini workout for the brain. I don't always have time to do a crossword puzzle every day.
Greetings,
no problem Tess. It took one look an dhad a nervous breakdown.
Cheers,
Buri
This entry has been archived and is no longer accepting comments.