By
Laurie Niles
Published: December 20, 2014 at 16:46
It's hard to imagine the holiday season without Handel's "Messiah," but the oratorio didn't actually catch on in North America until more than 70 years after its premiere in Europe.
Originally, the piece premiered not during the Christmas season, but during Lent, on April 13, 1742, in Dublin, Ireland. Thanks to the Boston-based Handel and Haydn Society, it arrived in the New World on Christmas day in 1815, and it's had a great run ever since.
The Handel and Haydn Society, known affectionately as "H+H," has also had a great run -- the group now prides itself in being the oldest continuously performing arts organization in America. This season marks its bicentennial, and H+H just released a recording of the full "Messiah".
One secret to its success is inherent in its name: from the beginning, it aimed to embrace both the old and the new.
"They chose the name 'Handel and Haydn' because Handel was the old guy and Haydn was the young whippersnapper writing that newfangled music," said current H+H concertmaster Aisslinn Nosky. "As a classical musician, I love reminding myself that at some point, this music was literally drying on the page. I still treat it like new music. To me, it's new every night; it's always something fresh."
Through the years, H+H had been responsible for premiering an impressive collection of pieces in the United States: Handel's "Messiah" (partially in 1815, and the full version in 1818), Haydn's "Creation" (1819), and Bach's St. Matthew Passion (1879) among them.
The group has evolved with the times: For that first performance, at King's Chapel in Boston, H+H had just been formed by a plucky group of mostly middle-class amateurs, eager to "extend the knowledge and improve the style of performance of church music" in the new country. The chorus of 100 (just 10 women among them) and small orchestra performed an eclectic program that was part-Handel's "Messiah," part Haydn's "Creation" and part hodge-podge, for an audience of 1,000. Over the years, the chorus for the various oratorios grew, ballooning as high as 700 for a five-day Golden Jubilee in 1865.
Here is a picture from H+H's centennial concert in 1915 at Boston's Symphony Hall, with a chorus or more than 200 voices and a sizable orchestra.
But as the 20th century progressed, so did musical tastes and practices -- particularly in regard to Baroque music. The heavy-handed Romantic approach, with its enormous choruses, lost favor as scholarship about Baroque performance practice grew. In 1967, the H + H appointed a new music director, Thomas Dunn, who began a process of paring down the chorus to about 30 and focusing on historical performance practice, though still using modern instruments. In 1986, Christopher Hogwood, a pioneer (some might say The Pioneer) in the period-performance movement who had founded the Cambridge (UK)-based Academy of Ancient Music in 1973, became music director of H+H and completed the group's transformation into a period-performance ensemble, playing on Baroque instruments.
Harry Christopher conducts a recent performance of the Handel and Haydn Society. Photo by James Doyle
"The mission at H+H was always the old and the new, and actually in a strange way, by turning the orchestra into a period orchestra, (Hogwood) actually didn't alter that mission," said current H+H music director Harry Christophers. "He was making the old music sound new, using period instruments."
How so?
"When you hear an orchestra playing Handel or Bach on period instruments, you are hearing things that you've never heard before: you're hearing phrasing, you're hearing imitation. In something like (Bach's) Matthew Passion, you're hearing an instrumentation that cannot be reproduced on modern instruments," Christophers said. "The sound of an oboe d'amore or an oboe da caccia is so far-removed from anything that can be produced in a modern orchestra. The Baroque trumpet, the sweet tone of Purcell's trumpets, it's like an extension of the oboe -- it's not the same as hearing a modern trumpet. All these colors were re-inventing this music and making it wonderfully new and alive."
Using period instruments opens performers to a different kind of music-making. "The (Baroque) bow is so completely different from a modern bow, and different things are possible," Christophers said. In some ways it is more nimble, allowing for faster speeds - but faster speeds at a lower pitch. The orchestra tunes to an A at 415 hertz (as opposed to the more standard range for modern performance, which is 440-443 hertz), which equates to about a half-step lower. The violinists and violists play without shoulder rests and often without chinrests, as was the Baroque custom, and it's quite a different technique.
And audiences might be surprised to learn just how forward-looking the music of the Baroque period could be.
At a recent concert, H+H performed Vivaldi, and "a critic said that (concertmaster Aisslinn Nosky's) ornaments were rather showy and bizarre," Christophers said. "But she had actually made a point in this particular concert to say, 'All the ornaments that I'm going to do in this particular Vivaldi are Vivaldi's very own, they survive in the manuscript.' My goodness me, they were even more way-out than some of the things she would normally do! So it's quite interesting."
Nosky, who also plays in the Toronto-based Tafelmusik, said she was first drawn to period performance by a heightened sense of movement and dance.
H+H Concertmaster Aisslinn Nosky. Photo by Stu Rosner
"A lot of Baroque music is either meant to be dance music or is directly related to dance music," Nosky said. The first time she saw a period performance group, she was taken in by "the feeling of the dance that I was getting, being broadcast to me so clearly from these people playing this music. Even though I already knew works by Bach and Telemann, I think that element of the physical, the visceral, the motion of the dancing -- hadn't really been brought so clearly home to me, before I was introduced to historical performance style."
"Since then I've become fascinated by many other facets of historical performance: the instruments themselves, the materials we use for our strings," she said.
In fact, there is no such thing as a standard "Baroque violin," she said. "There was no standardization in the 18th century; each little hamlet or town or city had to do things their own way, to a certain extent, because you couldn't travel around as easily. Ideas and changes and innovations spread at a very different speed than they do nowadays. So if you say 'Baroque violin,' you're actually talking about many, many different types of violins, as they were slowly transitioning from the old instruments in the 16th century to today's modern violin."
Period performers aim to be authentic, which means gut strings. So are they really made of cat gut?
"Our strings are made out of sheep intestines -- either sheep, or less commonly, cow intestines," Nosky said. "It's actually the same material as the casing that goes around hot dogs or sausages. They clean it, they bleach it, and then specialty string makers stretch them out, twist them up and dry them. They try to keep them straight and uniform in their diameter. It's very difficult to do, because if they have any irregularities or flaws, they tend to not resonate properly, not vibrate uniformly, which will make weird noises. It's a real craft, to make them well. They definitely give a different timbre to the sound; there's a different kind of attack, the start of the note will sound very different when you're playing on a gut string. They're also very sensitive to changes in temperature and humidity."
Also, they break. Very easily.
"Last spring I could not get through one performance of Vivaldi Four Seasons on one string," Nosky said. "It was warm, and I think my hands must have been sweating more than they normally do. I would play two "Seasons" before intermission, change my E string, then have to play the second two on the newer E string, which would be a little bit unstable." That was exceptional, but even under normal circumstances, the gut strings don't last long. "Normally I can depend on getting at least five days of really intense playing out of an E string and as much as three weeks, but never more than that if I'm playing at all. After three weeks it's just going break. You'll get a few weeks out of an A string, it's already thicker."
The D and G strings last longer, but "they're actually so thick that they take quite a while to become stable. I have a spare violin at home that I'm pre-stretching strings on," Nosky said. "I have a bunch of D strings that are pre-stretched so that when I do put them on, hopefully they will stay closer to the pitch that I need."
And speaking of the pitch, gut strings can be, well, pitchy.
"Sometimes it takes one fierce down-bow to make them go flat," Nosky said. "If I'm playing vigorously, if I'm playing Beethoven string quartets, or even a vigorous Haydn string quartet, I will be bowing on my strings hard enough that they'll actually go flat. You get adept at quickly and quietly adjusting your pegs to get them back into shape again. You just start to hear when they're slipping down you learn to poke them back up again, on your own without making noise. 'Virtuoso tuning' all of a sudden becomes a real thing!"
Considering all this fuss, "it completely makes sense that a traveling virtuoso, at the turn of the century, after the Industrial Revolution, would have wanted to find a more stable material to put on their instrument."
So why bother?
"Something people have shared with me is that they love the tone, the color world of old instruments," Nosky said. Not only that, but certain pieces of the repertoire are easier to understand, when played on the instruments of that time. "Some composers will really push the limits of these old instruments, and it adds a certain excitement. For example, if you play Beethoven on old instruments, certain technical aspects of them become even harder." Until she tried playing Beethoven on a period instrument, "I didn't really see as clearly, the fact that Beethoven was trying to break tradition. Playing a Beethoven symphony on a Baroque violin, you feel like you're going to break your violin! Especially the Fifth (symphony). He was trying to push beyond the limits of everything: of form, of harmony and of instruments. For me it's easier to connect with that pushing-boundary when you play an older violin. The strings on the violin will snap if you play on them too hard, they'll just explode. And for Beethoven that's entirely appropriate, he was trying to explode the world!"
While we strive to find the "new thing" that will connect with audiences, we might well think about the opposite: the fact that music can connect us so with history, and in such an immediate way.
"I wonder if there is some basic human need to feel connected to the past," Nosky said. "While the entire tradition of playing classical music is connected to the past, in period performance we are wearing that connection on our sleeve, in a way. With this old equipment we can make the music fresh and new."

* * *
I couldn't find any videos of H+H performing, but here is a nice one of members of H+H, (Aisslinn Nosky, violin; Susanna Ogata, violin; Guy Fishman, cello and Ian Watson, harpsichord) playing Vivaldi Sonata 'Folia' at (le) Poisson Rouge in New York:
Comments (4) | Submit Comment | Archive Link
By
The Weekend Vote
Published: December 19, 2014 at 10:26
Have you built a personal library of sheet music?
These days one can obtain sheet music in a variety of ways: buying it in person at a music store, shipping it from a music store, downloading it for printout, or even keeping it in digital form to be read on one's tablet with something like Musicreader.
The public-domain Internet library IMSLP is a great resource that gives us immediate access to music, without having to go to the store or wait for it in the mail. But sometimes what starts as a stopgap measure (we'll just print this out so you can get started) turns into: nine weeks later, we're still using computer copies -- torn and ragged by now -- to learn a piece. And all the valuable information like bowings, fingerings, other suggestions, have been written into the disintegrating copy-part.
You can see my view here: I do think it's important to get "real music" for the pieces you study. And for copyrighted pieces, you'd better at least pay for that download! That said, my library certainly has photocopies in it. In many years of orchestra-playing, I have saved a lot of the practice parts that were sent to me, so that I have them for reference. I've used digital music only a handful of times, mostly for reading orchestra charts that were sent to me for practice and were too numerous to print out.
Certainly, trends are changing. I am curious about people's sheet music collections. While I may still like my music printed professionally on creamy, thick sheets of paper, technology has improved greatly for digital storage and use, so many people might be collecting music in a digital form. Also, if you are strapped for money, it's cheaper to print out the music (though I might argue a false economy, here, if that printed music falls apart and you lose your valuable markings).
What are your thoughts on sheet music? Do you collect it? How do you store it? Do you insist on quality copies? What is your ratio of "real" copies to printed copies to digital copies? In what direction are you personally going, with this issue? Please cast your vote for what best fits, and add your comments below.
Comments (18) | Submit Comment | Archive Link
By
Michael O'Gieblyn
Nashville, Tennessee
Published: December 18, 2014 at 09:40
It's getting to be that time of year now that juries are over, perhaps we're traveling home for the holidays, and we should start thinking about summer festivals. But getting into those involves a lot of planning and work, and of course.....an audition!!
It's tough to prepare for an audition, especially if you're away from your teacher for a few weeks, and you're supposed to be learning a new concerto or a recital program. It's also tough if you're preparing for a professional orchestra audition and aren't surrounded by fellow classmates and a supportive environment.
I've been in all of these situations, which is why I started ViolinExcerpts.com
I'm starting a new monthly feature, specifically to address the last part of audition preparation: playing while being nervous.
The way I see it, there are three parts to playing a successful audition:
1) Practicing at home
2) Improving with lessons from a teacher
3) Performing well while being nervous
The majority of my life, I focused heavily on # 1 and #2, and I bet you are in a similar situation. I would do my best to learn the excerpts, get some input from a teacher, maybe play them for a friend once, and then see what happened.
Over the years, I've learned that #3 is really the only part the panel hears and considers to make their decision.
All the countless hours I spent were gone in a moment because I couldn't get my heart to stop racing, my bow to stop shaking, and my mind to stop telling me I was a failure and should just resort to teaching snotty kids in some backwards remote country, who wouldn't appreciate my talent or my efforts!
So, today I'm starting a new project, I hope you'll join me for: On January 12th, 2pm CT I'm holding a live webinar audition.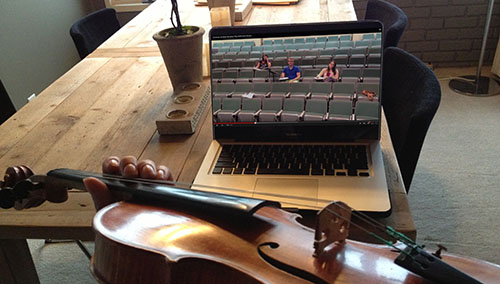 Click here for more information and to sign up
Wherever you are in the world, you can join an intimate community that wants to help you succeed at your next audition.
You can choose to perform or just to listen and offer constructive feedback.
If you want to perform, you can also choose to make it a "blind audition" and only use your audio.
This webinar is currently free, and space is limited to the first 25 participants who sign up at
Violinexcerpts.com.auditions So sign up today!
I hope to see you there,
Be well and practice well,
-Michael O'Gieblyn
Comments (1) | Submit Comment | Archive Link