Violin Fine Tuners (a comprehensive catalogue)
I was reading a thread here from 2009 and tearing my hair out because half the links are dead, and the discussion kind of bounces back and forth without standardized names for these things (often using a manufacturer name, when in fact that manufacturer has models for various types of string adjuster). Here's what I came away with... and if you know of others designs, please post the information either with a description or a current pic link. Let's not talk about pro's and con's unless it is tied directly to the design as a way that you could identify what you are hearing / looking at...

GENERAL DESIGN TYPES:
1) English type (a/k/a Hill Model 1, a/k/a Stradpet)


2) Stable type (a/k/a Wittner, a/k/a ULSA)

3) Post-Type (a/k/a "American type", aka "Axe type")
DESC: Single metal post "pivots" in a metal slot. Two-prong (ball-end) receiver.

4) "Compact" or "Midget"
Similar to the English type, but with different geometry of the lever as well as position of the string receiver above or inside the tail piece holes. This design is "compact" compared to post or stable types.

5) Titanium Spring (a/k/a Mberg, a/k/a Pedi)
Description: single integrated lever of titanium pivoting on a "leaf spring" -like support, and driven by simple threaded post.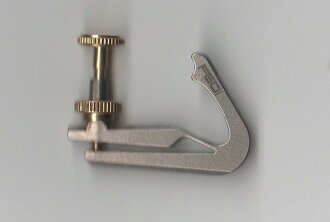 6) Carbon Fibre ("Bogaro and Clemente")
DESC: A carbon fibre cam that travles on the tailpiece groove directly


7) Gotoh design (horizontally clamped)
DESC: adjustment knob sits between bridge and tail piece.

7)Suzuki style / string mounted fine tuner
DESC: bends string by applying torque to string itself

OTHER MANUFACTURE VARIANTS ON ABOVE DESIGNS
Gotz makes an "English type" fine tuner similar to the Hill Model 1 that changes the string position so it will rest on the saddle of the tailpiece:

Wittner also manufactures the "English type", the Post-type, and the "Midget/Compact ball end" style.


The "English type" and ULSA styles are commonly marketed with various adornments to the screw post head / knob, (significantly impacting the price).

INTEGRATED INTO TAILPIECE (4 fine tuners):
1) Description: four cams set into tailpiece are driven by threaded posts. String after length is not affected by tuning.


Hill and Wittner, as well as Pusch, make these types of tail-pieces.
2) Variants

Bois d'Harmonie makes a range of tailpieces with integrated tuners with removable composite cams so they can be strung conventionally if desired. One specific model has the adjuster hole / fine tuner only on the e string:

By changing the shape of the tailpiece to an "angle" or a "harp", specific constant after lengths can be obtained for each string. e.g., Frirsz for Cello {NEED SPECIFIC EXAMPLE FOR VIOLIN}
Replies (9)