What does the Sainton Guarneri 1744 sound like ?
Instruments: The Sainton del Gesu Guarneri was copied by Heron Allen. Is there a recording of this violin?
From John Cadd
Posted December 9, 2010 at 04:19 AM
I have never heard what this violin sounds like. It has a very mixed ,shady background but it must have been copied many times when the Heron Allen book was the only instruction book you came across back in the day. The book used a one piece back but I`ve read that the original back was two piece.  How do you rate the sound ?
John: as I have mentionned a while ago, the Sainton was totally discredited by famous experts as being a total fake ,all during 1900 and until recenttly... Yes, these famous experts!!! And the violin had no friend, so no recording...
Now it has been reestablish and the violin is actually in New-York for sale at the ex-shop of Jacques Francais...But even if it is most probably an original, I believe that the reputation of this truly original creation of Del Gesù has been destroyed for ever...
Could be an attractive proposition for an up-and-coming young soloist who can't yet get hold of a famous name instrument. If things go well then perhaps the reputation could be regenerated.
Didn't Horace Petherick write a monograph about his Guarneri, which then proved to be fake ? What about the Balfour Strad ?? If the date in Szering's Guarneri is right, then the fiddle was made by a dead man. Which famous soloist bought a Guarneri, only to ditch it when it was proclaimed to be by John Lott? Take a look at the "Rose" del Gesù owned by Grumiaux - any maker who put together such an eccentric piece of work nowadays would be laughed at - unless he/she faked the antique appearance, when forgiveness would suddenly descend ..... Yes, I do sometimes wonder about the famous experts, Marc, and indeed the whole business !!
Famously, Casals's cello was thought to have been a Carlo Bergonzi (mainly on the basis of the label, so it seems) but was later found to have been made by Matteo Goffriller.
Marc How sad to find it tangled up in such a state. Do you think having an interesting history will be a reason for price rises one day? How about a competition to win it ? I saw a photo of a copy by Heron-Allen in the Strad and the varnish looked awful and wrinkly. It will happen one day though. A good project to get a player in the limelight It just takes a small incident to stick in the public`s memory. I would always try to see Nicky Chooi play because the camera nearly lost him in the Indianapolis competition. Nicola Benedetti dropped her chinrest on tv . Instant fame !
For those try ing to follow this story :) - the Rose del Gesu: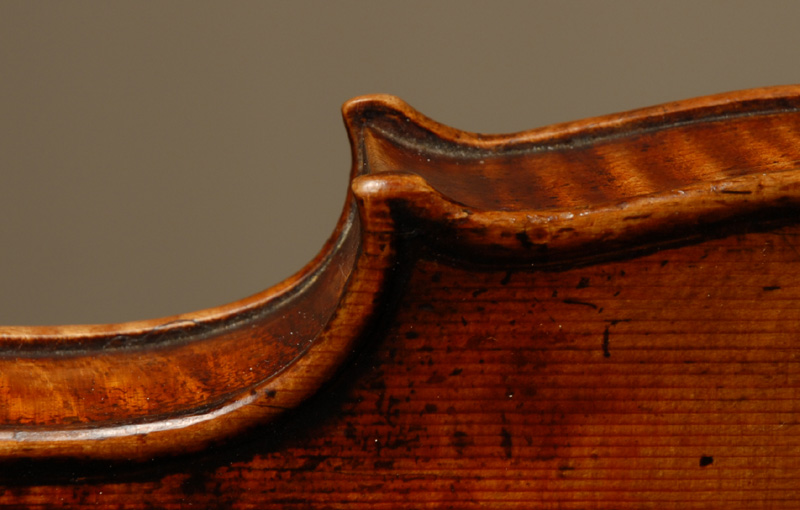 [edit: this is the only bit of the Rose I can find on the web (from Maestronet) - my first image was wrong, as pointed out below]

Elise, I think the violin in your picture is the Vieuxtemps, not the Rose.

Marc, which ex-shop of Jacques Francais has the Sainton for sale?




Shoot - you are right (its what came up on google) - but maybe it was made from the same crate?

[fixed as best I can.]

How does the Sainton Guarneri 1744 sound ?

Without an owner, the musical term is "Tacet".

The thing about the "Rose", ex Grumiaux, is the peculiar arching. One might wonder if the colored illustration in Hill's book on the Guarneri family is deceptive, but the photo on the Grumiaux website makes it look the same.

Prosper Sainton was the international soloist that used the instrument . He mixed with players like Sarasate . The violin used by Joseph Hassid was a copy of an original violin but that didn`t stop Kreisler wanting it back. Even Kreisler had a false label in one of his violins covering the real one.He knew it was there too. A good violin locked in a vault may be worth several bars of gold but like the gold is not much practical use to anybody. It just sits there. Write and ask if you can try a set of Obligatos on it.

There is a mention of the Sainton connected with Jacques Francais in Reuter`s Report 150 where he compares the violin dealing world to a Ponzi scam. It turns into an illogical rant and obliquely blames one of the most respected violin experts we know. If an expert says he can`t tell the difference between one violin and an expert copy that is his honest reaction. Even the Pope`s not infallible ,allegedly . The rant does not say if the original and copy were on a table side by side for comparison. Then he blurs the distinction between makers and violins. He says the value of a violin depends on it`s sound .Then lumps all violins made by one maker as better than all violins made by another maker. The idea of a pecking order of makers forming a league table is taking the easy way out. That false logic and an angry tone has all the makings of a classic rant.

The last time I saw it it was on sale at Morel Gradoux in New-York... It is a beautiful instrument and really, I do not see anyone else but Del Gesù who could have done it... It is as much wild as the Leduc, the Ole Bull, and the Rose Grumiaux... The Paganini is also into that category with his oversized head...

Horace Pathernick thought that Del Gesù was a student of an obscure Italian violin-maker named Andreas Gisalberti... Some of his instruments (del Gesù) were labelled Joseph Guarneri filius alumnus Andreas Gisalberti, Cremone, fecit anno...

Genuine labels of Del Gesù are spelt : Cremon,e and not Cremonae... (the cedilla being right under the e ...)

Tickets do not prove anything in the case of Del Gesù who was working for the pesant...not the rich...

Many of his violins went into the world without any labels and most of them, were added many years after and are fakes...

There was a complete article in the Strad magazine about 3 years ago about the Sainton, in which an expert reestablished the authenticity of the Sainton with dendrology and comparing similar instruments of the maker of the same period...

I love the description of the sound hole wings on that violin. Hatchet shaped.

What an intriguing story!

Any v.commer in NYC who could perhaps go see the instrument, even play it and report back?

Marc, what year did you see the Sainton in NYC? Morel & Gradoux-Matt closed in 2008. Their space on W54th is now occupied by Tarisio. Rene Morel is still working there. Strad article: you are probably referring to the 2005 article by Roger Hargrave and the dendro research by John Topham.

John, the Sainton was taken by J & A Beare on a China exhibition tour in 2007, along with a collection of instruments. I believe some of those instruments, possibly the Sainton, were played in recitals during the tour. You may want to ask Beare if any recordings were made.

Elise, yes it's quite possible that the Rose and the Vieuxtemps were made from the same crate! You can find photos of the Rose on the Grumiaux website: http://www.grumiaux.net/galerie_violon.cfm

It is in 2006 if I am correct... I suppose they have the Leduc too,because it was sold to Jacques Francais by the widow of Szeryng... Nobody knows were is the Leduc...I heard Szeryng live many times playing it in the grandest concert hall, and can assure everyone that the Leduc is the most powerful violin I have ever heard... The Sainton was featured on the website of Morel also...

In the photo of the Rose violin you can see a very uneven alignment between sides and plate edges. Did Guarneri follow the Cremona method ( ?? ) of building where purfling and trimming of the edges was done after ( ?? ) the box was closed ? If (??) this photo does not show the original alignment due to repairs , how would the corners be glued properly ?The misalignment would push the side onto a varnished area instead of the original glued area. Please note --these are all questions and not statements.

I believe it was Ida Haendel who ditche her "del Gesu" when it turned out to be a Lott.

gc

John: nothing was in agreement with Del Gesù: Corners, edges, f holes, sides of the scroll , the interior, different figures in the maple not matching (back and sides, plain maple on the heads) and so on and so on...

The del Gesù instruments circa 1735 were neatly done, I gather - "The Plowden", for example. Some of those cock-eyed later ones seem to contradict any notion that the secret of "fine tone" is accuracy of build ! The ex- Vieuxtemps, or indeed the Rose, would be unlikely to make it into the finals at the Cremona "Triennale" exhibitions.

The modern idea of a "Guarnerius model" seems to be an intellectual construct based on J.B. Vuillaume's rationalisation of that type of fiddle. Nothing wrong with that - basically a small Maggini. Time and use work wonders, as the Hills say in their books.

The wildest I have seen is the Ole bull... It is true that prior to 1735, Del Gesù was more accurate and neat. Some experts say that it is the father of Del Gesù who made the heads at the time... But later creations like the King Joseph and several others, like the Allard or the Lord Wilton are pretty neat too...

I remember a recent u tube with a young lady playing Bach on a new copy of the Ole Bull. It sounded very good. Even on a laptop. I think the player was the maker`s daughter. Slight aside .How do you pronounce "Ole Bull"? I sent an e mail to Beare`s today with questions about recordings and any photos of the Sainton. They talk about the sheer expense of great violins and rich benefactors. Could the forum create a business around a famous instrument and sell shares to the members? It would be an interesting experiment. Thanks for the del Gesu background Marc. He was really naughty sometimes. My Enter button is playing games with me.

What about the hypothesis that he was assisted in making his final violins by his wife? Could that explain the discrepancies and changes in their construction?

John, the photo currently on Elise's post is that of one of the upper corners of the Rose, from the Hill book. (She had replaced the Vieuxtemps photo with this one.) The uneven overhang is believed to be original, in other words, not introduced by repair work.

Rosalind: it is mentionned since a very long time that Katarina, the wife of Del Gesù, was maybe his assistant. It is only a theory. Del Gesù made only 175 violins (approx.) and one cello was attributed to him very recently. This is not a lot compared to Stradivari... Also many violins prior to 1726 down to 1716 were probably done by Del Gesù himself, and not his father... Del Gesù was unfamous and it is Pugnani and then Paganini who put him at the top of the Cremonese maker. Most of Del Gesùs violin, as I mentionned, were sent into the world without a label. Many Bergonzi were attributed to Del Gesù also... There is no serious evidence at all of Katarina being a violin maker or an assistant. A vague story of a violin baring her name is circulating for more than a hundred years. Now, as for the heads...if the father did most of them until 1737, according to the expert, maybe del Gesù was not as skillful and just made them with all his natural excentricity... Most of the insides of the violin of del Gesù were careless, and this was constant with him. Really, it must be seen to be believed: a mess, everything being forced when inserted, splits everywhere. The channel of the purfling,he really digged into. During the last period, the corners were all done in a hooked style and not in agreement at all. The Leduc is a summit of excentricities, but one of the very best sounding violin ever made, with a splendid red orange brown varnish... Even the models before 1735 are not that neat as mentionned before. None of these violin of his "Classic period" are perfectly built like a Stradivari... Del Gesù was simply getting wild after 1735... He was just a rebelle before and never followed the usual conventions or rules... He experimented a lot and wished his violins to be all unique...not alike...

It was stated by a Cremonese luthier, to count of Salabue, and I believe it was one of the very last of the Bergonzi's, that del Gesù was an alcoolic and had a messy life. I believe more that story and the fact that the maker was trembling and innacurate because of that problematic.. Even Stradivari at 90 was still very skillful...

Believe me, all the experts make their assertions on poor facts concerning most of the violin makers of Cremona... Just read Horace Pathernick book written at the end of the 1800,s, who was considered a top expert at the time: all of his assertions are as much excentric as any wildest creation of del Gesù... It is not even probabilities in most of the cases. Mr. Pathernik compares obscure violins ( not to mention pieces of junk) of a so called Santa Ballerini or Gisalberti to masterpieces done by del Gesù and concludes in the most illogical certainty that these individuals, being the same person, were his masters and mentors... And it is so funny to read in the Strad magazine all the so called modern experts who always do create fancy conjectures , facts without corroboration and so on and so on... It is very interesting to read, but at the end remains few evidence, and the prices just raise and raise and they all make uge profit... Orson Welles was so right about his thoughts concerning experts... in a 1975 movie called "F for Fake" (Truth or lies) The history and documented evidence of the different owners and the methods of constructions are more reliable...

I just read that Heron -Allen translated the Rubayat of Omar Khayam from Persian and he died 20 days after I was born.One interesting fact and one useless one.

Here`s a part of the Rubayat introduction;

" And lo ,The Hunter of the East has caught

The Sultan`s Turret in a Noose of light " .

John: have you ever seen a violin made by Heron Allen??? There is only one in existence: a piece of junk, unplayable, with the worst varnish ever, not even transparent, that looks like the glass windows of a car being frozen by a mixture of ice and water on a sad Christmas Eve...

It was featured in the Strad Magazine a few years ago... I almost fainted when I saw that atrocity... really

Rosalind, Katarina was listed in a census report as a violinmaker, and I believe that's about all we know. Whether the term refers just to training, or to active involvement in the trade in some way, isn't clear. Might have even been a mistake. It would be interesting to check with one of the archivists and find out if other females are listed as violin makers, or in the trades in general during that era.

David: you are right about the census... But If my memory is good, I believe it was inscribed after her husband,del Gesù ,passed away... maybe she was trying to make a living and sell the remaining instruments . Maybe she could make an entire instrument or not... or only carving heads as stated by a famous modern expert very recently...But these assertions again are all conjectures, nothing serious. It fits well in an article and provides all kind of speculations...

Too much nonsense in this thread to even start to comment on, but here:
http://www.nhm.ac.uk/hosted_sites/heronallen/index.htm

Michael: the book of Heron Allen is good...I own it... but the story about his violin featured in the Strad is true. It is in a very poor condition and not of great skills... As for del Gesù, these informations are not mine, but the one gathered in several serious etudes about the construction of a del Gesù. For very personal reasons and motives,I am very much interested in that particular matter. You do not need to be an expert to talk or discuss about these subject-matters. Mr. Fulton is not a so called expert, but he is very well advised... James Ehnes, who has played on so many of the best Cremonese could have much more to say than any of us here, he has seen and played them all. Stradivari himself or Del Gesù had no diplomas... they were creators and artisan and modest. Art is accessible to anyone and you do not need any credentials to become an expert... Everything is in the litterature and in the well trained eye...

The very best violin teachers are often average violinists. Heron Allen had interests in many fields and a vast general culture... The violin displayed in the Strad was his sole and only attempt...He knew a great deal about theory, like these master violin teachers, but was not skillful and productive as a maker... In fact, Heron Allen ,like so many other celebrities, was an autodidact... Today, many like to exhibit their credentials to discredit others... Everyone is specialised in one particular field. How many musicians today are like Fritz Kreisler who spoke fluently seven languages, could read and write in ancient greek and latin, could play the piano, compose, knew a great deal about politics,litterature... Fritz Kreisler had no diploma and never completed his medical studies. He won a first prize at 11 at the Paris Conservatoire in the class of Lambert Massart... General culture is valuable and rare nowadays. It is not supported anymore in the educational system. This explains why there are no mecenes and that very rich people do invest in Football or Hochey today... I am myself a defense attorney in criminal matters. I did study the violin with excellent teachers and this did not make me a good or exceptional violinist. I am interested in all that concerns music, litterature. I composed five symphonies and never had any tuition in the field of composition...I do not care about being infamous: I do it for me,to please myself, and if it pleases others, I will be grateful... I have many interests in life, sports, cooking, litterature, mechanics, fishing... ancient history,and so many other disciplines. So, I am in position to appreciate the multi interests of Mr. Heron Allen or Fritz Kreisler... I do have great respect for them...

I enjoy life, I live simple and enjoy company... And I love all the discussions here. Now If you would be kind enough to be specific, for me and the others who made comments here about things you do not agree with, do it... This is an open and friendly discussion... And I love this particular discussion: John Cadd had a marvellous idea to bring up the controversial topic about the Sainton del Gesù. Every comment is valuable and sharing information is constructive...

Thanks, and no offense.

Marc

It's understood that Heron-Allen's book "Violin making as it was and is" was based on his notes taken down during time spent in the workshop of one of the Chanot (not Charnot) family. He was therefore not quite an autodidact, but more of a fiddle-making journalist than a maker. I am not trying to quibble; despite his own cack-handedness the information relayed to later generations seems to have been greatly helpful to many a would-be maker, with some reservations. I have seen the book described as "Violin making as it wasn't and isn't".

PS surely SOMEONE amongst all the violin.commies must have gone into the ex-Jacques Français shop and tried the Sainton violin???

David: I will come back on that one and try to get some testimony of a violinist who tried the instrument. I believe that the Kochanski, sold by Rosand not a long time ago is of the same period ( 1741). I affirm this because the Sainton original label seems to be dated 1741, but some experts pretend the instrument to be of the 1743-44 period, because of an astonishing ressemblance with the Ole Bull Guarneri... In a very recent article,Charles Beares of London still dates the Sainton as being 1741... Also, the Sainton's belly matches with the 1742 "Chatelat" and the 1743 "Campo Selice". But what experts do not mention, is the fact that del Gesù may had in stock as early as 1740 some pine cut from the same tree as the "Chatelat" and the " Campo Selice". Original labels of del Gesù's are rare ,and the Sainton is more likely a genuine one... The head is in agrement of style with the "Lord Wilton", the "Sauret" and the "Ole Bull ("1742-1743-1744) The Kochanski, prior to Rosand, was played by Arthur Leblanc during the 1940,s and was called at the time "Le Soleil". The widow of Kochanski wished Leblanc to become the owner, because Kochanski himself, Jacques Thibeault and Kreisler were very moved by the playing of Leblanc... The career of Leblanc lasted only 10 years until he was declared disabled mentally. He was so popular in New-York that he played five times in a row, in one season, at Carnegie Hall... There are very few documentation of him playing at the time, except for a splendid excerpt of the Brahms Concerto on film... James Ehnes told me about the exceptional sound of the Kochanski. I bought the complete solo Sonatas and Partitas by Rosand playing the Kochanski... It is true that this violin is unique and Rosand plays so well.

As for Heron Allen, I speak of him as being an autodidact in a general sense. He had various interests and this is to me very much fascinating.

Marc I saw the Strad photo .As I said the varnish looked awful .There was a very recent documentary about a scientific survey in the Antarctic to work under the ice and examine the lifeforms. The scientists were discussing papers written by Heron-Allen directly relating to their work in Biology . It was a strange thing to hear his name in such a context. Mr Darnton puzzled me when he mentioned nonsense.I think we all just wanted to learn a little more about the violin Heron-Allen copied . That`s not to raise his standard as a maker . If he was the only man to be around the great violin makers in Cremona and write a book he would have surely been even more famous. Even if it was a bit off target . There are some sites where Heron-Allen is regarded as a hero. Carleen Hutchins site mentions that until large Violin Organisations started to grow , violin makers were isolated individuals doing their own thing. Without their interest the art would have died out , surely. Although Carleen Hutchins did so much work the final results seem to be in question even on her own site. It`s a very confusing subject. It becomes worse when any sources from the past are derided and we are almost punished for mentioning them , but we don`t mind.

John: Heron Allen was simply an exceptional individual with an exceptional knowledge... and that is a wonderful accomplishment.

There is a story that one of Sacconi's aprentices tells...this apprentice is a man who went on to establish a great reputation as a luthier and is justifiably held in the highest regard. It goes a bit like this...He told of the day when as a naive apprentice he was shown by Sacconi a great late del Gesu. The apprentice exclaimed. Maestro I would have to have mud in my eye to make a violin like this. The Maestro Sacconi replied, 'No young man, you could only ever make a violin like this when you have lost the mud from your eyes'.

To my mind as a luthier del Gesu was the greatest of the later generation of Cremonese makers. His knowledge must have been phenomenal... lets not forget that he was a third generation maker from a family that worked with the Amati. Stradivari by contrast had very scant violin making training or background.

It is Victorian conjecture that del Gesu was a drinker. There is no evidence for this. There is evidence that he was deeply religious and in his most productive years he was very productive by modern standards. He died young and we should not underestimate the effects that ill health could have in his time. Cremona was not a healthy city.

Most Old Cremonese work is hasty and practical inside where the eye cannot see.. Del Gesu's is no exception. Generally his work in the early and mid 1730s is very neatly executed indeed. Del Gesu's later work seem to be increasingly concentrated around sound. The late violins seem to me as a luthier to almost be like sound sketches. The scrolls and the finishing are very hasty but the overall architecture and structure ( the stuff that counts) is deliberate and unmatched even by Stradivari.

I sometimes think of Van Gogh when I think of del Gesu...not many people criticise Van Gogh these days for leaving his brush strokes showing.

I saw but did no hear the Sainton in exhibition with several other late del Gesu in Bergen earlier in the year. There was a nicely illustrated and not expensive catalogue of the event that is probably still available from the organiser, luthier Jacob von der Lippe in Oslo. Serious students of del Gesu should also refer to the Biddulph pulication 'Guiseppe Guarneri del Gesu' http://www.peterbiddulph.com/home.htm

Nice overview, Melvin.

Very well said indeed!!!

Thankyou Melvin , you brought us all together again. There is a mention of the 1744 / 1741 violin on the Cozio site . They like to charge a lot and it just feels like an unfriendly site. Every button pressed tells you the same thing --You are not permitted!

John: I am sometimes rude with violin dealers or experts and I did not want to offend anyone. This is due to personal experiences when many years ago I sold one of my instruments, a valuable one and in perfect condition, and was totally fooled by the dealer.. When you are young and without experience in that particular business, it is easy to fall into the trap of dishonesty... I do not mean that all of the dealers are malicious... So I told myself that never something like this would occur again...

During the 50's and the 60's .it was easy to buy the finest Italian at a very reasonable price. A top Strad was sold the price of a house... I still have an article about Szeryng in 1968 or so when he bought the famous Leduc del Gesù for 85,000 $ !!! Still, by the end of the 1900,s, a very good Strad you could buy for 600,000$, which is already considerable amount. What happenned in that business during the last decade is absolutely without reasonable and logical explanation. Concert violins ,violinists should be capable to afford for themselves. I agree that unique instruments like "La Pucelle" are priceless... But not all of them, specially the ones that belong to the concert stage for the audiences and the public in general...

Strange world...

According to Cozio.com the Sainton del Gesu is in the collection of Carlos Prieto who acquired it in 1982. Before that it was in the collection of Howard Gottlieb. In 1953 it was purchased by the musician Jacob Krachmalnick, concert master of the Philadelphia Symphony Orchestra. From 1923 to 1950 it was owned by the violinist Adolfo Betti, first violinist of the Flonzaley Quartet. Maybe there is a recording out there......

Marc, Stradivari violins are held up, even by people who don't know anything about music or instruments, as some of the finest objects ever made, both regarding their function and their artistry, as well as for their place in history, yet compare what you can buy a Strad for to this: http://en.wikipedia.org/wiki/List_of_most_expensive_paintings

Imagine in your mind that you would buy a Strad. How much would you pay--what's a fair price, in your opinion?

Now, if you already owned one, would you sell it for that? Why or why not?

Michael: I would be willing to pay a top price for a Strad, a del Gesù or a Bergonzi in perfect condition like the ones displayed in the Fulton Collection. But Strads, del Gesùs and Bergonzi's that have been the warhorse of so many distinguished violinists, I would reply : no! They belong to the concert halls, to the fine restorers and to the violinists and should be sold at a just and fair prize. I am sorry, but paying 4 millions for an average Strad, as it is becoming now the usual, is a complete non-sense.

Comparing to great paintings a violin is in my opinion misleading. Great paintings are hanged on walls of a private collector or a Museum... They are not as much manipulated as violins... Violins need to be touched and were for centuries... Violins produce sounds... They do please the eye also, but it is not their main purpose. Show me a violin with unretouched varnish, minimum repairs ( head grafted is ok) very well preserved, with a complete history and documentation, something like the Betts Stradivari, and I will agree that the price of these exceptional and rare instruments were to low for a while. And I believe they must be preserved too and protected from careless persons or individuals...

Michael: I like what you do, and I am sure you have considerable knowledge and I do not doubt about your reputation and honesty. I was not at all referring to persons like you when I stated that there are dishonest persons in the market. You know yourself that they do exist unfortunately. There are also many lawyers with not much integrety ( I speak for my own profession.)

So for someone like me, I feel it is important to read a lot about the craft in violin-making, construction, history. And I am grateful that you join us here to give your comments. It is very generous of you and I would like to thank you for your consideration. What I have written here about the Sainton comes from reliable sources I have here with me and on many other famous fiddles too. But I am just a very passionate person and interested in violin making. That is all...

It is very interesting to display on your website the Vieuxtemps Stradivari...it seems to be unique and very well preserved. Just giving us the chance to see these wonderful pictures of the instrument is amazing.

Well done Melvin. The Flonzaley Quartet turned up the best examples. Adolfo Betti is heard on two Biddulph CDs LAB 089 and LAB090. Mozart , Haydn and Beethoven Quartets. Described as fine classical examples of the Franco -Belgian style although they had adopted a Russian. This would be an education for young players .

I could only connect Carlos Prieto ( cellist ) with the violin through his violinist son , Juan Luis.That`s just a guess.

I thought Jacob Krachmalnick was in the frame but his recording of Beethoven Romance was played in 1952 .Too early for this violin .

The Howard Gottlieb turned up all the Foundation information , which is fascinating stuff but I can`t see the wood for the trees on that sight. Have a look at the Foundation though. It must turn up something.

high priced elite violins do have a benefit too, however. Many are beyond the reach of individual investors and are purchased bybenevolent institutions that are prepared to loan them out. This is (can be?) a win-win: the instrument is played by a select top performer (not by the one that happens to be rich enough to own it) and, in so doing, it accumulates yet more 'value'.

Thus, I don't see high prices as entirely negative.

The very attractive sound of the Flonzaley Quartet shows how the lead violin carries the main tune through the piece where some modern quartets allow the first violin to blend into the background too much. They were the first professional quartet and paid by a millionaire to do nothing outside that. Nice work if you can get it.

Elise I have found a wonderful interview with Adolfo Betti on The Violin Site where he talks about quartet playing. It`s pure gold. Just what you will be interested in. I keep playing bits of his quartet to compare with modern versions.They were a class act .

Just a note to say the lady at Beare`s replied to say they had nothing for me in the recordings line. Jacob Krachmalnik used the Sainton in studio work and also in jingles. There`s another way to boost your hi-fi collection.

Thanks for your link John - fantastic. One article quadrupled my knowledge about the form!

Yes and the Dvorak quartet has been on long play in my head since the Flonzaley record. It`s the breathing quality. I hope they let you play requests in your quartet.

I just remembered --there`s a Heron -Allen Society. A chance of something new.

I have just noticed there is a good colour photo of the Sainton if you Google ;

Sainton Beare`s .There it is with it`s lopsided sound holes .Better than a diagram any day.

A recording of Turkey in the Straw (Flonzaley Quartet ) did not show up before but it`s the clearest example of the Sainton Guarnerius sound without the other instruments getting in the way.

The Sainton Guarneri was the concert instrument of Adolfo Betti, the 1st violinist of the famous Flonzaley quartet back in the 1910's and 1920's. There are recordings of the Flonzaley, but the relatively primitive sound makes it hard to say anything definitive on the violin's tone. It sounds fine insofar as one can tell.

I remember hearing someone say they had tried it and it was excellent, but I'm not remembering exactly where/when that was anymore.

Look at Hargrave's article here: http://www.roger-hargrave.de/PDF/Artikel/03_Sainton.pdf

One last comment: pictures of three dimensional, curvaceous violin shaped objects are misleading. When I attended the famous 1994 Metropolitan Museum Guarneri exhibition, the thing that most shocked me was how beautiful Guarneri's instruments are. The violin books dwell on the irregularities of Guarneri's late violins, and to be sure, the late ones have plenty of asymmetries, but they are attractive nonetheless. The actual instruments, "in the flesh", looked way better than I had expected, and that includes the wild ones like the 1744 Ole Bull, 1743 Sauret, etc. In 1744 EVERYTHING was handmade. Modern manufacturing, creating perfectly symmetrical, identical objects, has transformed how we see the world. I daresay any 18th century person visiting us by time machine would be astounded by most of our modern world, not least going into any store and seeing hundreds of identical objects. People then had a different way of seeing and different expectations of things they purchased.

There was a reference to Heron-Allen in a programme today "Museum Secrets " set in the Natural History Museum tells the story of the Purple Saphire which was Triple Cursed. It`s about the size of a hen`s egg. ( It`s on public display ) .Heron-Allen`s Grandson came into the museum to see it but refused to touch it. Maybe the curse has rubbed off on the Sainton Violin. Spooky!

Good pictures are on the Beares site. http://www.beares.com/sainton-del-gesu-cert-photo: The details of the sound holes are wilder than the Heron Allen book diagram. He got the general effect but they were tidied up a little bit.

As a follow up to Melvin's post: there are several Flonzaley quartet recordings on you tube but unfortunately they do not have the year they were recorded. However, a bit of sleuthing [ http://www.allmusic.com/album/flonzaley-quartet-plays-romantic-masterpieces-w69298 ] suggests that this Schubert quartet was recorded in 1929, their final year together. [Not, 1928 as stated with the recording, see: http://research.hrc.utexas.edu:8080/hrcxtf/view?docId=ead/00002.xml ]

Thus, if the other info is correct, and assuming that this is the only recording of this quartet they did and of course that he played this particular instrument - the first violin played here IS the Sainton.

http://www.youtube.com/watch?v=nQsq3nFgcyg&feature=related

QED (I hope)

Elise If you look for Sainton violin Images the wrong one comes into the frame. It`s the " Rose "picture you added to this forum. The Beares pictures are the right ones. Carlos Prieto was mentioned as the current owner. I found one Mexican conductor with that name and an older cellist. Nothing showed up about the collection though. I hope it is still being played.

this topic). There isn't any name mentioned for the Strad and Del Gesu, but as you can tell that it's the same violin in the photo link below.

Casey: Good catch! The GdG in the video looks very much like the Sainton.


I mentioned the goggles to make restorer Andrew Fairfax laugh. I wonder if he gets nervous working on such precious violins.
I saw his name just now. Eduard Wulfson-Consultant. It was partly obscured by the video bar . He`s good. No doubt about that.

Some articles show that he had a few good teachers and apparently is one himself.

A couple of references have him as the Director of the European division of the Stradivari Society.


On a separate topic, the comparisons in blind tests between old and new violins closed very quickly. I am getting the impression that Stradivarius is becoming like a stone in a horses` hoof and they just want him out of number one spot if they have to use a crowbar to do it. Who would be the replacement? How insufferable would he become? Safer to leave it rest.

Joking aside, in a couple of the Flonzaley records from c. 1925-1926 it seems obvious his violin had a strong, robust sound. Other than that there isn't much to say.


If you had a chance of a loaned instrument you could do worse than pick the Sainton . Eduard Wulfson seemed to like it as well. I sensed a similarity of tone with the Cannone. A majestic quality .
Special thanks to Casey Jefferson for bringing us up to date with the Sainton. ( Whoever made it we like a mystery .)

Betti was a remarkable musician and the Flonzaley Quartet was outstanding. The sound of the famous Haydn Serenade is unique in all of violinism. Betti plays with a bow effect that I have never heard anywhere else.I don't know how to describe it -- ethereal?


I looked up the site and Ben Norris had the pleasure of playing them. Take a bow son.
Quick detail check now. The site mentions the Guarneri being played and gives the date as 1734(?) They also mention the Number two Heron -Allen Guarneri being played. (?) Where did the Strad copy fit in?
Also on the site is a photo of the blue placque on a wall in London. The label beneath says it`s where Heron -Allen lived.(hyphen ). The placque itself says Heron -Allen .(hyphen ). The explanation says Heron Allen (unhyphenated ??) .Why did they write unhyphenated? We don`t really care do we?
Did you get close enough to see the horrid Heron-Allen varnish job? Either way it has a place in violin history. Sam Zygmuntowicz read his book in his early days as a maker. ( Edited 3 times to spell his name right ).

Ben Norris played both instruments. The Symposium was mainly for the Guarneri violin. The Stradivari (No. 1) was brought to the Symposium by the current London owner who kindly consented to have Mr. Norris play the violin after the Guarneri presentation. The Strad was not diagramed on any specific known historic Strad.

The two violins sounded very different. The Stradivari was definitely brighter. The Guarneri was softer, more balanced across 4 strings, and darker (sorry for the amateurish description of violin tone!). This may reflect differences in set up and strings. Young Ben Norris was a very talented musician.

Heron-Allen (preferred by him) vs. Heron Allen has always been a bone of controversy. I have his signatures with and without the hyphen. In the 1880s, the American press castigated the hyphen as prissy and snobby. He created the hyphen - it was not inherited.

I did get to see the original varnish - it was severely oxidized, with that crackled "craqueleur
texture" The worse part was the brutal attempt to repair the bass bar crack.

Andrew Dipper completely dissembled the violin, and all previous crack repairs. He elected to preserve the original varnish including the craqueleur, barely removing the outer oxidized layer and repairing those areas where the varnish had been damaged by previous amateurs. He was fortunate to have Heron-Allen original formula for the varnish used on this violin.

If you would like a CD copy to listen to the violins, write to mahoneysbooks(at)violinsandbows(dot)com

In your hands John, probably boodly awful!! (wink)

And don't mind Peter: in contrast, we're used to getting perhaps a little too much insight into the insane world of ancient old violinists..

I've been playing on a few old and famous instruments recently, just to prove how bad they can sound.

If you would like to hear the violins, I can mail you a CD, just e-mail me at:
mahoneysbooks@violinsandbows.com