Printer-friendly version
1780 Chappuy Violin 4/4 with Case
Commercial notices: For sale I have a beautiful Chappuy Violin from 1780 with a case, full size. Please email with Questions!
From Jonathan Frohnen
Posted September 14, 2009 at 02:01 PM
A fine old French violin by Nicolas-Augustin Chappuy

A fine and rare french masterpiece instrument originally made by Nicolas-Augustin Chappuy in Mirecourt late in the 18th century. This rare instrument is one of Nicolas Augustin Chappuys later works from around 1780, made four years before he died in 1784. The violin is 100% original and authentic and I guarantee for its authenticity. The body length is 36.2 cm, the size is a full-size.

The violin follows an elegant slim model with stunted corners. The arching is of the flat type. The top is made of well selected regular grained spruce; the back is a two piece back of flamed maple. The ribs are plain or mildly flamed. The varnish is of a transparent golden brown color. The small and delicate sound holes are masterly cut and set a bit farer outside resulting in a broad belly. The violin is well preserved and in very good condition. There are some minor rib repairs, only one small repair on top at the treble sound hole and a replacement button. The back is crack free. There are no critical or soundpost/bassbar cracks or damages. One single wormhole is located on the back above the makers stamp. There is some restoration to the peg box, the scroll is grafted.

The violin has a powerful bright open sound, carrying, with brilliance and rich in overtones. The violin projects instantly and is easy to handle and convenient to play. This violin is powerful soloist instrument. The famous violin conductor Habeneck (the man who first introduced the Beethoven symphonies to the Parisians) a personal friend of Berlioz, and of Paganini, played on a Chappuy during the 37 years he was professor at the Conservatoire.
 
Selling this one because I never play it :-|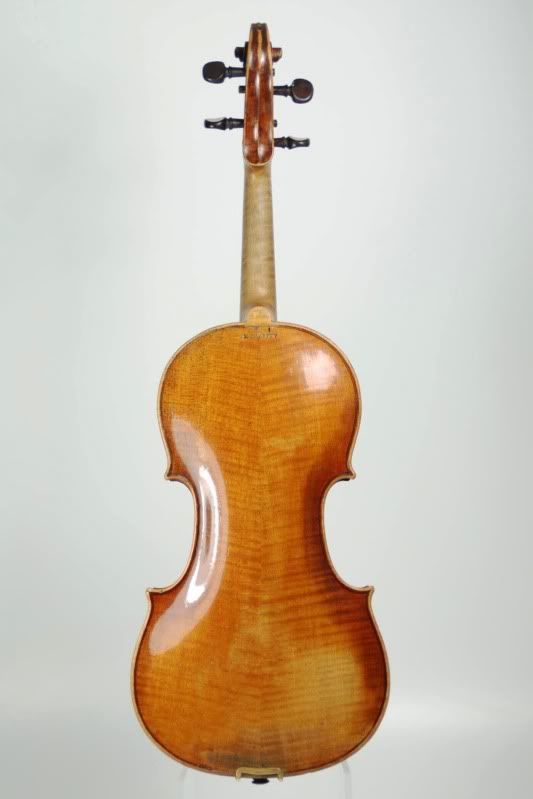 *bump
I certainly wish I could ... but I've got to put my daughter through university! It'll be a while until I can indulge myself in a "new to me" instrument, which I definitely need.
From Mae Sattler
Posted on November 15, 2009 at 02:09 AM
Hello Friend! Do you have a sound sample? If I had the funds I'd love to buy the violin. I'm in love with old violins... My dream(like most violinists) is to own a Strad. But it's unlikely-unless I win the lottery:D The beautiful music I imagine that can be made with the violin you're selling is barely fathomable! Lol. I'm hopelessly in love with playing violin and want to be a collector<3 Its pretty much all I think about, ya know? I wake up at 2 am and itch to play. So I watch violin videos online or read through some music. I'm suck a geek. See you soon!
Hi, johnathan .How much for the chappuy violin???Thanks
Hello Jonathan,
Is there a certificate with the violin ?
How many do you want for the instrument ?
thanks
SC
Is this violin still for sale?