Violin Blogs
Violinist.com members may keep personal journals on the website. Violinist.com's editor selects the best entries for the column below. Links to all other recent blog posts may be found in the column on the right.
Top Blogs
By
Cesar AViles
October 2, 2012 07:05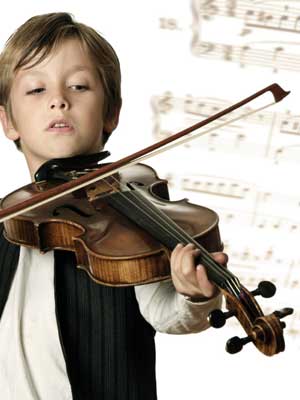 As a young man, I was heading toward a new facet. My circle of friends had changed from one day to the other and my life as a young artist was developing rapidly. Music was slowly entering my life to change it for good.

I was 14 years old when I approached my high school music department in search of lessons. Not for violin though, I wanted to be an electric guitar professional—whatever that could mean. The teacher told me that at the moment he was not offering guitar lessons—his new idea was to start a symphony orchestra for the town's new fine art center.

I was skeptical.

I mean, symphonic music is supposed to be for old people right? Unlike the electric guitar—now that's cool.

Most of my friends were enrolled in some kind of music program so I decided to join the new orchestra. VIOLIN! That I knew. Or at least I thought I knew. To be realistic, I had really no idea what I was getting myself into.

I experienced real music for the first time. Using the All for Strings method I grew quickly. Soon I was spending my whole breaks in the music room. I made lots of friends and the feeling of family was growing among all of us. Later on, I met these two guys who later became my quartet members/best friends (teacher was the cellist). Surprisingly, the idea of boring music for old people was now fading.

Four voices in complete harmony, one after the other created for me what it seemed like magic. WOW, what a nice feeling to be part of it. No matter if you messed up, finding each other was an adventure—and if you made it 'til the end of the piece you were some kind of hero.

Violin made everything different. It was changing my life completely. Before, I was considered an "average guy" and my grades sucked, my friends (old ones) were contaminating my life—my future didn't seem so brilliant. Now, out of the blue, music was turning everything the other way around. I was now considered successful among classmates, teachers and faculty.

Classical music was really fun but I was not completely convinced. Not yet. The guitar was still echoing around my head. The image of playing in a band overflowed my heart too much. I had to do that.

It was not until I heard myself in the middle of a symphony orchestra creating awesomeness that I decided it was for me. After a few rehearsals with the school orchestra I knew what I wanted to do for the rest of my life. I wanted to make a living playing orchestral music. That was it. I decided I had to join the national symphony orchestra (P.R.) as soon as possible.

The bad influences were staying behind and my new friends were 100 % geeks—and I mean straight A's nerds. I was not used to that. My old friends smoked and did bad things while my new ones talked about science and Pokémon. Even though I was not hanging out at the usual meeting place, I felt better with myself.

This nerds played quartet music with me and getting to know them made me want to spend more time with them. They were not as bad as they looked. Or maybe I was slowly turning into one of them, who knows! J.

Together we went to my first music festival. Two weeks appreciating the real classical music world made me want it even more. I was ambitious. For the first time in my life I was willing to work hard on something to be good at it.

By the time we returned to our town I had tasted a little bit of what seemed like the perfect world to me.

The violin gave me a purpose.

I wanted to live among those musicians who practiced their asses off to be good at the only thing it seemed I was good for, performing. Work was not work anymore. Work = fulfilling my heart with something I really wanted to achieve.

After the festival we were all hooked with the quartet. We performed together in public places and became really well known around the high school community.

My grades improved.

Seriously, I was about to fail some courses the year before but that year I had a point average of 3.88. What was different? my friends and the violin. If you didn't know it, your friends make a huge impact on your life and I am the living proof to tell you about it.

There was one problem though, not for me but for me two buddies. According to society they were too smart to major in music. You see, were I come from nobody makes a living playing the violin, or with music at all. That seemed too far away from reality. You have to be a celebrity or something like that to make it happen in music. Even the teachers will wash your brain toward becoming a doctor or an engineer.

A science teacher once said:

"Music is not for you (my friend) your average point is to good. Music is for someone like Cesar whose point average is lower".

In my face, no hesitation, just like that.

The guy was perfect pitch and could've been a hell of a composer.

After high school we all took our separate ways. Yep! The nerds went to do scientific work and I went to the national conservatory.

Since then, we have been around the world doing what we do best. I do music and they do science and philosophy. The get published and I get to play with orchestras the best music ever written. Oh, and I also have a blog.

After long years we still stay in touch. We always talk about the past and how we managed to survive problems with classes, girls, friends, etc. They are really happy with their research and all their accomplishments, but once in a while they come clean and wonder; what if...

"I would love to be in your shoes when you perform with stars like Joshua Bell or Sarah Chang."

Oh well…

I guess I owe my luck to "not being good enough to be a doctor". I am grateful I had bad grades [sorry mom]. The truth is, I can only look back and say "I would not change anything nor will I like to be in anybody's shoes at this moment. My shoes fit well." Unlike my best friends, I can say I was sent to this world with only one purpose; to be a violinist.

Cesar Aviles

www.tipsforclassicalmusicians.com
Comments (2) | Archive Link
By
Rebecca Darnall
October 1, 2012 15:08
Hello all,
Some of you may be aware of my recent research in orchestral matters, specifically concerning violinists. It all seems a bit bizarre, perhaps, as orchestras are facing gut-wrenching pay cuts and lock outs. However, I am opting to remain positive. ICSOM Bruce Ridge has a wonderful article on this very topic:
http://articles.chicagotribune.com/2012-08-22/entertainment/ct-ent-0822-classical-icsom-20120822_1_orchestras-symphony-musicians-opera-musicians
While the title is "Message to Symphony Orchestras in Troubled Times: Think Positive", I am sure Mr. Ridge does not mean this flippantly or in a patronizing way to those involved in said orchestras. It is an encouraging article and one that I re-read from time to time.
However, the main point of this blog is to inform any of you who are interested in my research to please let me know, and I will be more than happy to give you what I have thus far. I have interviews, information regarding 100 music programs in the US, surveys, and information concerning auditions for violinists. For more details, please feel free to email me, and I will extrapolate further. I can also keep you apprised as I conduct research, should you be interested in further developments. The information I posted previously is now outdated.
It is my hope to be published in ASTA at some point within the next year. As a professional orchestral musician I believe it is my responsibility (and it is my desire) to continue encouraging students in exploring the orchestral world, and recognize the importance it has always had in the history of music and music performance. Though times are dire, we must not give up hope.
Again, please feel free to drop me a note, and thank you to all of you who are constantly supporting the orchestral world.
Comments (4) | Archive Link
By
Emily Grossman
September 30, 2012 17:16
We are going to strike while the iron is hot.
This week, I perform two Bruch viola/clarinet pieces, a movement from the Brahms horn trio, and Mozart's E minor sonata for Friday's annual Evening of Classics concert. After that, I will have some space freed up for new venues. What next, what next, now that I have a cellist from Anchorage in the picture? With the addition of cello, the musical floodgates have been flung wide, and I have no idea where to begin.
We emailed back and forth a bit about him making the trip down here to begin Beethoven's Op.11 piano trio. Lovely! And then Brahms next, right? Then, on a whim, I ventured to ask if there were any collaborating musicians up that direction that would be willing to let me join them in an ensemble. As it just so happened, he had a couple of people from the symphony lined up already. As it just so happened, they were a violist and a violinist, and if I came, we'd make a string quartet. They planned to practice on Mondays. And as it just so happens, I have Mondays off. Well, what are their names, I asked. As it just so happens, I'm already good friends with the violist. I sent her a note and asked if she was game. She wrote back with an enthusiastic yes.
I knew something great was coming, and I was surprised enough to have a cellist fall from the sky. But an entire string quartet, minus one violin? What are the odds of that? (I know a lot of people are reading this without lifting so much as an eyebrow hair, but they obviously don't know the difficulty involved in putting together a proper quartet, much less a quartet for a violinist in rural Alaska. They also don't know how long I've been waiting for this.)
This is simply too good to be true. We still have a lot of planning and scheduling to make it happen. And I hope everyone gets along. I'm so skeptical, thinking it won't actually come to fruition, but I'm going to go after it anyway, like my life depends on it. I was meant to play second violin in a string quartet; I've felt it like a calling. And I've never done it. Yes, I'm a 30-something-year-old string quartet virgin. (Shh, don't tell anyone!)
I hope they go easy on me.
Comments (6) | Archive Link
By
Karen Allendoerfer
September 30, 2012 12:34
Here, on the last, rainy, day of September, well into the thick of back-to-school madness, I was thinking about my goals for the year. I was also browsing violinist.com as an excuse for not practicing, and I came upon an old blog from a little over 5 years ago: Goals.
It was a long and sprawling list, and people gave me some good feedback.
I'd like to update where I've gotten with these plans from 5 years ago, and think more about why I'm here and where I can go. I've copied the old list in italics, and will add comments without italics.

1. Playing both violin and viola. I need a teacher who does both instruments.

I found one. We had an interesting discussion about liking the inner voices in ensembles.

--how to balance the two? When to practice each instrument? Both in the same day? Alternate days, weeks?

This proved to be more challenging than I was able to handle. Switching back and forth was difficult and I had to do it more on a monthly, or seasonal, basis. Unfortunately, despite how viola-centered this 5-year-old list was, I haven't played the viola in over 2 years.

--fiddle: Irish? Cape Breton? On viola?

Haven't done very much with this.

--The prospect of learning or playing by ear still makes me uneasy. If I'm going to attempt learning or playing by ear, I don't need "rah-rah-you-can-do-it" type of encouragement, or anyone telling me that it's "easy." Instead, I need someone who'll be sympathetic to the fact that I find it difficult and scary.

Haven't done enough with this either.

--buying a new violin

Bought a new violin from Shar in 2009 (blogged about it). Still very happy with its brighter, bolder, and richer sound.

2. Playing viola in an orchestra
--Arlington Symphony (community orchestra--don't need to audition, website says they welcome new string players)

This orchestra is actually called the Arlington Philharmonic. I have been a member of this orchestra for almost 5 years, and concertmaster for 4 of those years.

--Longwood Symphony Orchestra in 2008? (serious semi-pro orchestra). Originally wanted to try out this fall but now am not so sure. Getting cold feet about the audition. And, probably too serious of a commitment, even if by some miracle I did make it, given that my boss is going on sabbatical and my close coworker on maternity leave at the same time and I'm probably going to get buried by work for a few months starting in September.

Auditioned on viola in 2008 (blogged about that too) and didn't make it. Have not tried again. At this point I prefer the Arlington Philharmonic anyway: equally good repertoire (the two organizations share music), excellent conductor, friendly people, closer to my home, and get a chance to play a leadership role.

--Orchestral excerpts on viola. Can I work on preparing some? What are some good ones? I have a list of excerpts required if I wanted to audition as a viola section player for a major orchestra in Cincinnati (posted on the web). Would that be a good start?

Don't need this anymore. Have plenty of orchestra music to work on.

--What if the orchestra needs violins more than it needs violas?

That is why I am playing first violin instead of viola, and why I have not played viola in 2 years.

3. Practicing
--How to use 1/2 to 1 hour per day most efficiently. Finding more practice time.

A perennial problem, not solved. However, I recently retired from my demanding job and am working only part-time right now. So there is hope.

--Simon Fischer's Basics. I just bought it. Written for violin, adapt for viola?

Violin vs. viola doesn't really matter. But I have turned out to have a hard time learning anything musical, auditory, or motor, from a book, no matter how well-written. I need demonstration and hands-on instruction. I guess I'm something of a kinesthetic learner when it comes to stringed instruments.

--Urstudien? (on viola)

Not enough.

--Scales. Boring, boring, boring. I'd rather do Urstudien. Or Wohlfahrt. Or almost anything. Too many repetitions of a scale and I start not noticing--just not hearing--if it's out of tune.

This is still a problem for me. I've seen other people on v.com catch fire with scales and start to love them, but to me they are still a chore and I don't consciously observe the benefits of doing them. I feel like I get more noticeable benefit out of practicing orchestra music, etudes, and solo pieces. I do not rule out that there is a benefit to my practicing scales that I am not aware of--maybe it is gradual and incremental--but I wish I were more aware of it day-to-day.

--Preferred use of Musician's Practice Planner at lessons rather than the ubiquitous and semi-useless music manuscript book that teachers have always made me bring in the past.

This has been fine with my teacher. I'm less interested in writing everything down than I was 5 years ago. I've recorded a few lessons and I think that listening to those recordings has been ear-opening. Maybe more useful at this point than writing so much down.

--Goal setting

This analysis is part of that process.

4. Specific areas of my playing that need improvement and/or attitude adjustment on my part:
--Vibrato on both instruments. Especially "continuous" vibrato.

I have done vibrato exercises and I do feel as if my vibrato has gotten looser and more under my control. However, I've slacked off on this recently and should go back to it.

--Left thumb slightly too short due to childhood accident. Tends to lag while shifting. Needs some attention.

This has improved. I do not feel my old left thumb injury is an impediment to my playing.

--Ear training. Learning fiddle tunes or other by ear.

I hear and am bothered by poor intonation much more than I was 5 years ago. I hope this has translated into having better intonation while playing.
My ability to learn pieces by ear has not improved at all.

--Listening to and learning to like modern, less accessible, music: e.g. Clarke, Hindemith, Walton.

I like and have played some Clarke. In general, though, I'm still pretty traditional/classical in my musical tastes. Still don't like Hindemith, and have not been gripped by a desire to learn the Walton viola concerto.

--Playing in higher positions (above 5th)

Have made some significant progress here. Can reliably recognize a high A when reading, am less intimidated by 8va passages (as in, actually play them in the higher octave now rather than cheating and dropping down), played the Tchiakovsky "Mozartiana" solo, which has lots of higher position work.

5. Violinist.com and blog.
--Recording equipment?

Nope, no fancy equipment. Still using digital camera and iPod touch. These work pretty well for intonation, at least.

--posting my audio?

Have done this, especially for the Rockin Fiddle Challenge. Find it useful, interesting. Still chicken sometimes.

--would teacher mind if I posted about my lessons or about things that I was having trouble with?

My teacher likes to hear about things I learn on v.com.

6. Performance
--church

yes

--busking

not for money, but every summer at the Farmers' Market

--Good unaccompanied pieces, fake book, viola arrangements of violin pieces

Bought fake book, have learned some unaccompanied Bach

--chamber music? Meeting people, can teacher introduce me?

Met people in Arlington Phil. Now have a string quartet.
I think I can be happy with my progress in many areas. I'm doing, and doing well, the one thing I most wanted: playing in an orchestra. I've made technical progress on improved vibrato, more precise intonation, and higher position work. I have a new violin. All these things add up to sounding better and being a better player.
But I also did a lot of what I had already done before. I knew I liked classical music. I knew I liked to play in an orchestra. I haven't branched out much into fiddle or folk, I haven't learned to play by ear. And I've given up viola altogether. So perhaps these are things I can do in the next 5 years!
Comments (10) | Archive Link
By
Simon Streuff
September 28, 2012 17:04
In Hannover, Germany tomorrow is the opening concert for the Joseph Joachim Violin Competition. I look through the contestants and see many, who also played in the Elisabeth competition. I just want to share this with you, because it was interesting to discuss about the Elisabeth competition with you. (Adrian? ;)
Also I am sure, there will be lots of good music all the week on the live stream, wich will eventually be on the competition website.
In this competition I unluckily saw some strange decisions and also the fact, that jury members can be also teachers of competititors at the same time, is quite a strange thing. I am not feared to go into detail, but maybe it wouldn't be so smart. Just don't expect everything to be one hundred percent fair. It may disappoint you a lot.
But because of the high award prices there are numerous outstanding violinists applied at this competition. I wish them all good luck. Many of them I heard before in other competitions. One of them came to visit my school last week and played for the children. Very nice indeed. We'll see how well she will do in the competition. Anyway, sorry for the not so thought out text, its friday evening and I am tired. But since it starts tomorrow I wanted to post it before.
Enjoy and Comment if you like... I am from Hannover and live 200 meters away from the Music University where most of the concerts will take place, also I will be listening to the opening concert Saturday Evening, where the winner of 2009 plays Saint-Saens Violin Concerto 3. So if someone has a request, I can maybe answer questions ;)
I personally CAN'T WAIT!!! :)
Comments (5) | Archive Link
By
The Weekend Vote
September 28, 2012 13:48
This has been the first official week of fall, which is both a time of beginnings -- with the start of seasons and academic years -- and a time of winding down for winter and year's end. Musically, it's a season that can push us either way.
Our V.com member Terez Rose wrote a blog about how she likes to visit the works of familiar composers during this time of year. I've noticed that symphony orchestras begin their seasons with the familiar.
Today, though, I've been immersed in listening to Esa-Pekka Salonen's new violin concerto, which he wrote for Leila Josefowicz. A recording of this work comes out in mid-October, and you'll be hearing more from me about it, including an interview with Leila. But what struck me was the fact that I must have been really ready for something new: this grew on me by the second listen. It put me in an experimental frame of mind!
This changes for me, from year to year, season to season: sometimes I just want to play and hear what I know. Other times, I want to lend my ear, my time, my practicing, to something entirely new and innovative. Does it change for you? And today, how are you feeling? Would you prefer to work on -- or listen to -- new music or old music?
Comments (5) | Archive Link
By
james holmes
September 28, 2012 02:18
It seems that Tennis and Violin are referenced together in quite of few posts. This inspired me to write this quirky poem.
Players in Common?
Whether it be a racquet with strings,
or an instrument that sings.
Both are wielded by players of higher standards.
Aiming for their optimal performance in reserved manner
The Game is almost like a duet, the server, the melody- returner the harmony.
Together showcases their talents, the opposition creates drama much like music theory
Technique is paramount and always the challenge.
Using different grips and strokes for them to manage.
Keeping with in the lines as of the notes on the bars.
Millimeters and milliseconds matter revealing their flaws.
Arrogance is somewhat expected, it sets the players apart.
Giving them their own "personality" performing true from their heart.
Opening a fresh can of balls (phissssed) is music to your ears.
Much like a set of new strings ringing clean and clear.
It's quick response and resilience sweetens the sound.
The pop-bounce of the ball is crisper and higher is found.
Always looking ahead to keep you in time and in control.
Relying on muscle memory so the execution casually flow.
Paying close attention to where the notes and balls land.
Keeping game and music contained while the player in command.
One stroke from bow or racquet, determines the start and the end.
The points and notes in between is art in motion,
spectators take notice to commend.
Even still with the ending of every match or score.
Both players are looking forward to excel even more.
Making them exercise quirky drills while doing daily tasks.
Hoping nobody notices in bewilderment, approaches and asks.
Wielding bags and cases over shoulder -protecting their instruments,
from the extremes of ambient air and surrounding environments.
Where old tradition gets fitted with a new look by new students of both crafts.
Modern players seem to have more flash and be more visual by contrast.
Yet it is the old masters these students still try to emulate.
Some achieve success at it while others work harder as to concentrate.
But players of both schools is what keeps the game and artistry alive.
Displaying sportsmanship and musicians each with the common drive.
To capture that moment, that caliber of play "when you're in the zone".
I wrote this silly poem to free my inner thoughts, I'd like to think I'm not alone.

Comments (2) | Archive Link
By
Thomas Cooper
September 26, 2012 20:06
There's that moment in a rehearsal when, all of the sudden, everyone, to put it simply, gets it. These seemingly ephemeral moments stay with us for years at a time, and often are the reasons why we play classical music. These moments only come when every single person of the group is physically and mentally involved, giving everything they have for that one second of time. It is more than just playing closely to the dynamics, or playing perfectly together another section. It is about diving into one's own introspective and truly feeling the piece. "Look up," exclaimed Mr. Zander, "eyes on me and be aware of everyone else's sound around you." That's when it happened. We were working on Beethoven's Egmont Overture, closer to the beginning of the piece. I can recall not only looking up and seeing the difference, but also hearing it. The orchestra became one musical entity, with all the voices beautifully coming together in the masterpiece that is Beethoven's Egmont. To think this effect is magnified in a concert setting builds the excitement even more. Many people ask, that if we sound this wonderful on the second rehearsal, how we shall sound in November after having a dozen rehearsals and sectionals, let alone the tour nearly nine months away.
Indeed, the first few Boston Philharmonic Youth Orchestra (BPYO) rehearsals showed more than just promise for such a special ensemble of young people. Not only did the orchestra have no trouble capturing the heroic spirit of Ein Heldenleben, but many of the deemed impossible passages were plowed through like a practiced study. The lengthy excerpts did their job, as half of the famous The Hero's Battle section was learned. At the famous return of the theme at rehearsal 77, the orchestra was so passionate that I forgot to come in after we finished the section. During all of this, many people came in off the streets through the open doors to hear Strauss' masterpiece. I counted at least 15 extra people listening in on the inaugural rehearsal of the Boston Philharmonic Youth Orchestra. I noticed to or three of them stuck around for at least an hour until the rehearsal was finished.
The orchestra being comprised of about half college players and half high school players has a bar that is set very high. Not only are we expected to learn our notes and rhythms by each rehearsal, but we are also expected to dig so much deeper than any normal orchestra, not because of the way we play our instruments, but because we are young. As young people, we have the privilege of experiencing much of this music for the first time. I don't believe a single person in the orchestra has ever played Ein Heldenleben before, and the sheer excitement of attempting such a piece is enough to bring a wave of passion that makes each of our concerts special. This is what makes BPYO an extraordinary youth orchestra, and in the end, this is what I believe will bring about our ultimate success. Perhaps the best part of it all was when we walked out of the hall on rehearsal break, and saw a table of food beautifully prepared for us. Food during break? Fantastic!
You can find a video of highlights from the first rehearsal here.
Comments (1) | Archive Link
By
Laurie Niles
September 26, 2012 10:51
I was born in 1968, a year of mad generational uproar and confusion.
I don't think anything could better illustrate the cultural bewilderment of the time than this video of Andy Williams, singing "The Age of Aquarius" and "Let the Sunshine In," with the Osmond brothers, a year after I was born:
Some background: these tunes were written for the drug-dazed musical "Hair," which is about hippie counter-culture and the sexual revolution. Andy Williams was a soft-singing crooner, beloved by little old ladies, and the Osmond brothers were Mormon whiz-kid singers.
I was a toddler. I joyously embraced it all.
You see, I did not listen to Suzuki tapes when I was a small child (they didn't exist), nor did I listen to Mozart. I did not come from a musical family, so no one was playing Chopin on the piano or holding quartet rehearsals in the living room.
But my Grandma Izzie had a record player, and a huge collection of LPs, sitting in big, square, cardboard sleeves. I don't know how many she had -- more than I could count back then, for sure. Hundreds, thousands! Every one of them was Andy Williams. (The man did make 42 studio albums and I think she had them all!)
She lived in a little apartment attached to our house, and most mornings at around 5 a.m. I would sneak down the hall to Grandma Izzie's place. She knew how to keep me content: music. I climbed up on her big sofa, and she would put on the only music she had: Andy Williams. And I was happy, bouncing my head to the beat of the music, looking out the window and listening. Good morning, Starshine! Do you hear the violins in there?
These are possibly the most over-orchestrated tunes ever recorded. Can you even believe it? But that's what people did, when they wanted over-the-top sound before synthesizers: they hired a huge orchestra to back them up. Can you imagine a singer doing this today? I doubt it even occurs to most singers. It's much cheaper and easier to press a few buttons on a synthesizer, then hit the auto-tune to keep their own voice sonically palatable.
Processed food, processed music. Oh just spit it out, let it be all messy like it was! One last Andy Williams tune. May he rest in peace and love and squareness and grooviness. No, actually, I hope he's up there singing for Grandma Izzie and all her friends!
Comments (3) | Archive Link
By
Kerry Dexter
September 25, 2012 06:37
Continuing the conversation on 100 Things to Do in classical music (I was too late to comment on the post) I'd add what may seem an off the wall suggestion: experience a concert in which folk musicians collaborate with a great orchestra. This will enhance your view of both sorts of music, and it's a great thing to share with someone who might not otherwise go to see an orchestra -- or go to see that folk artist -- too.
My favorite experiences along this line:
Irish American songwriter and singer Cathie Ryan with the Rochester Philharmonic (fiddle by Hanneke Cassel), and the Irish band Altan sharing the music of Donegal (fiddle from Mairead Ni Mhaonaigh and Ciaran Tourish) with the Royal Scottish National Orchestra.
Other folk musicians who do really fine concerts with orchestras include Natalie MacMaster and Donnell Leahy, from the Cape Breton fiddle tradition, Tish Hinojosa's songs of the American west from a Hispanic perspective, and Scot singer Eddi Reader's program on the songs of Robert Burns. These are all ways to hear the work of an orchestra differently yourself and perhaps open doors for someone else to listen, as well.
Comments (1) | Archive Link