March 4, 2014 12:29
Bayla Keyes, founding member of the Muir String Quartet, and current member of the piano trio Triple Helix, is also a faculty member at the Boston University College of Fine Arts School of Music. At BU, her studio consists of about 20 Bachelors, Masters and Doctoral candidates in Violin Performance. In addition to all of their other classes, lessons, rehearsals and performances, Bayla requires her students to attend weekly a studio technique group focusing on scales, and appropriately referred to as Bayla's Scale Class. Recently, i had the opportunity to sit-in and observe this group at work.
Scale Class is actually led by a former student of Bayla's, Sean Larkin, under her guidance and supervision. After some warm-up ensemble exercises, Sean returned to examining specific motions of the left hand and fingers, the form they create, and intricacies of stopping a string to pitch. This led to partial scales on single strings, along with some discussion of bowing and shifting. When ready, the group began 3-octave scales at a slow tempo, increasing the speed with repetition. The end-of-semester tempo appeared to test everyone's facility to varying degrees.
Instruction was organized, focused, and articulate. The atmosphere, serious and encouraging. Clearly momentum would build over the semester, and the group would accomplish multiple practical goals. Scale Class provides significant opportunity for students at all levels to increase dexterity and accuracy with scales; and by ever increasing their facility at this foundation, they will ever increase their facility at playing violin.
I believe that this type of technique class is unusual for an advanced studio, and that typically such students are left to self-motivation and their own devices for technical maintenance and improvement. Some manage on their own, and some don't. Certainly the instruction and group study provides significant motivation to attend to fundamentals, and these students are lucky to encounter this demand by their teacher. They will all be better violinists for this reinforced, guided habit of continual attention to foundational technique.
I couldn't help but to wish, from my lowly position as a beginning adult, that I, too, could have access to this type of instruction, consistent, demanding work on fundamentals, to supplement my own private lessons and practice. The opportunity, and its promise of clear sound and expressive ability pose as gates to violin heaven.

March 1, 2014 11:03
Yesterday I attended an outstanding lecture/demonstration by Casey Driessen, of his one-man-band fiddle music. As a disclaimer, I share my personal impressions and memories of the afternoon with him. If you want more specific, and possibly more accurate, information about him and his music, click on the links in this post.
In a musical outpost such as Bozeman, Montana, you never know what you'll run into when you buy concert tickets. It turns out this guy has some pretty serious bio in his back pocket. And it radiates.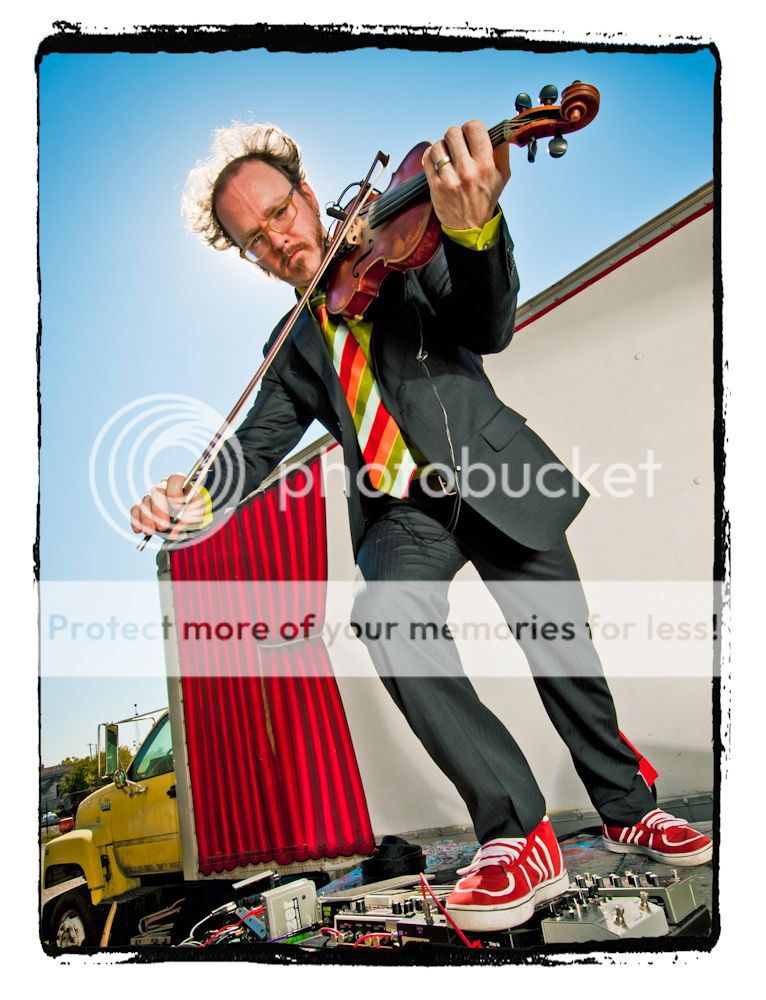 Photo by Sandlin Gaither
In recent years Casey has been experimenting with the sounds that can be made with a violin. Looking beyond the classical draw of the bow, and taking inspiration from all variety of musical instruments, he has discovered an extensive array, well beyond anything I had ever previously heard or imagined. Using recording with electronic effects and playback looping, he builds up tracks of a wide variety of sonic color and range, assembling the effect of an entire band. Then Casey brings various tracks in and out of the song according to his dictates. All this is done live in front of an audience, starting from silence. Nothing is pre-recorded. All sound originates from the violin, with his feet operating the electronic boxes in front of him. You'd think you were hearing a full live band. And as if it were, he taps the erase button at the end of a tune as if to say, "Hey, that was a fun one. Let's jam again."
For a sample of his music, click here, and hit the play button for "Billie Jean." At the lec/dem we heard him create this tune live from scratch. It was amazing to watch him work and play (which for Casey is probably one-and-the-same). Believe it or not, every sound in this recording is made with the violin. You can also find him on YouTube.
In the Q&A I asked Casey to compare playing with other musicians in a band to playing by himself while creating the effect of playing with others. Basically, he responded that each of the practices informs and enhances the other. Playing with others and listening to their sounds and their styles gives him inspiration for sounds and effects to explore for and discover. Simultaneously, that exploration and discovery gives him greater sensitivity to and appreciation for the sounds of others. As a result, he is a better player and performer in both a group and an individual setting.
Casey's sense of curiosity and experimentation is inspiring. He is attracted to the odd and unusual, and goes out of his way to find them. At he same time, he does not neglect fundamentals and has built up a serious technical foundation over the years. This is what gives him the freedom to do his thing.
Check out his tour and camp schedule. If you can, go spend some with him. You won't regret it.
1 reply