Violin Blogs
Violinist.com members may keep personal journals on the website. Violinist.com's editor selects the best entries for the column below. Links to all other recent blog posts may be found in the column on the right.
Top Blogs
By
Laurie Niles
April 1, 2015 15:11
Making music requires collaboration, and chamber music builds that skill especially well.
Members of the Fry Street Quartet made a convincing argument for the heavy use of chamber music in teaching college students during a lecture they gave called "Chamber Music as a Pedagogical Force" at the 2015 American String Teachers Association conference. The quartet teaches in residence at Utah State University's string program, which has a unique model that requires strings students to participate in chamber music for the entire duration of their studies.
"That sustained and consistent emphasis on chamber music is a powerful tool in helping them build their instrumental skills," said Fry Street violist Bradley Otteson.
The Fry Street Quartet: L-R Robert Waters, Rebecca McFaul, Anne Francis Bayless and Bradley Otteson.
Chamber music builds collaborative spirit between musicians, holds each person uniquely responsible for his or her part, and cultivates diplomatic problem-solving skills. All those skills manifest visibly, as well as audibly, in a high-functioning chamber group. For example, when playing for outreach and kids' concerts, the Fry Street Quartet kept encountering one particular question from the kids: Why do you move so much when you play?
One way to answer that question is explore what happens when they don't move: "It becomes so obvious that there are so many things missing, from character to cueing," said second violinist Rebecca McFaul. The group played a passage from a Haydn string quartet to demonstrate, remaining stock-still. Certainly, much of the energy and direction went missing.
Also, when one of the musicians gives a cue, it must not only give the tempo, but "it must inspire my colleagues to play in the character of the piece," said first violinist Robert Waters. They demonstrated what it was like to follow a cue that was stiff and lacking in movement. "It's almost impossible for them to come in, in the same stormy character," Waters said.
Not only that, but a cue is only as good as the people following it. "Everyone must look," Waters said, "and everyone must be physically involved. If I'm the only one who does it, then the music suffers."
"No cue is a solo effort," Otteson said, "we're all moving and breathing together. We stop and make eye contact -- that way we know we're stepping into this together. With my back turned, it's hard for me to know if we are sharing the pulse in the same way."
And in fact, one of the great rewards of playing chamber music is "when I get the sense I'm really locking in with the others in the group," Otteson said. "It's that visceral connection to another human being."
In fact, chamber music is a conversation, and it's not that different from a conversation that one might have with words," Rebecca said.
What happens when you carry on a spoken conversation, without anyone looking at each other? Quartet members demonstrated this, but they couldn't carry on for long because it felt so awkward and wrong -- they started laughing. A spoken conversation requires those elements of gesture and mutual attention, just as a musical conversation does.
In a quartet or other chamber group, just one person has full responsibility for each part; there is no hiding in a big orchestra section. If a player has trouble playing off the string, plays with a weak tone or bad intonation, or has any other deficiencies, "there's a whole other motivation in the string quartet setting, where, if they can't do it, they're the odd man out," Waters said. In these cases, the motivation to impress peers -- or at least to avoid embarrassment in front of them -- can work wonders. "Information means a lot when it comes from another students rather than from a teacher."
A string quartet also provides opportunities to lead, and to follow. If everyone tries to lead -- well, the Fry Quartet members demonstrated this, with every member trying to out-play the other, the violist even standing up in order to out-do and overshadow his peers. It was very funny, but what chaos!
"It throws the chemistry off-balance," Otteson said afterwards. "It's not only about playing strongly, but also listening to those around us," Waters said.
Conversely, a lack of leadership also has consequences. "If I lack courage and conviction, my quartet is left out at sea," he said. "Without engagement from the whole group, the music just doesn't come to life." They demonstrated the tuned-out quartet: everyone playing with low energy, avoiding connection, cellist Anne Francis Bayless stretching and yawning during her measures of rest, the violist checking his phone and taking a selfie. It was also a funny demonstration, but the music (of course) fell apart.
A chamber group thrives when it sets and shares goals and expectations together. Most conflicts arise from conflicting goals.
"Problem-solving becomes much easier when the goals are clear," Bayless said. "Everyone is motivated and committed to solving problems along the way."
Those little things like having a pencil, knowing the score, using the metronome and practicing before rehearsal, "they all lead to something bigger: professionalism."
For the Fry St. Quartet, "it's all about the sharing of a unified voice that communicates effectively with an audience."
You might also like:
Comments (1) | Submit Comment | Archive Link
By
Daniel Broniatowski
April 1, 2015 08:24
Dear readers,
Today I would like to introduce you to my list of top violin sonatas. There are, of course, many many more amazing pieces out there, but this is a great start for the uninitiated! I guarantee that after listening to these, you will be spellbound and will want much more. Be sure to listen to all of them to hear the different styles of each composer!
Beethoven's Kreutzer Sonata

Ludwig van Beethoven was a German composer who lived from 1770-1827. His Kreutzer Sonata is a monumental work composed in May 1803 written in three movements. Initially dedicated to violinist George Bridgetower (1778–1860) at the Augarten Theatre but subsequently rededicated to Rodolphe Kreutzer after the first dedicatee insulted a women Beethoven was fond of. The entire work can be heard below:
Franck's Sonata in A Major for Violin and Piano
César Franck was a French composer born in Liège (now Belgium) who lived from 1822-1890. Written in 1886, this piece was written as a wedding present for the famous violinist Eugène Ysaÿe who performed the piece widely over a forty year period. There are four movements and they are held together in a cyclic form. In other words, common themes (albeit transformed) link all of the piece together.
The entire work can be heard below:
Schumann's Violin Sonata No. 1 in A Minor
Schumann was a German composer who lived from 1810-1856. His first sonata was composed September 12-16, 1851 and was premiered by pianist Clara Schumann (Robert's wife) and violinist Ferdinand David. You can hear the entire work below:
Tartini's Devil's Trill Sonata
Giuseppe Tartini was an Italian composer who lived from 1692-1770. His Devil's Trill sonata was really initially called the Violin Sonata in G Minor but after hearing of Tartini's dream about an encounter with the devil, the sonata became known by the composer by its more colloquial name. You can read about this dream here.
You can hear the sonata below:
Enjoy!
Daniel Broniatowski, D.M.A.
Maestro Musicians, LLC
Music to Warm the Heart
Greater Boston and New England
By
Laurie Niles
March 31, 2015 11:10
In an effort to promote the coverage of live violin performance, Violinist.com each week presents links to reviews of notable concerts and recitals around the world.
Leila Josefowicz premiered John Adams' Scheherazade.2 with the New York Philharmonic.
Gil Shaham performed Bach's six solo Sonatas and Partitas in Los Angeles.
Christian Tetzlaff performed works by Bach and Bartók in London.
Janine Jansen performed the Tchaikovsky with the New Zealand Symphony Orchestra.
Anne-Sophie Mutter performed the Beethoven with the Luigi Cherubini Youth Orchestra in Abu Dhabi.
Karen Gomyo performed Mozart's Violin Concerto No. 5 with the Detroit Symphony Orchestra.
Miranda Liu performed Bartók's Violin Concerto No. 2 with the Redwood Symphony.
Diana Cohen performed the Beethoven with the Calgary Philharmonic Orchestra.
Youjin Lee performed the Beethoven with the Santa Cruz Symphony.
Please support music in your community by attending a concert or recital whenever you can!
By
Laurie Niles
March 30, 2015 23:22
Watching Gil Shaham perform Bach's six solo Sonatas and Partitas for violin in Disney Hall in Los Angeles on Sunday night felt like witnessing a new chapter in violin history. Aside from displaying the astonishing athleticism and mental stamina required to perform all 32 movements live and by memory, Shaham also turned these familiar works on their head. Most violinists make concessions in Bach, based on the constraints of technique, but Shaham has reached a level of mastery with these pieces that allowed for a great deal of experimentation. On Sunday (as in his new recording), he went for a wholesale re-thinking of speed, from the setting of basic tempos to the fitting of embellishments into impossibly tiny spaces of time.
Shaham's performance was accompanied visually with original film scenes by New York-based filmmaker David Michalek, whose subjects -- dancers, still-life arrangements, the flapping of bird wings, a face, kids playing the violin -- were captured in a state of high-def super-slow motion, revealing every intimate detail of their expressions and motions. Fascinating spectacles, sometimes these visual elements aligned with the music, and other times they seemed to compete. Shaham's high-velocity playing, tremendous energy and big-hearted expression drew most of my attention throughout the concert.
Like taking a spin with a race car driver, following Shaham was in turns exhilarating and disorienting. The new set of tempi turned many of the movements into very different-feeling music from what has evolved as "tradition" in the last century. Of course, the Bach Sonatas and Partitas were not neatly handed down to today's violinists, from one generation of performers to the next. They were left largely forgotten and unplayed for more than a century: completed in 1720, they weren't printed until 1802, and even then, they weren't widely championed until Joseph Joachim took them on in the late 19th century. In other words, the tempos that we take for granted today were set by performers far removed from Bach and his time. Certainly that has been changing with the advent of period performance; at the same time, it's made us all a little overly obsessed with what is "right."
When Shaham spoke to Violinist.com about his exploration of these works, he mentioned the disparity between the tempos typically used by violinists for the solo sonatas and partitas and Bach's other Minuets, Sarabandes, Fugues and the Chaconne from Cantata 150, which are typically played faster. He wondered, why not play them at those tempos? One reason has to do with Bach's impossible demands. How do you play on four strings at a time on the violin? How do you perform a three-voice fugue on a violin? How do you play a melody over a thrumming bassline, on a melodic instrument? For some time, people thought these works were academic exercises, something theoretical, not really meant for human beings to play as written.
We've come a long way; but make no mistake, this music is as hard to play as it ever was. How did our hero Joachim fare, those many years ago? Here is Bernard Shaw's account from 1890:
"(Joachim) played Bach's Sonata in C at the Bach Choir Concert at St James's Hall on Tuesday. The second movement of that work is a fugue some three or four hundred bars long. Of course you cannot really play a fugue in three continuous parts on the violin; but by dint of doublestopping and dodging from one part to another, you can evoke a hideous ghost of a fugue that will pass current if guaranteed by Bach and Joachim. That was what happened on Tuesday. Joachim scraped away frantically, making a sound after which an attempt to grate a nutmeg."
The fugue to which Shaw refers above is one of the longest and complex fugues that Bach ever wrote, and it appears in the third solo Sonata. On Sunday, Shaham nailed that fugue like I've never heard it in live performance, with clarity in every voice and precision of pitch and placement. The fast tempo served to align the voices; it solved the problem of rolling chords and jumping strings by putting them closer together in time. This was also an instance where the filmmaker's vision aligned well with the music: a mesmerizing spray of water droplets slowed nearly to a stop. The audience, which had finally stopped clapping between movements, couldn't resist clapping after this extraordinarily well-executed fugue. The preceding "Adagio" had ended with spellbinding intimacy, a mood that Shaham captured more than once on this long journey.
Indeed this set of works, three dance suites and three sonatas, constitutes a far-ranging musical journey when played as a whole. As Shaham said from stage, "this is the closest thing violinists have to a holy book."
Arguably the most sacred scripture in our "holy book" is the "Chaconne" from the D minor Partita. Twentieth-century performances of the work tend to proceed like a dirge; Shaham played it like a dance. Instead of moving with majesty, as is the tradition, it moved with a different center of gravity: arpeggios became shimmering chords, new through-lines became perceptible, gestures changed. It was extremely artful, and it brought new light to this important piece.
Shaham also experimented with decoration -- when a movement was repeated, he embellished it the second time (following Baroque tradition). The second sonata's "Andante" has what sounds like a heartbeat that continues through the movement, underneath a melody. Somehow Shaham managed to decorate this melody, even displacing the melody's rhythms while still keeping that underlying heartbeat completely steady. The final Partita also provided plenty of repeats, which he embellished in a joyful, playful way, sneaking in little flurries of notes, quicker than a tickle.
When it comes to Bach, people don't necessarily want to change their ways or augment their tastes. Certainly, people don't have to embrace Bach anew, but Gil Shaham's live Bach cycle was a revelation and a joy to witness.
You might also like:
Comments (3) | Submit Comment | Archive Link
By
Bram Heemskerk
March 30, 2015 13:41

Earlier in Januari I wrote that I would play the violin concerto as 2nd violin of the unknown Finnish composer Erkki Melartin. I made a recording with my SD camara, but the father of the soloist Tessel Hersbach had a much better HD camera. I was ok to put it on Youtube, so here the result:
By
Laurie Niles
March 30, 2015 06:40
Adult students can be transformed by learning to play a stringed instrument, but they require some special consideration by teachers.
Elmhurst College teachers Susan Blaese and Edgar Gabriel spoke about this topic at a lecture at the American String Teachers Association conference in Salt Lake City earlier this month. Both have many years of experience, teaching adult beginner and intermediate string students.
They defined "adult learners" as anyone age 24 and older who is either starting to play an instrument or resuming after a period of years (not those who continually played since childhood).
Susan Blaese and Edgar Gabriel both teach groups of adult students
Gabriel said that, during his early years of teaching adults, he noticed a trend: "They would quit, right when they were starting to get good!" About a dozen years ago, he started teaching adults in groups, and he's been happy with the results. "In groups, they stick around longer," Gabriel said. "There's a camaraderie, and they don't quit."
Adults have certain challenges: life gets in the way of practice routines for them. They may have arthritis or other physical conditions, and vibrato can be difficult to attain. They also often have unreasonable expectations; they want immediate results.
But on the other side of it, adults stand to gain much from studying violin or another stringed instrument. Gabriel pointed to studies by Dr. Nina Kraus of Northwestern University that list some of the advantages of studying an instrument as an adult: improved overall hearing, improved ability to distinguish voices in a crowded room and improved memory. He said that his students have told him that their doctors said that playing the violin would help their arthritis.
He described the case of one adult student who had lost her ability to do mental math, due to severe injuries from a car crash. Seven years of therapy did little to help with this skill, which affected her ability to measure distances, understand speed limits, do recipes and balance her checkbook. She had nearly given up when she started playing the violin. As she said in a video, "I didn't realize that some of my mental math skills were coming back," but after several years of violin, she found that those skills were growing. "Now I feel like I'm completely normal." Her skill level on the violin, as shown in the video, was still at a beginning to intermediate level, but the benefits to her brain function were immense.
Blaese, who taught in public schools for 33 years, now directs a group at Elmhurst College called Varsity Strings, an orchestra consisting of music majors playing their second instruments, and also adult students. Gabriel and Blaese did an informal poll of their adult students, and they found that those students felt that learning an instrument gave them increased flexibility, confidence, relaxation, sense of purpose, improved vision, better auditory memory, increased enjoyment of music, exercise for the mind and importantly, new friends. They reported that they liked going to rehearsals better than they liked practicing alone.
What are some of the challenges for adults?
For one, "adults don't want to hear any bad sounds right away, but the kids don't care." No beginner sounds good on the violin, but many kids will saw away happily, largely unaware or un-judging of the sound. Adults have the awareness already.
"I made a rule for my adult students," Gabriel said, "if anyone says anything negative about their own playing, they have to drop a dollar in a bucket."
Gabriel also recommended that if you are teaching adults in a group, they each should have their own stand. "I've tried to get them to share; it doesn't work." Also, with adults, "you have to get them to play, right away," they won't go for a month on a cardboard violin.
To teach adults how to hold the bow, Gabriel said that he shows them how to make a bow hand, then he tells to do it every day, but in the following rather unconventional way: sit in a chair with an arm rest and watch television, keeping that proper bow hand, with the bow sticking straight up. They simply need to spend time with their fingers in that formation, around the stick.
When it comes to holding the violin, he said that he does the first lesson standing up, but he's also more inclined to allow an adult student to sit for subsequent lessons. He does use tapes on the fingerboard, and shoulder rests, depending on the student's needs.
Blaese said that with adults who may have conditions like arthritis, "you have to be super-observant and let them play for a while any way that they want to. Try many set-ups, and don't give up. It takes a lot of effort -- don't expect that they'll look right, right away." Eventually, they'll get there, but it just might take more time.
Some of the repertoire they recommended for adult students includes: Wohlfahrt Easiest Elementary Method for Violin; Fiddlers Philharmonic by Dabsynski and Phillips, The O'Connor Method Books 1-3, Solos for Young Violinists and Violists by Barbara Barber and any middle school orchestra arrangements that grades 1-3 level (and they recommended classics, adults don't prefer "pop" style).
You might also like:
Comments (3) | Submit Comment | Archive Link
By
Shauna Kaske
March 27, 2015 14:47
I wrote this article for the Butler Collegian and I thought anyone in the Indianapolis area might be interested in going! It's right on Butler's Campus!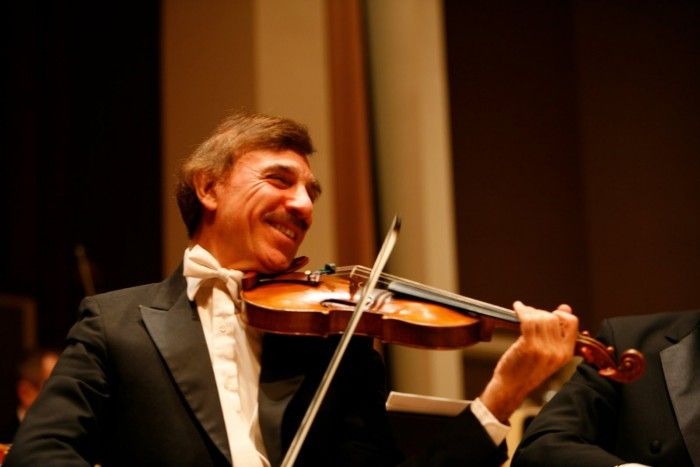 Larry Shapiro, the first official full-time instrumental music professor on Butler's campus, has been teaching here for about twenty-eight years. Over 70 years old, Shapiro said he plans to keep teaching well into his 90's.
Shapiro began playing the violin when he was just six years old.
"Sixty-seven years later and I've almost got the hang of it," Shapiro joked. "I chose the violin because it was the hardest, and I was right.
"My house was always full of classical music, it was natural to me," Shapiro said.
Although he was a natural-born musician, Shapiro went through a typical youthful rebellion.
Shapiro started out as an English major at Columbia University. He refused to play the violin for a couple years. Soon, he left and went to play tenor sax in a dance band in Dallas.
He returned to New York and met his wife of over fifty years, Ashley.
"That was when I realized I couldn't live without it," Shapiro said, referring to his violin.
Although Shapiro was a little behind when he first started out because of his hiatus, his talent did not go unnoticed.
Shapiro soon dropped out of Colombia and attended the noteworthy Manhattan School. People would call Shapiro after seeing him play, begging him to play for them. He was an original member of the American Symphony, as well as assistant Concertmaster of the New York City Opera.
Shapiro, however, has not always had it easy. A car accident a few years back left him and his wife, Ashley, with severe injuries. Unfortunately, Shapiro suffered a shoulder injury that he is still recovering from today.
As of late, Shapiro underwent cataract surgery for both eyes because he could no longer see the music.
Because of this, Shapiro had to move back his recital to March 31 to have sufficient recovery time.
But he won't let anything stop him now.
Shapiro said he likes to associate a theme with his recital programs, and this year the theme will be "Musical Bonbons," or short musical compositions that he thinks are treats.
Shapiro has gathered ten works from Mozart to Gershwin, even including a fiddling tune that he prepared himself.
"I play from the heart, rather than from the head," Shapiro said. "Music is the closest thing to a religious experience, and I am so honored to be able to learn my living this way."
Shapiro said he believes music is more eloquent than words. Music, in his eyes, has the power to transform lives.
Kim Busic, one of Shapiro's students, had nothing but sincere words to say about Shapiro.
"Mr. Shapiro has inspired me to become a better violinist and musician," Busic said. "His knowledge of the violin is like no other violin teacher I have had. Without some of the philosophies and techniques he has taught me, I definitely would not be the violinist I am today."
Being here for almost thirty years, Shapiro has watched Butler University evolve.
"I have watched Butler University over 28 years to transform itself into something extraordinary. I was the first person ever to be appointed to a full time musical instrument position," Shapiro said. "The university continued to support that position with similar full time positions and I'm just happy to be a part of what is such a great music school. The entire campus has been transformed."
Still, Shapiro believes that there is one thing about Butler that makes it stand out from every other institution that he has taught at.
"The thing I value most is that it's the most nurturing place I've ever been a part of," Shapiro said. "The faculty cares so much about the students. I was a tumbleweed for many years, and when I came here it felt like home. And I'm just getting warmed up."
Larry Shapiro will give his yearly recital at Eidson-Duckwall Recital Hall on Tuesday, March 31 at 7:30pm.
Comments (4) | Submit Comment | Archive Link
By
The Weekend Vote
March 26, 2015 23:15
Many students find motivation in taking graded repertory exams, though these are not as commonplace in the United States as they are elsewhere.
Here is a list of some of the most common music exams, and where they take place:
There are other music exams, and some are more localized. I welcome your additions to this list!
Have you participated in a music examination program (or more than one)? Are they motivating for you or for your students? Are they a waste of time that interferes with other learning? Please share your thoughts on the subject!
You might also like:
Comments (10) | Submit Comment | Archive Link
By
Michael Sanchez
March 26, 2015 20:45
In 2009, I remember my Mom looking over at me and saying "Michael, why don't you start teaching the violin again?" At the time, I had only taught a few students in high school, and never thought that teaching would become a full-time job. I remember wondering how I would even find students without already having a reputation in the area? I couldn't imagine leaving my job as a leasing agent at an apartment complex, and giving up the rights to my 20% discount; actually, that wasn't so hard. Wow, have things changed since then!

Three years later, I was teaching 82 students, many of them on Skype and other online platforms. By 2012 (all from the comfort of my Mom's home), I went from a teaching nobody to one of the busiest in the area, generating an income of $75K/yr. just from teaching lessons. I was also getting additional money from gigs, selling music books, accessories, instruments and more. This is ultimately what led me to start my online store, which is what takes up the majority of my time now.
My first teaching area (2012)
So, how did I get into a position where so many people call me and book lessons? I'm not Joshua Bell, so it wasn't because I had name recognition. It was because I took advantage of the many resources the internet has to offer. Keep in mind, you have to be a decent (preferably good) teacher to keep the students, but it has to start somewhere, and that's by getting the students to find you.
The Internet is such a great place for people to find music teachers, and it isn't as difficult as you might think to get them to find you. If you're looking to find more students in your area, focusing on online marketing is the way to accelerate. For anyone interested in this path (which is how I found 95% of my students), here is a progression of the things you can do to give you the best chance of success. This progression is what ultimately led me to quit my job as an apartment leasing agent, and make teaching violin my career and my sole source of income. All the tips I have for you below are related to generating the emails and calls you need to start building your teaching studio.
1. Start an online page
- To get started, you want to establish an area where you can post information about yourself, to ultimately get students to contact you. This could be in the form of a website (Weebly or Web.com are examples of hosting), or even a Facebook page. Make sure that your contact information is easy to find so people can easily reach you.
2. Build a professional profile
- First impressions are everything in getting someone to call you and inquire about your services. Make sure you have a professional picture, preferably one of you with your instrument (smiling doesn't hurt). Write a professional bio, and keep in mind it is all about selling yourself. Even if you don't have your degree, you can still tell people about your passion for teaching, and that you would be a great fit to help them achieve their goals. Maybe you are great with kids or have the ability to connect with adult beginners. Aim for being professional with your writing, and be confident about anything that you say (no sob stories or concerns). Keep it under two paragraphs unless you really think there is more that brings value. Have someone review your profile to make sure it sounds professional, is easy to read, has no grammar errors, and is convincing enough for them to take the next step in contacting you for lessons.
3. Get out of "word-of-mouth mode"
- Even great credentials don't put you in the best situation to find students. You can try doing things such as hanging flyers on doors (I did this when I first started), or telling everyone to tell their friends about you. The problem is that these sorts of things really don't work for finding a lot of students. I learned pretty quickly that I had to try other options, and the ones that worked were ones that revolved around something Internet related. If it wasn't for the Internet (online marketing), I'm certain I would only have a few students right now and probably still be living with my parents (sorry if this is where some of you are at). So what kind of marketing strategies should you be doing when it comes to finding students? I'll try to highlight some of the important ones below.
4. SEO
- When I first started teaching, I was developing videos in my Mom's basement (for Violin Tutor Pro), and this led me to have interest in how to market DVD's. The most important concept that I stumbled across was "SEO", which is the abbreviation of the phrase "Search Engine Optimization." This is a fancy phrase for how Google ranks you on their search engine, based on many different factors. By really understanding how this works, you can start understanding how different things lead people to your website or landing page which is ultimately how you can develop situations to find new students. When I first started studying about SEO, I learned everything from SEOMoz, which is a great tool to learn about SEO. Take the time to learn about SEO—you won't regret it.
5. Google listings - Make sure you have your information updated properly on Google, Yahoo, and Bing listings. When you search for a service on a search engine and the provider assumes it is local, they will include those listings ranked first before any of the others. Try searching for a restaurant in your area on Google and you will see what I mean. This is a prime way to get exposure when someone is searching for "violin lessons" or any other service in your area. Make sure to always keep these listings updated.

6. Create a video - The best thing you can do to establish credibility online is by creating a video. You can do this on smart phones these days, and all it needs to be is you talking about your services. It can be as simple as your name, what instruments you are able to teach, your credentials and where you are going to be teaching. You can post this video on your website or landing page to attract even more attention. A good place to post videos is YouTube, and you can also record directly to YouTube from your webcam.

7. Post on free classified websites - The #1 website that I used when I was trying to build a local studio was Craigslist. Most likely, this is a website you are familiar with. I developed a lot of leads just by posting my information about my services and lessons there, and you can also post on other classified sites. Go to Google and type in "Top Classified Websites 2015," click on a link that brings up a nice list, and choose maybe 4-5 of the best ones to post on. I wouldn't recommend paying anything since you can find free ones that are effective.
Like I said earlier, these are only the first steps. Once they find you, you still need to convince them that you are the teacher they want! If you find you are not a good talker on the phone, I would suggest having someone else filter leads for you. This can be done in a way that is still professional, but puts you in the best light. That is a very important part of the process.
I hope this was helpful for you. If you have any questions, feel free to contact me through my
Violin Tutor Pro
website.
You might also like:
Comments (4) | Submit Comment | Archive Link
By
Claire Allen
March 26, 2015 19:19
Perpetual Motion is one of the most notorious pieces in Suzuki Book 1. Just say the name to any violin teacher or Suzuki parent and you'll get a heavy sigh. "Oh, THAT one." When I tell people that I have 8 students all at some stage of Perpetual Motion, I get condolences.
It's true, Perpetual Motion haunts my sleep. Out of sheer survival instinct, I've developed a variety of ways to both prepare students for Perpetual Motion so that when they actually learn it on the violin, we get through the piece in a matter of weeks.
1. Singing
The first thing students do is listen to Perpetual Motion and learn to sing it.
I always have my students write their own words to their Suzuki Book 1 songs. The rules are simple: one syllable per note, to keep the rhythm steady, and the words can be anything they want. This helps the student be expressive, connect to the rhythm and pitch pattern, and remember the order. If you assign different words to repetitive phrases, they'll be easy to remember.
Singing in solfege. I teach my students to sing solfege syllables on scales and other patterns from the first lesson. By the time they're at Perpetual Motion, singing their songs in solfege is a normal thing for them. Singing in solfege also helps them connect to the relationship between the pitches.
IF your student is reading all the notes in the A Major Scale by this point, you can also have them sing note names.

2. Scales and Finger Patterns
I make sure that my students can play an A Major one octave scale, the arpeggios, and the scale in broken thirds.
I also do a ton of finger patterns featuring broken thirds and fourth fingers.
We do the A Major Scale in two different bowings: martele in the upper half for the Perpetual Motion singles, and then detache doubles in the middle of the bow for the doubles. This prepares the bow strokes.
3. Basic Technique
If a student is struggling with basic elements of technique such as left hand position, holding the violin up, or bow hold, I correct these through review songs or supplemental repertoire before tackling Perpetual Motion.
4. Awareness of Musical Form
The large scale form of Perpetual Motion is A B C A (using 4-bar phrases). That can be broken down into a a' b b' c c a a' (using 2-bar phrases). I write this on the music for the student and sing through the piece with them so they can see where exactly each section is.
I always point out that the difference between a and a' is that a ends on the note E and a' ends on the note A. The same goes for b and b'.
Any awareness of patterns will help build the connection between the student and the piece.
Once you've prepared the student to sing the song in a variety of ways, trained their fingers to do all the patterns required in the piece, and trained the bow to do the different bow strokes, teaching them the actual piece goes much, much smoother. All these tactics work equally well with Etude and the G Major Scale, by the way!
I hope this helps students, parents, and teachers who are working on Perpetual Motion, and I'd love to hear any tips or tricks you have for teaching it!

You might also like: