Violin Blogs
Violinist.com members may keep personal journals on the website. Violinist.com's editor selects the best entries for the column below. Links to all other recent blog posts may be found in the column on the right.
Top Blogs
By
Laurie Niles
June 30, 2015 11:12
In an effort to promote the coverage of live violin performance, Violinist.com each week presents links to reviews of notable concerts and recitals around the world.
Gil Shaham performed the Barber with the Sydney Symphony Orchestra.
Sarah Chang performed Bruch's First Violin Concerto with the Brevard Music Center Orchestra.
Joo Yeong Sir performed the Tchaikovsky with the Hertfordshire Philharmonia.
Joanna Frankel performed Shostakovich's Violin Concerto No. 1 with the KZN Philharmonic Orchestra.
Satu Vanska performed the Bach with the Australian Chamber Orchestra.
In other news, noted film and television composer Danny Elfman is working on a violin concerto, which he hopes to have finished by spring.
Please support music in your community by attending a concert or recital whenever you can!
By
Heather Kurzbauer
June 30, 2015 01:08
Festivals of all sizes, shapes and orientations burst forth with special gusto in the summer season. From the well-established master-meets-artists-of-the-future formats embraced at Marlboro (Vermont, USA) and Kuhmo (Finland) to the glitterati dance of the big names at Verbier and Aspen, classical music aficionados can choose from an embarrassment of musical riches as temperatures soar. In the intimate chamber music sphere, festivals that bear the signature of famous musicians are trending. Janine Jansen's 5 day June fest in Utrecht (NL) boasts no less than 46 events including several musical marathons, a complete children's program and repertoire ranging from the early Baroque to the improvised. Visitors can even indulge in a musical Tour de Bike that offers performances throughout the city or enter a mobile concert hall dedicated to young talent.
The Dutch violinist Janine Jansen, a star on the international music scene in the enviable position to call the shots in terms of appearances and repertoire choices with leading orchestras, finds her grounding in chamber music. "In this, the very essence of musical communication with a small group, your deepest emotions come to life. Chamber music has been my guiding light since my first introduction to music as a child." Reverence for spontaneity and truth in music making and a love for her 'hometown' prompted Jansen to take make her dream public.
Photo by Ben Bonouvrier, used with permission
The quaint, canal-lined streets of Utrecht have provided Jansen with artistic sustenance since birth. Several family members were associated with the city's ancient Dom Cathedral where her father Jan served as organist for over two decades. The legendary violinist Philippe Hirshhorn and Boris Belkin exerted an indelible influence on the teenage Jansen at the Utrecht Conservatory. For the 12th consecutive year, Jansen gifts her heart and prodigious lust for music to her hometown community in a madcap five-day musical voyage.
Like most invitational festivals in which a top artist takes center stage, the line up of 'friends' is spectacular: Amihai Grosz (viola), Andreas Ottensamer (clarinet), Denis Kozhukhin (piano) violinists Alexander Sitkovetsky (violin) and Boris Brovtsyn are all well-known to discerning audiences worldwide. Yet, Jansen is not concerned with star-studded players lists or crowd-pleasing programming. "For me, music and friendship are intertwined by understanding and energy and of course the ability to learn pieces like the Penderecki Sextet in no time and be able to laugh. That we enjoy each others' company is part of our music making!" Unknown repertoire and a plethora of undiscovered performers are cornerstones of Jansen's Festival. And, her programming calls for great ingenuity on the part of her distinguished counterparts. To witness how artists of this caliber connect their energy from classical repertoire to improvised music sets this festival apart from others.
In an evening devoted to the essence of Hungarian music, an 8 pm program of challenging chamber music compositions, Brahms Clarinet Quintet and Bartok's early masterpiece, Piano Quintet Sz. 23 was followed by hours of Hungarian gems in which The King of cimbalom performers, Oszkár Ökrös joined Jansen and co., in a tear-jerking, foot-stomping romp through Hungarian dance forms. Berlin Philharmonic cellist Stephen Koncz provided intriguing arrangements in which The King in his breathtaking virtuosity and Ottensamer as folk music clarinetist nonpareil vied with Jansen, Sitkovetsky and Brovstyn to interpret a dizzying array of tempo variations and mood swings.
Gertrude Stein quipped, 'there is no there, there' referring to a soulless place without a sense of cultural identity. Jansen's Utrecht is more than THERE during a festival that is as much of a celebration of life as it is a celebration of an artist and her musical choices.
* * *
From 2014: Rachmaninoff's "Trio élégiaque in d klein" and Tchaikovsky's "Souvenir de Florence" - Janine Jansen with a star-studded line-up: Vilde Frang, Lawrence Power, Julian Rachlin, Nicolas Altstaedt, Jens Peter Maintz, Torleif Thedéen, and Alexander Gavrylyuk.
You might also like:
By
Laurie Niles
June 29, 2015 22:19
Jason DePue (left) with his brother, Zach, a while ago!
I received an e-mail Monday from violinist, violist and mandolinist Jason DePue, who is a member of the first violin section of The Philadelphia Orchestra and also brother to Zachary, Alex and Wallace DePue, all wildly accomplished musicians themselves in their own rights, who occasionally play bluegrass ("grassical"?) music together. (You may know Zach also from Time for Three).
After spending some time perusing Violinist.com, Jason was inspired to share his Top 10 list of what he considers to be the most difficult pieces for violin. Here is what he had to say:
"Personally, after 30+ years of playing and performing on violin, here is my top ten list (in no particular order), of the most difficult works that involve violin, at least from my view:
1) Suzuki Book 1 (ie mastering the basic concepts)
2) Bach Sonatas and Partitas
3) Mozart Concerti
4) Brahms, Beethoven and Mendelssohn Concerti
5) Paganini Caprices
6) Vitali Chaconne
7) Bartok 6 String Quartets
8) Bartok Solo Violin Sonata
9) Ysaye Solo Sonatas
10) Chausson Poeme
The only works I have yet to perform from this list include: Mozart 1, and 2 Concerti, Beethoven Concerto, Ysaye 1, 2, and 5, and Bartok quartets 1, 3, 4, 5, and 6.
Regarding the Suzuki Book inclusion, some people may criticize the fact that one would have this on a top ten list. I include it on my top ten list because I DO feel that if one masters the basic concepts in Suzuki Book 1, it can be applied (and IS applied, whether professionals admit it or not), to the most difficult works in the literature."
What would be on your list?

* * *
Below, Jason DePue plays the 24 Paganini Caprices (May 2009):
You might also like:
Comments (3) | Submit Comment | Archive Link
By
Kate Little
June 27, 2015 20:27
My violin came from my husband, who got it from his mother, Marty, who got it from her Uncle Al, a "wheeler-dealer" (as Marty describes him) in the Jewish immigrant community of 1930's Detroit. The violin's interior label says "Antonius Stradivarius" and "Made in Germany." Between Marty's childhood acquisition and the beginning of my studies, 3 years ago, the violin was used very little. Despite this, the fingerboard needed planing to smooth out divots caused by excessive playing. With these clues, and a few historical facts, the following (probable) early history of my violin might be deduced.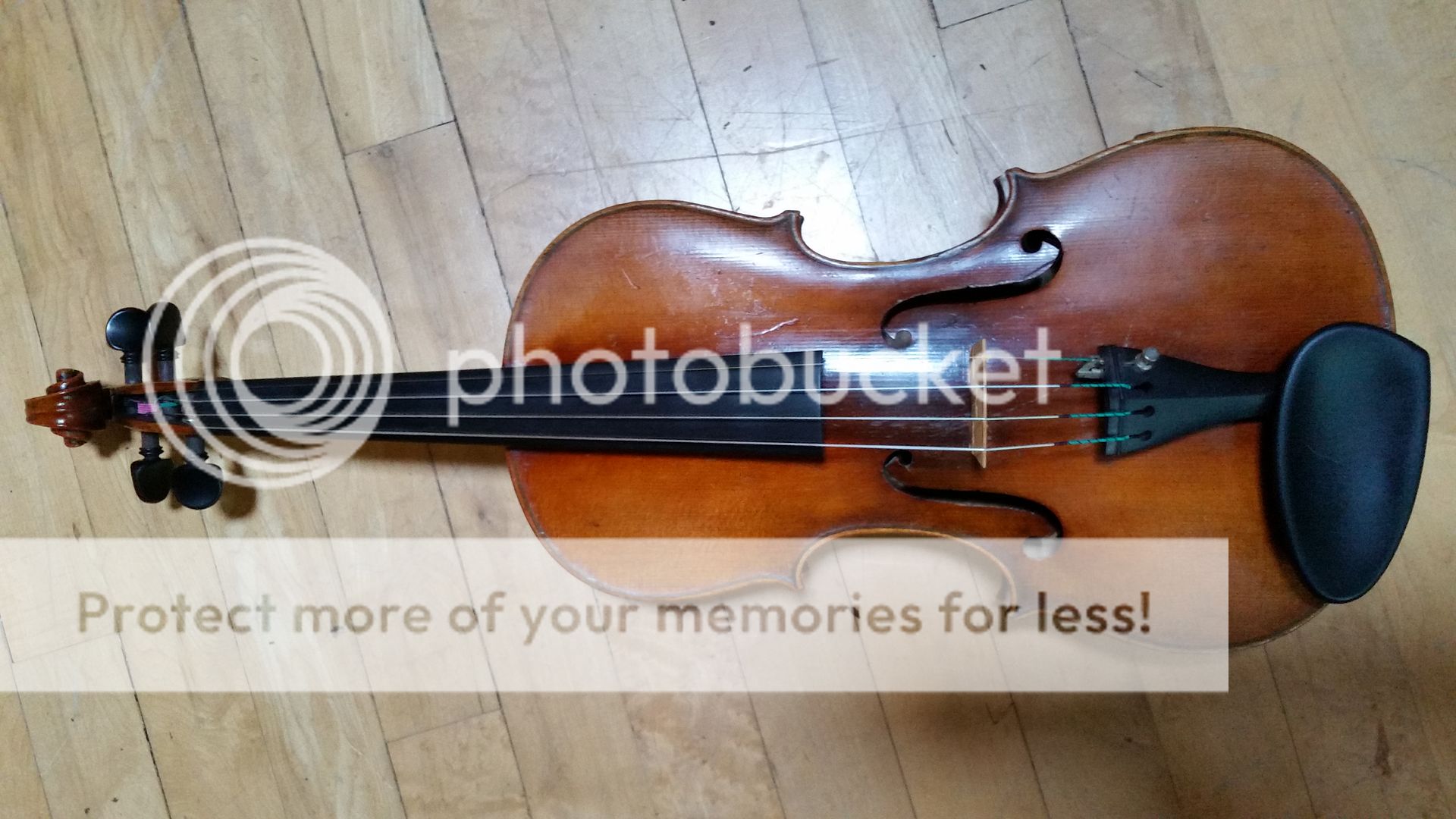 Before iTunes, before iPods, before CDs, before LPs, before wax cylinders, if you wanted music, you made it yourself, or you found a friend to make it for you. Either you sang, or you played an instrument. Piano and violin were popular. Amazon.com and FedEx did not exist back then. But the incomparable Sears-Roebuck catalog and the Wells-Fargo wagon did! In the late 1800's and the early 1900's they delivered hundreds of thousands of violins to locales large and small all over the United States. These Sears-Roebuck violins originated in individual workshops (a cottage industry), primarily in western Bohemia (modern Czech Republic), to be finished in and exported from Markneukirchen (region of Saxony, Germany). The story of the origin and trade of these violins created for mass export to the United States a century ago is wonderfully told by Richard Ward in his article "German-Factory Fiddles: The Mystery of Origin." A new book by violin dealer Bruce Babbitt, titled "Markneukirchen Violins and Bows from Saxon and Bohemian Musikwinkel Late 19th and early 20th Century," provides further well-researched text "on the growth and history of the region's once-bustling violin-making trade," according to a review.
The Sears-Roebuck Catalog #124 (1912) includes 6 pages (Nos. 685-690) of violin outfits (prices ranging from $2.95 to $34.00, including "free of charge a course of 50 lessons with the best Correspondence School of Music in America"), bows and supplies. Of the 18 violins for sale, at least 10 claim to be modeled after or use the pattern of Stradivarius. One of these, a "BERT GOETZ TRUE COPY VIOLIN AND OUTFIT A RARE AND EXCEPTIONAL VALUE," priced at $24.95, caught my eye with this description: "MODEL – Perfect copy of STRADIVARIOUS . . . FINISH – A rich reddish amber, except where age is supposed to have left its marks where the natural yellowish color of the wood stained by time shows through . . . TONE – The kind you'll admire, pure, even, loud enough for orchestra work and yet sweet and delicate for solo or parlor use." Looks and sounds like my violin to me!
The 1891 McKinley Tariff Act required items imported into the United States to be labeled with the country of origin. In 1914 the act was amended to require the words "Made in." The label in my violin clearly says "Made in Germany," so it probably was sold out of a later catalog than the 1912, but the marketing hyperbole of the day was undoubtedly unchanged.
Who was enamored by the catalog description and made the original purchase? Probably someone in the Detroit area, and given Uncle Al's connections, probably a European-Jewish emigrant, but there is no way to know for sure. My violin did quickly make its way into the hands of someone who played it a lot – as evidenced by the divots in the fingerboard in 2015. Maybe it was a student, maybe it was a professional. Who knows? I like to imagine my violin as a member of a depression-era klezmer band, playing joy in hard times.
Martha (Marty) Papo was born on a small family farm outside of Detroit in 1933. The family provided much of its own food, and Martha's job was to kill and pluck the Sunday chicken. An industrious child, she invented and built a guillotine for the task. Martha had 2 cousins who played the violin. They lived in the city and performed on the school stage in white dresses with matching bows in their hair. They attended a wonderful summer camp "on a lake called Interlochen." This was all much more appealing than Sunday chicken, and Martha begged for a violin. Uncle Al, the "wheeler-dealer," was able to procure one at a cost Martha's family could manage. Possibly the previous owner had passed away and the heirs needed money. The Depression era was recent. Martha enrolled in private lessons at the local convent, and, once a week, rode her bicycle 5 miles to her lesson, violin balanced on the handle-bars, and 5 miles home again. She was then 11 years old.
After a year, Martha gave up.
But she did keep her beloved violin.
Eventually, college and a scholarship beckoned. While away at school, Martha's mother loaned the violin to a friend's daughter. Eventually it was returned and sat lonely in a closet until the then-married Martha discovered it at her mother's passing. The scroll was cracked in two, the bow missing, the strings snapped; and so it sat in a closet in Martha's home while her children grew up. Her middle son, after college, moved to New Jersey, discovered contra dancing, and, in a moment of inspiration, asked for "that fiddle that's been sitting in your closet all these years," that he might learn to play. The violin was refurbished by a Philadelphia luthier, but it was still a difficult instrument to learn, so it was stored again in the back of a closet in his home, as he married and his children grew. This is how the violin came to be 100-years-old, and began a new life of music.
Comments (4) | Submit Comment | Archive Link
By
Barton Samuel Rotberg
June 27, 2015 07:43
I am forever intrigued by the age-old (or should we say antiqued) argument about old instruments verses modern, and for that matter, Italian verses non-Italian. Have you ever watched two people have an argument, and been able to see that both sides are right and both are wrong, and both sides too stubborn to acknowledge merit in one another's case? While I love the passion us violinists have for violins and the exuberance with which we share our experiences with different violins, it is maddening to me when such passion causes us to feel that others who have had different experiences are wrong, particularly when we can see that they are just as excited about what they are sharing as we are. I have decided to share my own perspective on this exhilarating subject, and am hoping violinists will be encouraged to share their own experiences here so that we can learn from one another and be blessed by the endless possibilities of old and new violins.
I played on a fine example of a Eunenio Degani, Venicia 1879 for ten years, and currently play a violin by Joseph Curtin (a world renowned, prolific maker living in Ann Arbor, Michigan). I have performed on a Carlo Giuseppe Testore, and been handed here and there many violins by Stradivarius and Guarnieri, several Amatis, multiple examples of nearly every member of the Gagliano family, a fabulous Prisoned an extraordinary Storioni, and many many others. I have also been a modern violin enthusiast for years and have picked up countless instruments by 20th century and current makers. I don't know if there is ever a right or wrong answer to the question of whether old or new is better. But there is one thing I can promise. If you gather the countless characteristics I have liked in violins I've seen over the course of two decades (hundreds of them, I'm sure), I guarantee you will not find every one of those traits in one solitary violin. That truth alone should be sobering and disarming. Violins in general have far too many points of consideration to be compared in simple terms.
Old instrument lovers: I love them too! When you pick up a piece of history, admire craftsmanship exemplifying an era, school, personal style, etc. of an old maker, it is an experience in itself to hold it and look at every detail. In many cases, such a violin will have as unique and one-of-a-kind voice as a human being, and often that voice is enchanting. You cannot find that exact tone in any other violin, and you'd like to here it again, and again, and again! We violin lovers know one another's passion for old gems and the romantic feelings we have toward them. We can sit around and bond for hours, describing the buzz we experience from them.
That said, would you tell me I am wrong when I express my enthusiasm for new violins, their own uniqueness, the incredible variety of options, their practical healthy condition, their level of quality at more affordable prices, their exceptional beauty and craftsmanship, and the possibilities they do in fact have in regards to tonal range? I didn't say they are as good as old violins, nor did I say that they are not! I am not sure how many violins there are on this planet, but I am sure I cannot compare any of them unless you give me two specific violins to have for a few weeks each. Once I have had time to perform with them, and hear them in some familiar concert halls, I will give you a long, very long, list of characteristics, strengths and weaknesses, and trade-offs for each. Even after I do that, knowing a violin for a few weeks is like knowing a person for a few weeks. Since it is that complex an ordeal to compare two instruments, how can we make any generalizations at all? We have not even talked about the difference an individual violinist makes with a violin, and it has already become complicated.
Modern violin advocates: I play on a violin that was finished in December. (Today's date is June 20th, 2015). For my career of performing (which includes solo, chamber music, and orchestra), this violin is my choice. Master Luthier Curtin made crafted a violin with specifications according to my requests, and crafted something stunning and more suited to my needs than most anything I might find in a reasonably long violin search. I am thrilled with it! There is a seemingly endless list of needs us performers need from our violins, and we must choose for ourselves the violins that feature what we most prioritize individually. For many of us, a modern violin might prove to be the best solution. However, if I pick up a great old Italian violin and say that there is some type of magic, life, vibrancy, and sweetness in its personality which I find reminiscent of many great old instruments I've seen, why do you begin calling me names, like brainwashed, naïve, foolish, or inexperienced? I have no bets riding on any theories, stereotypes or folklore about them. I am extremely sensitive to touch and sound and am telling you what I feel and hear, and enjoy or don't enjoy.
Do Modern Violins Project Better Than Old Ones?
Anybody who has worked his/her way through 20 or 30 violins of mixed eras while shopping for an instrument might get the impression that modern violins seem to make more of a "growl" under the ear, and conclude that they are simply louder. While this conclusion can seem reasonable, there is more to truth in acoustics than what we perceive from 30 seconds with a violin under our ear. I have tried violins that seem thin and challenged compared to what I am used to playing on, and have been utterly shocked to hear those same violins fill a large concert hall when played by another. Is it the person? The approach to bow technique? Or, is it a particular quality, frequency, or an unperceivable element of that violin's resonance that makes the sound carry to the back of the hall? Maybe all of those things apply, or any combination of them.
I've also tried violins that sound explosive, brassy, piercing, brash, etc. which made me predict they will sound huge in a concert hall. It wasn't always so! I was frequently shocked to back up 100 feet while a colleague ripped right in, and everything I believed proved false. I once was helping a friend shop for a high end violin. At one point during this incredible search, we were looking at a beautiful violin by Tomaso Carcassi. We found that it had a bright, singing, ringing sound, and we could not wait to hear it in a concert hall. Never had I had such a bubble burst as the moment my friend, a fantastic violinist, leaned into this fiddle on the stage. From a mere 10 rows back or so, the sound became tinny, wiry, thin, empty, squeezed, super challenged, and worst of all, ugly!
In another case, a different colleague handed me her violin, one by a living maker, to impress upon me how enormous a sound it had. I played on it some and found that it did indeed sound nice and open under the ear. I didn't have the heart to tell her later when I heard her perform on it in a familiar hall. The tone that seemed round, rich, deep and full became tubby, nasal, boxy, winy, and lacking any real "human" qualities, in my opinion anyway!
There are also different types of acoustical properties that make a violin project, and violins project in different ways. Peabody Conservatory Professor Keng-Yuen Tseng, silver medalist of the Queen Elizabeth Competition and protégé of the great Erick Friedman, explained to me that a Guarnieri del Gesu will often sound powerful in a concert hall, and that the sound will seem like an explosion taking place where the violinist stands, while a Stradivarious shines throughout the hall, carrying in all directions and sounds as though the tone is coming from all around. Different frequencies, different qualities, and different ways of projecting.
Suffice to say that whatever makes violins project in a concert hall belongs to a different set of acoustic properties than whatever makes us perceive volume under our ears. This is not cutting edge discussion at all. Many of today's modern makers, including Joseph Curtin, can measure the various frequencies on all registers of the violin and tell you the way in which they will or won't project. Science is way ahead of us violinists when it comes to certain aspects of acoustics. I don't think science will ever equal human intuition with other aspects, unless of course a machine can perceive a crying voice or have any intuition at all in terms of an instrument's sweetness.
The Louder, the Better
This statement is common, and is articulated with some merit. Have you ever taken a typical 18th century Mittenwald violin, the kind with a dark golden brown varnish, high arched belly, and dark, creamy, mellow sound, and tried to carry off Brahms Violin Concerto with orchestra? Or, have you ever tried playing chamber music with such a violin? Good luck! That fiddle that charmed the pants off you won't be heard very well in a large concert hall, and you will work so hard to be heard that you risk compromising your playing. You do need a violin that supports you.
I think we can agree that a violin needs enough projection. Does this mean that every violin needs to be the loudest a violin can be? Are there other qualities for which we are willing to have some give and take? My friend Dr. Julian Ross, Professor of Violin at Baldwin Wallace University Conservatory of Music, often reminds violinists which instrument we are playing. The violin!! We want certain qualities from it. We did not choose the trumpet or even the piano. Dr. Ross knows we need projection, but feels that when we push the agenda of loudness beyond what is natural for a high quality instrument, it is not different from simply putting a microphone pick-up on the violin. "Why don't we do that if we need volume?" he always asks challengingly. "Because it wouldn't sound like that violin anymore. Is that worth it just to make it loud?" I will add, why don't all of us classical violinists just play an electric violin and turn the volume way up? We don't, because we know that the quality of the sound matters.
The beautiful Qualities Under Our Ear Don't get Heard in the Hall
Yes they do. I believe they do! One colleague of mine was trying out a violin by Carlo Tononi. He had owned a fine contemporary violin for more than 6 years. When he gave a recital on the Tononi, which turned out not to have enough projection to satisfy him, his colleagues in the audience commented that they heard expressive qualities they'd not heard from his playing before (though they knew nothing about the violin switch). They called the sound sweet, colorful, and filled with flavors. His ten-year-old daughter said the violin sounded like a garden of many colors. Most of us felt that the projection was just as adequate as the powerful modern instrument he had been using, but seemed "loud" in a different way.
In addition to the projection of tone quality, we also play better when we are inspired by the sound under our ear. If I played the violin and the sound was shrill and abrasive, or nasal and muted, I would not be able to craft my performances with the violinistic attributes that violin music needs. Therefore I would not be able to prepare music and perform it well. We need inspiration to do the art that is music. Also, if I cannot make a beautiful tone with the violin, it certainly is not going to sound beautiful when it reaches my audience. Sound does matter, and the person choosing the violin is ultimately the one who must see and love the beauty in the violin he or she chooses. I will round off this initial piece by saying that I have heard violinists sound gorgeous on violins they loved a whole lot more than I did. Those violins I didn't like ere beautiful to them, and the uniqueness was realized in the beautiful sound born in their hands. It sounds great! That's good enough for me!"
Comments (5) | Submit Comment | Archive Link
By
The Weekend Vote
June 26, 2015 09:45
Attitudes are evolving, when it comes to modern vs. old violins, and this week's article by Barton Samuel Rotberg gives us more food for thought. How important is it that a violin be loud; is volume more important than quality? And so what if the sound "under our ears" is not quite the same as what the audience hears -- it's still a very important element that matters a great deal.
And of course, all violins are different, and we each have our own experiences with the quality of instruments that we come across. What is your current thinking on this issue? Do you prefer old violins (100 years or older) or moderns? Or can you honestly say that you feel equally about the two? And tell us why, and if your mind has changed about the issue.
You might also like:
Comments (7) | Submit Comment | Archive Link
By
Nathan Cole
June 25, 2015 21:52
There's a problem that strikes fear into the heart of every violinist, no matter how accomplished, and that's "the shakes", or bow tremors. They happen when we're nervous; caffeinated; playing an unfamiliar bow; playing a soft note; or just any time they feel like showing up! And the unfortunate thing is that once they start, they tend to hang around. They eat away at confidence, which makes them more likely to show up the next time... it's one of those cycles we try to avoid.
So take heart! I have a "safety move" that stops the shakes in their tracks. And I've just posted a video that shows you exactly how to do it. Once you have this move "in your back pocket", as I like to say, the shakes won't bother you as much because you'll know how to get rid of them. And once you're not concerned with the shakes, they tend not to show up as often. Now that's a cycle I like to perpetuate!
If you've watched my video on soft starts and smooth bow changes at the frog, you'll know that tension, or muscle contraction, isn't always a bad thing where smoothness is concerned! Don't believe me? Put your index finger up to your screen, and see if it shakes even a little bit. Now brace it against your other hand; really push against the hand. Now see how it's rock-steady? That's what you're after here. Only my safety move for bow shakes uses rotational force rather than linear. Just watch the video, and you'll see exactly what I mean!
This entry originally appeared at natesviolin.com.
You might also like:
Comments (1) | Submit Comment | Archive Link
By
Laurie Niles
June 25, 2015 21:37
Ah, the Tchaikovsky Violin Concerto. "It is pretty much the yardstick by which we measure good violin playing," said violinist James Stern at a lecture called "Interpreting Tchaikovsky's Violin Concerto" at the Starling-DeLay Symposium on Violin Studies at The Juilliard School last month.
Stern has taught the concerto to many students, and he's found some consistency in the places where we all tend to blunder in this monster piece. Students may listen to master recordings of the work, but they don't always copy what they hear. That said, many ranking performers miss things that are in the score, so listening is not enough.
Learning by watching the greats is a little like trying to learn magic by simply watching David Copperfield, Stern said: "That's not going to work, because so much is hidden." The same is true in music. For example, the listener can't know what the performer is feeling physically -- Heifetz, for example, appears in videos to be fairly still when he was playing, but in all likelihood he was having a vivid physical experience. Watching a great artist also does not reveal his or her mental process, musical and interpretive ideas, and how they relate their part to the orchestra part.
The Tchaikovsky concerto has a rather unusual introduction, and how you think about it -- if you think about it -- greatly affects how you play it.
"It's unique," Stern said. Definitely not a double exposition, "we hear a theme that we're never going to hear again, and the introduction is weirdly disconnected from the rest of the piece." That said, the orchestral introduction does present an important musical element: the idea of syncopation, and "syncopation is going to be extremely important in this piece," Stern said. In the three measures before the soloist's entrance, the syncopations double in speed.
The violin enters with a short cadenza, and "we have a big transition to make in this cadenza...or not..." he said. Is that cadenza part of the orchestral introduction before it, or something altogether new? Some soloists really don't connect the two; they wait for the orchestra to stop, pause, and then they enter. Stern argued, though, that the first two notes of the solo part actually complete the introduction:
The metronome marking for the orchestra introduction is quarter=126, and after the soloist's cadenza, the soloist winds up at quarter=80 -- considerably slower, and much more like a love song than the stormy music that preceded it. There are a number of ways to look at the soloist's role here, and Stern offered some metaphors: For example, the orchestra may be playing the role of a crowd at a noisy meeting, where the conversation has turned to argument and chaos; then the soloist speaks as the one person in the room with a wise word, bringing back order to the discourse. Or a different scenario: the orchestra is the wild stallion charging, and the soloist grabs hold of it, slows it down and starts calming it.
Stern talked about the concept of "mapping," or comparing things so that their parts match up. In songs, we map the music to words and their syllables and stresses. For example, in the tune "Oh Susanna": "It rained all night the day I left, the weather it was dry..." Nonsensical as the words may be, they map well to their music, both in terms of syllables and emphasis. An example of poor mapping might be in "Jingle Bells," where pretty much everything is off: "Oh what fun, it IS to ride, in a one-horse open sleigh..." A person speaking this would probably say, "Oh what FUN it is, to ride in a one-horse open sleigh..."
A pitch gets its meaning from what its mapped onto, and the mapping can make a huge difference in the meaning. In music, this can be related to physical pacing and balance:
When we play with freedom, or "rubato," this is still connected to our sense of balance. The opening cadenza, though it can be free, should also make sense. When a student can't do a convincing ritard, "balance has a lot to do with that," Stern said. "They can do it in a poetic way, if they can think of it in terms of physical balance." Conversely, here are some typical distortions that violinists often play in the opening of the Tchaikovsky:
And at the very end of the cadenza, one has to keep that feeling of suspended syncopation, even with the fermata.
The soloist acts very much like a conductor; "every time you want something special to happen, you have to show it in advance," preparing at least one beat in advance, otherwise "the whole thing sounds like mudslide." And in some cases, you don't need to rush forward because Tchaikovsky has written the acceleration into the music, as in with m. 32-35. "How are we going to articulate this jeté motion in m 35?" Stern said. "There are some people, like me, who are too eager to have the bow do ballet and lose control."
A device Tchaikovsky uses often is the "dominant prolongation," in which uses all kinds of musical acrobatics to delay the satisfying resolution to the tonic. One example that lasts only a few measures is m. 37-40, where Tchaikovsky's use of syncopation creates a kind of acceleration that might be easy to miss when just looking at the page:
Sometimes the dominant prolongations -- that sense of delayed gratification -- last a very long time, many pages! In this case it goes from around m. 47 all the way until after the big cadenza:
It's important to know that sometimes the syncopated notes are the important notes, and not to swallow them up. This applies to m. 54-57:
Stern talked about many other things, among them something that came up as various people performed the Tchaikovsky over the week: should one slow down at the poco più lento (m. 114, Oistrakh version), when sextuplets become double-stop sextuplets.
Of course, there is no one answer. Did, perhaps, Iosif Kotek, when consulting with Tchaikovsky about the concerto, suggest that part should be slowed because it was difficult? We know that the concerto's dedicatee, Leopold Auer, wanted the double stops removed. Dorothy DeLay had everyone do it a bit slower. Yet these days, violinists do not need to slow it down to make it playable, they can play it up to tempo, so maybe they should. In the end, it's up to the performer.
In conclusion, Stern advised violinists to think about the dramatic potential of this concerto, to find balance in its rhythmic complexity. As the soloist, "you are the one leading the many, not the other way around," Stern said. You are the one to tame the wild stallion, and to give room for the orchestra to fit into your sound.
* * *
You may also like:
By
Laurie Niles
June 25, 2015 13:31
Six finalists were named today in the 2015 International Tchaikovsky Competition in Moscow:
Alexandra Conunova
Clara-Jumi Kang
Haik Kazazyan
Bomsori Kim
Pavel Milyukov
Yu-Chien "Benny" Tseng
Congratulations to all! The final round (Round 3) takes place June 28-30.
Catch up on archived performances and/or watch the live feed at this link.
Jury members are: Salvatore Accardo, Liana Isakadze, Vadim Repin, Boris Kuschir, Ilya Kaler, Maxim Fedotov, Vera Tsu Wei Ling, Mihaela Martin, Victor Tretyakov, Michael Haefliger, James Ehnes.
Comments (2) | Submit Comment | Archive Link
By
Sal Peralta
June 25, 2015 11:30
As an adult beginner who started playing violin with only elementary musical training, one of the biggest challenges I have faced is learning how to play in tune. At various stages of my journey I have used finger tapes and watching a tuner as I play, but I have come to recognize that I will only consistently play in tune when my ear recognizes the correct pitch. For me, this is best accomplished through repetition.
Enter the Purely Violin scales and arpeggio trainer by Music Future Ltd. This app started out as a desktop application for Mac and Windows but reaches its fullest potential on portable devices such as iPad and Android tablets.
The free iOS version comes with 8 basic arpeggios that give you enough of an experience to decide whether or not to shell out $13.99 for the full version. They also offer a $2.99 monthly rental.
The software comes with 70 scale and arpeggio lessons in various positions and degrees of difficulty and the ability to construct your own lessons from individual scales and arpeggios. I bought the full version immediately after trying the first lesson and have used it to practice scales for a few hours in the past few days.
Note that the visual display shows the note values, sheet music and fingering for this first position exercise. All of these reinforce important elements of training -- auditory, visual, tactile and memory.
In addition to the lessons provided, you can also create your own combinations from the individual scales and arpeggios. I was able to construct a C-major and A-minor lesson plan of 2 scales and 2 arpeggios in a few minutes and then looped through it several times for 30 minutes of practice with a mute.
Having instant visual and auditory feedback and forced repetition of eighth, quarter and half note scales and arpeggios made a clear and immediate improvement to my timing and intonation. It is easy to see that months of this would be a good supplement to instruction with a teacher for faster gains in terms of sight reading and intonation.
There are some features that could be improved upon or added. The individual scales and arpeggios could be individually numbered to make it easier to distinguish them. The process for simply selecting a single scale or arpeggio for practice could be a little easier. And the interface for selecting individual lessons, which is basically a big tree, would be better if it were a collapsible list.
Those very minor concerns aside, I can strongly recommend this product for facilitating violin training for the beginning or advancing student. It is pretty much exactly what I was looking for in this kind of software.
The desktop product is available at purelyviolin.com and Amazon. The iPhone and Droid versions are available at the app store and google play.
Violinists who like the scales and arpeggio software might want to also try the Purely Fiddle software for learning Irish folks songs.
(An earlier version of the story said that the software would be improved if they had accompanying sheet music that could be printed. A representative of the company sent me this link to pdf's of the sheet music that are available for free download on their web site)
Author's Note: I do not have any connection to the companies selling the products I review.