Violin Blogs
Violinist.com members may keep personal journals on the website. Violinist.com's editor selects the best entries for the column below. Links to all other recent blog posts may be found in the column on the right.
Top Blogs
By
Robert Niles
December 10, 2013 12:00
Each week, Violinist.com brings you links to reviews of professional violin performances from around the world. Please share your thoughts about this week's concerts (and reviews), in the comments.
Isabelle Faust performed the Britten with the City of Birmingham Symphony Orchestra
Augustin Hadelich performed in recital at the Frick Collection in New York, with pianist Charles Owen
James Ehnes performed the Shostakovich with the Chicago Symphony Orchestra
Anne Akiko Meyers performed the Bates with the Detroit Symphony Orchestra
Steven Copes performed Bach's Second Violin Concerto with the St. Paul Chamber Orchestra
Christian Tetzlaff performed the Mendelssohn with the Melbourne Symphony Orchestra
Vasko Vassilev performed the Tchaikovsky with the Brighton Philharmonic Orchestra
Nurit Bar-Josef performed Mozart's Violin Concerto No. 4 with the National Symphony Orchestra
Mayuko Kamio performed the Tchaikovsky with Symphony Silicon Valley
Comments (4) | Submit Comment | Archive Link
By
Laurie Niles
December 9, 2013 17:52
Gift-giving is one of the great joys of the holiday season, and each year we compile a list of some of the year's best new offerings from violinists for you to consider in your holiday gift-giving, gift-asking — and post-holiday loading of the Kindle, iPod or other device! We hope this allows you to consider a music-related gift.
We would also suggest considering supporting your local live music scene by purchasing tickets to local music events or simply making a year-end donation to a musical non-profit of your choice. I've tried to be inclusive, but I'm sure I have missed some ideas, so please feel free add your suggestions in the comments section. And yes, in this case, you are allowed to toot your own horn and recommend your own CD or book or product! You may also wish to refer to our gift-giving guides from previous years; I've listed links to those at the end of this blog.
Many of the recordings below are linked to Amazon.com. Note that if you follow these links and make a purchase from Amazon, a portion of that will go to support Violinist.com. And whenever you buy any of these selections, from any source, you'll be helping to support the musicians and other artists who created them.
Happy holidays, and may your season be filled with good music!
Mendelssohn & Schumann: Violin Concertos; Beethoven Romances
Rachel Barton Pine
Robert Schumann's Violin Concerto, neglected for so long, seems to be gaining popularity these days. If you have never heard it, this recording is a great place to start, paired with the Mendelssohn Violin Concerto.
A Violin's Life: Music for The 'Lipinski' Stradivari
Frank Almond
This is Frank Almond's homage to the beautiful instrument he plays, the 'Lipinski" Stradivari. It includes music that might have been played on the fiddle by its past owners, such as Tartini's Devil's Trill Sonata, Julius Rontgen's Violin Sonata, Karol Lipinski's Caprice Op. 29 No. 3, and Schumann's Violin Sonata No. 2.
Brahms Violin Concerto; Clara Schumann Three Romances for Violin
Lisa Batiashvili
It's one of the most intriguing relationships in classical music, between Johannes Brahms and Clara Schumann, and Lisa Batiashvili performs music of both composers. Clara Schumann's works rarely are played or recorded, so here's also a chance to explore some works by a female composer of the Romantic era.
Dvorak Cypresses for String Quartet / String Quartet No. 13 & Op. 106
Cypress String Quartet
The 'Cypresses' are a set of 12 love songs scored for string quartet, and the work after which the Cypress String Quartet is named.
Musical Gifts from Joshua Bell and Friends
Joshua Bell
It's Joshua Bell's holiday album, featuring familiar holiday music -- classical, sacred and secular. Its wide range reflects Joshua's mixed background -- his late father was a former Episcopal priest and his mother is Jewish. He collaborates with artists of many genres, including Alison Krauss, Chick Corea, Branford Marsalis, Renee Fleming and classical comedy duo Igudesman-Joo, to name a few.
hello Kaleidescope
Dúo del Sol
For something a little non-classical and experimental, with a Latin flavor, featuring Los Angeles-based violinist Javier Orman.
Saint-Saëns: La Muse et le Poète
Renaud Capuçon and cellist Gautier Capuçon
French music, played with refinement and authenticity -- that's this album. French violinist Renaud Capuçon performs Saint-Saëns' Violin Concerto No. 3; his brother Gautier performs Saint-Saëns Cello Concerto No 1; and the brothers join forces to perform La Muse et le Poète.
Haydn
Handel and Haydn Society Orchestra
Concertmaster Aisslinn Nosky performs Haydn's Violin Concerto in G minor, with the Handel and Haydn Society Orchestra, a period-instrument group conducted by Harry Christophers. Founded in 1815, the Handel and Haydn Society is America's oldest continuously performing arts organizations, and they do a fine job of, in their words, "blowing the cobwebs off" off this work, as well as Haydn's Symphonies No. 6 Le matin and No. 82 L'ours.
Histoire Du Tango
Augustin Hadelich with guitarist Pablo Sainz Villegas
This recording explores the quiet combination of violin and guitar, with performances of versions of Sarasate's Zigeunerweisen; Paganini's Moses Variations; Piazzolla's Histoire du Tango; and Manuel de Fallas' Canciones Populares Espanolas.
Bella Unaccompanied
Bella Hristova
An excellent live performance of all works for solo violin: The Red Violin Caprices (five of them) by John Corigliano; "Arches" by Kevin Puts; three of Astor Piazzolla's Tango Etudes; Milstein's "Paganiniana Variations"; and Bach's D minor Partita.
Judy Kang
Judy Kang
The classically-trained violinist Judy Kang, who also toured for several years as "Lady Gaga's violinist," has released an album of her own highly creative works of pop and electronica.
In 27 Pieces: the Hilary Hahn Encores
Hilary Hahn
If you want to see what contemporary composers are writing these days, this recording provides a sort of tasting menu for both listeners and musicians, with 27 new, short-length pieces for violin, all by living composers. These "Encore" pieces are the result of the major commissioning project that Hilary put in motion in 2011. She performs them all with pianist Cory Smythe.
Brahms Sonatas
Sergey Khachatryan and pianist Lusine Khachatryan
This brother-and-sister team recorded all the Brahms Sonatas in London's Wigmore Hall.
Bach Concertos
Janine Jansen
Dutch violinist Janine Jansen takes her love for chamber music and collaboration and made a recording of both Bach's most famous violin concertos (the A minor and E major), as well as the Violin and Oboe Concerto in C minor and Sonatas for Harpsichord and Violin, No. 3 and 4.
Signs, Games and Messages
Jennifer Koh and pianist Shai Wosner
This recording of works by Leos Janacek, Bela Bartok and Gyorgy Kurtag explores the musical language that resulted from the pull between modernism and folk music.
Out of Nowhere
Leila Josefowicz and Esa-Pekka Salonen
This recording of Esa-Pekka Salonen's Violin Concerto was just nominated for a Grammy.
Lark Ascending
Tasmin Little
British violinist Tasmin Little's new recording has been moving up the classical charts in the U.K.; it includes her performances of Ernest John Moeran's Violin Concerto; Gustav Holst's A Song of the Night; premiere recordings of three works by Edward Elgar and arranged by Roger Turner for violin: Chanson de matin, Chanson de nuit and Salut d'amour; and of course, Ralph Vaughan Williams' The Lark Ascending.
Brahms Violin Concerto
Leonidas Kavakos
A tasteful and beautifully-executed performance the Brahms with Riccardo Chailly and the Gewanhaus Orchestra. Also includes Bartok Rhapsodies and Brahms Hungarian Dances with pianist Peter Nagy.
Hindemith: Violinkonzert, Symphonic Metamorphosis, Konzertmusik
Midori
For the fiftieth-year anniversary of Paul Hindemith's death, Midori recorded Hindemith's Violin Concerto, with Christoph Eschenbach and the North German Radio Symphony Orchestra (NDR Sinfonieorchester). This recording was just nominated for a Grammy, in the category of Best Classical Compendium.
Violin Sonatas by Shostakovich, Janacek, Bloch
Midori
Here is a brand-new recital disc by violinist Midori Goto, with pianist Ozgur Aydin, with sonatas by Ernest Bloch, Jelos Janacek and Dmitri Shostakovich.
Opera Breve
Philippe Quint and pianist Lily Maisky
A very appealing album of classical melodies that work so well on the violin: Gluck's Melodie de Falla's Spanish Dance, Heifetz' arrangement of Gershwin's Porgy and Bess Suite and more, including some of Quint's own arrangements.
The Soviet Experience, Volume 3 and Volume 4
Pacifica Quartet
Soviet composer Dmitri Shostakovich turned the string quartet into an epic genre -- his quartets are considered by some to be the very pinnacle of the genre. The Pacifica Quartet this year completed a four-disc project in which they recorded them all, pairing them with quartets by Soviet contemporaries: Sergei Prokofiev, Alfred Schnittke, Nikolai Miaskovsky and Mieczyslaw Weinberg.
Made in Germany
Herwig Zack
This is one of the most thoughtful musical programs of the year, with a choice of music that puts the focus on issues of musical innovation and artistic suppression. Beyond Zack's very fine playing, his program notes are enlightening and thought-provoking. The album includes works by Paul Hindemith (complete works for solo violin); J.S. Bach; Max Reger and living German composer Klaus Hinrich Stahmer.
Bach: Sonatas & Partitas 1
Chris Thile
Virtuoso mandolinist Chris Thile gives us violinists a lot to think about with his recording of Bach Sonata No. 1 in G minor and Sonata No. 2 A minor, and Partita No. 1 in B minor. These works were written for solo violin but sound quite fresh, even heavenly, on the mandolin.
Transcendence
Andrew Sords
How about some New Age violin music? This recording of works by Sean Christopher Dockery is unique in that it includes acoustical violin, featuring Cleveland-based violinist Andrew Sords.

BOOKS and SHEET MUSIC
Jascha Heifetz: Early Years in Russia
Galina Kopytova
If you are a Heifetz fan, here's something for you: a very detailed, 475-page book about Jascha Heifetz remarkable childhood as a prodigy, focusing on his first years in Russia. It includes photos, programs, and all kinds of interesting information, and reading it brings one back to the very different world of the early 20th century.
The Violinist.com Interviews, Volume 1
Laurie Niles
In the next few weeks, Violinist.com will be releasing its first publication, a compilation of favorite interviews by Violinist.com Editor and Founder Laurie Niles (me!), with a forward by Hilary Hahn. Violinists featured in Volume 1 will include Hilary Hahn, Ruggiero Ricci, Anne Akiko Meyers, Rachel Barton Pine, Joshua Bell, Anne-Sophie Mutter, James Ehnes, Janine Jansen, Tasmin Little, Philip Setzer, Gil Shaham and Adele Anthony, Augustin Hadelich, Sarah Chang, Zach De Pue, Simon Fischer, Clara-Jumi Kang, Lara St. John, Anne-Sophie Mutter, Nicola Benedetti, Philippe Quint, Nadja Salerno-Sonnenberg, Judy Kang, David Garrett, Leila Josefowicz and Esa-Pekka Salonen, Stanley Ritchie, Maxim Vengerov and Elmar Oliveira.
The Orchestral Violinist's Companion
Martin Wulfhorst
An encyclopedic, two-volume textbook on orchestra playing for violinists, published by Barenreiter.
Duet Arrangements for Suzuki Volumes 1-8
Martha Yasuda
Atlanta-based violinist and arranger has written duet parts most of the pieces in the Suzuki Books -- something very helpful for teachers, parents and students who wish to play duets. She has more than Suzuki arrangements, too, she has some great gig music: violin duet, violin-cello duet and double-stop solo arrangements for wedding music, church hymns, Christmas music, American melodies and more. I have been using her Suzuki duets at just about every lesson I teach; highly recommended!
The Violin Lesson
Simon Fischer
Even some of the best players in the world can't really explain, in detail, what they are doing on the violin, how they are doing it or why it works. But when a student is struggling, or when a student wants to reach a new level of playing, this explanation can make all the difference. Fortunately for teachers and for students, UK violinist and pedagogue Simon Fischer has compiled an entire book of such explanations: "The Violin Lesson."
* * *
Still haven't found the right gift? Check out our gift-giving guides from previous years, which also include recent releases and violin-related projects by current-day violinists, composers and authors!
If you would like to consider a music-related gift other than recordings or books, please visit our Violinist.com Business Directory, and support the music businesses that support our Violinist.com community.
Comments (1) | Submit Comment | Archive Link
By
Krista Moyer
December 9, 2013 12:25
One of the reasons so many adult amateurs are nervous about playing in public is that we think that people will think poorly of us if we aren't perfect. I know I feel that way. But I think that line of thinking might be wrong. Fellow amateurs, I have good news. We aren't being judged.
In my year and a half of playing, I have only played in public a very few times, and that only in jam sessions with people I already knew, or felt comfortable with. Last Friday, I played to an audience for the very first time. Sure, people might have listened before, but we were practicing, darn it. No one expects practice to be flawless. And yes, the program was only a medley of simple Christmas carols in a church with the parents of the local arts academy in attendance. So what? It was my first performance. That's a big deal to anyone.
Maybe it helped that I was playing with seven children between the ages of five and eleven so I got to stand in the back. Most of them were better than me. I'm fine with that. They have been playing longer, after all. What I really liked was the feeling of acceptance. It didn't bother them a jot that I was there, or that I screwed up a few string crossings.
I expected to be nervous, and I was a little. I didn't want to make any mistakes, but I made a few. What surprised me was the feeling that it was all OK. Nobody expected perfection. If I forgot all about rest position, nobody cared. If I got the bowing wrong, at least the notes were mostly right. I might have felt a bit silly playing with a group of children, but they ARE better than me. It's always good to play with folks who are better than you, I have found.
So I think I have learned a few lessons:
1. Performances don't have to be scary.
2. Nobody is judging. Even if they were, what could they do – take away your birthday?
3. The better prepared you are, the easier it is to focus.
4. Four inch stiletto heels for a performance are a BAD plan. Ouch!
The best part is that I didn't even start shaking until we left the stage. Maybe it was relief. I might have to jump a few hurdles every time I perform, but at least now I know I can.

Comments (6) | Submit Comment | Archive Link
By
William Rhoden
December 9, 2013 10:31
What do you do when you can't practice every day? Many of my students ask this question, and it is beginning to dawn on me that during my class is the only time many of students play their instrument. I only get perhaps around 10% return on my mandatory weekly practice assignments, and some of those I am suspect about. It is very unfortunate that we do not have a culture here that encourages instrumental practice, and the lack of private teachers makes changing that a very difficult reality.
So as a teacher I must use the time in my class most effectively. That means the maximum amount of critical playing per student every time I have class. For my middle school intermediate/Advanced group, this means sectionals. I thankfully have great 8th grade leaders, and every section is improving. Students used to get lost in the sea of 47 bodies, now they are getting the attention they need. Problems of counting and note identification are being fixed at a much faster rate than if I try to run a large rehearsal every time.
Of course I am going around make sure the sections are on task and constantly need to isolate issues within the section. I provide feedback and instruction, and most of the time I see great student collaboration. Considering I only see the orchestra every other day (block schedule style), it is necessary that the students own their sound individually and do not forget what they learn. Ideally they would practice on the off day, but most do not make it a priority.
The kids are excited, enjoy orchestra, and are making progress. When we do have large group rehearsals there is significantly less stress, and we actually accomplish a lot. Who would have thought such a simple tool such as sectionals could make such a difference?
Comments (1) | Submit Comment | Archive Link
By
Robert Niles
December 9, 2013 10:30
The Recording Academy has announced the nominees for the 56th Grammy Awards, and while the pop acts get all the airtime on the awards show, many classical musicians we've covered here on Violinist.com in the past year are up for awards, too.
Violinist Leonidas Kavakos earned a nomination in the "Best Chamber Music/Small Ensemble Performance" category for his recording of the Beethoven Violin Sonatas with Enrico Pace. In addition, Esa-Pekka Salonen earned a nomination in the "Best Contemporary Classical Composition" for his violin concerto while violinist Leila Josefowicz was nominated in the "Best Classical Instrumental Solo" for her recording of that work, with Salonen conducting the Finnish Radio Symphony Orchestra.
Esa-Pekka Salonen and Leila Josefowicz. Photo: Mathew Imaging
Finally, the Minnesota Orchestra, under the direction of Osmo Vänskä, earned a nomination in the "Best Orchestral Performance" category for its recording of Sibelius' Symphonies Nos. 1 & 4. The Minnesota Orchestra is currently locked out by its management, and conductor Vänskä has resigned his position, in solidarity with the musicians.
Here is the complete list of nominees in these categories:
Best Orchestral Performance
Stravinsky: Le Sacre Du Printemps
Berliner Philharmoniker, Simon Rattle, conductor
Atterberg: Orchestral Works Vol. 1
Gothenburg Symphony Orchestra, Neeme Järvi, conductor
Lutoslawski: Symphony No. 1
Los Angeles Philharmonic, Esa-Pekka Salonen, conductor
Sibelius: Symphonies Nos. 1 & 4
Minnesota Orchestra, Osmo Vänskä, conductor
Schumann: Symphony No. 2; Overtures Manfred & Genoveva
Orchestra Mozart, Claudio Abbado, conductor
Best Chamber Music/Small Ensemble Performance
Beethoven: Violin Sonatas
Leonidas Kavakos & Enrico Pace
Roomful Of Teeth
Brad Wells & Roomful Of Teeth
Duo
Hélène Grimaud & Sol Gabetta
Times Go By Turns
New York Polyphony
Cage: The 10,000 Things
Vicki Ray, William Winant, Aron Kallay & Tom Peters
Best Classical Instrumental Solo
Salonen: Violin Concerto; Nyx
Leila Josefowicz; Esa-Pekka Salonen, conductor (Finnish Radio Symphony Orchestra)
The Edge Of Light
Gloria Cheng (Calder Quartet)
Bartók, Eötvös & Ligeti
Patricia Kopatchinskaja; Peter Eötvös, conductor (Ensemble Modern & Frankfurt Radio Symphony Orchestra)
Corigliano: Conjurer - Concerto For Percussionist & String Orchestra
Evelyn Glennie; David Alan Miller, conductor (Albany Symphony)
Lindberg: Piano Concerto No. 2
Yefim Bronfman; Alan Gilbert, conductor (New York Philharmonic)
Schubert: Piano Sonatas D. 845 & D. 960
Maria João Pires
Best Contemporary Classical Composition
Esa-Pekka Salonen
Violin Concerto
Magnus Lindberg
Piano Concerto No. 2
Arvo Pärt
Adam's Lament
Maria Schneider
Winter Morning Walks
Caroline Shaw
Partita For 8 Voices
You can find the list of all nominees in all categories (and it's huge!) at www.grammy.com/nominees. The Grammy winners will be announced on Sunday, Jan. 26.
Previously:
By
Mendy Smith
December 8, 2013 21:37
After weeks in and out of the veterinary hospital, Kisha is home again. She still has to get sub-Q fluids twice a day, but she is on the path to recovery.
Kisha is a nickname I gave her over a year ago after surviving a severe case of anemia that nearly killed her. Her full name is Karishma - which means miracle in Sanskrit. This little gal has earned that name two times over now.
During this latest crisis, I've barely touched my viola. Most of my time has been spent in caring for this little girl. But day by day she is getting better and I'm moving back into my normal routine.
Oddly enough, some of my technique has improved despite the lapse in practice, most notably in phrasing and musicality. It may be due in part to seeing death on the doorstep. Who really knows.
Either way, I'm happy that my little girl is back home.
Comments (3) | Submit Comment | Archive Link
By
Kate Little
December 8, 2013 20:29
Variations of this question pop up on V.com from time to time. This essay examines one solution to this problem. It is an analytical, practical approach. The description is intended to allow the reader a point of comparison for her own practice, and to serve as a possible source of ideas to experiment with. Alternatively, a teacher may find this essay useful to help explain some concepts about practicing to students. If you, dear reader, do not fall into one of these categories, you might wish to skip this blog entry, as it may well feel dry and dreary to navigate.
Two weeks ago I was assigned the 5th entry in Suzuki Book 3, Gavotte in Gm (Becker), to learn. My first impression was that it was long and complex, with lots of scary new technique, and that my normal approach of starting at the beginning and learning the notes and measures to the end would not work well. I sat down to take a close look, sans instrument, at the piece. What I quickly saw is that the 76-measure piece only has about 16 measures of unique music, and about 6 of those are variations of previous measures. Everything else is a form of repetition. This simplified the task considerably.
It works like this: The form of the piece is A-B-A, with a D.S al Fine creating an exact A repeat. This eliminates learning 25 measures. Each major section has an inner triad structure, giving the piece an overall structure of a-b-a', c-d-c', a-b-a'. Thus, 50% of the musical material has been eliminated. Each of these nine 8-measure sections is divided into 2 very similar 4-measure phrases. Again, each of the 4-measure phrases includes various sorts of rhythmic or translational repetition. The examination revealed that only about 20% (16 out of 76 measures) of the notes in the piece actually had to be learned. This was going to be do-able.
Now, where to start? I decided on where it looked easiest: with the legato ¼ notes, which also happened to be the middle of the piece. This had the added advantage of allowing me to build the piece from the center out, thereby creating an evenness of technique throughout. This contrasts with the beginning-to-end approach, which inevitably leaves me with a strong opening and week finish to my piece.
Choosing m35-38, along with its variation m39-42, I had the notes and bowings down in an hour-and-a-half on a Sunday afternoon. Practice showed that I could learn a 4-measure phrase in about an hour, or in about 15-minutes per measure. This would mean 4 hours to learn the core notes and phrases of the piece. I figured double that to 8 hours to put them all together. As it was, at the end of 10 hours practice on the piece over a 2-week period, I could play it all the way through at a VERY slow tempo, with some hesitations and errors.
This was as of two days ago. It felt like a huge accomplishment from the nothing that I started with, but there is still a lot to do.
Having projected 8-hours (and taken 10) to get to the initial play-through, the following projections should serve as guidelines as further work: another 8 hours to massage in basic bowing, fingering, shifting and relaxation techniques, bringing pitch, rhythm, quality of sound and ease of motion into phrases; and add to that 16 hours to knit all the phrases together and play the entire piece close to tempo.
Up to this point, the goal will have been (1) to correctly learn all the notes, and (2) to incorporate all of the technical facility that I have learned over the course of my lessons (or at least as much I am capable of incorporating independently). With a total of 32 hours of preparation, the Gavotte will now be ready to present for the first time at a lesson. To bring in any less effort or execution would be to waste my teacher's time.
Corrections will be made and advice given, figure and additional 32 hours to integrate teacher's suggestions, take it to another lesson for more feedback, and then give it 64 or so hours of polishing. At this point, the Gavotte will have received something like 128 hours of attention, probably across 4 months, and should be ready for a recital performance.
Is this a hard-and-fast time frame for learning Becker's Gavotte? No. It is simply a gauge to help me structure learning the piece, and to give me approximate time frames for the learning and refining process. This is a step forward from two years ago when I began studies, and had no clue what-so-ever as to how much work and effort learning music took. Now I do have a clue, and can plan accordingly. This is useful.
I have also come to understand that the honing a piece takes ever-increasing amounts of time as the level of refinement increases. This is a basic concept of learning an instrument that is important to understand when reaching for ever-higher levels of mastery.
Most importantly, this calculation serves as a reminder that learning to play my instrument is MY responsibility, and that I should arrive at every lesson, every rehearsal, every performance having done everything that I am currently capable of in preparing for that event.
And now, dear reader, if you made it to the end of this very long and somewhat tedious post, congratulations! You get a Gold Star!
Comments (2) | Submit Comment | Archive Link
By
Stephen Brivati
December 8, 2013 16:50
Greetings,
not sure if the expression 'going on a bender,' is still in fashion or not, but right now I am on sabbatical from my Kavakos bender and on one focused on Hilary Hahn.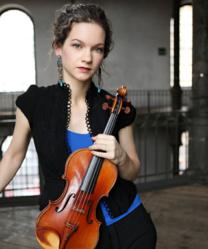 This is a player I find myself more and more addicted to in spite of her appalling taste in burgers. Listening to her Chacconne this morning I was actually finding new sounds I had previously been unaware of. For example at one point the spaced out accompanying quavers actually sounded like pizzicato. It was a color I have never heard before in this piece. But I think it's truly outstanding quality is the way the melodic line(s) are given exactly the right weight or prominence that they are supposed to have at any given moment, as far as that can ever be true. In this respect she may be one of the most gifted performers of this work ever. The Sarabande from this partita is every bit as good. Listening to her D major Prokofiev last night one I felt this was one of the most carefully integrated versions around. clearly she knows the score backwards and aside from the absolute brilliance of the solo moments it was more like great chamber music playing which provided a lot of insight into the nature of the work. My only regret is a slight absence of ascerbic nastiness in her playing but I just don't think it is in her nature. Milstein used to say 'we have to play ugly in orders to highlight the beautiful,' and I kind of hope she doesn't lose sight of this further down the road.
The Mendelssohn concerto is perhaps with the Bruch the most juvenile tortured work in the repertoire. Your average talented teenager's granny weeps over her little Johhny Rotten playing it more or less in tune and throwing off the last movement just that bit faster than Jane Rotten from the same studio. But it was interesting to see Zukerman in his "Way They Play" interview saying it was a concerto that seemed to become more and more difficult the older one gets. Or Arnold Steinhardt citing less than satisfying performances of that work in particular at the beginning of his thankfully aborted solo career. or indeed Milstein (again) putting his finger on it by noting that the work has one foot in a more classical world and one in the romantics. The ability to fluctuate between and unify these ideas may be at the core of the problem.
Watching a slightly earlier version of Hahn playing this is what triggered this line of thought. Of everything of hers I have listened to so far it is the least satisfying to my ears. Of course she plays it beautifully and technically better than a select few, but to my mind she was still looking for deeper artistic solutions to passages that most of us are just happy to play in time and tune. At times these came across as clothes that didn't quite suit the wearer as though she had not yet found her mendelssohnian fashion sense. indeed, I felt a kind of dissatisfaction in what she was doing expressed on her face at times although it's possible that a) I'm imagining it or b) she was really pissed off with the guy waving his arms around in such a vague way on her left.
It's got an kind of integrity to it though, an artist continuously striving to find better ways of doing things both in the practice room and on the stage.
Quite a relief in this day and age.
Cheers,
Buri
Comments (4) | Submit Comment | Archive Link
By
Bram Heemskerk
December 8, 2013 12:48
In octobre 2005 I was terrible disappointed that I could not hear a violin concerto of Joseph Boulogne (the black Mozart) because the soloist Augustin Dumay was ill that day. I write about it in my blog :
This blog Octobre 2005
There I asked the question: "Will I hear Joseph Boulogne ever in my live in the concerthall one day or do I have to wait 20 years for that???"
But now 8 years later again in the Concertgebouw in Amsterdam there was a chance to hear this composer :
Concertgebouw 7 Decembre2013 Joseph Boulogne
The soloist was Elfa Rún Kristinsdóttir and she was not ill but very nervous and made some mistakes and did not seem convinced of herself although in her Bach on Youtube she made a good impression. But that is a detail. I HAVE HEARD JOSEPH BOULOGNE IN A CONCERTHALL !!! and I am very happy about that and had to wait for that moment 8 years instead of 20 years.
This violinconcerto of Joseph Boulogne was played:

and here Elfa Rún Kristinsdóttir with her Bach:

Comments (1) | Submit Comment | Archive Link
By
Graham Emberton
December 7, 2013 23:54
As I wrap up a weekend chock-a-block with Nutcracker performances with Butler Ballet, I wanted to write up a short list of some things that have helped me make it out of the pit alive.
1. Stretch
Playing for hours on end can be slightly uncomfortable at any time, but the risk of injury is increased when performing in the cramped confines of a pit. Take the opportunity during periods of rest to shake out your hands and do some stretches (subtly!). I highly recommend reading
Janet Horvath's
"Playing (Less) Hurt" which is a thorough guide to injury prevention and has plenty of suggestions for stretches.
2. Hydrate
Perhaps it goes without saying, but drinking water is so very vital. Keeping a water bottle at hand will not only quench your thirst, your muscles and tendons will appreciate the lubrication water provides.
3. Adjust
Depending on the size of the pit it can be tricky to find a perfectly comfortable playing position, but try your best: talk to your stand partner, adjust the height of the stand, shift your chair… while playing Nutcracker this weekend I swapped my glasses for contact lenses so that I could watch the conductor peripherally rather than craning my neck all the time.
4. Breathe
When the going gets a tad frantic (Battle Scene, Presto of Snow), it's important to remain calm and present in the moment. Some of the runs become nigh impossible if you're rushing! One of the more effective remedies for a quickening pulse at the sight of formidable sixteenths is a simple, deep breath (or two).
5. Sneak a peek
***highly unprofessional***
For the first violins in Nutcracker, the best time to do this is during the harp cadenza in Waltz of the Flowers (better know your entrance though!). Combine with your stretching for full sneaky effect. If you get fired at least it was for the sake of seeing quality dancing.
6. Enjoy
Tchaikovsky wrote some seriously good ballet music, so relish the opportunity to perform! I don't think I will ever tire of this score. Certainly not until I can play that nasty overture impeccably :)
Comments (2) | Submit Comment | Archive Link