Violin Blogs
Violinist.com members may keep personal journals on the website. Violinist.com's editor selects the best entries for the column below. Links to all other recent blog posts may be found in the column on the right.
Top Blogs
By
The Weekend Vote
December 19, 2014 10:26
Have you built a personal library of sheet music?
These days one can obtain sheet music in a variety of ways: buying it in person at a music store, shipping it from a music store, downloading it for printout, or even keeping it in digital form to be read on one's tablet with something like Musicreader.
The public-domain Internet library IMSLP is a great resource that gives us immediate access to music, without having to go to the store or wait for it in the mail. But sometimes what starts as a stopgap measure (we'll just print this out so you can get started) turns into: nine weeks later, we're still using computer copies -- torn and ragged by now -- to learn a piece. And all the valuable information like bowings, fingerings, other suggestions, have been written into the disintegrating copy-part.
You can see my view here: I do think it's important to get "real music" for the pieces you study. And for copyrighted pieces, you'd better at least pay for that download! That said, my library certainly has photocopies in it. In many years of orchestra-playing, I have saved a lot of the practice parts that were sent to me, so that I have them for reference. I've used digital music only a handful of times, mostly for reading orchestra charts that were sent to me for practice and were too numerous to print out.
Certainly, trends are changing. I am curious about people's sheet music collections. While I may still like my music printed professionally on creamy, thick sheets of paper, technology has improved greatly for digital storage and use, so many people might be collecting music in a digital form. Also, if you are strapped for money, it's cheaper to print out the music (though I might argue a false economy, here, if that printed music falls apart and you lose your valuable markings).
What are your thoughts on sheet music? Do you collect it? How do you store it? Do you insist on quality copies? What is your ratio of "real" copies to printed copies to digital copies? In what direction are you personally going, with this issue? Please cast your vote for what best fits, and add your comments below.
Comments (4) | Submit Comment | Archive Link
By
Michael O'Gieblyn
December 18, 2014 09:40
It's getting to be that time of year now that juries are over, perhaps we're traveling home for the holidays, and we should start thinking about summer festivals. But getting into those involves a lot of planning and work, and of course.....an audition!!
It's tough to prepare for an audition, especially if you're away from your teacher for a few weeks, and you're supposed to be learning a new concerto or a recital program. It's also tough if you're preparing for a professional orchestra audition and aren't surrounded by fellow classmates and a supportive environment.
I've been in all of these situations, which is why I started ViolinExcerpts.com
I'm starting a new monthly feature, specifically to address the last part of audition preparation: playing while being nervous.
The way I see it, there are three parts to playing a successful audition:
1) Practicing at home
2) Improving with lessons from a teacher
3) Performing well while being nervous
The majority of my life, I focused heavily on # 1 and #2, and I bet you are in a similar situation. I would do my best to learn the excerpts, get some input from a teacher, maybe play them for a friend once, and then see what happened.
Over the years, I've learned that #3 is really the only part the panel hears and considers to make their decision.
All the countless hours I spent were gone in a moment because I couldn't get my heart to stop racing, my bow to stop shaking, and my mind to stop telling me I was a failure and should just resort to teaching snotty kids in some backwards remote country, who wouldn't appreciate my talent or my efforts!
So, today I'm starting a new project, I hope you'll join me for: On January 12th, 2pm CT I'm holding a live webinar audition.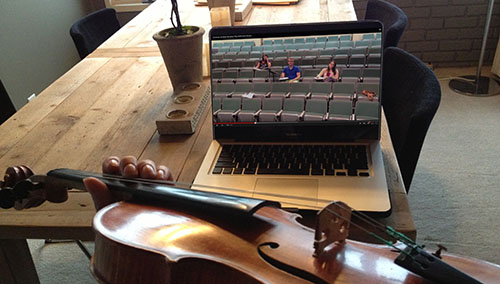 Click here for more information and to sign up
Wherever you are in the world, you can join an intimate community that wants to help you succeed at your next audition.
You can choose to perform or just to listen and offer constructive feedback.
If you want to perform, you can also choose to make it a "blind audition" and only use your audio.
This webinar is currently free, and space is limited to the first 25 participants who sign up at
Violinexcerpts.com.auditions So sign up today!
I hope to see you there,
Be well and practice well,
-Michael O'Gieblyn
By
Amy Beth Horman
December 18, 2014 08:22
I am writing this blog to detail what I think is the importance of special events in private studios. With a full studio of advanced students, most of whom are actively competing, it seems we could have an event every other week to keep everyone up and running. House recitals, church performances, master classes, or bigger events - they all add something to a student's education. Performance opportunities are key to teaching a student the art of performance and allow me to guide them through effective practice, stage etiquette, and performance anxiety.
About twice a year now, we engage in what I define as "Special Events" for our studio. For these events, we explore a new genre of music, or experience something new together. It is a departure from what we do week to week and the kids are given a rare opportunity where they are able to continue bonding as a peer group. We are almost a month past our Special Event with Symphony of the Potomac and the memories for all of us are still flowing.
Last Fall our studio met with Lady Gaga's violinist, Judy Kang and had a special event at Strathmore Hall where we learned how to follow our ears and improvise. We ended the class with an "Orpheus" styled performance of Saint Saens Introduction and Rondo Capriccioso. We transcribed the Saint Saens for our group to perform with her and had met in rehearsal for weeks going over our parts. The kids had fun picking popular tunes to improvise on in front of an audience. Our students were so excited to participate and the event sold out. The energy off of this event lasted months for many of them. Watching them after this performance, I knew I should keep my mind open to the next opportunity for my students to do something out of the box and inspirational.
This past Spring, when I saw the video of Arvo Part's Passacaglia for duo violins online, I posted it on our studio Facebook group jokingly stating "now all we need is a vibraphone!". In my artist's mind, we had the full sections of violins and siblings on lower strings plus soloists who would love the opportunity to perform with orchestra. It was a vision I could easily conjure up. Within minutes, a conductor who I have worked with for years responded " I can get you a vibraphone and would love to do this". My heart leapt. And just like that, a Special Event started taking shape in my mind. We were lucky to be sponsored by the Symphony of the Potomac and conductor Joel Lazar and have access to a beautiful space in our area to present such large works. I smile when I reflect back on the beginning of the planning stages because the artist side of me that fully embraces the "vision" is now paired with an administrator's job running an advanced studio. A vision of the final product is one thing... but the planning, developing, advertising, and coaching of such a thing is quite another. Still, I sit here today with absolutely no regrets. The effects of planning, preparing, and performing something like this are so long lasting and we benefit as a studio more than I can describe in words.
Something about learning big concerti most of my life has taught me to embrace the long haul so I slowly started planning, plugging in an hour or so a day. I worked with the Symphony of the Potomac on renting parts, hired extra musicians, and chose the students I knew would benefit the most from an experience like this one. I knew the second half would be with orchestra on works by Part plus one of younger students performing Bartok with harp but I still needed a first half to lead us to it. So I formed a first half of lesser known works for violin and piano by composers like Ysaye, Sibelius, and Previn featuring our younger elementary and middle school students and the concertmaster chosen for our second half. These kids performing with piano on the first half would then sit and accompany their peers in the orchestra on the second half. I took a month to handpick the pieces for each student and then learned them side by side one lesson at a time. Some of the students loved the pieces right away and some were trusting and simply followed my lead. We bonded over editing them together. With the performance event in mid November, I sent them into a competition in October with these newer pieces to try them out. I made a point of calling them 'ambassadors" of music that doesnt get enough stage time. They surprised me and swept the competition with prizes and their excitement was palpable. They WERE ambassadors! We held a house recital to put some finishing touches on and the kids for the first half were smiling and ready to perform for a larger audience.
Next I received their parts for the Arvo Part pieces from overseas. I carefully formed an orchestra seating chart, edited each part, and sent them out for the kids to bring to lessons.
For three to four weeks, I took 15 minutes in their lessons to review their orchestra parts for the Part works. Our first half soloists would be accompanying their peers sitting in the orchestra together so they would be playing a lot that night. With multi meter pieces like these, many of our students had never seen or heard anything like it. They were eager but challenged. Special effects, playing on the fingerboard, senza vibrato and learning to blend in softer dynamics kept them engaged and busy. Meanwhile, I continued to train the soloists on their parts. I sent tempo markings and recordings to the conductor and got organized for our first rehearsal. I took a lot of happy deep breaths. Parents organized a reception, passed out flyers, and even donated their services in recording and videography. We notified the Estonian Embassy and watched with wide eyes as our event got listed on the Arvo Part Centre website alongside events at Carnegie Hall. I could honestly feel the kids gearing up in every lesson. They knew they were part of something big, special, and that they were going to bond and experience something completely new together.
At the first rehearsal, things came together easier than I could have expected. Despite the multi metered mayhem, it was thrilling even with lots of work left to do. The conductor was wonderful, generous, and sensitive to the age group. The adults and members of the Symphony were warm and supportive to our students, adding stability to allow them to experience the music without fear. I watched my students bright eyed and ready to open their ears to a kind of music they had never encountered before. It was spellbinding and gratifying for all of us.
The event itself was the most attended event we have had thus far. This was not your regular violin recital with music most had never heard before played by students ages 10-17. They were so proud of what they had created. They had involved their ears and technique in making art happen. This wasn't about playing faster or cleaner and their focus had to be more linear and specific. I was able to enjoy their performance as a musician and really relish it as their teacher, predicting its effects on their progress individually.
The weeks that have followed have been active and back to business as usual. We have all returned to our normal literature of lessons, competitions, and auditions. I even had a solo performance with orchestra last weekend. But the air in the studio is different. It is more inspired. The students' eyes light up when they see each other and they are more bonded than ever. And, of course, we are already thinking about next year.
I hope this inspires other educators to plan outside the box for their students. At this level of teaching, in private studios where we are not part of an institution that serves us, it is on us to provide inspiration, opportunities, and ear awakening projects. It goes without saying that it takes hours of effort, planning, and development but what you see afterwards is beyond worth it.
The following are links to the dress rehearsals for our performances of Fratres and Passacaglia by Arvo Part led by conductor, Joel Lazar.
Passacaglia:
http://youtu.be/5qvYS5Dpcjs
Fratres:
http://youtu.be/kudjbFNNwe0
By
Paul Huppert
December 17, 2014 10:50
Learning aids that address a multitude of endeavors are nothing new. The ubiquitous training wheels are a vital, sometimes necessary component in the travails of the learning process. How much of a price do we pay for added security and comfort? When do we venture away from that security? When do the training wheels come off?
Tapes on the violin fingerboard are meant to help give definition, clarity, and security, in an endeavor that (for most) is an adventure into the unknown. I will submit in this article a couple of concepts, and a couple of ideas (i.e. opinions) that are really meant to contribute to the conversation. A discussion that I suspect is not either/or but an opportunity to address a relatively accepted pedagogical concept, and see it from a slightly different angle.
I use tapes with my beginning students (generally age 6-9). However, my journey as a violin instructor has taught me that tapes on the fingerboard are not a good idea for two reasons. 1. For the student they offer an opportunity to avoid the responsibility of aural integrity (i.e. play in tune dude) and more...the fingerboard is not a keyboard, there are many shades of grey, and a multitude of subtlety involved with intonation. That's one of the things that makes playing the violin, and other fret-less instruments so great. 2. It allows the instructor an easy path to a mediocre end. It's just plain easier to 'teach' the beginning student that has the added pitch crutch of a placement indicator for most, if not all of the notes they wish to employ in a given selection of music. The point in this humble diatribe is to express a different point of view concerning the use of tapes on the violin fingerboard.
Imagine for a moment that instead of the usual four tapes in the first position, we utilize only two (first, and third finger) but not for the reasons generally assumed. My personal epiphany came courtesy of the left thumb. Thumbs are basically the anchors for both left, as well as right hand technique. Noticing that many violin students early on have difficulty with thumb placement, and have (not yet) established a good frame in their left hand. The first finger tape is a good landmark position for the thumb and first finger, especially when engaging the third and fourth fingers. My beginning students become quite accustomed to hearing "check your thumb tape." In addition, I like to introduce the G string early on, and instruct the student to practice a basic four finger pattern, this also helps to establish the 'frame' for the left hand, as well as better left arm positioning. The second finger being the strongest, and the student needing to learn the difference between 'higher and lower' generally progress quite nicely without the aid of a tape. Now on to the third finger tape....

The idea that one must not necessarily begin their study of the violin in the first position, is not a new one. However, this is a pedagogic concept that has yet to achieve any popular resonance in the violin teaching community. My interest in this teaching approach is twofold. One, observing a pronounced inability in the vast majority of players that have taken private lessons to ever perform in anything but the first position. And two, the observation that particularly with small hands, and the introduction of the fourth finger, early exposure to the third position has certain advantages over the first. In addition to the above, there is also the concept of cradling the violin in your hand as opposed to letting a shoulder rest do all the work. Coming to the rescue of this dilemma would be the 'third finger tape' now of course it has become the 'first finger tape' or more importantly, the new 'thumb tape'. This familiarity with a new region of the fingerboard, in the very early stages of learning the violin opens up whole new realms of possibility.
Mark O'Connor, in his early competition days distinguished himself in the fiddle world by frequently shifting between first and third position, and utilizing fourth finger extensions from the third position. None of these techniques were anything new in the classical world, but applied to a different genre, were ground breaking. O'Connor took an old concept from baroque times and applied it to improvisational folk playing. The point here is that a violin instructor, by shifting their perspective on what is taught when, can incorporate some interesting and beneficial changes in how violin technique is addressed for the beginning violin student.
Comments (13) | Submit Comment | Archive Link
By
Robert Niles
December 16, 2014 12:46
In an effort to promote the coverage of live violin performance, Violinist.com each week presents links to reviews of notable concerts and recitals around the world.
James Ehnes performed the Walton with the City of Birmingham Symphony Orchestra and the Brahms with the Royal Liverpool Philharmonic Orchestra, on the same day.
The Guardian: "Ehnes's fearless response to both works spoke for itself. The fine balance of Walton's reflective lyricism and its capricious displays of technique were handled with flair, and the tone that Ehnes produced high on the E string lent a sweetness to the music too often lost in more effortful performances."
Stephen Waarts performed works by Beethoven, Bartok and Ravel in recital with pianist Chelsea Wang.
Washington Post: "Waarts showed an uncommon, preternatural sense of tonal color and lyrical beauty on the instrument."
New York Times: "Mr. Waarts showed himself a technically accomplished and musically insightful artist, though he was most impressive in Bartok's extraordinary Sonata for Solo Violin, completed in 1944, when the composer was fatally ill with leukemia."
In Mo Yang. Photo: Neda Navaee
In Mo Yang performed Mozart's Violin Concerto No. 5 with the Boston Classical Orchestra.
Boston Globe: "From his first entrance onward, Yang was an arresting performer: now sweet, now excitable, now chaste, now florid, and always, everywhere, in command. Yang provided his own artful cadenzas, each showcasing his dexterity while also adhering to Mozart's insuperable continuity."
Stefan Jackiw performed Mozart's Violin Concerto No. 5 and David Fulmer's Jubilant Arcs with the ProMusica Chamber Orchestra.
Columbus Dispatch: "Jackiw's no-holds-barred approach in the final movement's intense "Turkish" section was electrifying, and his moments capturing Mozart's playful transitions and more-refined and soaring lines were utter delights."
Joshua Bell performed Mozart and Schubert with pianist Menahem Pressler and "Death and the Maiden" with a student chamber group:
Bloomington Herald-Times (paywall): "Schubert's A Major Sonata ("Grand Duo")... is a piece rich in melodies and opportunities for musicians to reveal their skill at quickness and buoyancy and verve. It received a fully engaged reading from two virtuosi who obviously love the music and know how to give it vitality and interpretive heat."
Vadim Gluzman performed Prokofiev's Violin Concerto No. 2 with the Tucson Symphony.
Green Valley News and Sun: "Gluzman's sound was huge on his big 1690 Stradivari, and both his visual and physical communication with Hanson and the orchestra produced a symbiosis, always a certainty for performance perfection."
Remus Azoitei performed the Tchaikovsky with the Philharmonic Chamber Orchestra of London.
Music OMH: "Tchaikovsky's violin concerto might be one of the great warhorses of the violin repertoire, but Remus Azoitei's playing of it urged one to listen to it afresh and made me question how critic Eduard Hanslick could have ever thought it to be "music that stinks in the ear."
Gil Shaham premiered David Bruce's Violin Concerto "Fragile Light" with the San Diego Symphony.
U-T San Diego: "Shaham, who has been a frequent visitor to San Diego with the symphony and the La Jolla Music Society, has repeatedly shown himself to be a communicative soloist able to reveal the most human aspects of a wide range of music, from unaccompanied Bach to standard concerto repertoire. But he couldn't find the humanity in Bruce's piece."
Jack Liebeck performed Bruch's Violin Concerto No. 2 with the BBC Scottish Symphony Orchestra.
The Scotsman: "Liebeck took most of it in his stride and played a boisterous game of duck and dive with conductor Martyn Brabbins, whose control of the orchestral artillery – Bruch hits out with some meaty tuttis – was balsy and bright."
Please support live music in your community by attending a concert or recital whenever you can!
In other news: Our apologies for missing a Grammy nominee last week! A big congratulations to the Turtle Island String Quartet, which was nominated for a Grammy in the "Best Classical Compendium" category for an album recorded with mandolinist Mike Marshal, called Mike Marshall & The Turtle Island Quartet.
Comments (1) | Submit Comment | Archive Link
By
Laurie Niles
December 15, 2014 16:04
For many years, violin teachers have been helping their students explore fiddle and folk music in addition to their classical studies. With help from a lot of great teachers (listed at the end of this article) I've compiled a list of some of the best resources to help teachers, students and musicians explore various types of fiddle music and American music. Categories I've included are fiddle (which includes a variety of kinds of fiddle music), Canadian fiddle, and a few entries for jazz, rock and tango. In the future I hope to make other (or expanded) lists for genres like gypsy, klezmer, mariachi, Indian, jazz, etc. (Tell me which you'd like, most!)
Below, if you click on the name of the book, CD or method, in most cases that will bring you to the link for how to buy it. There are also some great books out there that are either out-of-print or not available on the Internet, and I wanted you to be aware of them anyway. If you wish to find those, I have given links that should provide a lead, and you also might check with your local library or university music library.
I hope this list of resources helps in your learning, teaching and exploration of fiddle music. If you have additional resources to share, please do so in the comments section or e-mail me with your ideas. Enjoy!
FIDDLE
ABCtunes
A collecting point for folk tunes. Very helpful to get basic versions and many versions of standard fiddle tunes
The Children's Session Book, by Karen Ashbrook
For kids that want to learn Irish tunes.
The Fiddle Series, by Greg Baker
Five books, plus his Fiddle Workshop I and II. Hard to find! Consider looking in a library for this book.
Fiddle Tunes for the Violinist and Violin Pieces Country Style, by Betty M. Barlow
Beginner and first-position pieces, arranged in order of difficulty, with piano accompaniment.
Barrage
Arrangements from the Canadian band "Barrage," which performs a mix of fiddle, folk, and world music. Intermediate-advanced.
Mel Bay books for violin and fiddle
Mel Bay has more books for fiddle than anyone can possibly describe. Explore them with the link above.
Fiddle Heart Scandinavian Fiddle Tunes, by Göran Berg
Three volumes of Scandinavian fiddle tunes. "Fabulous!"
The Fiddler's Fakebook: The Ultimate Sourcebook For The Traditional Fiddler, by David Brody (Oak Publications)
"This is not a method book, and it isn't really a 'fakebook' in the sense of giving a barebones melody with chord analysis, but it is a good place for teachers or students to go to if they want some ideas about what a particular tune could be like but they don't have a recording or a fiddler handy to go ask. As fiddle tunes morph with age and location, it's only a snapshot of what some fiddlers of the time were doing in recordings, at the time of publication, not a source for what a tune is in it's basic format," said Jenny Visick.
A Guide to American Fiddling, by Andy Carlson
Andrew Carlson provides a detailed technical analysis of Missouri-style fiddling, focusing primarily on the use of the bow. Carlson further offers a comparison of classical and non-classical techniques, a brief history of American fiddling, plus 23 traditional tunes with authentic bowing indications. A CD recording of the tunes is included.
Fiddlers Philharmonic, by Andrew Dabczynski and Bob Phillips
"I am a classroom teacher, but I like Fiddlers Philharmonic. It has easy to make into arrangements versions, and solo versions of each piece in each book," said Kristen Herbert Vance.
Fiddlin' Favorites, by Lisa Manning Deakins
Traditional Bluegrass Fiddle Tunes that correlates with Suzuki Method Violin Books 1 and 2. Compiled, edited, and arranged by Lisa Deakins. This book and digital recording set includes more than 15 solo tunes, several ways to begin and end tunes, and twin fiddling duets.
String Connection Music Book, Vol. 1 and 2, by John Dewey
Fiddle books with CDs (looks like you need to contact John Dewey to obtain the books)
Top Fiddle Solos, by Craig Duncan
60 fiddle tunes, including Dueling Fiddles; Rocky Top; Black Mountain Rag; Tennessee Waltz; Faded Love; Cajun Fiddle; Jole Blon; Gardenia Waltz; Draggin' the Bow; Granny Does Your Dog Bite?; Black-Eyed Suzie; Wabash Cannonball
Elmore Fiddle Camp, by Randy Elmore
Randy Elmore has a fiddle camp and has 10 books with Cd's that can be back-ordered. His specialty is Texas Fiddle/Western Swing. His books also have great tunes taught by all the great players/teachers: the Morrises, Wes Westmoreland, Katie Holmes, Phoebe Hunt, Marty Elmore, Valerie O'Briens. His tunes are usually just the original 2 parts, then it's up to the fiddler to dress them up with variations, but his tunes are usually obscure and fun (whip the devil around the stump, 49 cats in a rain barrel etc...kids like the titles )
String Groove, by Edgar Gabriel
Book and CD with original tunes in the styles of: Irish Fiddle, Smooth Jazz, Jazz Blues, Rock, Middle-Eastern, Old-time Fiddle, Salsa, Heavy-Metal, Cajun Fiddle, Rock Blues, Swing Jazz, Funk. Aimed at teaching improvisation.
Fiddlescapes by Deborah Greenblatt
By Deborah Greenblatt, the past Nebraska State and Mid-America fiddle champion. Contains many tunes from hoedowns to waltzes of all levels of difficulty. Tips on how to buy and take care of a fiddle; performing in fiddle contests; what to do and what to play; backup techniques; and much more.
Fairfield Fiddle Farm, by Charles Hall
Books and CDs for beginners through Suzuki Book 3 and beyond
American Fiddler, by Edward Huws Jones
This is just one of an extensive fiddler series by Edward Huws Jones, who has also written an entire series of Fiddler books for students including Celtic, Greek, French, Klezmer, Christmas and more.
Fun Improvisation for Violin and Musical Improvisation for Children, by Alice Kay Kanack
A child-friendly introduction to improvisation, using 28 musical exercises and play-along ideas. (Book and CD)
The Contemporary Violinist, by Julie Lyonn Lieberman
An exploration of fiddle and violin styles, with dozens of left- and right-hand exercises and tunes designed to help develop the feel of a variety of styles and ways they can be used for improvisation.
Bluegrass Fiddle, by Gene Lowinger
Focus on bluegrass and country, covering right-hand techniques, double stops, slurs and slides; with 29 bluegrass and 14 traditional tunes in standard music notation.
The Fiddle Club, by Dean Marshall and John Crozman
By the creators of Barrage, fiddle tunes for the beginning and intermediate student. With piano and guitar accompaniments available as well as a CD.
300 Fiddle Tunes, by Ron Middlebrook (Centerstream Publishing)
This comprehensive collection of fiddle tunes that includes reels, hornpipes, strathspeys, jigs, waltzes and slow airs. (Scroll to the bottom of the above link)
Ruffwater Fake Book, edited by Judi Morningstar
117 reels and 52 jigs. Great for combining tunes in similar keys, easy to read. With chords.
The Phillips Collection of Traditional American Fiddle Tunes, by Stacy Phillips (Mel Bay) (Scroll down to find book)
Volume One contains Hoedowns, Breakdowns, and Reels.
Volume Two contains Rags, Blues, Listening Pieces, Waltzes, Jigs, Hornpipes
TheSession.org
A huge online collection of Celtic and American fiddle tunes.
The Portland Collection, Vol. 1 and Vol. 2, by Susan Songer and Clyde Curley
Two volumes. Hundreds of jigs and reels from the Portland, Oregon contra dance repertoire. Irish, Scottish, Québécois, Appalachian, and New England genres are represented. The tunes are both traditional and recently composed, from local treasures to national contra dance standards. There is an extensive commentary on every tune including stories about the tunes from their composers. There are chord suggestions, a discography, a bibliography, and more. Little, if any, overlap with the tunes in the Fiddler's Fakebook.
Ashokan Farewell, by Jay Ungar
Ashokan Farewell is best known as the theme from Kenneth Burns' Civil War television documentary. This is the music to Jay Ungar's authorized solo edition as performed in the documentary series, arranged for violin with piano accompaniment and suggested chord symbols for optional guitar and bass.
Walker Family Band
American-Irish music from this family band, which also holds summer camps and workshops.
Children's Fiddle Method Books 1 & 2, by Carol Ann Wheeler (Mel Bay)
Has different versions of songs - basic, then rhythm and/ or bowing variations.
The American Fiddle Method, by Brian Wicklund
The method uses traditional tunes in a step-by-step progression, and covers important concepts like ensemble playing, improvisation, and 'jamming' skills. The book includes a CD for listening and play-along. Volume 1 is geared towards beginning to intermediate-level players.
Martha Yasuda arrangements
Her American-themed arrangements include: American Melodies Double Stop Solos and Duets, American Melodies for Four Violins, Cell-Phone Symphony for Four (intermediate to advanced violinists.)
Fiddleworks 1, 2, and 3, by Zav RT (Frederick Harris Music)
Three progressive volumes of jigs, waltzes, reels, marches, as well as Old Time, Celtic, Eastern European, and North American tunes. CD included with three tracks per song: one performance speed, one practice speed and one accompaniment only.Canadian fiddler Zav RT composed and recorded these works. Great fun!
CANADIAN FIDDLE
The Dungreen Collection - Traditional Celtic Violin Music of Cape Breton, by Kate Dunlay and David Greenberg (1996)
Detailed transcriptions of tunes performed by recognized greats of Cape Breton fiddling. Includes details seldom seen in books of fiddle music (bow pressure, intelligent discussion of how modes affect harmony, a discography & history for every tune, a listing & explanation of ornament symbols and a truly informative introduction) A must-read for anyone new to Cape Breton music. It appears to be out of print, but here is a starting point (Also, consider searching a library, if you are very interested in this book)
Danse ce soir! Tunebook: Fiddle & accordion music of Québec, by Laurie Hart
Extensive background information, maps, photos, and chords. The book has 122 reels, 6/8s & waltzes, including all the tunes on the CD. Co-author is pianist Greg Sandell. She has a mixture of Euro- American music.
Teaching CDs by Laura Risk
"Tunes 2001" includes two CDs with 65 well-known tunes from Scotland, Cape Breton, Ireland, Quebec and New England, each played fast and then slow. A great way to get better at learning by ear.
The Fiddle Music of Newfoundland and Labrador - Volumes 1 and 2, collected by Kelly Russell
Volume 1: 250 fiddle tunes learned from master fiddlers Rufus Guinchard and Emile Benoit.
Volume 2: features the tunes of 24 other Newfoundland and Labrador fiddlers
The Easiest Dance Tunes from Newfoundland and Labrador, compiled by Christina Smith
Easy-to-play, Newfoundland fiddle tunes. Old favorites (like Mussels in the Corner, Auntie Mary, She Said She Couldn't Dance and Now I'm 64) along with many unique tunes never previously published. Graded in order of difficulty for fiddle.
Canadian Old Time Fiddle Hits, by Gordon Stobbe
Compiled by Gordon Stobbe, he has three fiddle books, plus he Fiddler's Red Book of Scales and Arpeggios and a book of Waltzes. Stobbe contacted fiddlers and asked them to list the most commonly played tunes at jams & dances and compiled this lists into these books. CD with each volume.
JAZZ
Jamey Aebersold Jazz: Aebersold Play-A-Longs
Books and CDs of jazz standards -- kind of a karaoke system for practicing jazz improv.
Stylistic Duets for Two Violins, by Jeremy Cohen
Nice jazz duets for the intermediate to advanced student. His website also includes Mexican, Tango, and lots more Jazz, including Dave Brubeck for string quartet.
Scott Joplin Ragtime Favourites, arr. by Colin Cowles (Fentone Music)
Violin - Book/CD set.
Jazz Improvisation Made Easy by Jody Harmon and John Blake
A modal play-along improvisation method that works well with Suzuki students Bk. 2 and up,
Creative Strings Academy, with Christian Howes
A comprehensive and popular body of instructional materials for "improvising string players."
Jazz Fiddle Wizard by Martin Norgaard
Jazz string methods.
ROCK
Electrify your Strings, by Mark Wood
School workshops for kids by electric violinist Mark Wood, with arrangements of classic rock and contemporary music.

AMERICAN SOUTHWEST
Folk Melodies of New Mexico and the Southwest, by Susan Kempter and team
About 40 melodies, arranged in pedagogical order, with a history and settings when available, along with photographs, teaching points and changes that were made to the original transcriptions, with CD. To be published in 2015.
TANGO
Care to Tango, by Michael McLean
Fun tango duets for the intermediate student.
* * *
Many thanks to the following teachers for contributing to this list: Jody Harmon, Kristen Herbert Vance, Becky Lennon, Sarah Montzka, Laura Dalbey, Martha Yasuda, Marcos Kreutzer, Jenny Visick , Michael Fox, Redding Farlow Soderberg, Danielle Gomez, Göran Berg, Julianna Chitwood , Douglas Locke, Keenan Christensen Fletcher, Suzanne Edwards, Linda Louise Ford, S Ann Schluter, Rebecca Appert Kaltz, Julie 'Bamberger' Roubik , Sarah Skreko, Rafael Videira , Nathan Allen Wood, Vera Dragicevich, Laura Nerenberg, Aimee Morrill Briant. Thanks also to Kerstin Wartberg and the Suzuki Teaching Ideas Exchange Facebook group.
Comments (11) | Submit Comment | Archive Link
By
Ray Nichol
December 13, 2014 05:17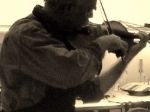 Hi Everyone, when I started the blog, I made a bargain with myself and you, that no matter how the work went during the making of the violin that was what I would be writing about.
Two weeks (or 8 days of school) ago I had great plans to have finished the two centre joints and then begin the boosting (or removing the waste wood) from the top plate. THAT was what I was expecting to be writing about this week.
It didn't happen.

Top Centre Joint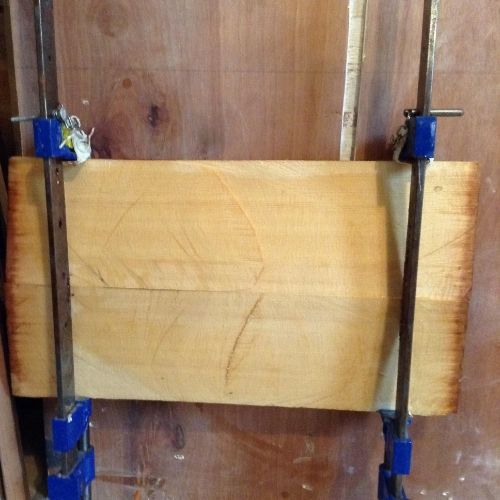 The above picture represents 7 of the 8 days of school. Yes, 7. This was a centre joint that no matter what I tried it refused to come together until the very last day. Seven days to flatten one very wicked (and I think mockingly) twist I have ever seen in a piece of wood as you can see in the next picture. Especially if you want those two pieces of wood to be jointed together to make a violin top.
What I needed to do was first flatten the side facing the table, then square the smaller sides to that side, and lastly square the two pieces of wood to each other. When the joint is good there is not even room (anywhere) for even the space for a hair. Anything less will mean you will have a joint failure when the violin is under the pressure of being played. Not a good time for the top or the back to be flying apart.
To make such a joint, you will be planing the wood one or two shavings at a time- 0.03 mm thick (yes I measured) and then checking for square. An open door to the outside or it seems if you look at it side ways is enough to throw off a days work.
After 7 days of patiently-and after the fifth day not so patiently- I had a top centre joint whose joint is not too bad.
This spruce is made from wood that was cut about 120-140 years ago. And something that I've never seen before is what I can only call flamed spruce. Here is a picture of the finished top centre joint and a very remarkable piece of wood.
Back Centre Joint
Where the top centre joint took 7 days to complete the back joint took less than one day.
The only hiccup was the glueing of all things. John, who has many years of working with violins said that he had never seen anything like it. Either because of the age or because of the amount of natural oil in the wood or both it took coating the joint 4 times (normally it takes only 2). The wood just seemed to be drinking in the extra glue before allowing us to clamp the joint together. To test to be sure we had a good joint we gouged a piece out and the wood broke before the joint so all was well.
In the end, I have a good joint and a flamed back of the kind you rarely see. I am very pleased with the two joints and now able to move onto the next step!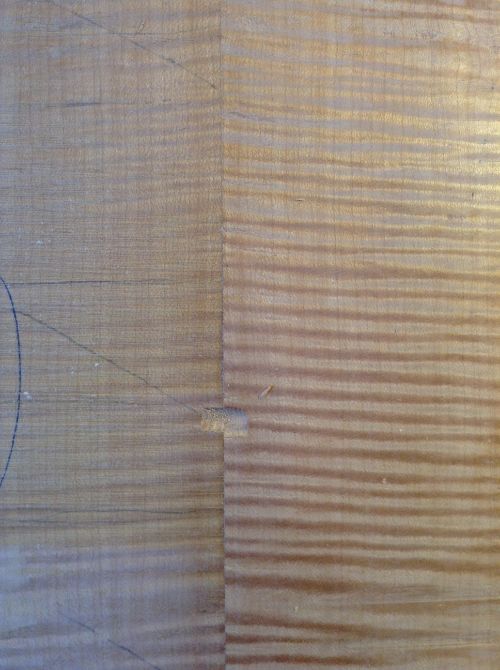 Next Post
John closes the shop in 4 days and reopens in the New Year. I plan on taking a couple of days off but will also be bringing work back to my flat, to work on during the break. So likely I will not be posting a blog until after the break.
Thanks for following my journey, so far, the great questions and comments, and those double tweets! Hope everyone is warmed beside your fireplaces with a warm drink in hand, good music being played, too much food to eat, and friends and family close by.
Comments (3) | Submit Comment | Archive Link
By
The Weekend Vote
December 12, 2014 13:04
How do you like your "A"? Particularly, how do you like your "A" when it comes to Baroque music? Generally, we tune our modern violins to an "A" that is 440 hertz, but the pitch did not used to be so standardized. Those who adhere to "period performances" practices generally tune their violins to a lower pitch that is thought to be more in line with the pitch actually used in the Baroque era: an "A" that is 415 hertz -- much lower. In fact, if you want to just here the pitches, here is a 440 A and here is a 415 A.
More interesting to me, though, is how different these tuning systems sound, when one plays Baroque music. I've put together two examples of the same piece, one played in a standard "modern" way, using A=440, and another played in the "period performance" way, using A=415. Which do you like better? Please participate in the vote, and then share your comments and thoughts about tuning.
Our two examples are the first movement from the Bach Double (Concerto in D minor for Two Violins and Orchestra)
A=440 (modern): Itzhak Perlman and Isaac Stern play the Bach Double, I
A=415 (period performance) Rachel Podger and Bojan Cicic play the Bach Double, I
Comments (24) | Archive Link
By
Laurie Niles
December 10, 2014 13:20
What is a music student to do, over the holidays?
Though the holidays can be a very busy time for musicians, music students may find a bit of a lull in their studies during vacation days. Perhaps there was a motivating fall recital or holiday concert, but now it's over. School lets out. Teachers go on break, and lessons go on hiatus. Perhaps one travels to see family or friends.
Should the violin go along, or should it just go on break, too?
I never begrudge people a short break. It's important to connect with family and friends, to do charitable work, to attend a religious service, to throw a party, to do whatever makes that spirit of culture and community come alive for you.
But I'm not ready to tell you to put the bow down entirely! Most people have at least a few days off from work or school during the holidays, and if time and family/religious obligations allow, this "in between" time can prove quite fruitful for you and your violin. Without the pressure of a recital next week or even a lesson next week, you can plan some practice sessions that are purely experimental and a little less goal-oriented. Maybe it's time to sight-read some new music, or just try something that isn't an assignment. Did you stop doing scales, because you were so busy preparing for concerts? Well, do some leisurely scales, or focus on a technical matter that's been on the shelf. Maybe you want to play something from a long time ago, something you just simply liked. Maybe you'd like to just mess around and improvise. If you're lucky, perhaps you will see people who can play chamber music with you, what better way to bond over the holidays?
For some, it's just not possible to take the violin on holiday break, or to get to practicing. If that's the case, then you can still accomplish something by keeping your ears open. Long plane ride? Load your iPod with a recording (or several!) of your new piece and bring some nice headphones. Staying at home? Consider attending a concert or religious service with live music.
What ever the next few weeks holds for you, I hope it will be filled with good music! I welcome your suggestions for making the most of holiday break time.
Comments (6) | Archive Link
By
Kate Little
December 10, 2014 11:19
In the formidable final movement of Beethoven's 9th symphony, the bass drum enters pianissimo, anchoring the tenor solo. In general, tenors receive sufficient attention. It is the bass drum that interests us today.

Ah, the bass drum. It is huge. One imagines loud, hard pounding. What fun! You gotta big instrument, open wide and swing. But not here. That's not what Beethoven wants. A gentle heart beat, muffled. within the body of the orchestra. An acute listener hears it distinctly. The sound requires soft mallets with a delicate touch. To watch Eric Hopkins of Utah Symphony play this is to hear him dance. On cat feet, an impulse from solar plexus courses out through his arms to caress the drum skin. Barely audible, the sound rolls quietly through the ear, connected, from Eric to you.
Erik also danced the gongs in the Utah Opera production of Turandot. Surrounded by a frame suspending a dozen bronze disks, his weight shifts, focus pivots, arms ripple, choreographed by the melody. Precise yet relaxed, the ringing tones originate in Eric's thoughtfully, carefully prepared physique.

Video courtesy of Eric Hopkins
It's physical. It's mental. It's emotional. It's a personal thing, playing an instrument: An expression of the self. When you hear Eric play, you hear his childhood: his curiosity, his desire, his intention, his commitment. That is what has made his sound what it is today. When you hear Eric play, you hear his life: his joy and his fears. That is what allows him to perform. All of this in the bass drum of Beethoven's 9th. Dancing for sound. Live. From Eric to you. That's music.

Comments (1) | Archive Link
Hear more from the world's top violinists in The Violinist.com Interviews: Volume 1, which includes our exclusive conversations with Joshua Bell, Sarah Chang, and David Garrett, and others, as well as a foreword by Hilary Hahn.
Get it now! For Kindle | For iBooks | In Paperback