Violin Blogs
Violinist.com members may keep personal journals on the website. Violinist.com's editor selects the best entries for the column below. Links to all other recent blog posts may be found in the column on the right.
Top Blogs
By
The Weekend Vote
March 26, 2015 23:15
Many students find motivation in taking graded repertory exams, though these are not as commonplace in the United States as they are elsewhere.
Here is a list of some of the most common music exams, and where they take place:
There are other music exams, and some are more localized. I welcome your additions to this list!
Have you participated in a music examination program (or more than one)? Are they motivating for you or for your students? Are they a waste of time that interferes with other learning? Please share your thoughts on the subject!
You might also like:
Comments (7) | Submit Comment | Archive Link
By
Michael Sanchez
March 26, 2015 20:45
In 2009, I remember my Mom looking over at me and saying "Michael, why don't you start teaching the violin again?" At the time, I had only taught a few students in high school, and never thought that teaching would become a full-time job. I remember wondering how I would even find students without already having a reputation in the area? I couldn't imagine leaving my job as a leasing agent at an apartment complex, and giving up the rights to my 20% discount; actually, that wasn't so hard. Wow, have things changed since then!

Three years later, I was teaching 82 students, many of them on Skype and other online platforms. By 2012 (all from the comfort of my Mom's home), I went from a teaching nobody to one of the busiest in the area, generating an income of $75K/yr. just from teaching lessons. I was also getting additional money from gigs, selling music books, accessories, instruments and more. This is ultimately what led me to start my online store, which is what takes up the majority of my time now.
My first teaching area (2012)
So, how did I get into a position where so many people call me and book lessons? I'm not Joshua Bell, so it wasn't because I had name recognition. It was because I took advantage of the many resources the internet has to offer. Keep in mind, you have to be a decent (preferably good) teacher to keep the students, but it has to start somewhere, and that's by getting the students to find you.
The Internet is such a great place for people to find music teachers, and it isn't as difficult as you might think to get them to find you. If you're looking to find more students in your area, focusing on online marketing is the way to accelerate. For anyone interested in this path (which is how I found 95% of my students), here is a progression of the things you can do to give you the best chance of success. This progression is what ultimately led me to quit my job as an apartment leasing agent, and make teaching violin my career and my sole source of income. All the tips I have for you below are related to generating the emails and calls you need to start building your teaching studio.
1. Start an online page
- To get started, you want to establish an area where you can post information about yourself, to ultimately get students to contact you. This could be in the form of a website (Weebly or Web.com are examples of hosting), or even a Facebook page. Make sure that your contact information is easy to find so people can easily reach you.
2. Build a professional profile
- First impressions are everything in getting someone to call you and inquire about your services. Make sure you have a professional picture, preferably one of you with your instrument (smiling doesn't hurt). Write a professional bio, and keep in mind it is all about selling yourself. Even if you don't have your degree, you can still tell people about your passion for teaching, and that you would be a great fit to help them achieve their goals. Maybe you are great with kids or have the ability to connect with adult beginners. Aim for being professional with your writing, and be confident about anything that you say (no sob stories or concerns). Keep it under two paragraphs unless you really think there is more that brings value. Have someone review your profile to make sure it sounds professional, is easy to read, has no grammar errors, and is convincing enough for them to take the next step in contacting you for lessons.
3. Get out of "word-of-mouth mode"
- Even great credentials don't put you in the best situation to find students. You can try doing things such as hanging flyers on doors (I did this when I first started), or telling everyone to tell their friends about you. The problem is that these sorts of things really don't work for finding a lot of students. I learned pretty quickly that I had to try other options, and the ones that worked were ones that revolved around something Internet related. If it wasn't for the Internet (online marketing), I'm certain I would only have a few students right now and probably still be living with my parents (sorry if this is where some of you are at). So what kind of marketing strategies should you be doing when it comes to finding students? I'll try to highlight some of the important ones below.
4. SEO
- When I first started teaching, I was developing videos in my Mom's basement (for Violin Tutor Pro), and this led me to have interest in how to market DVD's. The most important concept that I stumbled across was "SEO", which is the abbreviation of the phrase "Search Engine Optimization." This is a fancy phrase for how Google ranks you on their search engine, based on many different factors. By really understanding how this works, you can start understanding how different things lead people to your website or landing page which is ultimately how you can develop situations to find new students. When I first started studying about SEO, I learned everything from SEOMoz, which is a great tool to learn about SEO. Take the time to learn about SEO—you won't regret it.
5. Google listings - Make sure you have your information updated properly on Google, Yahoo, and Bing listings. When you search for a service on a search engine and the provider assumes it is local, they will include those listings ranked first before any of the others. Try searching for a restaurant in your area on Google and you will see what I mean. This is a prime way to get exposure when someone is searching for "violin lessons" or any other service in your area. Make sure to always keep these listings updated.

6. Create a video - The best thing you can do to establish credibility online is by creating a video. You can do this on smart phones these days, and all it needs to be is you talking about your services. It can be as simple as your name, what instruments you are able to teach, your credentials and where you are going to be teaching. You can post this video on your website or landing page to attract even more attention. A good place to post videos is YouTube, and you can also record directly to YouTube from your webcam.

7. Post on free classified websites - The #1 website that I used when I was trying to build a local studio was Craigslist. Most likely, this is a website you are familiar with. I developed a lot of leads just by posting my information about my services and lessons there, and you can also post on other classified sites. Go to Google and type in "Top Classified Websites 2015," click on a link that brings up a nice list, and choose maybe 4-5 of the best ones to post on. I wouldn't recommend paying anything since you can find free ones that are effective.
Like I said earlier, these are only the first steps. Once they find you, you still need to convince them that you are the teacher they want! If you find you are not a good talker on the phone, I would suggest having someone else filter leads for you. This can be done in a way that is still professional, but puts you in the best light. That is a very important part of the process.
I hope this was helpful for you. If you have any questions, feel free to contact me through my
Violin Tutor Pro
website.
You might also like:
Comments (3) | Submit Comment | Archive Link
By
Claire Allen
March 26, 2015 19:19
Perpetual Motion is one of the most notorious pieces in Suzuki Book 1. Just say the name to any violin teacher or Suzuki parent and you'll get a heavy sigh. "Oh, THAT one." When I tell people that I have 8 students all at some stage of Perpetual Motion, I get condolences.
It's true, Perpetual Motion haunts my sleep. Out of sheer survival instinct, I've developed a variety of ways to both prepare students for Perpetual Motion so that when they actually learn it on the violin, we get through the piece in a matter of weeks.
1. Singing
The first thing students do is listen to Perpetual Motion and learn to sing it.
I always have my students write their own words to their Suzuki Book 1 songs. The rules are simple: one syllable per note, to keep the rhythm steady, and the words can be anything they want. This helps the student be expressive, connect to the rhythm and pitch pattern, and remember the order. If you assign different words to repetitive phrases, they'll be easy to remember.
Singing in solfege. I teach my students to sing solfege syllables on scales and other patterns from the first lesson. By the time they're at Perpetual Motion, singing their songs in solfege is a normal thing for them. Singing in solfege also helps them connect to the relationship between the pitches.
IF your student is reading all the notes in the A Major Scale by this point, you can also have them sing note names.

2. Scales and Finger Patterns
I make sure that my students can play an A Major one octave scale, the arpeggios, and the scale in broken thirds.
I also do a ton of finger patterns featuring broken thirds and fourth fingers.
We do the A Major Scale in two different bowings: martele in the upper half for the Perpetual Motion singles, and then detache doubles in the middle of the bow for the doubles. This prepares the bow strokes.
3. Basic Technique
If a student is struggling with basic elements of technique such as left hand position, holding the violin up, or bow hold, I correct these through review songs or supplemental repertoire before tackling Perpetual Motion.
4. Awareness of Musical Form
The large scale form of Perpetual Motion is A B C A (using 4-bar phrases). That can be broken down into a a' b b' c c a a' (using 2-bar phrases). I write this on the music for the student and sing through the piece with them so they can see where exactly each section is.
I always point out that the difference between a and a' is that a ends on the note E and a' ends on the note A. The same goes for b and b'.
Any awareness of patterns will help build the connection between the student and the piece.
Once you've prepared the student to sing the song in a variety of ways, trained their fingers to do all the patterns required in the piece, and trained the bow to do the different bow strokes, teaching them the actual piece goes much, much smoother. All these tactics work equally well with Etude and the G Major Scale, by the way!
I hope this helps students, parents, and teachers who are working on Perpetual Motion, and I'd love to hear any tips or tricks you have for teaching it!

You might also like:
By
Eileen Geriak
March 26, 2015 15:51
Sitting here listening to Janine Jansen's performance of the Britten Violin Concerto...which Blackerby Violin Shop has posted on their facebook page. Violin soloists are so fascinating....is there any other instrument that a soloist has to put so much physical energy into....and at the same time have to be so finessed and delicate...all in one piece ? To switch back and forth like that is fascinating to watch...the intensity and concentration......yeah...I suppose cellists like Yo Yo Ma come pretty close....but THEY get to sit down !
I just had a great lesson yesterday with the concert mistress of a nearby city's symphony orchestra.....what an interesting person she is...and so energetic and full of enthusiasm. It was a "meet and greet" session so we did a lot of talking for most of the hour and it was quite enjoyable. She had me so relaxed and comfortable that when she finally asked me to play something....I was so ready. I showed her my violin...she played it and liked it right away...(oh my goodness but her small living room has fantastic acoustics ...I almost didn't recognize my instrument when she started playing on it...but of course...she's "Good" !) We chatted about the violin some then I pulled out my concert repertoire and chose one of the more interesting pieces that I thought I could do a decent job on. While I played she was busy typing things out on her laptop....checking the wood in the fireplace (yeah...it's still cold up here in New England)...and generally fussed about...not 'obviously' looking in my direction. Now...being smart like I am....I realized what she was doing and very much appreciated it ! She was making me comfortable by NOT hanging over my shoulder...she was certainly listening as I would see her out of the corner of my eye... hesitating when I faltered at a spot...and then slightly nod to herself when I straightened it out on my own...or not. Halfway through she said very enthusiastically..."GREAT !..."Play something else"....so I riffled through my stuff and pulled out something with some other technique or other...and that's how it went for about 10 minutes....meanwhile she was jotting things down on her laptop or fussing with something over by the fireplace....listening and watching...but not in an obvious way.
After we finished....me playing my pieces and she sizing me up....she gave me some recommendations for some books she thought would be a great help to me which would address some of the issues that she saw I need work on......we chatted some more...she recommended a good luthier that she trusted..which I could take the violin to. She was very interested in me getting it checked out and suggested that perhaps I could get a 'verbal' appraisal and a general checkup...just for good measure...which I will do.
Anyway....yadda yadda...that was my visit with a professional soloist/concert mistress/violin teacher/spincycle instructor/bass fisher woman...and aquarium geek (she had one in her living room...I immediately knew this was going to be a good meeting!) lol... it was fun and I am hoping that she enjoyed the meeting as much as I did. I will get in touch with her in a couple of days to let her that I am interested in continuing...if she would be interested in teaching me. BTW....there was no charge for the meet-N-greet and she scheduled me in at the end of her day so that we could take our time and not be hurried.....she's a true professional !
One of the members of a violin site I visit had this to say about the meeting......."She must be an earthy sort to fish for bass! I'd be wary of the dry-flies-only-cast- to-rising-fish type!"
And then added as an explanation...."I don't want to offend any fisher person out there BUT there are people who may liken bass fishing to fishing for catfish with worms or chicken liver as bait… something only a very down to earth person would do. Some would call a fly fisherman a purist. However, among fly fishermen, purists are only those that fish for trout and do not use wet flies or nymphs, only dry flies. The 'dry-flies-only' type would probably consider themselves higher on the evolutionary ladder and they may view those who fish for bass as lower life forms, like some violinists view viola players. Who would want to take lessons from such a person? An accomplished violinist who fishes for bass, IMO, is a rare individual well worth investigating." :-)
I'm excited ! We'll see how this all plays out ! :-)
You might also like:
Comments (2) | Submit Comment | Archive Link
By
Laurie Niles
March 26, 2015 13:29
Until it's perfect, you are not practicing. You are only "fixing!"
This was one of the many concepts that violinist Endre Granat talked about in his class called "The Art of Learning Violin," sponsored by Shar Music at the American String Teachers Association conference in Salt Lake City last week. Granat, whose teachers included Zoltan Kodaly, Gyorgy Ligeti, Josef Gingold and Jascha Heifetz, has had a distinguished career in performing, film recording and teaching and is currently based in Los Angeles. Recently he has published new editions of Ševcík exercises and Heifetz arrangements.
Endre Granat stands next to a cardboard cutout of his former teacher, Jascha Heifetz. "But I was taller than Heifetz!"
"Today I'm going to talk about a very depressing topic: practice," said Granat in his opening words. "It never ends."
Pedagogues such as Carl Flesch, Leopold Auer and Ivan Galamian all agreed: it takes about three to five hours of practice a day, seven days a week, to acquire and maintain a high level of technique.
For the teacher and student, this makes for some interesting math: the professor (and often the private teacher) sees his or her student for only one hour a week, or 15 hours per semester, 30 hours per academic year. In a little more than a week, the diligent student practices for more hours than in all his lessons for the entire academic year!
"In just seven and a half days, the student can get even with you!" Granat said. This means that the student had better be practicing well, and it's up to the teacher to "deputize the student to teach herself or himself."
That means knowing how to create a practice routine that uses time most effectively. A good practice routine involves working on technique, scales, etudes and repertoire pieces.
"Don't practice for things," Granat said, "prepare to be a great violinist."
One part of practicing should involve building a toolbox for your technique. "You fill up your toolbox with the tools you need as a violinist," Granat said. This includes left-hand techniques such as scales and right-hand techniques such as spiccato and various bow strokes. Related to this are exercises and etudes.
Why do we promote scales? They are not necessarily fun, but then again, "if you are a doctor and doing a colonoscopy, it isn't fun. But it's necessary!" One should learn three-octaves scales, and double-stop scales in thirds, in sixths, in octaves. That way, when these patterns occur in music, they are well-ingrained in both hands. The same goes for arpeggios.
"Etudes are the transition from scales to repertoire pieces," Granat said. The Ševcík exercises that Granat has been editing with Stephen Shipps break things down as etudes do, but perhaps even more.
Ševcík wrote so many exercises, it's hard to count them all. "It's not what he wrote, it's that he didn't know when to stop writing!" Granat said. He even wrote exercises to accompany the Kreutzer etudes, and those exercises are "even more boring than the original, and that is hard to do," Granat said. Nonetheless, "just because it's boring, don't belittle it, it's useful." Ševcík also wrote sets of exercises to solve just about every technical problem in specific pieces: the Mendelssohn Violin Concerto; the Tchaikovsky Violin Concerto; the Brahms Violin Concerto; Paganini Concerto No. 1; Wieniawski Scherzo-Tarantelle, and Wieniawski Violin Concerto in D minor.
Why would someone go to such lengths? Because "at every level, the technique has to supersede the level of the piece," Granat said. "Your technical level should be beyond the level of the artistic demands."
For example, the Beethoven Violin Concerto opens with a tricky passage of octaves. "To practice Beethoven for the purpose of learning to play the violin is sacrilege," Granat said. Those opening octaves are not the time for learning octaves, the time for that is well before one attempts the Beethoven.
Instead, technique has to be at about 150 percent, so that under the inevitable stresses of performance, one is still prepared to perform with ease.
"The music has to be choreographed," every crescendo, every tenuto. All those musical things must be prepared; they don't just come by themselves in the inspiration of the moment. "You have to practice the performance from a technical standpoint."
Practicing is the repetition of perfection. "It is already perfect when you start practicing; up to that point, you are fixing, not practicing." Of course, the fixing might take some time. But the first time you play it and it doesn't have to be fixed, that is your official "first time." Then do 15-20 perfect repeats -- they don't count, if you are still fixing. One reaches a point of diminishing returns after about 20 repeats in a single practice session; to secure things further, one must come back to it later in the day, or tomorrow. And keep in mind, "just because it worked on Monday morning, doesn't mean it will work on Friday afternoon!" Granat said.
One also needs use correct motions when practicing.
"It is generally true, practice slowly, but always with the motion you will use," Granat said. For example, can you jump slowly? No! So one must take these kinds of things into consideration, when practicing slowly. Concentrate on solving the problem using correct posture and motion, then the proper execution. Then, evaluate what you have just done.
"You have to do it the exact same way every time" in order for your technique to be reliable in performance, he said.
So again, how much do we need to practice?
"It has to be every single day," Granat said. "That is the sad truth. There is no shortcut."
You might also like:
Comments (3) | Submit Comment | Archive Link
By
Laurie Niles
March 25, 2015 21:48
Gil Shaham on Bach: "I think this music transcends everything. It transcends time, and performances, and cultures -- and tempos!"
As they are for many violinists, Bach's Sonatas and Partitas for solo violin have been a lifelong exploration for Gil Shaham, who started playing them as a child and has just released his first complete recording of them earlier this month.
For the project, Gil Shaham outfitted the 1699 "The Countess Polignac" Strad that he plays with gut-core strings and a Baroque bridge, and he also used a Baroque bow. He took about 12 years re-thinking the works before recording them, and the result is a virtuosic, up-tempo interpretation, full of revelations. The CD also includes fantastic liner notes written by former Strad Magazine editor Ariane Todes based on extensive discussions with Gil.
As part of his spring tour, Gil will be giving several performances of all six Bach Sonatas and Partitas, set to a video production by filmmaker David Michalek (including a performance this Sunday at Disney Hall in Los Angeles, which I plan to attend).
Recently Gil spoke to me over the phone from his home in New York. We talked about the staying power of Bach, the agility of Baroque bows, the appeal of fast tempos, and more:
Gil Shaham. Photo by Luke Ratray.
Laurie: What is the first Bach sonata or partita that you ever played, do you remember?
Gil: I don't remember exactly. But I do remember being about 12 and playing the B minor Partita, the one with all the doubles. I remember thinking it was so beautiful, and I especially loved the Sarabande. I thought that it was so cool that the violin could play all these chords, that the violin could sound like an organ, or many instruments, or an orchestra.
I also remember seeing the very first page, the G minor Sonata, and really not knowing what to make of it. (both laugh)
There's something about music that, once a composer writes it down, it gets translated into written music, and then you have to de-code it to what it was, and I think sometimes without living in that culture, it's hard to do that translation. The composer has an idea in his head, or maybe improvises it and then writes it down in a certain way, and then we read the music...
Laurie: The Bach Sonatas and Partitas are some of the few pieces where the manuscript is widely available. I don't know if Bach wrote that in his own hand or his wife transcribed it, but it's like a beautiful work of art.
Gil: It's beautiful, yes. The music is so perfect by itself, just looking at it on the page.
I love that part where they add a couple of lines at the bottom of the page -- because paper was so valuable. That's what they would do all the time, just to save paper. It's so different from how we work today.
Laurie: Do you remember which edition you started with? How many do you have by now?
Gil: As a kid, I had the Carl Flesch edition and I had the Galamian. Now I have maybe five or six. When we went to record it, I brought my bound autograph version, an Italian-published, bound copy of the manuscript. But they needed me to come up with an edition, so they brought me a copy of the Barenreiter.
Laurie: Do you read off the autograph, off the facsimile?
Gil: Yes, sometimes.
Laurie: I imagine the way you played it many years ago, when you were 12, is really different from the way you play it now. In what ways do you feel like your interpretations or your feelings about these works have changed?
Gil: I'm definitely playing them very differently today from 15 or 20 years ago. Maybe it's my mid-life crisis, but I'd like to think that now that I have a little more perspective and maybe a little better understanding of what the music is about.
Laurie: Has the period performance movement informed you? It sounds as though you decided to use a Baroque bow -- tell me a little bit about that decision.
Gil: I thought it would be fun to experiment with gut strings, and a Baroque bow and a Baroque bridge. When you use the Tourte bow and the hair touches the string, there's a natural resistance, so that you get this sort of automatic articulation. Whereas, with the Baroque bow -- what Leopold Mozart called the "round bow" -- rather than a resistance, it actually eases into the string. As the string pushes into the hairs of the bow, not only do the hairs not give resistance, they actually give in to it. That produces a very gentle attack, and I love that, I think it's so beautiful. So I'm a little bit addicted to that right now.
Laurie: Before you embarked on this recording, had you used a Baroque bow much?
Gil: I tried it once or twice, but not as extensively as I have in the last few years.
Laurie: Who made your bow, and how did you pick the particular Baroque bow that you are using for this?
Gil: Markus Laine, here in New York, made it. I've known him for many years and he's always rehaired my bow. We started talking about it and he's very knowledgeable. Markus said he used a German bow from around 1730 as his model. And then Adam Crane built the bridge, also made from a Baroque model. They are two people I've known for a long time.
Laurie: Looking at the pictures in the liner notes, they are beautiful objects of art, both the bridge and the bow.
Gil: The Baroque period was such an incredible time -- the Baroque musical explosion. The spirit of experimentation was everywhere, and I find that to be so inspiring. So I thought I could do little bit of experimenting on my own!
Laurie: I've heard that it's easier to play faster with a Baroque bow, do you find this to be true?
Gil: The bow is much lighter and shorter and somehow it seems to go faster. Also, with that kind of soft articulation, you can get a lot of clarity because not every note has a (strong) attack on the beginning.
Laurie: Does it make it easy to do the string crossings, such as in the Preludio?
Gil: I find that it's a very different feeling. The bow's much lighter, and I find that it does go faster.
Laurie: What does the Baroque bridge do for you?
Gil: The curve is a little bit flatter on the bridge, but also it's quite a bit higher. So I found that just putting my fingers down on the string had a completely different feeling. Somehow there were many more gradations of putting your fingers down, which I thought was interesting. I really sort of went back to basics: how do I put my finger down? How do I move my bow? How do I hold my violin?
Laurie: How did you change the way you hold your violin?
Gil: I don't really hold it like those old pictures of the tanzmeisters pulling out their little violins, holding them...But there is something about that, that's much more natural, more ergonomic.
Laurie: Putting it more in front, you mean?
Gil: Yes. When you hold the violin, especially when you go on the G string, you have to take your left elbow and push it to the right, and it's different from holding a lute, or a viol. Maybe a little bit more like that. I like to think my body is looser.
Laurie: When it come to the Baroque bridge, if you are doing Bach in a concert, and then you are doing Barber the next day, do you switch out the bridge? How does that work?
Gil: For a while there, that's what I was doing. I would switch back and forth!
Laurie: And you changed the bridge yourself?
Gil: Yes, well, I invested in a little bridge jack...
Laurie: Wait, a "bridge jack"? What is that?
Gil: I don't know if that's the official term...It's a little thing you put behind your bridge and then there's a little screw and you wind it up or wind it down, and it holds the strings up for you. And then you can take out your bridge and replace it with another bridge.
Laurie: You're kidding me!
Gil: It's kind of fun, right?
So for a while, I was doing that. But then I found out that you can really do everything with a Baroque bridge. You can play Barber Concerto on a Baroque bridge, it works fine. I actually want to play everything with a Baroque bow and bridge, you know?
But now I've gone back to my modern set-up. Next couple of concerts I'll be using my Tourte bow and my modern bridge.
Laurie: And how about the gut strings? What kind of guts are you using?
Gil: I do love the sound of the gut strings, I find them to be richer than the metals.
For a while I was using Olivs, and then for a while I was using Passiones. But then I had a couple of trips where it really was temperamental; they would squeak and they would go out of tune. So for concerts, I've sort of gone back to using the Dominants, just for safety. I have so much experience with them, so I feel like I know what they're going to be like, I know what they're going to sound like. And they adjust overnight.
Laurie: What did you use for the recording?
Gil: For the recording I kept my Jargar E, but I used Olivs.
Laurie: Do you have a favorite, of these Sonatas and Partitas? Or is that a little bit like picking a favorite child?
Gil: It's a little bit like that!
It's incredible how different each piece is. Maybe that's part of why they work as a set. Because it's not clear that they should be a set. Bach himself would pick one movement here and put it there -- the G minor fugue was transcribed, by itself, for organ; the E major Preludio the Preludium Sinfonia to Cantata 29. But maybe, as a set, they really do work. They were published as a group of six and there's certainly a lot of variety between them.
Laurie: It feels a little bit like a trip around the world.
Gil: A trip around the world -- I love that.
Laurie: They really do take you on a journey, a very colorful one, to so many different places.
Gil: There are even readings of them as a re-telling of the scriptures.
I do think that they link up; there's some dovetailing from one piece to the other, one movement to the next.
Laurie: What kind of practice regimen did you need, to get all of these in your hands at once?
Gil: I would say easily, it was the most I've ever practiced. I think I started (preparing) them 12 years ago. I didn't play the pieces in public for a long time. I just didn't feel like I was confident enough to present it for an audience. And people feel very strongly about the music, I feel very strongly about the music. Then I made a concerted effort -- no pun intended -- to play it in concerts. I started each season to play a different one, for the first six years, just sort of focused on one. Then I started playing concerts of just solo Bach. And I just love it. So many other musicians have said it, and it's true: There's nothing more satisfying, nothing more rewarding. There's no greater joy, there's nothing more fulfilling than playing Bach and studying Bach, being around Bach.
Laurie: You said it was easily the most you've practiced, but I don't know how much you normally practice. What does that mean?
Gil: I would go into the practice room and, just to get through the pieces takes a couple of hours. Quite a lot. Some days 4-5 hours, and I'd try to do it every day.
It's true that I play this music faster these days than I used to, and some people have been surprised. Listening to other music by Bach, it seemed like we were playing (the Sonatas and Partitas) slower -- or I was playing them slower -- than comparable pieces from the time. For example, the fugue from the the first orchestral suite, (he sings it, it's brisk), it's not really the same as the tempo that I used to play the G minor fugue (he sings the G minor fugue, quite slow). I thought maybe it should be the same. Or the Minuets, or the Sarabande, or the Chacconne.
A lot of things started to make sense for me at the faster tempos, like notation. Thirty-second notes sounded like 32nd notes. Sixteenth notes sounded like 16ths, "a la breve" sounded like "a la breve." I feel like it swings better now, it makes more sense.
Laurie: The Chaconne sounds really interesting at the speed you played it. It solves some of the problems of voicing it, just to put it at a faster speed.
Gil: Bach did actually write one other Chaconne, which was in Cantata 150, and it's quite fast. If you listen to other composers' Chaconnes, or Ciacconas, they seem to be faster than the way I used to play the Ciaccona.
Laurie: It's already a really deep piece, so to play it really slow can get ponderous.
Gil: Possibly...but I think this music transcends everything. It transcends time, and performances, and cultures -- and tempos!
Laurie: I understand that you will be performing all the Bach Sonatas and Partitas with film as part of your spring tour, including a performance this Sunday at Disney Hall in Los Angeles, which I can't wait to see.
Tell me about this project, it sounds very unique.
Gil: This is something that came about from conversations that I had with filmmaker David Michalek. His films are stunning, beautiful -- I find them to be mesmerizing. (He uses) a brand-new technology of super-slow motion, where he films things at about 1,000 frames a second and then slows them down. It's almost like you're looking at a still-life photo, and then very gradually -- if it's a portrait, the expression changes, or the feeling of it changes. I've always thought that the way he makes his films, the way he uses time, and the way he uses light, was very musical, that it would easily lend itself to music.
As we spoke, we started talking about audiences and their experiences, and more particularly, how audiences today hear Bach differently from Bach's own audience. We talked about the references, how it would feel different for someone like me, who has never danced a bourree in his life, than for an audience of people who danced a bourree every Friday night. Or an audience member who would recognize the Lutheran hymn, Komm, Heiliger Geist, Herre Gott in the Chorale, because they sang in the church ever since they were a little kid. And so we thought that there might be a way to enhance a listener's experience today, when they're hearing the music of Bach.
We had those conversations two or three years ago, and a couple of months ago I saw the films for the first time. There was a group of co-commissioners, the Los Angeles Philharmonic was one of them. So I'm thrilled to be part of this project.
Laurie: How did it work? Did you send him recordings of yourself playing these?
Gil: He had some other recordings, and there were a couple of times when I went to his apartment and played through the pieces for him. We really went into a lot of detail and talked about every page in the score.
Laurie: Is he a musician as well?
Gil: He's not a musician but he's very involved in dance, as he's married to one of the leading New York City ballet dancers, Wendy Whelan. And so I was fascinated, especially when we started talking about the Partitas and the Baroque dances and all the motions and movements involved with that.
Laurie: You'd have to coordinate your playing with his film, I imagine.
Gil: Somewhat, although he does give me complete freedom, which is amazing. So I can be on stage and do whatever I want.
Laurie: Are you watching, while you play it?
Gil: Actually, at first I wasn't going to, but we decided that I should use a monitor. For me, I'm more comfortable because then I can see what my audience is seeing, what people are reacting to.
* * *
From 2009: a live performance of Gil Shaham playing the "Loure" from Partita No. 3
You might also like:
Comments (3) | Submit Comment | Archive Link
By
Krista Moyer
March 25, 2015 15:18
I read a blog earlier today posted by an individual who began taking violin lessons as an adult and succeeded to the point of being able to become a violin teacher. As I continue to struggle through the end of Suzuki book four I can't help but wonder how that person did it. In the beginning, learning the violin was really easy for me. I learned my way through the first three books in an average of about six months per book. However, I have been stuck in book four for roughly 16 months. Have I hit the wall? Is this as far as I can get?

I ask these questions because it seems as if every tiny improvement has taken weeks to accomplish rather than hours. Going from learning two new pieces each week to spending 9 months and counting on a single piece has been more than a little bit bruising to the ego. Lately, I feel as if I spend more time perpetuating old bad habits than establishing new good ones. Granted, not much progress can be expected at this level on only 10 hours of practice time a week, but something should improve, right? How is it, with all the great practice techniques my teacher has given me, that it seems like I am going backwards?
Someone suggested that to feel better about my progress, I should go back to some earlier pieces so I could compare how far I have come since the beginning. Because my oldest son took up viola last month, I decided to play through Suzuki book 1 for him. What shocked me was not how easy the pieces seemed, but that every bad habit that I worked so hard to get rid of reemerged when playing them. Even though I have seemingly conquered things like raising my left shoulder, gripping the neck with my thumb, stiff bowing wrist, and twisted posture, every single one of those errors came right back when I played through the book.
You'd think that subsequently fixing those issues would stick around when revisiting old works. The fact that it did not makes me feel as if I will be unable to ever achieve my goals. It's frustrating. It has been said by various individuals that hitting the wall means that a breakthrough is imminent. I'd like to believe that, but I'm losing the faith. My brain knows that I have to become more efficient at practice and skill building to get where I want to be; but my heart is tired and dejected. And frankly, there are so many things going wrong at once that I don't know where to start fixing them.
The thing is that I still love what I am doing. The problem is that I can't share it with anyone because I am too embarrassed at my lack of skill. It's hard enough to be terrible at this without being compared to children with talent, skill, and gobs of time to practice. Sure, tiny Susie can play the Bruch from memory with virtuosity; but can she run a household, raise a family, do community service, and perform advanced financial calculations during a conference call while texting with a third party to get a better rate for a client? I think not. However, our shared audience doesn't take the added adult-related stress into consideration when judging whether or not we are good violinists. Tiny Susie is a good violinist. I am, and feel as if I always will be, a terrible one.
Is it possible to be unable to make music? The prevailing thing I hear is that everyone is capable of it. I would like to believe that. Perhaps that's what keeps me going - not skill, not talent, but hope.
Comments (26) | Submit Comment | Archive Link
By
John Berger
March 25, 2015 12:24
Have you been here? It's after 9 o'clock on a dark Saturday night during a three day music camp and there's mayhem in the boys' dormitory. Exhausted from a long day of workshops, masterclasses and orchestras, I am looking forward to getting back to the teachers' room for a quiet chat (and with luck, a small glass of red) with my colleagues, but lots of excited and restless young musicians are wide awake, disturbing others - and I'm on duty. What to do?
For better or worse, I'm not a disciplinarian. In the early days I made a half-hearted effort to become one, feeling like a sheep dog, running and barking around the perimeter trying to contain an unruly mob of sheep - with limited success. I envied my music teacher friends who seemed to take disorder in their stride, easily subduing and controlling their charges with sharp, well-placed commands and reprimands.
In Japan I happily learned another way - one that came more naturally for me, but that's another story.
That night instead of laying down the law, I think of telling a story that I'd made up for my own children. " We're not interested in a story," the bigger, older kids scoff, and continue on with their chatter. " That's ok," I say, sitting on a chair near the younger ones' bunks.
" There once were three friends - a horse, a monkey and a boy, who set out on a quest to find and bring back a long lost treasure."
These three friends, as they do in such stories, encounter all sorts of perilous difficulties, impossible obstacles and weird wonders on their journey. As the story progresses, I notice after a while that the older kids have gone silent, and trying not to make it too obvious, are listening intently to the story. By the time our heroes return with the treasure, many students are asleep or smiling quietly as I say goodnight. A peaceful night follows.
Perhaps a bark or two from another teacher would have achieved the same result, but next morning the big kids come up to me and say, "Can we have another story tonight?" "Well, yes," I say, "but you'll need to be in bed by 8.30. Some of the little ones will be really worn out by that time, don't you think?"
Cheers,
John
By
Laurie Niles
March 24, 2015 11:48
In an effort to promote the coverage of live violin performance, Violinist.com each week presents links to reviews of notable concerts and recitals around the world.
Pekka Kuusisto performed the Sibelius with the Seattle Symphony Orchestra.
Pekka Kuusisto. Photo by Kaapo Kamu.
Daniel Hope performed the Mendelssohn with the Savannah Philharmonic Orchestra.
Nadja Salerno-Sonnenberg performed the Mendelssohn with the Philadelphia Orchestra.
James Ehnes performed the Prokofiev with the Oregon Symphony Orchestra.
Gil Shaham performed both the Bach concerti with the Dallas Symphony Orchestra.
Bradley Creswick performed the Tchaikovsky with the Royal Northern Sinfonia.

Sarah Chang performed the Bruch and Ravel's "Tzigane" with the Adelaide Symphony Orchestra.
Rimma Bergeron-Langlois performed the Sibelius with the Orlando Philharmonic Orchestra.
Vadim Repin performed the Sibelius with The Philharmonia in London.
Janine Jansen performed the Brahms with the Sydney Symphony Orchestra.
Please support music in your community by attending a concert or recital whenever you can!
Comments (1) | Submit Comment | Archive Link
By
Graham Emberton
March 24, 2015 00:37
Like much of the world, I've been hearing Taylor Swift's music a lot over the last few months. In the past I've been inclined to shake off her songs as country tween material, but I actually find the "1989" singles fresh and totally earwormy. Combine this with the knowledge that Taylor is a classical music patron, and you might call me a Swiftie. Maybe. Intrigued by her career arc, I was reading one of those in-depth articles that show up on a Google search, and was interested to learn that much of her work begins simply, with a recording sketch on the "Voice Memos" app on the iPhone. This was coincidental for me because I've recently been using that app a lot in my own practice and finding it very helpful for self-recording.
Amy Beth Horman recently wrote a great blog about implementing technology in her studio. Some of that information was revelatory for me (that Livescribe pen is crazy!), and some more familiar. I also use a Zoom recorder and it's been great, helping me produce good quality recordings that got me into summer music festivals and through grad school pre-screenings. However, I find it's just enough extra work to bring the Zoom with me into a practice room that I don't use it too terribly often for day-to-day practice. For basic recording needs I've been using Voice Memos, a default app on my iPhone. The audio quality is adequate, not superb, but I find this shortcoming is something of a blessing in disguise. Because nuances in dynamic and tonal quality don't always get picked up by the phone, I have to make sure my musical intentions are absolutely clear and executed with commitment. If I can produce the sounds envisioned in my mind on a Voice Memo, I know I'm headed in the right direction. There are tons of other ways to self-record of course, and I'd love readers' suggestions on other apps to use. Voice Memos is just a good way to get started.
I've not always been diligent about self-recording. At first I didn't have a very good way to make a recording, but even after I obtained a device, the ego-deflating nature of a recording was unpleasant and I often procrastinated. If you also suffer from microphone shyness, I have to just suggest you buck up and face the music as soon as possible. Once I got over myself and started recording more regularly, progress really started to pick up. While this is a controversial opinion, I think the act of listening is more efficient when it's done to a recording rather than as one is playing (not to say that we shouldn't be listening as we play, of course).The cognitive and physical efforts required to play an instrument diminish our listening abilities, and details will inevitably escape our ears. The ephemeral nature of sound is also a problem. While listening to a recording is a different, perhaps somewhat sterilized experience, it allows for more focused, objective listening. Once you've listened to your recording (perhaps a few times in a row), you can pick out an aspect of your performance you'd like to improve, and apply problem-solving strategies. Wash, rinse, repeat. When you add this feedback to your practice sessions, the potential for productivity blossoms. If we're spending hours a day in a practice room, it's best to optimize that time investment with some self-recording. In her own way, Taylor Swift does it too!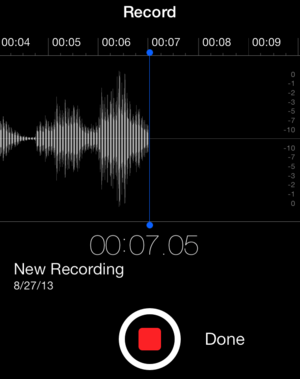 You might also like:
Comments (2) | Submit Comment | Archive Link