Violin Blogs
Violinist.com members may keep personal journals on the website. Violinist.com's editor selects the best entries for the column below. Links to all other recent blog posts may be found in the column on the right.
Top Blogs
By
Robert Niles
November 19, 2014 08:26
In an effort to promote the coverage of live violin performance, Violinist.com each week presents links to reviews of notable concerts and recitals around the world.
Atlanta Symphony concertmaster David Coucheron and conductor Robert Spano
David Coucheron performed Mozart's Violin Concerto No. 5 with the Atlanta Symphony Orchestra in the orchestra's first concert back after its board locked it out.
Augustin Hadelich performed the Mendelssohn with the Seattle Symphony.
Hilary Hahn performed the Beethoven with the Luxembourg Philharmonic after a four-month injury absence from performing.
Nicola Benedetti performed Shostakovich's Violin Concerto No. 1 with the Royal Scottish National Orchestra.
Tasmin Little performed the Korngold with Vancouver Symphony Orchestra.
Jennifer Koh performed the Sibelius with the Waco Symphony Orchestra.
Renaud Capucon performed Mozart's Violin Concerto No. 3 with the Singapore Symphony Orchestra.
Joshua Bell performed the Glazunov with the New York Philharmonic.
Simone Lamsma performed Prokofiev's Second Violin Concerto with the St. Paul Chamber Orchestra.
Lu Siqing performed the Butterfly Lovers Violin Concerto with the National Centre for the Performing Arts Orchestra.
Also in violin news:
Congratulations to Danielle Belen, who was named one of three recipients of the 4th annual Sphinx Medals of Excellence, awarded to artists of color who demonstrate artistic excellence, outstanding work ethic, a spirit of determination, and great potential for leadership. (Other recipients were soprano Janai Brugger and flutist Demarre McGill.) Each will receive Medals of Excellence and a $50,000 Artist Grant at a luncheon in Washington, D.C. on March 18, 2015. Danielle, winner of the 2008 Sphinx Competition, recently became Professor of Violin at the University of Michigan. She also Artistic Director and founder of Center Stage Strings summer camp and festival.
Please support live music in your community by attending a concert or recital whenever you can!
Comments (2) | Submit Comment | Archive Link
By
Laurie Niles
November 17, 2014 14:40
What a full feeling I have, the day after my students give their recital!
My studio's fall recital yesterday left me feeling very proud of the accomplishments of all my students and their growth over the months and years.
The big reason I put on these semi-annual recitals is to provide a performing opportunity for students. But it does more than that. It brings together a small community of people to mark a milestone in everyone's progress. It allows kids to perform, but it also shows them something about being an audience member and, hopefully, about showing support for their peers. Parents see their own child progress, but they also witness the progress of other students. Parents and students have the chance to chat and get to know one another at the reception afterwards. (I always close by saying, "Tell everyone else something they did really well!")
At the end of each recital, I take the opportunity to call up each child, one-by-one, to acknowledge their violin progress and also whatever ripple effect his or her violin playing is having on his or her community. This last part has nothing to do with me, but when one of my students is playing in the school orchestra, youth orchestra, jazz band, Suzuki group, if they are helping teach other kids, playing at their church, singing in the choir -- I think it's all to be commended.
I have a small studio (about 15 students) and my recitals are likewise small, but over the years I feel I've figured out a few things about putting them together. Here is a checklist of things to do, to prepare for a recital. Please feel free to add your own ideas in the comments!
1. Hire a good accompanist. This is the first call I make, even before setting the date. I see if one of my preferred accompanists is available. A good accompanist can roll with whatever the students throw his or her way. A good pianist is not always a good accompanist, so be sure that you know your pianist for his or her collaborative abilities.
2. Secure the venue and set the date. The sooner you set the date, the sooner you can commit to every aspect of the recital. Students will have their other important commitments (soccer, tennis, school musical, etc.) and you may want to check a few of those. (If you set the recital on the day of their graduation ceremony, or their required school concert, or the youth symphony concert, that's a big conflict.) But if you can tell parents several months in advance to reserve the time and date, there is a much larger possibility that you will get high participation and that just maybe, this is the one soccer practice they miss because they have an important and mandatory violin recital!
About the venue, pick something that suits the size of your studio. The little chapel at my own church is just beautiful, so I hold my recitals there. I feel lucky, as it took me a while to find such an ideal setting. If you have a hard time finding a place for the recital, you can ask your students' parents if they have connections; I've had some really lovely recitals at people's homes as well. Keep in mind, the venue should have a decent piano that is in tune. This can be a complete deal-breaker! So make sure you are familiar with the piano (bring your tuner, see where the "A" is at) before you sign a contract. You will probably have to pay to use a public or church facility.
3. Pick what your students will play. My general rule is: it should be completely memorized a month in advance of the recital day. We make the final choice of each student's repertoire about a month in advance. They may be working on other, more advanced pieces, but the recital piece needs to feel comfortable and extremely practiced and familiar.
4. Practice performing. In the weeks leading up to the performance, we practice performing during the lesson, and I encourage them to perform for others at home. I have them walk in, bow, play the whole piece, no stops, bow again. If I played the piano, I'd accompany them on piano. But I don't! So I accompany them on violin, with much thanks to arrangers Martha Yasuda and also Marianne Rygner for making violin duet parts of the accompaniment to the Suzuki tunes as well as many other pieces. (Thanks to Martha, my students have recently been able to put Meditation from Thais with piano with the greatest of ease, yay!)
5. Rehearsal. I have everyone come to the venue where the recital will take place and play with the pianist. I try to schedule the rehearsal at least a week in advance for the "Wow, I had no idea but I really need to work on this!" revelation that inevitably occurs! Sometimes it's hard to schedule this in the venue, but I really aim for that, because I think it helps performers to hear themselves in that space, imagine themselves playing in that space, etc.
6. Reception. Are you going to have a reception? I've found it easier to do the reception as a potluck. I have the families sign up to bring something in the 2-3 weeks before -- using a sign-up ensures that they can see what others are bringing and we don't wind up with 10 veggie trays, or conversely, 10 plates of cookies! I provide the drinks, cups, plates, tablecloth, etc. Be sure to bring several trash bags, if you plan a reception, and ask kids and parents to help you clean up afterwards so you can leave the venue in good shape.
7. Program: The week before the recital, I type up and print the program. I try to make it look nice! This time I drew the picture you see at the top of this article. If you can, print the program several days before the recital, so you don't wind up in a mad dash on the day-of.
8. Awards. Not necessary, but I make everyone a certificate that acknowledges the piece they have just performed. I've known teachers to give out practice awards, for most hours practiced, or awards for those who practiced 100 days in a row. I give the certificates at the end of the performance and use the occasion to acknowledge students both for their violin accomplishments and also for what they have been doing in their violin lives -- if they play in youth orchestra, school orchestra, band, church, teaching, giving performances at nursing homes, etc. etc.. This allows other students and teachers to think about what possibilities are out there for making the violin become a part of their lives. Because ultimately, that's what this is all about: teaching them to play the violin so that they are free to go whatever direction they wish with it and use it to enhance their own lives and the lives of others.
P.S. At right is my newest student, Sebastian, 4, whose certificate was for "First Recital"!
Comments (12) | Submit Comment | Archive Link
By
Laurie Niles
November 17, 2014 10:43
She's back!
According to Hilary Hahn's anthropomorphous violin case on Saturday:
"We are back on the road!! Greetings from Regensburg, Germany. Hilary will play Beethoven tomorrow -- matching repertoire to region," tweeted the case, then, "Hilary and I are grateful to our fans and colleagues for their support in the past months. We hope to see you all soon!"
On Sunday she performed the Beethoven Violin Concerto Sunday with the Luxembourg Philharmonic at University Hall in Regensburg, Germany.
Photo by Michael Patrick O'Leary
Since July, Hilary has been recuperating from a muscle strain, which forced her to cancel a number of appearances, including performances with the Baltimore, Seattle, Dallas, and San Diego Symphony Orchestras, and the Cleveland Orchestra.
Here is her November tour schedule, which has her playing the Beethoven Violin Concerto at locations in Germany and Luxembourg, with Luxembourg Philharmonic Orchestra, conducted by Joshua Weilerstein.
Comments (1) | Submit Comment | Archive Link
By
Laurie Niles
November 16, 2014 10:24
Today National Public Radio aired a spot called 'Twinkle' Sparks Fireworks As Fiddler Guts Violin Method, by Liz Baker.
Well, certainly, Mark O'Connor has been doing his best to gut the Suzuki method and those who use any bit of it in their teaching or try to defend Shinichi Suzuki (1898-1998).
One of the lines in the story struck me: "Anyway, the facts are almost beside the point."
Indeed, the method never needed anything but its successful students to prove itself.
But since NPR saw fit to air O'Connor's shaky allegations, I'd like to go over a few of the facts that the piece brought up:
1. Suzuki indisputably took lessons from Karl Klinger:
The NPR piece addressed that Suzuki took privately from Klingler, not as a student at the Berlin Hochschule für Musik. Suzuki never claimed he was a student at Berlin Hochschule für Musik. Here's a little more:
"Shinichi Suzuki had violin lessons with the prominent German violinist Karl Klingler in Berlin in the 1920's. Klingler's daughter, Marianne Klingler, was a strong supporter of Suzuki's teaching principles and became the first chairperson of the European Suzuki Association. Ms. Klingler confirmed many times that Suzuki had indeed studied with her father." From the International Suzuki Association.
2. Suzuki had a friendship with Albert Einstein.
NPR brought up O'Connor's claim that Suzuki faked a relationship with Einstein but didn't address its veracity.
Suzuki describes having a relationship with Albert Einstein; you can read that in "Nurtured by Love," p. 76-78. They were friends in Berlin who sometimes wound up at dinner parties together, both there and when they were in America. Suzuki's book does not actually devote a lot of space to this relationship, and what he does write is extremely deferential. Mentioning Einstein seems less about name-dropping than it was about describing qualities he admired in Einstein. He describes an incident, when both men were at a dinner party in America. Suzuki was asked to play by the host, and he played some Bruch for the guests. A woman there asked, how could the music still sound so German, played by a Japanese man? Suzuki writes in the book:
"After a brief interval Dr. Einstein, young enough to be her son, said quietly, 'People are all the same, madame.' I was tremendously moved."
I'd call that man my friend, too.
Besides that, there is also physical evidence of this friendship: Norman Lebrecht published on his blog and Amy Barston published on her Facebook page Einstein's self-portrait drawing, made for and given to Suzuki. Here it is (thank you to Amy Barston):
The autograph says, "Herr Shinichi Suzuki in freundlichsten Erinnerung" which translated is, "Mr Shinichi Suzuki in friendliest recollection" – Albert Einstein November 1926.
3. Pablo Casals came to a Suzuki concert and praised the performance.
The NPR piece brought up O'Connor's accusation that Suzuki faked an endorsement from cellist Pablo Casals but did not address its veracity.
In his book, "Nurtured by Love," Suzuki describes Casals, at age 75, coming to a concert of Suzuki kids, being moved by it and offering hearty congratulations (p. 101-102). The following video shows Casals at a Suzuki concert (see 5:33):
4. Mark O'Connor just got re-married and so he's dropping this attack on Suzuki.
NPR brings up O'Connor's new marriage. All best wishes to him. It would be great if he's moving on.
It's worth noting that O'Connor's attacks on Suzuki coincided with the apparent dissolution of his relationship to Sadie deWall, mother of his four-year-old daughter. Sadie's mother is Pam (deWall) Wiley, who taught the Suzuki method for 40 years before helping O'Connor conceive the first books in his method and also going on the road as the teacher trainer for the O'Connor Method.
* * *
For more about this:
Just in: Suzuki Empire Strikes Back at Fraud Allegations: Norman Lebrecht pretty much takes down all of O'Connor's arguments, point-by-point, then commenters offer even more concrete evidence.
Mark O'Connor Harms the Violin Community: This article by me describes Mark's destructive tactics.
Room for All: Shar Weighs In on Mark O'Connor's Anti-Suzuki Statements: Shar CEO Charles Avsharian writes in support of the Suzuki method as well as O'Connor's method, which Shar publishes. He expresses disappointment over O'Connor's attacks on the character of Shinichi Suzuki.
Comments (27) | Submit Comment | Archive Link
By
Ray Nichol
November 15, 2014 04:35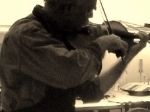 The Scroll and Ribs continued ....
In the making of the scroll, I am discovering that to be a luthier, I will be using many disciplines such as: chemist, woodworker using hand tools, and an artist, in order to complete what many people call - the closest musical instrument to the human voice.
I now have only a rough outline of the scroll. But, armed with my measurements for the scroll length, eye to eye distance, and layer by layer angles and depth measurements I am wanting to start cutting and shaping wood. However, John has other ideas. John wants me to study scrolls, from Amati, Stradivari, Stainer, and others. I need to learn to take those measurements and make them flow seamlessly together.
After studying scrolls shapes, from the Old Italians, I began to sketch my scroll based on the measurements I took from the original violin. At first simple lines, then finer details, all with the finest examples in front of me. John and I talked over drawing negative space, comparing eye shapes from many makers and always referring back to the original violin which I am basing this violin upon. A couple of days later, we agree on a good design that is both pleasing to the eye and in keeping with original design.
As the scroll took shape I soon discovered that my design will mean that I will need to now make specific scapers to obtain work in the tighter quarters around the scroll's eyes.
As you carve the the scroll you first start with saws and large chisels. And you work closer to your measurements the tools become smaller and finer. I'm working slowly on the scroll making sure I'm only removing the 'grizzle'.
Ribs
As you can see in the next photograph, the C bouts are glued into place. The C bouts are the most difficult, of the ribs to form and glue into place. And, some say the most important. Corners are tight, two curves that needto be blended together and all four corners need to be the same size.
Because my wood is highly flamed and is +120 years old, I have soaked the ribs for about a hour. While I'm waiting I'll continue working on the scroll. I hate sitting on my hands and watching a kettle boil.
I'm heating the bending iron to 175 degrees and I'll be using hide glue at about 160 degrees. When actually bending the ribs the back of the ribs needs a tin strap with handles not only to prevent my hands from burning but also to help prevent the wood from ripping apart as I bend the ribs into shape.
An absolute perfect contact, with the corner blocks is a must. Before glueing into place I'll practice to be sure all goes well. Which of course is nice when it happens but rarely does.
Have a look at the photograph below and I'm sure you can see which side gave us the most trouble.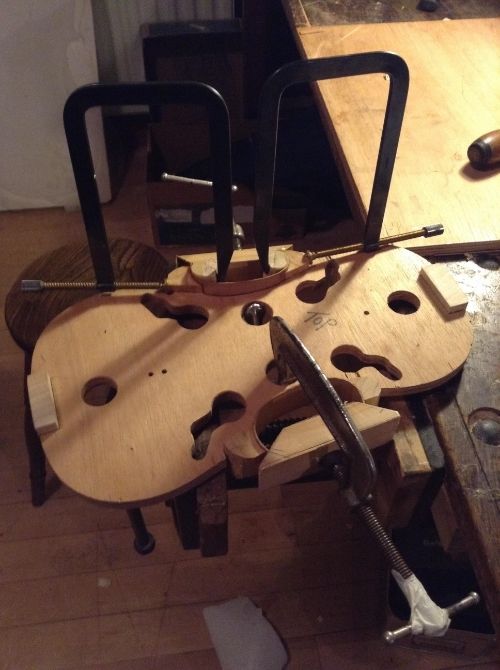 After the glue is dry, 24 hours, I cut back the ribs to length (be sure all corneas are exactly the same length, are 90 degrees, and they are the shape of ski slopes. Easy, eh!
I've now glued the upper bout ribs,into the place, making sure there are no gaps along the edges where the upper and C bouts meet.
The next two weeks finds me at work on the lower ribs, rib liners, scroll, and the center joint for the spruce top. Since the weather is turning I'll put some hot chocolate over the fire for you when you next drop by for a visit.

Reader's Question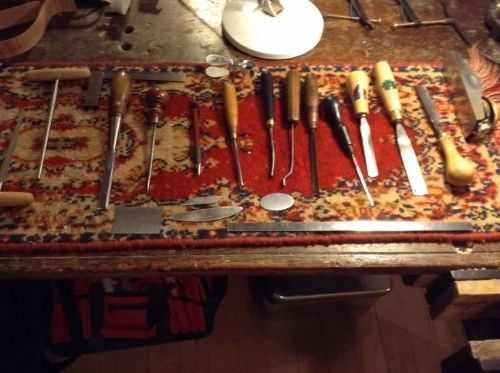 I've been asked, from a previous post, about a few of the tools I've been using for the shaping of the scroll. Here is a picture of the picture of a few of those tools, along with a bandsaw, and those scrapers I made by hand in order to shape the scroll - so far. Keep the questions and comments coming. I enjoy the feed back.
Comments (1) | Submit Comment | Archive Link
By
Mendy Smith
November 14, 2014 18:49
Last month I blogged about how Music Matters . Since that blog, my teacher and I have worked closely together to develop a plan that makes the best use of what time I have available to practice until the project I'm running is completed. We've shelved new pieces and etudes and pared down what is on my stand to a well known etude and piece. The key is "no new notes".
The etude is Kreutzer #2 (I can play the notes from memory) with the focus on bowing. Every other week a new pairing of bowing techniques are introduced such as detache and staccato - changing bowing technique every other measure. It is simple enough to spend several minutes each day completely focused on just one thing - my right arm - no worries about anything else, just the right arm. In a surprisingly short period of time, my tone has become much more focused and controlled than before, and more delightedly my intonation improved (as my teacher said it would).
The piece is one from my Bach By 40 goal. Suite 5 is getting dusted off and polished up. Again, no new notes, but now I'm studying it again with a different perspective with the tools in my "musical tool box" I've gathered since I first started studying the suites many years ago. Week after week I've been having several "AHA" moments. Techniques that were in their early stages of development back then are now more easily executed in context. Vague understandings of some aspects of music theory are now making intuitive musical sense. But most importantly, my Bach playing has taken leaps and bounds. It is a complete joy to play. I can lose myself for hours exploring intricacies in Bach that I wasn't able to appreciate four years ago.
Rather than skimming the surface of many skills that need development week over week, my teacher and I are delving deeper into a select few to refine and perfect them to the best of my ability. We both expect that when this project is over, I'll break out of the plateau I've been in months and take another musical leap.
Stay tuned. In a month or so, I may post a recording (or not).

By
The Weekend Vote
November 14, 2014 12:53
Violins and bows are supposed to appreciate in value, and certainly that's the idea when investors plunk millions down for a Strad.
The tax man certainly won't depreciate your instrument, either.
But what is the reality, when it comes to a violinist (not a dealer) trying to sell the typical violin and bow, at the student level and even at the moderately high end? Earlier this week, V.com member Rhoda Barfoot wrote about buying a second-hand violin and asserted that "Generally speaking, violins (or violas or cellos) are like almost any other purchase you make: except for certain professional instruments, they are most valuable when they are new and will not increase in value over time. This is especially true for beginner instruments."
People took great exception to this idea of violins depreciating, and yet, I suspect it's true. Unless you are buying a violin that has documented antique or historical value, your fiddle or bow just may not fetch the same price that you bought it for, as much as you hoped it would.
For example, when a young student buys a fractional-size violin, usually they can turn it in for a fraction of its price, when they upgrade to a larger size. No profit there. Even if you buy a relatively high-priced fine instrument or bow and try to sell it after 10 years, you may not be able to sell it for as high as you bought it. In my own experience, I bought a high-end bow from a fine shop (complete with papers) and sold it years later at a loss, after speaking with many dealers in many cities and finding the one who could do his best for me on commission. I also bought a violin that I sold for the exact same amount I bought it for; I had to wait about a year to get the price. I've known parents who have struggled to sell their child's discarded instrument; usually they wind up donating it because the hassle of selling just isn't worth the money they would get.
I'm curious about people's real-world experience buying and selling, and not based on appraisals or what you theoretically should get if you were to sell something today. Some people have never tried to sell a violin. But among those who have bought and sold, did you sell your violin or bow at a loss or a profit?
Comments (17) | Submit Comment | Archive Link
By
Laurie Niles
November 14, 2014 10:52
What do you say to a student who already plays so well?
I found myself thinking about this several weeks ago during a master class at The Colburn School in Los Angeles, as I watched University of Michigan violin professor Stephen Shipps work with the students of Robert Lipsett, who holds the Jascha Heifetz Distinguished Violin Chair at Colburn.
Legacy loomed large over this gathering: besides the ever-presence of Heifetz (whose studio, where Lipsett teaches, was moved piece-by-piece to Colburn), Lipsett's teachers were Ivan Galamian and Endre Granat -- whose teacher was Heifetz; Shipps' teacher was Josef Gingold, whose teacher was Eugène Ysaÿe, whose teacher was Henryk Wieniawski. Different schools, different approaches, but that is the beauty of the guest master class: it shakes students out of their habits and allows them to hear things -- probably many of the same things -- put in a different way.
First was Kevin, who played the first movement of the Tchaikovsky Violin Concerto. Shipps first emphasized having a solid stance when playing. If you go up on your tiptoes when you play, you lose sound, he said. "Involve your heels in making the sound," Shipps said. Though it may sound like strange advice, there is a certain feeling in one's playing and change in one's sound that comes from being rooted to the ground.
He also directed Kevin's attention to the words written in the music; for example (get out your scores, friends) after the first big tutti, two bars after the violin enters, Tchaikovsky wrote, "Molto sustenuto il tempo moderatissimo." In other words, "very sustained, very moderate tempo," or: It should be slower here.
(By the way, finding that marking, without the full orchestra score, will really depend on your edition. I have two editions, both with piano reduction. My Auer/Carl Fischer edition did not have the marking in either the piano or violin part; my Oistrakh/International edition had the marking both places. In 2012, Shipps, along with Endre Granat, edited a critical urtext edition of the violin part for the Tchaikovsky Violin Concerto, along with Ševcík exercises designed particularly for the Tchaik that is well-worth studying for this kind of detail.)
"I want some story here," Shipps said, still referring to the same place. He pointed out that Tchaikovsky was a specialist in ballet music, and related that Gingold used to dance around the room to illustrate it. "Easy, easy," he said, as Kevin played this most difficult of passages.
Then they went back to the beginning, where Shipps preached rhythmic faithfulness, and in this place:
"Spin, spin, tell the story! Is it sad? Happy? Happy! Show us!"
Shipps' manner was polite and genial -- and totally unrelenting. Like an unassuming, approachable friend that just so happens to be a bulldog.
We all know this melody:
"This is one of those great Tchaikovsky melodies that sounds dumb if you play it straight," Shipps observed. (So true!) Not that Kevin was playing it straight, but Shipps was acknowledging that a little rubato is necessary to make it flow properly.
Playing that melody also requires a fullness of the bow, so to make him think more horizontally with the bow, Shipps demonstrated by holding the bow so Kevin would have to pull for a down-bow, and push for an up-bow.
Next we heard the third movement of the Tchaikovsky from Will, whose playing technique was already excellent. Instead, Shipps focused on bringing greater calm to his stage presence.
"If you've ever seen a Youtube of David Oistrakh playing," Shipps said, "it doesn't look like he's working hard."
In fact, Oistrakh doesn't move much. "It's a strange paradox. He draws no attention to himself on the stage, but you're drawn more to him by what he doesn't do."
"You are a great fiddle player," he told Will, "This is easy for you! It's got to look easy and let the music speak for itself."
He spent the next 10 minutes, hovering close to Will as he played, reminding him, "Make it look like you aren't working very hard," then, "Make it like a science experiment in efficiency," then, "We are in balletland, don't be so serious!" then, "You're looking worried or p---ed, CALM!"
Shipps was like a personal conductor, a very tenacious one, relentlessly getting the point across while also getting Will to laugh.
Youjin then played a Schubert Rondo, and again Shipps went back to the words in the score: "What does 'Allegro giusto' mean?" He repeated the question for the class, but no one (myself included) had the answer for "giusto." Then Shipps told about a Parisian teacher who quit on the spot, because her students didn't know the definitions of the words in the music, specifically of "Allegro giocoso" in the third movement of the Brahms Concerto. ("cheerful, playful.") A general squirmy feeling fell over the class.
"'Giusto' means 'justified,'" he said after allowing the squirminess to sink in. Also: Just, equal, square. And in this case, steady and slower.
She slowed the tempo, that did transform it into something different with new possibilities.
During a short break in the masterclass, Shipps shared that, in honor of Heifetz, he had strung his violin to approximate Heifetz's setup. Heifetz used a Goldbrokat E, pure gut A and D and Tri Color G. (In Shipps' case, he used the Goldbrokat E, Eudoxa straight gut A, Eudoxa wound gut D and Thomastik G Perlon.)
"They're completely impractical!" Shipps said of the gut strings, tuning his fiddle again for about the half-dozenth time.
Lipsett explained why: "When you put straight gut (strings) on your violin, it will go down (in pitch) for five to seven days. Then it stabilizes for three to four days, and then it goes false." Four days max of stable tuning! Though he played with impeccable pitch, Heifetz' violin was always out of tune, and he even had fingerings for open strings for those (frequent, it sounds like) occasions when his strings were out of tune, he said.
Next we heard an excellent performance of the first movement of the Mendelssohn Concerto by Usha, and Shipps talked about how to take this to the next step: performing with an orchestra. He first asked her to imagine playing with the Boston Symphony, and being on T.V., with a cameraman filming. If you move too much, you're out of the frame. "Make all your emotions come out through your bow speed, but not movement," Shipps said.
Also, "I'd be a little stricter" with tempo, he said. "Don't give the conductor too many chances to lose you."
In another spot: "It's gorgeous, but the wind players are going to be mad at you," he said. One has to play in fairly strict time, when playing with orchestra. "Take time when it means a lot to you, but don't take time all the time." It's possible to play in time, but still play in an exciting way.
The master class concluded with Blake playing the final movement of the Mendelssohn Concerto.
The two had worked together before, last time on Carmen Fantasy, and Shipps talked about the difference in performing Carmen vs. Mendelssohn, that one has to have feet on the ground and cool things off for Mendelssohn.
After the class, Lipsett encouraged Shipps to speak for awhile about his mentor, Joseph Gingold.
Here are a few highlights: Gingold was a man with an amazing memory for both history and music -- he could play nearly anything in the violin or orchestral repertoire by memory, he knew all the Opus numbers to everything and he never forgot a name. Shipps said Gingold read the Groves Encyclopedia start to end, and "he remembered the whole thing!" In fact, Gingold once corrected Heifetz about a fact at a dinner party with George Szell. Though Gingold wanted to drop the matter, Szell insisted they look it up, and when Heifetz realized he indeed was wrong, Heifetz physically threw the book at Gingold!
As a young man, Gingold studied with Ysaÿe, and over his three years of study learned a different language every year, Shipps said. Ysaÿe would teach his violin lesson in that language, and then they'd have lunch with Mrs. Ysaÿe and converse in that language as well. Another hard-to-believe anecdote: though Gingold is known as the great violin professor who built a world-class violin program at Indiana University during his 30-year tenure at that institution, the first year he was at IU, nobody applied to be in Gingold's class!
Comments (11) | Submit Comment | Archive Link
By
Kate Little
November 13, 2014 17:25
Thierry Fischer, our new Music Director and Conductor of Utah Symphony, was scheduled as a key speaker at the 3rd International Philosophy Conference. His title, Noise and Noises: Being Surrounded by Noise Affects Our Perception and Creativity, sounded intriguing, so I went. Philosophy is a heady subject pretty much beyond my intellectual grasp. However, there was this moment. It came as Fischer was illustrating a point:
Let's take the opening of Mozart's Symphony #40, he said. These two bars, you know them, right? They sound like this: And he sang them. Yes, I did recognize them. You would, too.
But they can also sound like this: And he sang them. Or like this: And he sang them. Or like this: . . . and within a minute he ran through a dozen distinct interpretations of this phrase. I was astounded at the variation. By modifying dynamics, emphasis, tempi, and whatever other variables a conductor has at his disposal, Maestro Fischer imagined a sweep of unique, musical phrases. Then, he explained, his job was to choose which had the meaning he wanted to convey and why, and figure out how to wrangle his motley crew (my words, not his!) of 87 into saying just that.
Light bulbs started blinking upstairs. Oh my gosh – THIS is what a conductor does. Mozart's symphony is over 800 measures long, and that is excluding repeats. All of that has to be brought to life in someone's imagination. Color and voice sorted out. Shape and direction applied. Meanings deliberated. Choices made. Then the act of physically and verbally conveying this substance to a second party (the orchestra) who will play it out to a third (the audience), has to be constructed. And there is limited time. And the stakes are high. And money is short. And the musicians will be musicians, on a good day or bad. This is work, and somebody has to do it.
So the next time you attend a symphony concert and the players are stellar and just grooving together and you think "Do they really need that guy up there flapping his arms?," Think Again.

Comments (3) | Submit Comment | Archive Link
By
Daniel Tan
November 13, 2014 06:03
This can also be read here at my personal blog.
Ok this isn't really a lesson on taking compliments, nor can I profess to knowing very much about it, but what I do know is that in the past, I have struggled greatly with simply accepting them.
There comes a point in your violin (or other passion related) pursuit whereby you realise that you're never truly going to be happy with anything you produce. A performance will always have a technical flaw that you worked for weeks to fix only to have it fall apart in performance. Or a phrase that didn't speak musically the way you want it. Or perhaps a passage where intonation was that tiny bit doggier than it usually is. However, at the end of the day, we still put our work out there in the hope that it may mean something to the people who come to experience it, and that they may enjoy it.
The problem arises when your standard of expectation clashes with those of your audience members. Often you are playing to a largely uneducated group of people (in comparison to yourself) who have no idea about the true intricacies of what you are presenting. In reality, I actually find this quite liberating. I don't mean so in the sense of lowering the standard of what you present, or not trying as hard. Rather, it is liberating because they are there to enjoy themselves. People who try to enjoy themselves don't come searching for flaws, and mistakes. Even when you are playing to an educated audience (as I often have to in university), they don't always know that you've struggled with trying to relax your shoulder, or tension in the thumb. So in reality, if the left shoulder gets tight does get tight in the performance, they are certainly not going to magnify it as a problem in the same way you do.
The thing is, at the end of it all, often people will pay you compliments, many of which you may not feel were warranted. As a performer, I feel like this all the time.
"How could they possibly enjoy themselves if my bow arm was as tense as it was."
When put like that, it does seem quite ridiculous and hyperbolic in nature (and I have exaggerated here) , but in reality, it is a thought process I used to go through all the time. How could these people possibly know what good playing sounds like. Who are they to determine if they enjoyed something or not?
I've over time learned to take compliments graciously without feeling guilty about it and not to be so quick to add my own personal thoughts and perspective to the discussion. Because the more I think about it, the more I believe that it's rude to disagree with someone complimenting you. It says, 'you can't possibly understand this enough to make a sound judgement,' it says 'you don't know what you're talking about,' and most alarmingly it says, 'my opinion of this is more valid than yours.'
That's not to say you're not allowed to express disappointment in yourself or have a strong sense of self evaluation later. However, a compliment means that you have actually achieved what you have set out to achieve even if you don't feel like you have. It means someone enjoyed what you offered up. It means they were moved. It means the music you played, or the work you created spoke to them. Isn't that what we as musicians want? Isn't that what we do this for (beyond intrinsic benefit and enjoyment)?
After all, we are our own worst critics, and as such, terrible judges of how the music we presented affected others.
After all, these people have made the effort to tell us about it.
After all, they were able to enjoy your performance, despite your bow not being straight. They probably didn't even notice.
Compliments are the best opportunity we have to connect with our audiences and the people who support us. It doesn't help if we stop listening.
Comments (6) | Archive Link
Hear more from the world's top violinists in The Violinist.com Interviews: Volume 1, which includes our exclusive conversations with Joshua Bell, Sarah Chang, and David Garrett, and others, as well as a foreword by Hilary Hahn.
Get it now! For Kindle | For iBooks | In Paperback