By
Laurie Niles
May 27, 2015 21:57
In a manner both persistent and assuring, Ronald Copes returned to themes of musicality and connection during a master class he gave Wednesday at the Starling-DeLay Symposium on Violin Studies at Juilliard. Copes is chair of the Violin Department at The Juilliard School and has been a member of the Juilliard String Quartet since 1997.
He began with Emily, 16, who played the fiery second movement of the Franck Sonata.
"I love your use of colors -- and wonderfully different colors," Copes said. "You could use more of that."
In order to match the violin part better with the piano part that is so important in this sonata, he had pianist Pamela Viktoria Pyle play the (extremely difficult) piano introduction for Emily, in order to show how the piano articulates the music. He felt that Emily's version of the same material was legato, as opposed to the scattered and percussive piano version, and the way to reconcile this was to "enunciate each of the 16th notes, even feeling it in the arm, almost like a nervousness, that gives a little bit of bow speed to each of those notes."
She tried it, to good effect. When he asked what she thought, she said that it makes the music comes out more. "Some of it is projection," he said, "and some of it is giving us a sense that it's in that same character as the piano."
He asked her to keep tighter control of dynamics; for instance, a crescendo lasting one bar should truly only last that long.
At one point he asked her how she could get more intensity on a sustained "A." She suggested vibrato, and he said that she could also do something with the right hand: "When one is passionate about something, one doesn't breath evenly," he said. Use "an unevenness, an irrational quality of bow" to increase the level of intensity.
He also suggested digging deeper to find what in the music inspires the dynamics that are written on the page.
"A large part of what we do is tell stories," Copes said. One doesn't really notice when a good storyteller speaks slower or louder; instead, one receives their words because they are so well-delivered. The same can apply to telling stories in music. "What is it -- in the notes, the harmony, the rhythms -- that inspires the dynamics? Share with us what that impulse is."
Next Elena, 17, played the Largo from Bach's Sonata No. 3. By the end she held the audience's attention so well, the room went absolutely silent.
"You have a wonderful way of pulling us in and making sure we enter your world of musical ideas," Copes said. He wanted her to work that same magic at the beginning of the piece as happened at the end. He focused on her vibrato, asking her to vibrate on notes that add harmonic importance, not simply on notes that are easy to vibrate. Also, "find a way for your vibrato to be a more integrated part of your sound," he said.
She also played Paganini Caprice No. 2 that was so impressive that -- "I'm going to say very little," he said. He suggested she might have an easier time, holding her bow six inches higher, but "what you are doing works." So maybe don't change a thing!
Léo, 19, gave a captivating performance of the Fuga from Bach's Sonata No. 2. This is (if I'm correct) the longest fugue Bach ever wrote and arguably one of the most difficult movements in all the S and P's. Léo played it with ease, accuracy, a nice sweep of the bow. Despite its length, it was unhurried and captivating for the duration. I noticed, also, that Léo plays a 2013 violin made by his sister, Juliette Marillier. Nice-sounding fiddle!
Copes applauded Léo's ability to handle the piece's myriad difficulties; then he had much to say.
"You take your ideas and are very clear about them; you have a strong point of view and strong commitment to it," Copes said. To Copes, Léo's playing felt angry in places, and "you have an artistic arc to it, but you interrupt it more than you probably intend."
"A fugue is difficult to hear, as well as to play," Copes said. "It takes a lot of concentration from us listeners, to be pulled into this logical world." Most mentally taxing are the contrapuntal sections; then the episodes should provide the listener some relief -- "you can play them fairly simply." Knowing the complexity of the episodes is an advantage, but that complexity doesn't need to be brought out in performance.
Copes had Léo isolate different voices of the fugue and play them by themselves, then asked, "If you were in a chamber group, how would you respond to the second voice?" Léo definitely seemed to be feeling things different, playing as if in a chamber group.
"What we're trying to create is a sense that these voices don't defer to each other," Copes said. "A fugue is a chase, and in a chase, you don't say, 'You go ahead.' There is that sense of competition, in a fugue."
He also worked with him on a transition section, making it connect better instead of sectioning it off. "Before, we had what I call an 'orphan phrase' -- it didn't belong to the section before or after it."
Next came an excellent performance of Paganini Caprice No. 1, the one full of spiccato bariolage, played by Takumi, 15. If Paganini can be called elegant, this was.
Copes told Takumi that he could go farther in demanding that the timing fits the music. "It is a technical thing," Copes said. "It felt like you were making room for the left hand, with the right." Instead, it is possible to get the timing you want, without taking quite so much preparation time.
Takumi also played the third-movement Gavotte from Bach's Partita No. 3.
"What is a Gavotte?" Copes asked. Takumi knew that it was a dance.
"It thought you got a lot of dance-like elements, but I'd have a hard time dancing to it." Why? "You stopped a lot," he said. It's possible to delay beats and not make it feel like stopping, as long as the sound keeps going, he said.
"I think about the meter as being fabric; you can stretch this, but you don't want to rip or tear it," Copes said.
Next came the third movement ("Lebhaft") of Hindemith's 1939 Concerto, played by Alyssa, 20. It's a piece that is rarely played, so it was a treat to hear it live.
Copes had some interesting thoughts about the cadenza. He reminded her, "You're improvising this; you've never heard this before." Some parts of the cadenza quote material from the concerto, and the others are meant to be more improvisatory. To help the listener understand this, he advised playing the quotes from the concerto more metrically and the improvisatory gestures with more freedom.
Also, he asked her, "When you end an improvisatory gesture, do you know what you are playing next?"
"No," she smiled.
So, don't give that away, either with physical or musical gestures.
While some teachers lose wind toward the end of a master class, Copes' energy seemed to increase the longer he taught. He remained deeply analytical, persistent and clear, right to the end of the master class, with the last student getting every bit as much attention as the first.
You might also like:
By
Laurie Niles
May 26, 2015 22:41
On Tuesday, superstar violinist Sarah Chang returned to her alma mater, The Juilliard School, to conduct the first master class in the 2015 Starling-DeLay Symposium on Violin Studies and to talk with participants about her own career. She was generous in her support for the young artists who played for her and open about what she has learned from a career that began when she was a tiny child and continues at full throttle today, some 30 years later.
The master class began with Angela, 17, who performed the first movement of the Brahms Violin Concerto. She played this piece, with its many technical and musical challenges, with care and control, and the lyrical parts were sweet and singing.
Afterwards Sarah applauded her efforts, adding, "I like your shoes, too!"
They started by working on the opening, Sarah asking for more shape and drive in certain places, "so it feels like you are going forward and not just playing perfect."
They worked on the first iteration of the movement's melodious lyrical passage. Sarah said that Angela's playing already "goes straight to your heart, it's so beautiful." In this piece, though, "it needs to be so pure -- no slides, no glissandos, nothing. Imagine looking at your face in the morning -- no makeup."
In working on a passage with many triple-stop chords, Sarah said that Dorothy DeLay once told her that "when you have a chord, the E will ring regardless. So use your bow arm to emphasize the lower notes."
For one musical line, Sarah asked her if Angela was aiming for a long line, or for a series of steps, dynamically, adding that either concept was acceptable, but she felt she needed to commit to one or the other. Angela said she was aiming for steps. "If you want steps, you need to have definite steps."
Next was Felicity, who played the third movement of Mozart Concerto No. 3.
It's a piece that requires a light touch, and Felicity had it, as well as accuracy and good musical humor. This movement has several fast passages that are played twice, first loudly and then with an echo, which is generally played off the string. Felicity was doing this, but Sarah advised that with an orchestra or in a large hall, the difference needed to be clearer. Making the soft part bouncier made this difference more apparent.
Next, Valerie played the first movement of the Tchaikovsky Concerto. "Now that's ballsy playing!" Sarah Chang said. (Wouldn't it be cool to have Sarah Chang say something like that about your playing?) Then, "There's really not much to say, but since we're here..."
(It's true that the students who play at Starling-DeLay tend to be at such an extremely high level, I personally do wonder sometimes what I would say, as a teacher. They come to this event very polished!)
One thing they discussed was a certain passage, before the first big tutti, which is marked "Poco più lento." There's been a bit of a movement lately to play that passage on the slower side (you can read Hilary Hahn's comments on the matter, for example.) Sarah, who also has played the Tchaik literally thousands of times, finds this not to be Tchaikovsky's best writing. (It's not exactly Swan Lake). She advised not to slow down much there, rather "lighten up a little and coast over that section" and focus more energy on emphasizing the fortissimo high trills that follow it.
We also got to hear the last movement of the Tchaikovsky, played by Emily, 16, whose set-up is so picture-perfect that I include this photo at right to show my students (and everyone else's). She played with excellent concentration, musicality and intonation; and Sarah just wanted more drive from her.
"It almost seems like you are being so polite to your instrument because you don't want to hurt it," Sarah said. "Don't be afraid to dig in and give it some guts!"
It occurred to me that permission from Sarah Chang is likely a powerful thing!
She also advised her to put more shape into the thicket of notes that appears as an exchange with the piano (at letter L) toward the end of the piece. It's a fast passage with double-stops and string crossings. Sarah asked Emily to watch the pianist, Pamela Viktoria Pyle, who was clearly increasing the volume and energy with each statement.
"Watch her hands," Sarah said. "Every time she plays that, it gets more and more, until the point where her whole body is involved and her hair is flying...It's all about drive, and making this huge accelerando at the end."
And speaking of the end -- five measures of octave D's repeated in 16th notes -- "there's no reason to play pianissimo there," Sarah said. "They're never going to hear you unless you're blasting the heck out of that!"
* * *
After the master class, Symposium Artistic Director Brian Lewis interviewed Sarah, who also took questions from the audience. Both Brian and Sarah had been students of Dorothy DeLay, the extraordinary Juilliard teacher who also was the founder of this symposium. Brian had been a student when Sarah was very young, and he had even sat in on many of Sarah's lessons with DeLay. Here are some of the highlights of that interview from Tuesday.
First Brian asked Sarah: How did you start playing the violin?
At three, Sarah started piano lessons "It wasn't my choice, not to!" Her first violin lessons began at age four and a half, with a 1/16-size violin -- "a toy -- it's like one of those Christmas ornaments!" Her first teacher was her dad, also a violinist. The family soon realized that "it's a colossally bad idea to study with a parent," Sarah said. Her father had taken from Dorothy DeLay, so in order to find peace in the family, they Sarah would audition for DeLay. So at age 5 1/2, she auditioned at Juilliard, playing the Bruch Concerto and Mozart Concerto No. 3, and "they let me in, for some reason," she said. From then on, Dorothy DeLay "was everything. Our teacher, a third grandmother..."
What was the most important advice Dorothy DeLay gave her?
"To date outside of the business," Sarah said, making everyone laugh. "I was older when she said that."
Sarah described DeLay as being gentle and yet demanding and persistent.
"She would never tell you what to do. She would say, 'Sweetie, could you push that D up a little?' and you thought, 'Sure, I can push that D up a little!' Then you would get home and realize, oh, she was saying I was playing out of tune!"
Brian asked if there were any pieces that she hasn't played, that she'd like to play.
Sarah said she tries to schedule one piece every season that is new to her; recently it was the Barber Concerto; next season it will be Astor Piazzolla's "The Four Seasons of Buenos Aires." She also said she'd like to commission more new pieces.
Brian asked her if she had any helpful advice for teachers of prodigies.
Sarah said that when she was young, "there was a moment when I was so overwhelmed. I was upset every time I had a concert and had to miss a slumber party." She was also having to deal with managers, publicists, record companies and all kinds of stress at a young age.
At this point, DeLay took her aside and told her to "surround yourself with really good people who can take care of 'the noise' so you can concentrate on what's important: the music."
"I loved that she took a moment and explained that to me," Sarah said. DeLay then helped her assemble a team of people.
Has she ever needed a break?
That moment came when she was 17. "I'd been going so strong for 10 years," she said. "I wasn't tired of being on stage, but I was tired of traveling. It sounds really glamorous and cool, but you end up flying more than flight attendants and pilots."
So they scheduled a break for her. "I finished what we had contracted, and planned a good solid two months off," she said. During that time, "I did nothing, I ate, I went to the movies. But after about a week or so, I started to miss the violin. So that allowed me to start missing it and wanting to go back to it."
How does she feel about competitions?
"To be honest, I am not a product of competitions. I never entered one, never won one, never lost one. I did not go through that whole process. But I had so many friends who did," she said. "How do you judge a musician? It's not a tennis game; it's all interpretive. In a general way I'm not a huge fan, but I do realize the benefits of participating in one, especially if it comes with a cluster of concerts, that might give that artist the start they need. Or a recording contract, or other benefits might come with it."
Brian Lewis added that DeLay thought that competitions were a necessary evil.
"Did you know that David Oistrakh won second in a competition? That shows you right there," she said. "Cindy Crawford won second place in a beauty contest. Do any of us know who got first place? "
Brian Lewis asked her how much she practiced, when she was seven.
"Probably about one or two hours, maybe three if I had a concert," she said. "I had school until 4 p.m., and I had to have my mandatory one hour of television after school - that was non-negotiable! Saved by the Bell. And then I would do about 45 minutes of the basics: etudes, scales, arpeggios, chromatic scales, thirds, sixths, octaves -- all the drill Ms. DeLay gave her students."
"I found that focused practicing is more effective than long, drawn-out hours of practicing," she said. "I think one of the reasons I haven't had major problems with my hands or arms or neck is the fact that I don't practice more than an hour. I'll do an hour, then I'll put the violin down and do something else, and then go back for another hour. But I always give myself a break, just because violin is such an awkward instrument -- everything is asymmetrical."
Sarah also talked about the audiences for classical music.
"I think that audiences for classical music are really smart, they're sophisticated," she said. They aren't fooled by hype. "I think we have the most loyal fan base out of any musical style. I have had people come up to me after concerts and say, 'I saw you play at Aspen when you were six years old.' These fans are the most loyal anywhere."
And how many times has she played the Tchaikovsky Concerto? "Probably in the thousands," she said, with all those repeated subscription concerts.
An audience member asked about her bows.
"I collect bows," she said. "With a different bow, you get a completely different sound." Sometimes, she will change bows between pieces. "There are times when I'd use a different bow for Brahms than I would use for Mozart. I travel with four because you can fit four in your violin case." She uses different ones for heavy concertos played with orchestra than with a lighter concert played with a small group or recital situation. Different climates call for different tensions, for example, Aspen vs. New York. "It's really where you are, that determines the tension." Even being in a warm room with stage lights requires different tension than a practice room.
She said she rehairs her bows "ALL the time. It's ridiculous how often I rehair my bows. Every two weeks." That means she often has to have it done while traveling, and though she has people she regularly goes to in certain cities, she occasionally has to go to one she knows only by reputation.
How often does she change strings?
"I used to use Dominants and changed them twice a month. I have new strings now, from Thomastik. They are trial strings, they custom-made for me and are not on the market, but they last a little longer, I change them maybe once a month," she said. "But it depends on how hard you are playing, and what you are playing. If you're playing Mozart, you can go for at least a month. If you're playing Shostakovich, two days, that's it!"
Asked about her most memorable performance, Sarah described a performance in Berlin. She'd been accustomed to American audiences, who clap between movements, show great enthusiasm and give frequent standing ovations. But in Berlin, there was complete silence between movements, and no standing ovations. "You're wearing a little pink dress your mom made you wear and these matching pink horrible shoes, and you walk on stage and if you're that small, people clap. I was so used to that." But in Berlin, no one stood up. Yet after the performance, people applauded and applauded, "until I had 12 curtain calls. Then the orchestra left!" she said. "The audience gave me another curtain call. There is a photo -- all these empty chairs because the orchestra had left, and me, this tiny little figure on stage alone, taking a curtain call. It was a different sort of audience reaction, and was equally as moving."
Sarah Chang had dinner with all the student artists chosen to perform this week at the Starling-DeLay Symposium, then took them for ice cream! Here she is with them and with Symposium Artistic Director Brian Lewis.
You might also like:
Comments (1) | Submit Comment | Archive Link
By
Emily Hogstad
May 26, 2015 17:27
This weekend at the Minnesota Orchestra was a love fest.
Love. What a loaded, completely inexplicable word. You can love institutions. You can love art. You can love people as friends or as lovers. Or as both. Your love can be sacred or carnal or some kind of crazy bewildering hybrid. It's a verb with a thousand meanings, each definition, each possibility more confusing than the last.
I've thought a lot about the love that Clara Schumann and Johannes Brahms shared. I find it fascinating. I find people's responses to it fascinating. It was, by and large, a positive force in both their lives. Love of Clara certainly inspired Brahms, and I wonder if Clara would have retained her sanity after her husband's break with it, had Brahms (and his brilliance) not been in her life. But because there is doubt they made physical love, many people regard their relationship as somehow abnormal or dysfunctional. It's certainly idealized less than the love that Robert and Clara shared…I'm assuming because it didn't follow the neat little dramatic trajectory that Robert and Clara's did. Brahms and Clara lived with ambiguity for decades. And they managed to find a power in the messiness of it.
The emotions that ambiguity unleashed are explored in Brahms's first piano concerto, which opened the Minnesota Orchestra's program this weekend. Brahms struggled with the concerto's musical material throughout his early twenties. He also struggled with a love for Clara, who was in turn struggling with mourning her husband's sanity and eventually life. In 1856, a few months after Robert died, Brahms wrote to her the famous quote that invariably appears in this concerto's program notes: "I am also painting a lovely portrait of you; it is to be the Adagio."
The outer movements are flashier. The first especially has more meat. But the heart of this concerto is the movement devoted to Clara. This weekend, Minnesota's hushed strings made this music radiate warmth and soul and…that inexplicable, indefinable word, love. This music has a very sacred air to it, and we were honored to have Garrick Ohlsson be our priest to lead us through the sacrament. The notes passed like ghosts, suspended and turning in the air.
But there is a danger in thinking of this music as solely ethereal. In an intermission interview on Minnesota Public Radio, Ohlsson shared a historical tidbit I had never heard before.
"Brahms was very deeply in love with Schumann's wife, Clara. I think they loved each other very much. We don't know – we suspect it was probably platonic. And he was much younger than she… Nevertheless it is a beautiful portrait of Clara, and I was thinking of in the cadenza, there's a reference to a German popular song, which goes like this; you might know it… [Ohlsson demonstrates.] Those last words are "you don't know how good I am for you." … It's a tender moment and it shows you how thick with extra-musical references these things can be, but they are not essential to know to appreciate the beauty of the music, because it stands also on its spiritual content and its beauty stands fully by itself. Yet you are only enriched when you know that there are possible extra references."
You don't know how good I am for you.
Put the ethereality away for a moment. That is potentially the most human line ever uttered.
***
But Brahms and Clara's tangle of feelings, still confusing after a century and a half, wasn't the only love onstage, because Minnesota Orchestra conductor laureate Stanislaw Skrowaczewski was in the house. He is more beloved now than ever. In Minnesota, the seven syllables collapse down into one: Stan.
Stan feels unreal to me. I feel like he took a time machine into to our twitchy age of smartphones and social media from a statelier era of cigarette smoke and bomb shelters. This is a man who studied with Nadia Boulanger. There are pictures of him standing with Shostakovich. Fifty-five years ago he was appointed music director of the Minnesota Orchestra back before it was the Minnesota Orchestra. (The name change from the Minneapolis Symphony only occurred in 1968.) It was Skrowaczewski who conducted the musicians' first independent concert of the lockout. He was also the one to conduct their first concert back at the remodeled Orchestra Hall after a new musicians' contract was signed in early 2014. And in a quirk of the calendar, he was also the first man to take the podium after the Minnesota Orchestra's historic trip to Cuba, which was the event that proved to the world in a truly spectacular fashion that the lockout era is, indeed, over.
When I watch him, I sometimes wonder where Stan ends and the music begins. Stan once said, "To me, art is a dialogue with the unknown. This dialogue encompasses all fundamental human concerns – such as the meaning of life and death, love and cruelty, sacrifice and redemption – in the constant hope of knowing that which cannot be known."
During the broadcast, MPR announcer Brian Newhouse observed a score of Beethoven 7 on the podium. Stan never touched it. He has loved this music and this orchestra for so long that he doesn't need a physical reminder. It's all in his heart.
***
Before the concert started, I talked with a few musicians who were roaming the lobby, discussing their historic Cuba trip. The Orchestra Hall lobby is now the musicians' reception room, where they come to meet and greet their loving public. There was a dazed excitement on all their faces, like every traveler had just awoken from a communal dream. "How can you even begin to describe it?" one of my readers asked. She had once been among the management's loudest critics, but things have changed so drastically within the organization that she paid to travel to Cuba with board leadership, visiting with and indeed befriending former adversaries. "Where do you even start?" she asked. I don't know; I wasn't there. All I know is that clearly something special happened – something special that has not been fully absorbed yet – and it's going to help power the organization for a long time to come.
I then heard a story from Orchestra musician Marni Hougham about how a Cuban wind player, who had so faithfully pursued her studies even in the face of grinding poverty, broke down in tears when the Minnesota musicians gave her a reed case. She'd never had one before. I can't even begin to count the kinds of love in that single interaction.
And as if this wasn't all thrilling enough, before the performance began, representatives from both the musicians and management came onstage to announce The Big News. (You know things are going well for an orchestra when a Cuba tour is the secondary good news story of the week.) Without any lawyers present, the two parties had come to agreement on a new contract that includes modest pay raises and extends until 2020…nearly two years ahead of schedule. And not only that, but Osmo Vanskä is sticking around until at least 2019. Massive gifts have been flowing into the orchestra's coffers. Recordings and tours loom on the horizon like a sun about to rise. This orchestra is back in business and stronger than ever.
Will there be challenges? Heck, yeah. Life is nothing but an endless cycle of challenges. If the challenges have ceased, that means you're dead. But will we have the ability to face the uncertain future with strength and wisdom? There's no doubt in my mind: yes.
***
I'm lucky to have many forms of love in my life. Some are pure and unshakable, like my love for music. Some share the intensity of intention, but are far more baffling to understand or come to terms with or describe…or even admit.
The first and last time I heard Beethoven 7 live was Minnesota under Osmo. July 2010, the weekend before my twenty-first birthday. Back then I wrote an essay that was roughly five percent review and ninety-five percent shameless fangirling. I felt the same love for this more recent Beethoven 7, only with an even greater intensity. If that's possible.
"I'll try to remember little bits and pieces to give a vague idea of what it was like, but honestly I was rendered rather speechless. There was power suffused with delicacy – extraordinary dynamic range – palpable commitment on the part of everyone onstage, from the strings to the brass to the woodwinds to Maestro Vanskä – elegance – earthiness – charm – passion. Passion above all else. These musicians were so excited to share their love of the music with us, and the electricity in the hall proved that the audience was just as excited to hear it as the orchestra was to play it. It was such a special feeling to communicate with these extraordinary virtuosos in that intensely personal way. I wish I could tell you more than that – give you more details about what exactly I loved – but I really can't. I was too carried away by the joy and power of the sound. There is nothing to say except this is the pinnacle of our art. This is why I love music. This is one of the greatest experiences a human being can have."
Yep.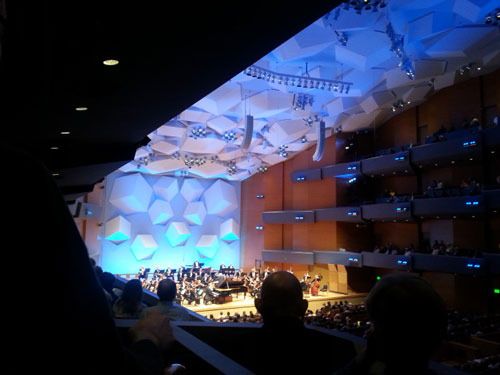 ***
This essay was re-posted from my blog, Song of the Lark.